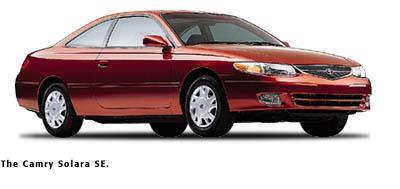 San Francisco: One of the main criticisms over the years of Toyota (and other Japanese autos) was, and is, that the cars lack personality. I guess I'd have to agree with that if I thought personality meant not starting when it looks like rain, or leaving a trail of oil droppings behind you so the tow truck could find you. But I happen to think that personality doesn't have to mean unreliable or quirky.
When Ruth and I bought our first new car (it was actually Ruth's), it was a Toyota, a 1974 Corolla SR5. That car had more personality than just about anything I've ever driven. So don't tell me that Toyotas lack personality just because they happen to be good and don't have a "sporting" pedigree.
Which brings me to the 1999 Toyota Camry Solara SE. Other than a name that's too long, there's just about nothing wrong with this car. Toyota could have just named the car Solara but they wanted to keep it in the Camry family for marketing reasons. Oh well.
Toyota says that "Solara is aimed at consumers entering their peak earning years, who are nostalgic for the sports cars of their youth, but need more room and comfort..." I don't know about the sports car stuff. I found the Solara to be more of a near-luxury, personal coupe than a sports car. There are three different sport upgrades that would make the Solara sportier but it will never be a pseudo racecar as far as I'm concerned.
Don't take that as any kind of condemnation of the Solara. Far from it. The Solara is a very nice car. It was one of a small group of cars that both Ruth and I agree we wouldn't mind owning. To me that says that it's got enough get up and go to keep me happy and enough panache for Ruth. That's a darn good combination.
Mechanically, the Solara is almost the spittin' image of any Camry. They're both front-wheel-drive and they share the same basic floorpan, engines, and transmissions. You can buy a Solara with either a 2.2-liter, DOHC, 16-valve, 4-cylinder or a 3.0-liter, DOHC, 24-valve, V6, and you can get either engine with a 5-speed manual transmission or a 4-speed automatic. While the 4-cylinder is no slouch, for my money the V6 is the way to go. It makes 198 hp (200 everywhere but California) and nice sounds. Even with 3,200 pounds to pull, those horses move the Solara quite nicely, thank you.
Strange as it may seem, I think I'd prefer the automatic transmission over the manual. Normally I'm a stick shift kind of guy but, and maybe I'm getting older, in this type of car a manual transmission just seems out of place. There's only a one mile per gallon penalty in city driving with the auto, so why not? Besides, living near San Francisco I've come to appreciate how painless an automatic is for driving in that city. To give the manual transmission its due, it was a great combination with the V6 engine and I did drive it in San Francisco without burning up the clutch.
One criticism I've heard about the Solara is that the styling is less than distinctive. I'd have to agree. It is pleasant but it's not going to stand out in a crowd. On the other hand, five or ten years down the road it will probably still look pretty good. Anyway, style is a personal thing, isn't it?
When I first drove a Solara about four months ago, I was struck with how luxurious it was. I remarked to someone from Toyota's marketing staff that the Solara might steal customers from the Lexus side. After spending a week with the Solara I am even more convinced about this. Think of the Solara as the Lexus ES300 coupe and you wouldn't be far off.
There are two basic levels of luxury for the Solara; SE and SLE, both are more than decent. The SE comes with anti-lock four wheel disc brakes, auto on/off headlamps, fog lamps, solar energy absorbing glass, air conditioning, cruise control, power windows and door locks, and a host of other features. The SLE adds stuff like aluminum wheels, automatic climate control, power driver's seat, JBL stereo system, and leather.
The Solara SE I drove had about $4,000 in options including an upgraded stereo, side airbags (in addition to the standard front airbags), moonroof, power driver's seat, leather, and aluminum wheels.
There are five upgrade packages available (two for the SE four cylinder and SE V6, two for the SE V6 only, and one for the SLE), so anyone should be able to find a Solara to fit.
Okay, so what are the numbers? Fuel economy is 21-mpg city for the manual transmission (20 for the automatic) and 28 on the highway for both transmissions.
Base price for the Solara SE V6 was $21,188 and as tested it went for $25,204. Base price for the SLE is $25,988. I'd say those are pretty decent prices. Maybe Ruth and I should go car shopping before Toyota realizes they're giving them away. By Bruce Hotchkiss © AutoWire.Net - San Francisco

Byline: By Bruce Hotchkiss © AutoWire.Net - San Francisco
Column Name: An Entirely Different Kind of Camry
Topic: '99 Toyota Camry Solara SE
Word Count: 850
Photo Caption: '99 Toyota Camry Solara SE
Photo Credits: Toyota PR
Series #: 1999 - 17