This Week's Event Article: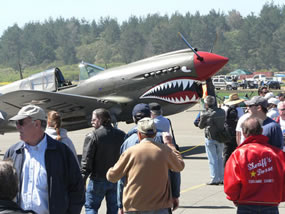 THE COOLEST SHOW ON EARTH ROLLS INTO HALF MOON BAY ON SUNDAY APRIL 29, 2018 - There are car shows, air shows, motorcycle shows, tractor shows, maker fairs, music festivals, food festivals, and living history festivals galore. Mix them all together in one venue on one day and you've got Half Moon Bay California's remarkable, one and only Pacific Coast Dream Machines Show, marking its 28th year in 2018 with a massive celebration of mechanical ingenuity, power and style. It's quite simply the "Coolest Show on Earth". This year's spectacular 28th annual show will be held on Sunday, April 29, a one-day mega-show, from 10 a.m. to 4 p.m. at Half Moon Bay Airport, located in the picturesque seaside town of Half Moon Bay, CA about 20 miles south of San Francisco.
Click below for Full Article

2018 Pacific Coast Dream Machines Show
This Week's Family Sedan Hybrid Article: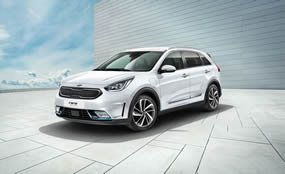 The 2018 Kia Niro Plug-In Hybrid Review: The Niro is Kia's green warrior. A hybrid Niro preceded the plug-in, and an all-electric version just debuted at the North American International Auto Show in Detroit in January (it's about a year away). There is no gasoline-only Niro. The Niro is blessed with appealing, nicely balanced lines and proportions, without any extreme styling excesses. It wears Kia's now familiar tiger mouth grille with the pinch in the middle and it looks good from every angle.
Click below for Full Article
This Week's Sports Sedan Articles: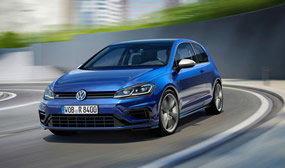 The 2018 Volkswagen Golf R review: This car is a bad influence on me. It sits low, handling is light, responsive and tossable. It's quick, has excellent lateral support, smooth shifter, torquey, great visibility …. why the heck are these other cars in my way? Accelerate, zig right, zag left, accelerate again, oops too fast. No matter, into a neutral all-wheel drift, recover while accelerating. That's five or six cars dispatched already. Speed limit barely exceeded, I still need to show better judgement …
Click below for Full Article
This Week's SUV Articles:

The 2018 Jeep Wrangler Rubicon Review: Driving through the dusty, rocky Sonoran Desert northwest of Tucson, I turned a corner and saw several of Jeep's spotters perched on top of a mountain. They looked like specks. "You want me to drive up that?" I thought, seeing what looked like a sheer, cactus-covered cliff in front of me. With the help of those expert spotters, though, the same people who run the Jeep Jamboree that crosses the Rubicon Trail each year, I was able to plant the tires in just the right spots, at just the right angles, to deftly pick my way between the cacti and up the mountain.
Click below for Full Article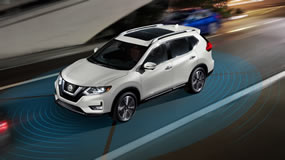 The 2018 Nissan Rogue SL AWD Review: Altima, Sentra and Maxima may be the Nissans with the best name recognition, but their importance pales in comparison to the one I'm driving this week. The midsize Rogue crossover has risen to become Nissan's top selling vehicle, easily surpassing the sedans that once served as the bread and butter for this Japanese brand. It's been such a hit that Nissan spun off an ever-so-slightly smaller sibling, the Rogue Sport, last year to give buyers a subtly different twist and juice its sales numbers even further.
Click below for Full Article
This Week's Fun Car Article: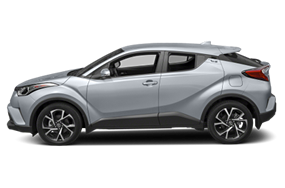 The 2018 Toyota C-HR Review: Remember Scion? The junior, fun brand in the Toyota family that was supposed to be where young people made their connection with Toyota. It was born because back in 2003, some folks at Toyota believed that the youth of America saw Toyota as too old and stodgy. In 2017, Scion is gone. The brand died when it received too little exciting new product, and, more importantly, when Toyota's leadership figured out that young people were buying Toyotas after all.
Click below for Full Article
This Week's Crossover Article: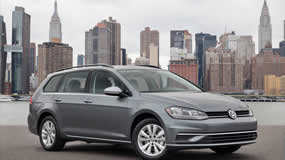 The 2018 Volkswagen Golf Sportwagen Review: Volkswagen has offered various Sportwagens over the years, but they were Jettas. Now the compact wagon is based on the new Golf, so it shares a lot of goodness with the worldwide best selling hatchback.
The company bills the Sportwagen as an alternative to a compact crossover, because it delivers the hauling space, but is a better handling car than an SUV.
Click below for Full Article

2018 Volkswagen Golf Sportwagen