This Week's SUV Articles: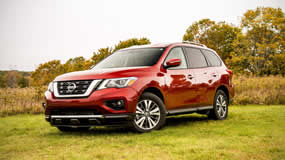 The 2017 Nissan Pathfinder Review: The Nissan Pathfinder has been around since 1987, and over those nearly 30 years has grown from a small pickup truck with a roof and rear seats to a big family hauler that weighs in at well over two tons. The fourth-generation Pathfinder, which debuted for the 2013 model year, gets some significant updates for 2017. To the eye, the face is redone, with a fresh iteration of Nissan's V-Motion grille, surrounded by an updated hood and front bumper. At the other end, the taillamps get tweaked.
More important than the new suit, however, is the new power plant. Nissan has been well known for its award-winning V6 engines, but this new Direct Injection Gasoline (DIG) 3.5-liter unit contains more than 50 percent new parts, including a new combustion chamber design, pistons, intake manifold, and more. This update helps push horsepower from 260 to 284 and torque from 240 to 259.
Click below for Full Article
This Week's Station Wagon Article: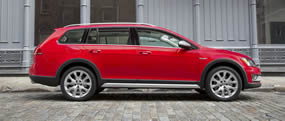 The 2017 Volkswagen Golf Alltrack Review: For decades, the Volkswagen Golf came as a hatchback, with either two or four side doors. Its sibling, the Jetta sedan, was offered in wagon form. Now if you want a compact station wagon from the German giant, it wears the Golf nameplate, while Jettas are now sedans only. Does this all sound familiar? The Alltrack is a direct shot at a very successful competitor, the company that invented the tall wagon - Subaru. "Alltrack" sounds a lot like "Outback," doesn't it?
Click below for Full Article
This Week's Family Sedan Articles: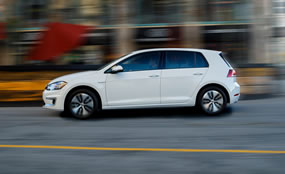 The 2017 Volkswagen e-Golf Review: In the wake of the Diesel emissions scandal, VW is emphasizing its electric car goals, but so far, its only all-electric car is the e-Golf. I enjoyed a week with a handsome White Silver example. With the sound and vibration of an engine removed, tire noise, wind, and EV functions come to the fore, so the engineers worked hard to make the e-Golf extremely quiet inside. They also installed a tone that's emitted at low speeds to warn pedestrians that the silent cruiser is close.
Click below for Full Article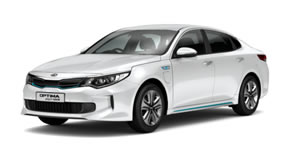 The 2017 Kia Optima PHEV Review: Plug-in Hybrids address two concerns. First, they help reduce carbon emissions by limiting gas consumption. With an 18-mile commute each way and a charger at work, I drove my Snow White Pearl test car to the office and back all week, burning exactly zero gasoline, thanks to the Optima's 27 miles of all-electric range. The second concern is limited ability to take long trips. But with the Optima PHEV, if I suddenly decide to drive from San Francisco to Los Angeles on the weekend, I can, without stopping to refuel. The total gas plus electric range is more than 600 miles!
Click below for Full Article
This Week's Convertible Article: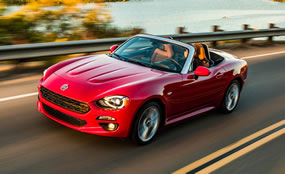 The 2017 Fiat 124 Spider Review: The Fiat 124 Spider is a small two-passenger roadster, and a beloved classic. What better way to spice up the utilitarian Fiat lineup in America than to bring back this fun machine. But developing a low-volume convertible from scratch would be too expensive. So, conversations were made with the folks at Mazda, who have since 1990, sold more than a million MX-5 Miatas. For years, Mazda has provided specialty production for other manufacturers to sweeten its bottom line, so it's a win-win production situation.
Click below for Full Article