This Week's Family Sedan Articles: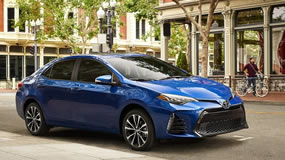 The 2019 Toyota Corolla Hatchback XSE Review: Toyota hasn't offered a hatchback version of the Corolla since the 1990s, but that's changing this year. With the oh-so-creative name of Corolla Hatchback, this new 2019 model is smaller, sportier, different and much more interesting than the Corolla sedan that sells in mind-blowing numbers every year. People who buy the Corolla sedan, and there are whole lot of you out there, do so for straightforward reasons: practicality, low ownership costs and an almost supernatural reputation for reliability. If you want cheap, dependable transportation, buying a Corolla sedan and driving it until the wheels rust off is your default choice.
Click below for Full Article

2019 Toyota Corolla Hatchback XSE
This Week's Luxury Car Article: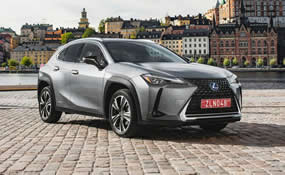 The 2019 Lexus UX 250h Review: With the new UX, Lexus expands its crossover lineup down market. They are hoping to not only sell young buyers their first Lexus, but their first luxury car. Lexus introduced the industry's first luxury crossover, the legendary RX, 20 years ago, and as part of Toyota enjoys a link to hybrid cars going back the same two decades. It makes sense then, to introduce the UX with gas only and hybrid power trains. Opt for the UX 200 with its 2.0-liter four or if you have greener goals, the UX 250h, with a more efficient 2.0-liter engine combined with Lexus' 4th-generation hybrid system.
Click below for Full Article
This Week's SUV Articles: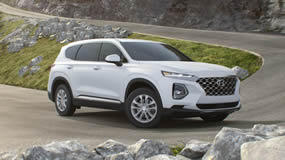 The 2019 Hyundai Santa Fe Ultimate 2.0T AWD Review: It only takes a short time driving the new for 2019 Hyundai Santa Fe to realize one thing: this vehicle isn't satisfied to be known as a "value leader" any more. Hyundai has long packed its cars and crossovers with an overabundance of content to woo buyers at every price point, a strategy that, along with higher quality products, has helped lift this Korean brand out of the economy-car doldrums and in to the mainstream prosperity.
Click below for Full Article

Hyundai Santa Fe Ultimate 2.0T AWD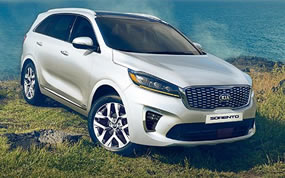 The 2019 Kia Sorento SXL AWD Review: These days, there's a new kind of racing in the automotive world. It's happening on the features list for every vehicle on dealers' lots. Across all types of vehicles, but perhaps most noticeably in SUVs and crossovers that have exploded in popularity in recent years, car brands are rushing to roll out features faster and cheaper than their competitors. Horsepower wars are out. Content wars are in.
Click below for Full Article
This Week's Crossover Article: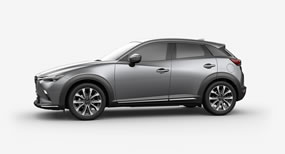 The 2019 Mazda CX-3 Grand Touring AWD Review: Competition in the small crossover space is so hot right now that vehicles have to be like Mary Poppins to sell, practically perfect in every way. The Mazda CX-3 has been Mary Poppins since it was introduced in 2016. There's very little I would change about it if given a magic wand, seeing how it already drives, looks and feels more expensive than it actually is.
Click below for Full Article