This Week's Event Article: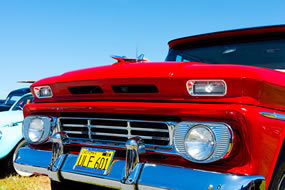 There are car shows, air shows, motorcycle shows, tractor shows, maker fairs, music festivals, food festivals, and living history festivals galore. Mix them all together in one venue on one day and you've got Half Moon Bay California's remarkable, one and only Pacific Coast Dream Machines Show –– marking its 27th year in 2017 with a massive celebration of mechanical ingenuity, power and style.
It's quite simply the "Coolest Show on Earth". This year's spectacular 27th annual show will be held on Sunday, April 30, a one-day mega-show, from 10 a.m. to 4 p.m. at Half Moon Bay Airport, located in the picturesque seaside town of Half Moon Bay, CA about 20 miles south of San Francisco.
It's a whimsical, fascinating, amusing, curious and absolutely unique show and tell spectacle featuring 2,000 magnificent driving, flying and working machines from the 20th and 21st centuries. The world's coolest cars of every era and style, model-T fire engines, vintage buses, custom motorcycles, tricked out trucks, sleek streamliners, one-of-a-kind antique engines and tractors and historic military aircraft will be among the mesmerizing displays.

2017 Pacific Coast Dream Machines Show
This Week's Family Sedan Articles: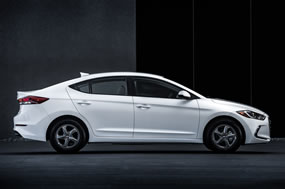 The 2017 Hyundai Elantra Eco Review: Even with low gas prices and SUVs aplenty, some people just want to drive a good compact sedan. Honda, Toyota, Mazda, and others have mastered the art off providing these over the years with the Civic, Corolla, and Mazda3, respectively. Hyundai's Elantra is a good way to do it, too. And today, the "compact" sedan has grown to more like a midsize inside.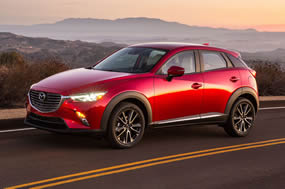 The 2017 Mazda CX-3 Review: The 2017 CX-3 is Mazda's entry-level car, it's a cute UTE. Sitting below the Mazda3 wagon and the popular CX-5 crossover, it offers a fun little runabout with lots of practicality and efficiency, at a low price. With loads of competition now, it flaunts its Mazdaness to compete.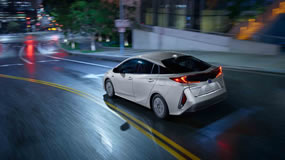 The 2017 Toyota Prius Prime Review: If you want to peek inside an alternate universe to see what everyone would be driving if gas prices weren't so cheap right now, take a look at this car: the 2017 Toyota Prius Prime. It's OPEC's worst nightmare. This is the car that could see America go through an oil embargo relatively unscathed, assuming Toyota could ramp up production in time. Why is it so special? Because it makes gasoline completely unnecessary for around-town trips and is very inexpensive for long ones.
Click below for Full Article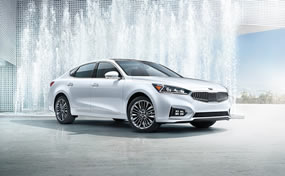 The 2017 Kia Cadenza Limited Review: The first thing I noticed about this car was its window-sticker price of $45,290, a number I still struggle to wrap my mind around on a Kia. Then I drove it and realized this might be the nicest $45,000 car I've ever been in, making it feel like a steal. There are plenty of strong choices for premium sedans in this price class, starting around $32,000, but few of them can reach the lofty level of my loaded-up 2017 Cadenza tester. It came with everything I'd expect from a $60,000 luxury car, sans the snob appeal.
Click below for Full Article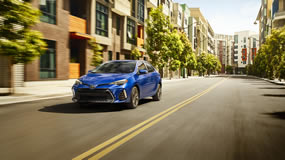 The 2017 Toyota Corolla XSE Review: Forty-three million. Think about that.
It's the number of Corollas Toyota has sold since it began production in late 1966, making this the best-selling automotive nameplate in the history of the world. That's selling an average of around 100 Corollas per hour, 24 hours a day, nonstop for 50 years.
If you parked 43 million Corollas end to end, that's enough to circle the equator five times. It could stretch halfway to the moon.
Click below for Full Article

Your Logo Here
l