This Week's Sport Family Article: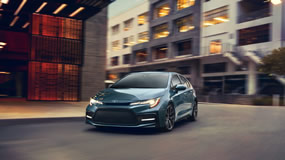 The Bottom Line: The Toyota Corolla is a line of compact cars manufactured by Toyota. Introduced in 1966, the Corolla was the best selling car worldwide by 1974, and has been one of the best selling cars in the world since then. With more than 45 million Corollas sold around the globe, in over 54 years of production, the Toyota Corolla is the best selling car in history.
Click below for Full Article
This Week's SUV Articles: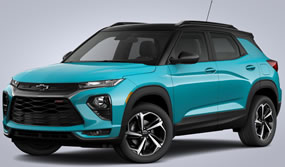 The Bottom Line: General Motors has had their up's and down's lately. Once the largest automotive manufacture in the world, they are now ranked fourth, behind Toyota, Volkswagen, Hyundai, and then General Motors. To get lean and trim, and be profitable, they closed down several nameplates over the years. Gone are Oldsmobile, Pontiac, Saturn and Hummer. Today GM sells only Buick, Cadillac, Chevrolet and GMC trucks.
Click below for Full Article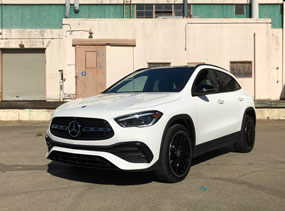 The Bottom Line: SUV's, trucks and crossover are selling at a fantastic rate today. Since the take rate of this segment is now over 50% of all vehicles sold, every manufacture has to have several models of SUV's to sell, just to stay in business. Mercedes now has 6 different SUV models to choose from. Leading the way is the 2021 GLA250 as their newest, and least expensive, compact SUV.
Click below for Full Article

2021 Mercedes Benz GLA250 4MATIC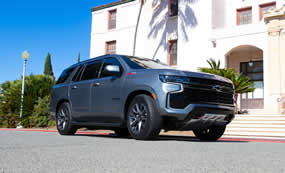 The Bottom Line: Here are the non luxury full size SUVs, in sales order, for the first three months of this year: Chevy Tahoe, Ford Expedition, GMC Yukon, Nissan Armada and Chevy Suburban. GM holds 3 of the top 5 sales positions in the full size SUV class, and the Chevy Tahoe is the best selling full size SUV in the United States.
Click below for Full Article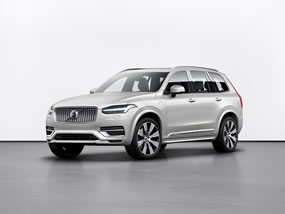 The Bottom Line: Volvo has been building cars since 1927, and is now 93+ years old, and counting. Volvo Cars, stylized as VOLVO, is a Swedish luxury automobile company. Volvo manufactures and markets SUV sport utility vehicles, station wagons, hatchbacks, sedans and compact executive sedans. It is headquartered in Gothenburg, Sweden and most of its worldwide employees are based in Sweden.
Click below for Full Article

2021 Volvo XC90 Recharge T8 Inscription AVD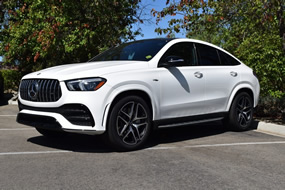 The Bottom Line: It seems like every car manufacturer has a high end performance division, with special call out letters glued to the rear deck lid. Dodge has SRT, Volkswagen has GTI, Toyota has TRD, and Mercedes has AMG.
Click below for Full Article

2021 Mercedes Benz AMG GLE 53 AWD Turbo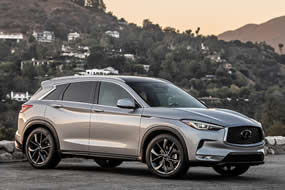 The Bottom Line: Nissan is a Japanese automaker and Infiniti is their luxury brand, and for that same reason some Infiniti vehicles are based on Nissan's lineup. From small sport sedans like the Infiniti Q50, to the large QX80 SUV with its third row, Nissan produces Infiniti and Nissan vehicles at several locations around the world.
Click below for Full Article

2021 Infiniti QX50 Autograph Edition AWD
This Week's Pickup Articles: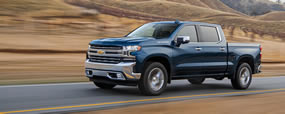 The Bottom Line: In 1955, the iconic Cameo Carrier was introduced with its industry first Fleetside styling and the legendary Chevy small block V8, debuting for the first time in a regular pickup truck. The first generation of Chevy C/K trucks started in 1960 and became the go to pickup truck for work and recreational activities.
Click below for Full Article
The Bottom Line: While the F-150 model didn't technically exist until 1975, the first 5 generations of Ford's half ton truck from 1948 were called the F-1 and F-100. The first generation would be the F-1 though the F-8. These included a half ton pickup, COE cab over engine model, and a school bus chassis.
Click below for Full Article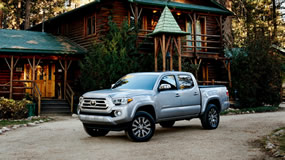 The Bottom Line: In 1964 Toyota launched its first stand alone small sized pickup truck in North America, called the Stout. The half ton 4x2 Stout was powered by an 86 horsepower 1.9L liter four cylinder engine. First year sales were dismal, to say the least.
Click below for Full Article

2021 Toyota Tacoma 4x4 Double Cab