This Week's Sport Sedan Article: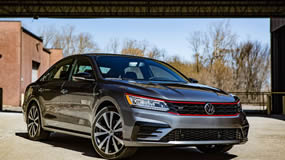 The 2018 Volkswagen Passat GT Review: It's easy to imagine many of Volkswagen's cars on the streets of their close-to-home markets in Europe. That's part of their charm.
The compact Golf, zippy Jetta and nostalgic Beetle have global appeal, but seem to unabashedly draw their spirit from German roots. The big Passat, in contrast, with its gigantic cabin, syrupy ride and wide-swinging doors, feels like it's built not just for Americans, but for an outsized caricature of Americans with our Big Gulp drinks, cowboy hats and beer bellies.
Click below for Full Article
This Week's Compact SUV Article: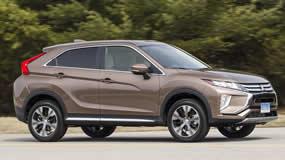 The 2018 Mitsubishi Eclipse Cross Review: Mitsubishi is selling a new crossover vehicle this year, and it's whipped up a name that's either brilliant or sacrilegious: Eclipse Cross. Named after one of the most beloved and best-selling Mitsubishi cars of all time, the sporty and stunning Eclipse, the new Eclipse Cross is trying to evoke some of the same emotions that made people fall in love with its sleek, spaceship-styled sports coupe in the 1990s. In some ways, it works.
Click below for Full Article
This Week's Pickup Articles: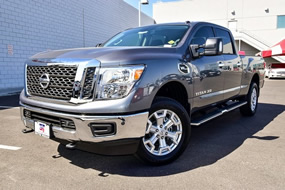 The 2018 Nissan Titan XD Pro-4X 4x4 Review: Nissan's Titan XD remains in many ways the Goldilocks of hard working pickups. Designed to have more capability than a half-ton truck but without the overkill, cost and drawbacks of a heavy-duty, three-quarter-ton pickup, the XD is uniquely slotted in the marketplace. It's designed to be "just right" for a certain type of truck buyer, a person who tows or hauls more than more than what a light-duty model can handle, but doesn't want the stiff ride, thirsty consumption and stratospheric sticker prices of domestic-brand heavy-duty pickups. After spending a week driving the Titan XD, I think it fits that mission perfectly.
Click below for Full Article

2018 Nissan Titan XD Pro-4X 4x4
This Week's Luxury SUV Article: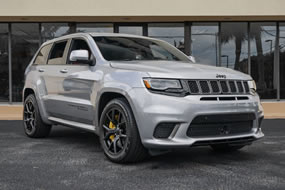 The 2018 Jeep Grand Cherokee Trackhawk Review: Putting a 707-horsepower engine in a street legal car is crazy enough. Now Fiat Chrysler Automobiles has gone off the charts insane by cramming the supercharged Hellcat V8 under the hood of a Jeep Grand Cherokee, creating one of the strangest and most exciting Frankenstein SUVs the world has ever seen It's called the Trackhawk, and it's hard to believe a vehicle like this even exists. It does, though, and I just spent a week driving one in its powerful, wonderful, illogical glory.
Click below for Full Article

2018 Jeep Grand Cherokee Trackhawk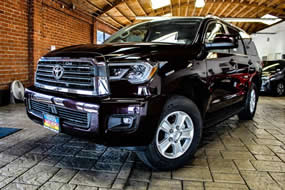 The 2018 Toyota Sequoia 4X4 TRD Sport Review: The Toyota Sequoia is designed for people who need real SUV capability, not just the look. While America's highways appear more like Jeep fan conferences every year as boxy, tough-looking crossover vehicles replace four-door sedans, in reality, very few of these newcomers, even the roomiest ones, can do what a Sequoia can. That gives this tall Sequoia major advantages but equally important drawbacks. The high points: Its tough-as-nails, body-on-frame design makes it a serious beast on trails, with ample ground clearance, torque from the engine and grip from its optional four-wheel-drive system.
Click below for Full Article

2018 Toyota Sequoia 4X4 TRD Sport