This Week's SUV Article: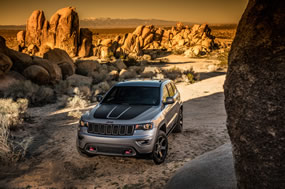 The 2017 Jeep Grand Cherokee Trailhawk Review: At a time when American roadways seem to be overflowing with crossover vehicles, ones that visually project toughness without actually being SUVs, it's refreshing to drive one with some authenticity. The Jeep Grand Cherokee is nothing if not authentic. This is a vehicle that has always offered a breadth of capability that few can match. It's clearly a luxury vehicle with creature comforts and buttery smoothness for drivers who want to pamper themselves in a leather and wood cocoon.

2017 Jeep Grand Cherokee Trailhawk
This Week's Sports Coup Article: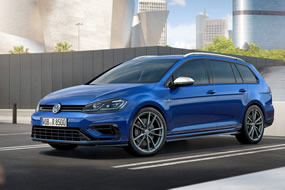 The 2017 Volkswagen Golf R Review: This is a car most folks wouldn't give a second glance. It's a tiny hatchback, the kind a high school algebra teacher would drive because it's sensible, practical and economical. Or so you'd think. Look under the skin and you'll find something remarkable. This sensible-looking car comes with nearly 300 horsepower, a crazy-low suspension setup and brake discs the size of Trump's ego. It's insane. It's ridiculous. It shouldn't even exist. Yet it does, with a name just as unassuming as its hatchback body: The Volkswagen Golf R. But what a difference that letter can make.
This Week's Crossover Article: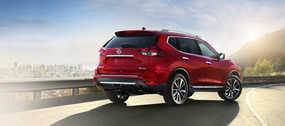 The 2017 Nissan Rouge Hybrid Review: The Rogue is one very popular Nissan. It's a compact crossover, so it's situated in a rising car market segment. The most recent version has done so well that for 2017, Nissan gave it a heavy mid cycle refresh, with some updated styling and new content. Up front, the Rogue now wears the corporate front fascia with the signature "V-Motion" grille and revised headlights and daytime running lights.
This Week's Family Sedan Articles:

The 2017 Kia Forte Review: Despite all the excitement over crossovers these days, many people still want a reasonably sized, economical sedan, that's big enough to have road presence and safety, but doesn't break the bank either. The Kia Forte offers a rich mix of features for day-to-day living, plus has five-star government safety ratings and affordability.
Click below for Full Article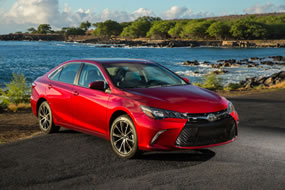 The 2017 Toyota Camry Hybrid Review: The midsize Toyota Camry sedan has enjoyed the top spot in car sales in the U.S. for the last 14 years. Now in its 35th year and seventh generation, it remains a hit. What folks may not know is that Toyota sells lots of other hybrids besides the Prius. There's an Avalon, Highlander and RAV4 Hybrid offered, and even a Camry model. While it's not as fuel efficient as the Prius, the Camry Hybrid still is significantly more green than the gasoline-only models.
Click below for Full Article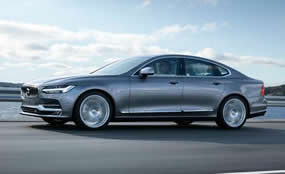 The 2017 Volvo S90 Review: Today, most people no longer associate Volvo with boxy cars and safety. Yes, they did look like shoeboxes from the late 1960s through the 1990s, and you wanted to be in one if a crash occurred, as they invented shoulder belts. But in the 21st century, Volvos look much sleeker and more appealing today. Now with Chinese ownership, and the resultant inflow of investment cash, the brand enjoys a product renaissance. Following in the footsteps of the award-winning XC crossover comes the lovely new S90 flagship sedan.
Run your eyes over the exterior. The flanks present forthright styling that captures some of the old edginess, but framing a sensuous midsection. The concave grille wears a waterfall of matte silver bars and the traditional ironmark, surrounded by a chrome ring.
Click below for Full Article