This Week's Family Sedan Articles: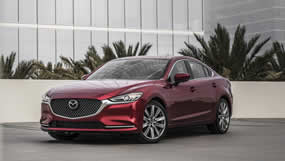 The 2018 Mazda6 Review: At a time when most manufacturers are pouring their development money into electric cars and endless iterations of crossover vehicles, Mazda still sees room to push the limits of what a four-door sedan can be. Need proof? Take a drive in the heavily updated 2018 Mazda6. This mid-size car was already one of my favorites thanks to the many things it does well: fuel efficiency, styling, cabin design and, above all else, driving dynamics that make it feel more like a pricey European sports sedan than an affordable family runabout. Now it's moving into two territories where family cars, especially ones at this price, rarely tread.
Click below for Full Article
This Week's Sports Coupe Article: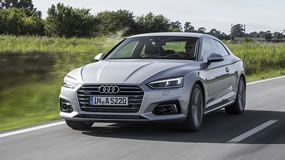 The 2018 Audi A5 Coupe Review: Audi is famous for its fine sedans, and they've more recently added a line of popular crossover vehicles. The A5, however, is a coupe, occupying a slightly sportier segment in the lineup. This next-generation model just received significant updates, too, on a new chassis. While Audis have been conservatively updated over the years, their general proportions historically are clean and balanced. Over the last several years, larger and larger grilles and more edges have become more part of the design.
Click below for Full Article
This Week's Crossover Articles: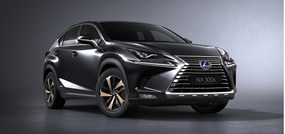 The 2018 Lexus NX 300h Review: The Lexus NX 300h brings Toyota's famous hybrid technology to a compact crossover shape. That's good for about a 25 percent improvement in fuel economy and substantially improved emissions over the standard NX 300, in a luxurious package. The secret to any hybrid is that it uses less fuel because it's running electrically part of the time. In this case, instead of the NX 300's 275-horsepower 2.0-liter turbocharged four-cylinder, the NX 300h gets a non-turbo 2.5 liter four, with just 154 horsepower (152 lb.-ft. of torque). However, it's the addition of three electric motor generators and a 204-cell nickel metal hydride battery that make the difference. This car has no plug in, so all the energy is generated by regeneration, when your braking.
Click below for Full Article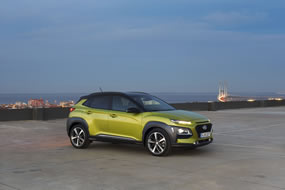 The 2018 Hyundai Kona Review: Subcompact crossover vehicles didn't exist until a few years ago, but these days they're rapidly replacing tiny sedans and hatchbacks as the most popular entry-level vehicles in America. Now Hyundai is jumping into the fray with the Kona, a small vehicle that looks like an SUV, is priced like an economy car, and slots below the Tucson on the showroom floor. For the most part, the Kona follows the same formula as the Honda HR-V, Toyota C-HR, Chevrolet Trax and their kin: start with a short-wheelbase car, raise the ride height, add a lift gate and fold-down seats in back for cargo, toss in a dash of beefy SUV styling, and voila! Your brand's sales get a boost because that's what today's buyers want.
Click below for Full Article
This Week's Luxury SUV Article: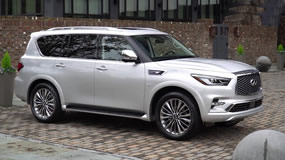 The 2018 Infiniti QX80 Review: Infiniti's gigantic, smooth-riding SUV, the QX80, gets a new look that makes it slightly less polarizing this year. Long defined by its love-it-or-hate-it snub nose, Infiniti is hoping refreshed styling will move the QX80 into the "love" column for more buyers. The hood is longer and higher now, giving it a more upright, truck-like look, and its previously rotund curves have been replaced by gentle, sleek creases. Its overall look is more contemporary now. Still, you don't have to look hard to see within those pretty new lines echoes of its close corporate relative, the Nissan Armada. And that raises the chief question about the biggest Infiniti: is it worth the premium over its Nissan cousin?
Click below for Full Article
This Week's Fun Car/Motorcycle Article: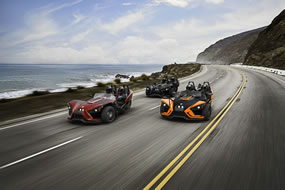 The 2018 Polaris Slingshot Review: When the traffic light turns green, I mash the gas pedal, let out the light-as-a-feather clutch, then feel a single rear wheel fighting to grip the pavement as the engine winds up to an ear-splitting wail just inches in front of my knees. From that first moment, it was clear I'd be spending the week driving something special, and hard to define. This alien-looking, three-wheeled contraption is one of the most thrilling and unusual vehicles I've ever driven, offering a hint of supercar styling and excitement but lacking some things I've come to expect in even the cheapest cars, including doors, a roof and basic safety equipment. It's called the Slingshot.
Click below for Full Article