This Week's SUV Articles:

The 2017 Jeep Compass Trailhawk 4x4 Review: It's interesting that, at least for a brief period of time, you can buy two completely different vehicles called the "2017 Jeep Compass." One is an old, out-of-date design that better be a screaming bargain if you buy it; the other is a fresh looking, quieter, better handling vehicle that's unquestionably the best off-road machine in its price class, starting at only $20,995. If your dealer stocks both, drive the two and compare. The difference is striking.
Click below for Full Article

2017 Jeep Compass Trailhawk 4x4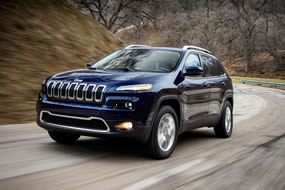 The 2017 Jeep Cherokee Overland Review: If you want a Jeep that's grand, there's an obvious place to turn. It's even in the name: the Grand Cherokee. While high-end versions of the Grand Cherokee can easily top $50,000, there's a new luxury Jeep that's considerably smaller but also doesn't require such a grand bank account. It's a fresh, premium trim level for the smaller 2017 Cherokee called the Overland.
Click below for Full Article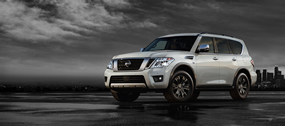 The 2017 Nissan Armada Platinum Edition Review: In recent years, the Infiniti QX80 has topped my list of dream SUVs for road trips. It's so spacious, so quiet and so sumptuously smooth that it makes a Cadillac Escalade shod with 22-inch wheels feel like a dump truck in comparison, so I can't think of any SUV I'd rather drive on the highway. The QX80 is just that good, assuming you want an old-school, cotton-candy luxury ride like I do. Well, now the big Infiniti has some fresh competition from its corporate cousins at Nissan. The new 2017 Nissan Armada rides on the same platform, drives with almost the same panache and even shares much of the same styling with the QX80, all while starting at a dramatically lower price.
Click below for Full Article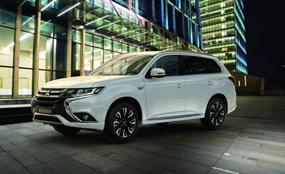 The 2017 Mitsubishi Outlander Review: When you're shopping for a family-friendly crossover, there's no sense asking yourself whether it's a nice vehicle or not. There just aren't any bad ones in this segment right now. The question you need to ask is a bit trickier: Is it nice enough? That's what I keep wondering as I drive the revamped for 2017 Mitsubishi Outlander, a three-row crossover that starts at a budget friendly $23,495 but has long struggled to stand out in a market oversaturated with strong products.
Click below for Full Article
This Week's Luxury Car Article: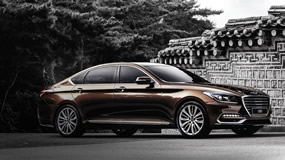 The 2017 Genesis G80 Review: A few weeks ago I reviewed the Genesis G90, the flagship car for Hyundai's brand-new luxury marque. This week I'm driving its little sister, the G80, a car that will introduce the Genesis brand to a bigger audience thanks to its more attainable starting price of $41,400. The differences between the two models are striking, but I'm more impressed with the similarities. While the smaller G80 has a sportier, livelier and more engaging feel over the road, it does nearly as good a job as the G90 at pampering you.
Click below for Full Article
This Week's Pickup Article: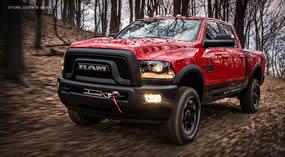 The 2017 Ram 2500 Power Wagon Crew Cab 4x4 Review: When an off-road truck comes with its own built-in winch, you know it means business. Far more than an appearance package and beefed-up suspension, the new 2017 Ram Power Wagon goes places very few off-road vehicles dare, especially at its gargantuan size. It comes from the factory with the kind of equipment hardcore enthusiasts would want on their own off-road rigs, including front and rear locking differentials, 33-inch Goodyear DuraTrac tires, a disconnecting sway bar and, of course, that very conspicuous Warn 12,000-pound winch behind the front bumper.
Click below for Full Article

2017 Ram 2500 Power Wagon Crew Cab 4x4
This Week's Family Sedan Articles: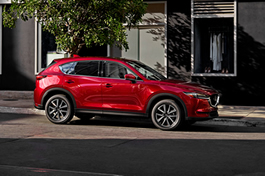 The 2017 Mazda CX-5 Grand Touring Review: Driving on the country roads that zigzag around plots of farmland in rural East Texas, one thing is clear about the new Mazda CX-5. It still carries some sports-car DNA. That's long been the chief selling point for the CX-5, a family-friendly vehicle that has reasonable space for baby seats in back, yet still feels light, nimble and enjoyable when you flick the steering wheel and zoom by cow pastures. It's perfect for drivers who need practicality, but also want a hint of the MX-5 Miata's smile-making personality.
Click below for Full Article
This Week's Convertible Article: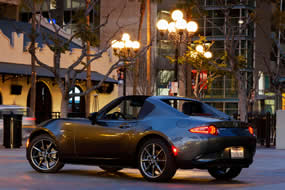 The 2017 Mazda MX-5 Miata Grand Touring RF Review: In the interest of full disclosure, I'll state my bias up front: I love the Mazda Miata almost to the point of insanity. I've owned a Miata most of my adult life and plan to keep at least one in my garage until the day I die. From my perspective, it's the perfect vehicle for everyone from teen drivers to grandparents to furniture delivery companies, because it has unlimited vertical cargo capacity when you put the top down! It's incredibly reliable. It gets great gas mileage. And most importantly, it's the most fun-to-drive vehicle on the planet.
Click below for Full Article

2017 Mazda MX-5 Miata Grand Touring RF