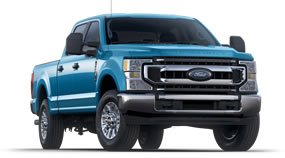 The Bottom Line: Over 20 years ago Ford Motor Company introduced the first Ford F250 Super Duty pickup truck in the 1999 model year. That was the same year I published my first automotive article on the internet, and the subject was that same brand new for 1999 F250 Super Duty pickup truck. My first article is still on-line for the past 21 years at AutoWire.Net.
Click below for Full Article

2020 Ford F250 Super Duty Platinum Edition 4x4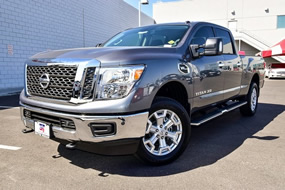 The 2018 Nissan Titan XD Pro-4X 4x4 Review: Nissan's Titan XD remains in many ways the Goldilocks of hard working pickups. Designed to have more capability than a half-ton truck but without the overkill, cost and drawbacks of a heavy-duty, three-quarter-ton pickup, the XD is uniquely slotted in the marketplace. It's designed to be "just right" for a certain type of truck buyer, a person who tows or hauls more than more than what a light-duty model can handle, but doesn't want the stiff ride, thirsty consumption and stratospheric sticker prices of domestic-brand heavy-duty pickups. After spending a week driving the Titan XD, I think it fits that mission perfectly.
Click below for Full Article

2018 Nissan Titan XD Pro-4X 4x4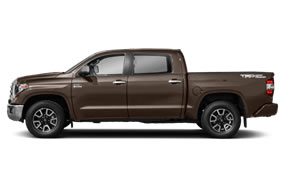 The 2018 Toyota Tundra 4x4 1794 Edition CrewMax Review: As America's pickup truck wars reach a white-hot intensity this year, Toyota is making several changes to its aging, but still impressive, Tundra. This full-size truck built in San Antonio, Texas, has long charted an independent course through a remarkably entrenched domestic pickup market. It's only available with a V8 engine, for example, a decision that spits in the face of its highly splintered rivals with their turbocharged four-cylinders, V6s and small diesels, in addition to big V8s. And as of this year, the Tundra also is only available with four doors.
Click below for Full Article

2018 Toyota Tundra 4x4 1794 Edition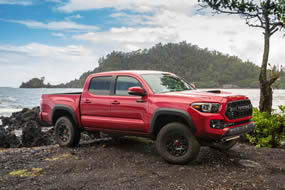 The 2017 Toyota Tacoma TRD Pro Review: After a complete redesign last year, Toyota did the one thing that could make its new midsize pickup even cooler: release a sweet looking, highly capable TRD Pro version for off-road enthusiasts. Much more than an appearance package, the TRD Pro is built for people who take off-roading seriously. Its starting price of nearly $41,000 emphasizes the point, charging a serious premium over the base Tacoma's $24,120 sticker. What you get for that price is virtually two trucks in one.
Click below for Full Article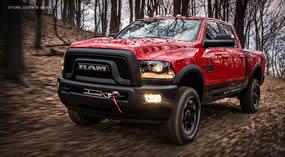 The 2017 Ram 2500 Power Wagon Crew Cab 4x4 Review: When an off-road truck comes with its own built-in winch, you know it means business. Far more than an appearance package and beefed-up suspension, the new 2017 Ram Power Wagon goes places very few off-road vehicles dare, especially at its gargantuan size. It comes from the factory with the kind of equipment hardcore enthusiasts would want on their own off-road rigs, including front and rear locking differentials, 33-inch Goodyear DuraTrac tires, a disconnecting sway bar and, of course, that very conspicuous Warn 12,000-pound winch behind the front bumper.
Click below for Full Article

2017 Ram 2500 Power Wagon Crew Cab 4x4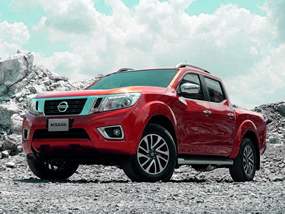 The 2016 Nissan Frontier Pickup Review: Nissan has sold pickup trucks in the U.S. for decades. Many years ago, as Datsun, it introduced little trucks for a different purpose than the full-size models. The Frontier is a descendant of those diminutive haulers, although it's only small in comparison to the company's full-size and appropriately named Titan.
Like other pickups, the Frontier gives you lots of choices, starting with the trim level. Nissan offers five, from the basic S through SV, PRO-4X, Desert Runner, and SL. The S is barebones, the Pro-4X is the four-wheel-drive off road specialist, the Desert Runner is a two-wheel-drive model with the larger engine only, the SV is the midrange choice that suits most buyers, and the SL is the luxury version.
Click below for Full Article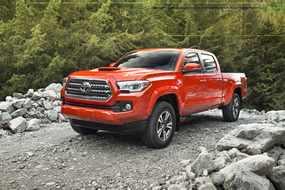 The 2016 Tacoma 4x4 TRD Double Cab Review: Until last year, mid-size trucks were the red-headed stepchildren of the automotive world. Most of them were completely neglected, going without major updates for a decade or more as their big, pricey, full-size siblings got all the attention. That changed with the introduction of the Chevy Colorado a year ago. Along with its twin from GMC, the Canyon, it was such a leap above the competition that Motor Trend named it "Truck of the Year," snubbing the ground breaking Ford F-150 that normally would have been a shoo-in for the prize. Now Toyota has gone and made that "Truck of the Year" Colorado look like ancient history.
Click below for Full Article

2016 Tacoma 4x4 TRD Double Cab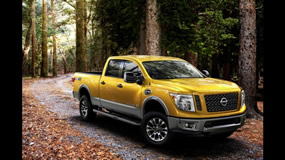 The 2016 Nissan Titan XD Platinum Reserve Crew Cab 4x4 Review: The Nissan Titan XD is the first of several new Titans to hit the market. Powered by a Cummins diesel engine, it is designed to offer more capability than a light-duty truck. The Platinum Reserve trim level, shown here, is Nissan's new entry in the fast-growing luxury truck segment. To hear Nissan describe their latest and greatest pickup, the Titan XD, you'd think it's the Goldilocks of trucks: nothing less and nothing more than you need.
Click below for Full Article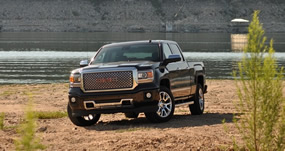 The 2016 GMC Sierra 2500 Denali 4WD Review: If you've got to work hard, why not do it in the lap of luxury? The ethos of fancy corporate suites is hitting the world of pickup trucks in a big way as manufacturers explore the upper limits of pricing and equipping their luxury pickups this year. It's a strange combination, mixing the muddy, gritty, Paul Bunyan toughness of a heavy-duty truck with the highbrow sophistication of leather, wood and every imaginable gadget, and I don't blame people for wanting it.
And one of the nicest ways to work hard is in this truck, the GMC Sierra HD Denali.
Click below for Full Article

2016 GMC Sierra 2500 Denali 4WD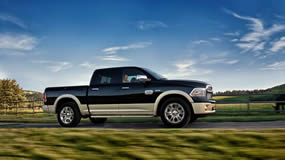 The 2014 Ram 1500 EcoDiesel Review: Diesel engines and pickup trucks go together like peanut butter and jelly, but manufacturers have been surprisingly reluctant to put diesels in their light-duty trucks. And it's not because there's no demand.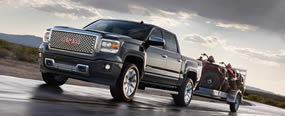 The 2014 GMC Sierra Denali Review: Pickup trucks are a big profit center for General Motors, so when they redesigned the GMC Sierra, they were careful not to change it too much. The 2014 model really is all brand new, but you will still recognize it, at the job site, and in your neighbor's driveway, as a GMC pickup truck. And you can choose from Standard Cab, Double Cab or Crew Cab.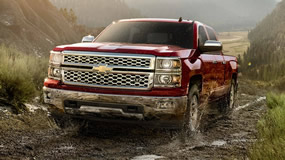 The 2014 Chevrolet Silverado 1500 Review: You would think the novelty of driving a new truck would wear off eventually, but that doesn't happen for me. Every time I drive a pickup, I'm blown away by just how far these machines have evolved. When I was a young child, my idea of pickups was molded by my grandpa's old, white, rickety truck that was barely one step removed from a bulldozer on the automotive ladder.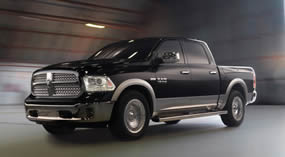 The 2013 Ram 1500 SLT Crew Cab Review: It's interesting that the Ram has gone from being one of the truckiest trucks, with big-rig styling, high fuel consumption and a rough-and-tumble ride to one of the most car-like in recent years. The makeover started two years ago when the Ram 1500 dumped its old leaf-spring rear suspension in favor of a more up-to-date design, something that gave it a smoother, more controlled ride than most pickups. But this year, Ram is taking refinement to an extreme.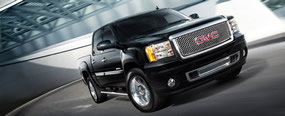 The 2013 GMC Sierra Denali 1500 Review: In the testosterone-fueled wars between pickup trucks, one thing matters above all else: raw numbers. It's interesting, then, that until this year there has been no standardized way of measuring how many pounds different pickup trucks can tow. Each brand would brag about its maximum towing capability as if it were the one and only truck that could possibly have enough gumption to haul a bass boat, but each company also set its own criteria for how to measure that magic number.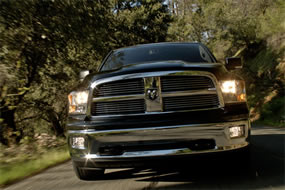 The 2012 Ram 1500 Lone Star Crew Cab 4x4 Review: Pickups are built to do the jobs that are too tough, or dirty for ordinary cars, and the big Ram 1500 is the perfect example. It's incredibly useful for making your life fuller and, in some cases, just more fun.
Click below for Full Article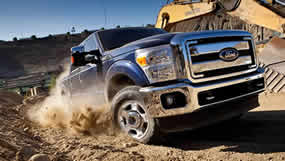 2011 Ford F250 Super Duty Pickup Review: Ford's F Series trucks have been the U.S. truck sales leaders since Jimmy Carter was in the White House. The F150 is the best selling vehicle of any kind in America year after year. But when the job requires more capacity, it's time for a Super Duty.
Click below for Full Article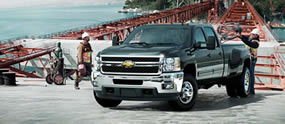 2011 Silverado HD Review: Heavy-duty trucks are all about numbers. There's also that deep job-site rumble and chiseled cowboy styling to like, but at their heart, the biggest trucks boil down to simple arithmetic. How much can they tow? What's the payload capacity? How much horsepower and torque do they make?
Click below for Full Article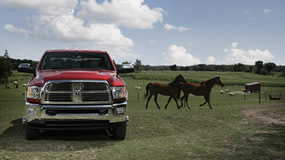 RAM 3500 Review: Today's automotive landscape is a weird place. Just look at the most popular kind of vehicles being introduced as 2011 models. They're all crazy combinations of things that aren't meant to go together: crossover vehicles that try to be sports cars, four-door sedans that look like two-door coupes, and hybrid cars that can't decide whether they want to run on gasoline or electricity. But the weirdest of all? Heavy-duty trucks that try to be luxury cars.
Click below for Full Article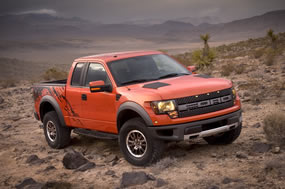 Ford F-150 Raptor Review: Todayís road test is about the Ford F-150 4X4 SVT Raptor. Many magazines have raved about this truck, and I guess you have to be into the ďmine is bigger than yoursĒ thing, to appreciate it. Based on the F-150, but feeling so much larger, the Raptor is a Dearborn built off-road racer.
Click below for Full Article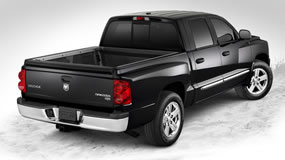 RAM Dakota Review: There are a lot of reasons to like small trucks. They're easier to park. They get better gas mileage. They feel more nimble on the road. Unfortunately, the gap between small trucks and their full-size siblings is growing wider every year. The big trucks are constantly being redesigned and improved to be more powerful, more capable, more refined and more comfortable. They have to because the competition is so intense.
Click below for Full Article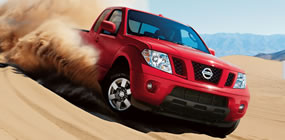 Nissan Frontier Review: In the world of trucks, it seems that bigger is always better. TV ads brag about how much stuff you can haul, how roomy the cabin is and how many horses lurk under the hood. But does bigger size always mean a better value? That's the question you have to ask before checking out the 2010 Nissan Frontier.
Click below for Full Article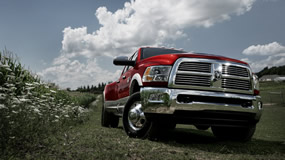 Ram 2500 Heavy Duty Review: According to Chryslerís demographics, I am the typical customer for the new 2010 Ram 2500 Heavy Duty pickup. Yup, thatís right, sex (male), age (mid-fifties), income (decent), married (85% of buyers are). I enjoyed driving my Inferno Red, diesel-equipped truck, but writers donít need monster trucks to commute to their cubicles.
Click below for Full Article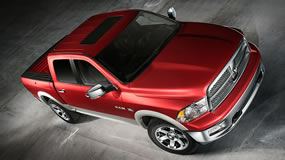 Dodge Ram Review: If you're thinking about buying a new truck, you're in luck. There's never been a better time to get one. It's not that dealers are offering better bargains, although the slow economy has helped some on that front, but that competition has improved the breed so dramatically in recent years.
Click below for Full Article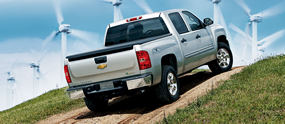 Chevrolet Silverado Review: If you're looking for a new truck, I've got good news and bad news. The good news is that nobody makes a bad truck any more. The competition has become so intense, especially since Toyota and Nissan entered the picture with their Tundra and Titan, that Ford, Chevy and Dodge have all redesigned their truck lines in a frenzy of oneupmanship.
Click below for Full Article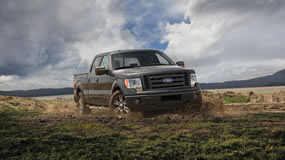 Ford F-150 Review: The Ford F-150 pickup is an American icon. With more than 33 million sold since 1948, the perennial full-size pickup leader offers bold new styling, a huge range of choices, clever innovations and more sophistication for 2009.
Click below for Full Article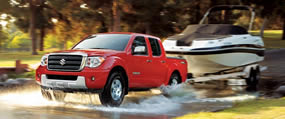 Suzuki Equator Review: Suzuki, long a purveyor of motorcycles, rugged, compact SUVs over the past twenty-three years, and recently, nice but often overlooked, compact cars, introduced its first real pickup truck this year, the 2009 Suzuki Equator, a very nice mid-size pickup.
Click below for Full Article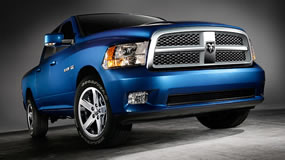 Dodge Ram Review: Years ago, new pickup trucks had incredibly long life cycles. Ford, Chevy and Dodge would come up with new designs, and then let them age for nearly a decade before they made any major changes. Truck makers don't have that luxury anymore.
Click below for Full Article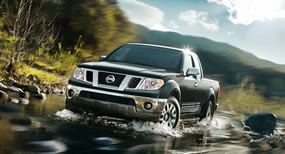 Nissan Frontier Review: I spent the past two weeks driving a couple of massive Japanese trucks, the Toyota Tundra and the Nissan Titan. And while I know some people need the capability of a Goliath truck, most of us would be perfectly happy driving David. Anything bigger is just a waste.
Click below for Full Article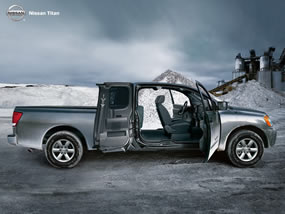 Truck Review: The 2009 Nissan Titan, now in its fifth year of production, has a handsome body to go with its work-truck capabilities. The Utili-Track system in its bed is especially useful for tying down cargo.
Click below for Full Article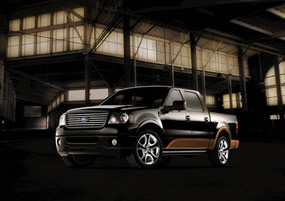 Truck Review: If you're looking for class, taste and sophistication, you've found the wrong truck. This is the 2008 Ford F-150 Harley-Davidson Edition, a shrine to all things brash and loud. It's an unholy collection of chrome, leather, Harley logos and raw power that thinks of the road as its mosh pit.
Click below for Full Article

2008 Ford F-150 Harley-Davidson Edition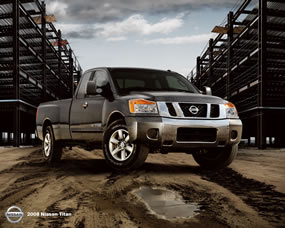 TRUCK REVIEW: Until recently, the Nissan Titan was your only option if you wanted a full-size, Japanese-brand truck. Now Nissan's Titan is no longer the only Japanese full-size truck for sale in America. It now competes with the Tundra, adding stress to its already difficult race with the American brands.
Click below for Full Article

2008 Nissan Titan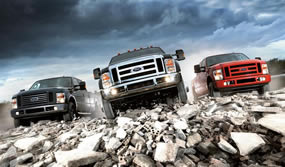 Truck Review: Until this year Ford's giant F-450 truck was only sold as a commercial vehicle for people who wanted to build dump trucks and the like. Now it's offered as a regular pickup, albeit a huge one, at Ford dealers across the country. This enormous Ford F-450 puts commercial capability in consumerís hands.
Click below for Full Article

2008 Ford F-450 Super Duty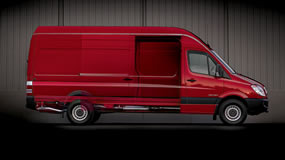 San Francisco: This was a first, a vehicle so large that I was actually worried about driving it. I am talking about a truck that is almost 23 feet long, 9 feet high, and that has a GVWR of 11,000 pounds!
Click below for Full Article

2007 Dodge Sprinter 3500 Cargo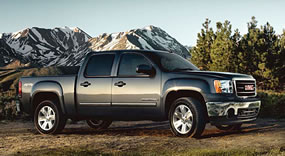 San Francisco: The full-size pickup truck market in America is huge. For a long time, GMC, Chevy, Ford, and Dodge have had this market to themselves, but now some Japanese brands are stepping up with their entries. Itís brutally competitive. So GMC needs its brand new Sierra to be a winner.
Click below for Full Article

2007 GMC Sierra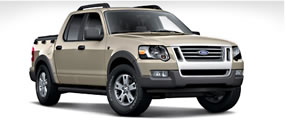 San Francisco:Suppose youíre got a five-person family and you want them to ride in a comfy SUV. However, what if you could add a pickup bed behind your SUV? Well, with the Ford Sport Trac, you can. The Sport Trac has been around for years, but now itís all new for 2007.
Click below for Full Article

2007 Ford Explorer Sport Trac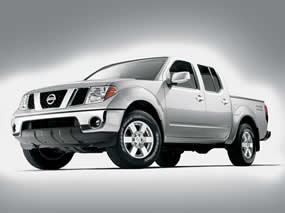 San Francisco: Like a smaller version of the Nissan Titan, the Frontier offers big-truck performance and versatility in a more affordable package.
Click below for Full Article

2006 Nissan Frontier King Cab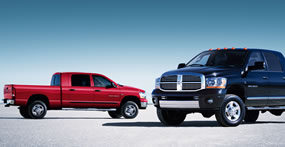 San Francisco: With the 2006 Ram Mega Cab, Dodge now offers the largest pickup truck cab in the world. By slicing 21 inches out of the bed length and adding it to the cab, Dodge has created a vehicle that rivals my first studio apartment in San Francisco. That humble dwelling was made from a one-car garage, so Iím only exaggerating slightly here.
Click below for Full Article

2006 Dodge Ram Mega Cab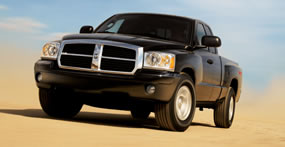 San Francisco: Dodge created the mid-size pickup class in the spring of 1986 when they introduced the 1987 Dakota. Up until then there were two choices if you wanted a pickup truck. A full size truck like the Dodge Ram, F-150, and Chevrolet / GMC half tons, or compact trucks like those from Toyota or Nissan, plus Dodge had the D Ram 50, which was a rebadged Mitsubishi.
Click below for Full Article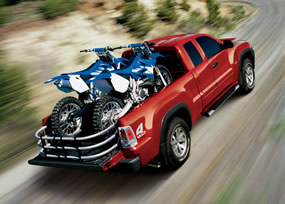 San Francisco: Itís a Dodge Dakota with a funny looking body. Thatís how I described the 2006 Mitsubishi Raider XLS Doublecab 4x4, a compact pickup truck that Mitsubishi introduced for 2006, when people asked what I was driving last week.
Click below for Full Article

San Francisco: Is this the best Isuzu can do? The company's lineup now consists entirely of General Motorís rip-offs, including this I-350 pickup that's nothing but a Chevy Colorado. The only difference is the name on the hood.
Click below for Full Article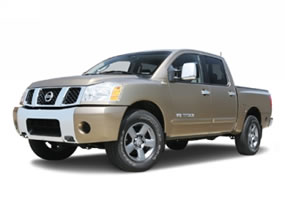 San Francisco: The Nissan Titan is in the second year of its assault on the domestic truck market, and it seems to be an effective one. Ample power, good looks and strong towing performance all make it a good contender.
Click below for Full Article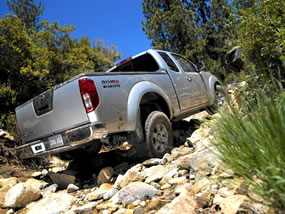 San Francisco: The 2005 Nissan Frontier 4X4 Crew Cab LE as the ďMost Powerful Mid-Size TruckĒ really throws down the gauntlet. I am not going to argue about it, it does make 20 hp more than the V6 Toyota Tacoma. So how can I start this article any other way than with the engine?

Click below for Full Article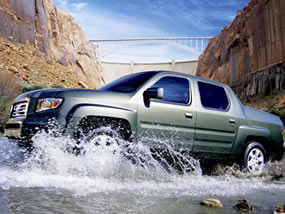 San Francisco: Honda has finally joined the truck crowd with a new entry this year. While Ford, Chevy and Dodge dominate the pickup truck field, Toyota, Nissan, and now Honda, are offering full size pickup trucks in the American market. The Ridgeline is Hondaís first pickup truck.
Click below for Full Article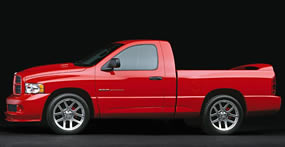 San Francisco: Dodge has always been the performance division of the Chrysler Group all the way back to the 60ís. In 1999 they brought the Viper V-10 roadster out and made headlines with the fastest sports car you could buy. Today they have a new high performance vehicle called the Dodge Ram SRT-10 Quad Cab, the fastest 4-door pick up truck you can buy on planet Earth.
Click below for Full Article

2005 Dodge Ram SRT-10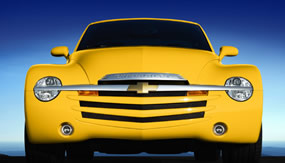 San Francisco: If your goal in life is to turn heads, you can't find a better vehicle than this Chevrolet SSR. With a retro look, Corvette power and disappearing convertible top, it's sure to make you the talk of the neighborhood. The retro style extends into the SSRís two-seater cabin, where chrome gauges and body-color trim make it feel like a classic hot rod.
Click below for Full Article

2005 Chevrolet SSR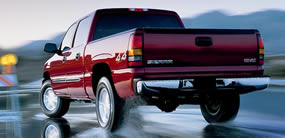 San Francisco: By now most people think when you say ďhybridĒ assume you are discussing a fuel-efficient vehicle. Thatís because the goal of a hybrid is usually higher gas mileage. However, as the hybrid phenomenon expands to more vehicles, the assumption of high fuel efficiency has got to go. Now think of it as offering improved fuel efficiency, and sometimes not by that much.
Click below for Full Article

San Francisco: It's funny, while sports sedans drop their interesting names for dull alphanumerics, trucks and SUVs sound more exciting by the day. Welcome to Chevy's new 2004 Chevrolet Colorado.

Click below for Full Article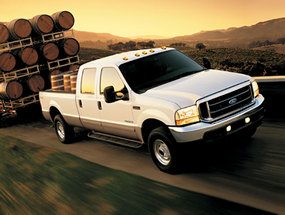 San Francisco: Ford's lineup of Super Duty trucks has a tough, rugged look that matches its fantastic work ability and with the right options, it can tow over 7 tons. While it's not nearly as comfortable and classy as the latest F-150's cabin, the inside of Ford's Super Duty work truck is still fairly nice.
Click below for Full Article

2004 Ford Super Duty F-250 4x4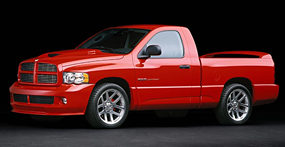 San Francisco: The 2004 Dodge SRT-10. So this is the world's fastest production pickup truck. At least for now. There's always someone waiting to get the famous gunslinger but let's revel in the glory and power that is here today. The Dodge Boys are building a Viper Powered Pickup.
Click below for Full Article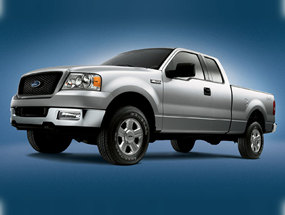 San Francisco: Ford's F-150 pickup is its most important product. By itself, the full-size truck accounts for 28 percent of Ford Division sales and 23 percent of the entire company's sales in the U.S.
Click below for Full Article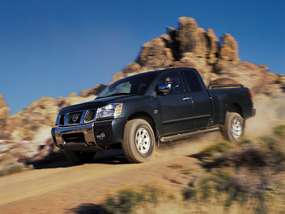 San Francisco: If you wanted to make a big impression with a new product, you'd pick a humungous name for it, wouldn't you? Well, the Nissan Titan pickup truck is not only a big deal, it's a huge vehicle too!
Click below for Full Article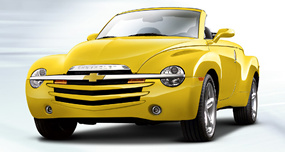 San Francisco: When you describe something to someone, you can usually compare it to something else. But the Chevrolet SSR is absolutely unique -The only thing that even resembles it would be found at one of the top-level custom car shows.
Click below for Full Article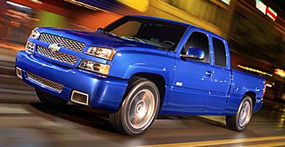 San Francisco: Horsepower…it's the stuff of dreams and what makes our collective heart pound fast. It was the biggest news for the automakers back in the '60s, what with the muscle car feud that kept horsepower numbers climbing higher and higher until emissions legislation, high insurance premiums and a gas shortage calmed the beast.
Click below for Full Article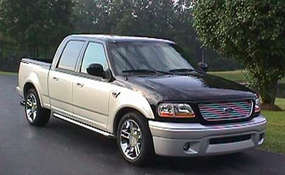 San Francisco: It's ironic that pickup trucks, once considered the homely workhorses of blue collar America, now tout refinement as a selling point. With each passing year come more car like interiors, smoother suspensions, and better engines that make trucks seem just a little bit - dare I say it - wimpier. But not this truck.
Click below for Full Article

2003 Harley-Davidson Ford F-150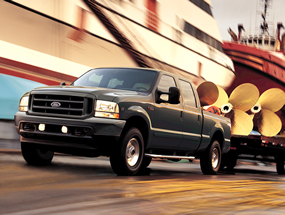 San Francisco: I looked over at my brother and grinned, "I can't help it; I just like big trucks. Must be the little kid in the sandbox in me." He just looked back and said, "You always were a little weird." He may be right, but what self-respecting man wouldn't want a big truck? C'mon now, admit it.
Click below for Full Article

2003 Ford Super Duty F250 4x4 Supercab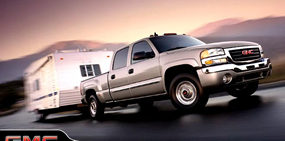 San Francisco: Innovation is nothing new for automakers. It's how they get people to buy more of their product and it grants the innovator bragging rights for at least a few years. Enter what GM is calling Quadrasteer: just like it sounds, it's four-wheel steering for a pickup truck…pretty neat.
Click below for Full Article

2003 GMC Sierra HD Crew Cab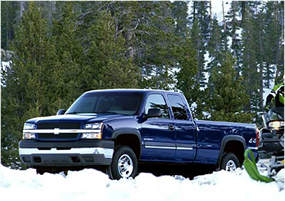 SAN FRANCISCO: I'm really not much of a truck guy. I appreciate their versatility and the "just throw it in the back" way of life, but for me trucks are better left to those that really need them. I really do not have much patience with trucks that masquerade as cars. At least give me a truck that I won't feel guilty about getting dirty.
Click below for Full Article

2003 Chevrolet Silvarado LT 2500HD 4WD Extended Cab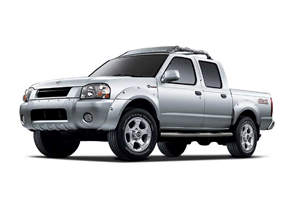 2003 Nissan Frontier Crew Cab
SAN FRANCISCO: A pickup truck is a handy thing to have around. You never know when you might need to move an appliance, pick up a Christmas tree, or haul a load of pea gravel for the front yard. But hauling people is important, too. To have it both ways, the Nissan Frontier Crew Cab is a fine choice. It has room for five adults in front and a pickup bed in back.
Click below for Full Article

2003 Nissan Frontier Crew Cab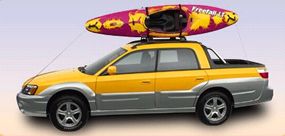 2003 Subaru Baja
SAN FRANCISCO: Bucking conventional wisdom and a continuing trend in the major magazines to compare, at least initially, the new Subaru Baja with the late 70s-ish Brat, we are going to talk about what the Baja is for Subaru's future, not what a small strange looking vehicle was for Subaru's past. That said, the Baja is nothing short of a wonderful exercise in what a compelling vehicle can be.
Click below for Full Article

2003 Subaru Baja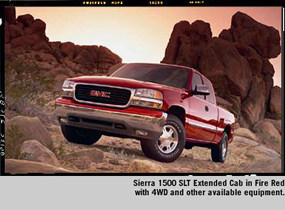 2002 GMC Sierra 1500 HD 4WD Crew Cab
SAN FRANCISCO: "Hey Daddy, look at the big, red truck!" Yeah, the 2002 GMC Sierra 1500 HD 4WD Crew Cab elicits that kind of exclamations, and not just from kids either. The fact that the truck I drove was bright fire engine red drew even more looks of envy. Didn't all little boys want to grow up and drive a fire engine? Well, the Sierra may not really have been a fire engine but one could pretend.
Click below for Full Article

2002 GMC Sierra 1500 HD 4WD Crew Cab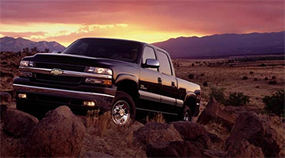 2001 Silverado 2500HD 4WD Crew Cab
SAN FRANCISCO: There are trucks and then there are REAL TRUCKS. While the former are often referred to as "pickups", the latter are of such incredible dimensions and capabilities that they fall under the category "rigs", as in big rigs, as in tractor trailers or semis. The 2001 Silverado 2500HD 4x4 Crew Cab is definitely a rig.
Click below for Full Article

2001 Silverado 2500HD 4WD Crew Cab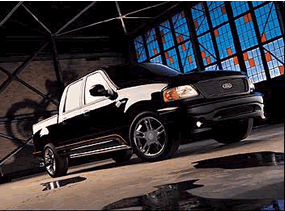 2001 Harley-Davidson F150 Pickup
SAN FRANCISCO: "Born in Detroit, dressed in Milwaukee" is the vernacular Ford uses to promote its 2001 Harley-Davidson F-150 pickup. This limited edition model is the result of the motoring heritage of Ford's truck technicians and those of the world famous Harley-Davidson motorcycle company. The result is a Harley-Davidson badged, 260-horsepower mean looking Ford pickup that's available in one color and one color only – Black Clearcoat.
Click below for Full Article

2001 Harley-Davidson F150 Pickup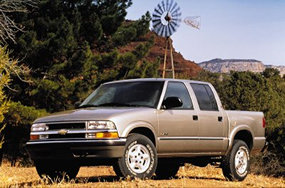 2001 Chevrolet S-10 Crew Cab 4x4
SAN FRANCISCO: Today's truck market is more fragmented than a crystal chandelier that took the quick way down from the Empire State Building. Few trucks demonstrate this fact better than the 2001 Chevrolet S-10 Crew Cab 4x4. There was a time when, if you wanted a pickup, your only choices were "furrd" or "chebby".
Click below for Full Article

2001 Chevrolet S-10 Crew Cab 4x4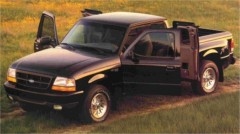 2000 Ford Ranger XLT Supercab
SAN FRANCISCO: A truck is a truck is a truck. And the 2000 Ford Ranger is still a truck, even though it rides more car-like than its predecessor, gets better gas mileage and has a more sporty character than it did many years ago, before the small truck rage really caught on. This truck is one of the best Ford has ever produced and its popularity proves that.
Click below for Full Article

2000 Ford Ranger XLT Supercab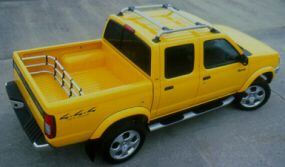 2000 Nissan Frontier Crew Cab
SAN FRANCISCO: Leave it to Nissan to come up with a new twist in the mid-size truck market. The company has introduced a new for 2000 Frontier Crew Cab, and it's going to be a popular, "glitch free" attraction at Nissan showrooms right on through Y2K.
Click below for Full Article

2000 Nissan Frontier Crew Cab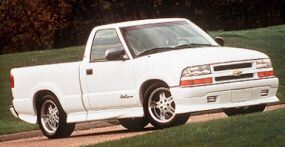 '99 Chevy S-10 Xtreme
SAN FRANCISCO: Over the years, we've test driven many trucks in all shapes and sizes. However, no truck has generated more interest and positive comments than Chevy's all-new 1999 S-10 Xtreme, our test vehicle this week.
Click below for Full Article

'99 Chevy S-10 Xtreme

New Y2K Four-Door Pickups

San Francisco: It seems that the rest of vehicle buying public is now realizing what those in the construction, utility and agricultural industry have known for years. The four-door pickup or crew cab combines the best features of a four-door sedan and a pickup. Therefore, several automakers will be introducing light-duty four-door pickups in 1999. Indeed, a new name has been coined for this new type of vehicle - the "sport utility truck" or SUT - aimed at the buyer who wants both a SUV and a pickup in a single vehicle.

Click below for Full Article

New Y2K Four-Door Pickup Trucks
'99 F-250 Super Duty Pickup
SAN FRANCISCO: What's Big, Red, Tall, and looks like a Dodge Ram Pick-up truck on steroids?? Come on Bubba, there's gonna be a quiz at the end, so THINK!! Well, I'll help you out just a little with this one. Think Ford - Think Super Duty. Ford is now building the Tallest, Widest, and most Expensive pick-up trucks on the planet for the 1999 model year. Super Duty Trucks are starting to show up at your local Ford Dealership, ready to go to work, play or just impress the hell out of the Planet Hollywood crowd.
Click below for Full Article

'99 Ford F-250 Super Duty Pickup Trucks
'99 Silverado & Sierra Pickup Trucks
San Francisco: General Motors was the last of the Old Big Three to redo its full-sized pickups. The new Dodge Ram appeared in 1995 and the new Ford 150 was introduced for 1997. Unlike the Ram's bold "over-the-road" look and the F-150's aerodynamic styling, GM's stylists took a more conservation approach. The restyling of the 1999 Chevrolet Silverado and GMC Sierra trucks is more evolutionary than revolutionary. GM says pickups don't need "leading-edge" designs, since consumers surveys put lower priority on styling than durability and engine power. It cannot afford to make a mistake, since pickups are GM's biggest seller, producing more pickups than Buicks and Oldsmobiles combined.
Click below for Full Article

'99 Chevy Silverado & GMC Sierra Pickups