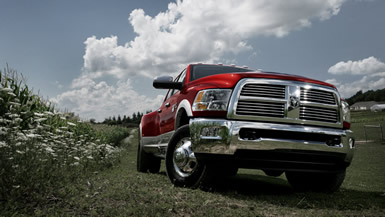 Ram 2500 Heavy Duty Review: According to Chryslerís demographics, I am the typical customer for the new 2010 Ram 2500 Heavy Duty pickup. Yup, thatís right, sex (male), age (mid-fifties), income (decent), married (85% of buyers are). I enjoyed driving my Inferno Red, diesel-equipped truck, but writers donít need monster trucks to commute to their cubicles.
Winner of the 2010 Motor Trend Truck of the Year award, the Ram is a long-standing model, but has recently been separated from the Dodge brand in Chryslerís post-Fiat purchase, post-bankruptcy marketing strategy.
The truck is big. It has a 140-inch wheelbase (a midsize Honda Accordís is 110.2 inches) and is nearly 20 feet long. It stands six feet, three and a half inches high and weighs more than 3-1/2 tons.
My SLT model tester was very comfortable once I climbed up into it. Although the design, inside and out, is appropriately rugged looking, itís softened by silvery trim and chrome accents on a very attractive dash and doors. Accommodations include nicely contoured and supportive seats with heating and power adjustments, dual gloveboxes and a huge laptop-swallowing center console. And, itís very quiet in there as youíre rolling along.
One advantage of sitting up so high is the birdís eye view of traffic ahead. There is no more wondering about whatís causing that 5 p.m. delay on the bridge approach. As I traveled over the San Francisco Bay Bridge, I could see the progress of the new Eastern Span as never before. I wonder how many of the guys building the bridge own and drive Rams.
A mighty truck needs a powerful engine, and the Ram offers two. The 5.7-liter Hemi gasoline V8 engine provides 383 horsepower and 400 lb.-ft. of torque through a manual or automatic six speed transmission. Thatís very competitive. But 90 percent of Dodge / Ram Heavy Duty buyers opt for the 6.7-liter Cummins Turbo Diesel powerplant. My tester had it, and it is nothing short of amazing. Donít let its 350 horsepower rating other you; it has 650 lb.-ft. of torque. Thatís great for passing on the freeway, driving uphill, towing, and stump pulling. Plus you can order four different rear axle ratios on the Ram depending on the model and how youíre going to use it.
The Ram comes in five different levels: ST, SLT, TRX, Laramie and Power Wagon. You can get it in a short standard cab, the industry leading Mega Cab, which is huge, and the Crew Cab with its four full-sized doors.
The Crew Cab is new this year and my tester had it. The rear seats fold up easily for carrying big loads inside and features closed storage bins below.
The truck box comes in 6.4-foot or 8-foot lengths. Luckily for me, my tester had the shorter one, because even with it, parking it was challenging. The optional ParkSense system warned me before I flattened or dented someone or something.
Feeding a Diesel is easy. My local Chevron was just one of the many available sources, and the price fell between regular and premium at $2.93 a gallon. My tester earned 14.8 miles per gallon, and thatís not too bad considering its mass and power.
Todayís ultra low sulfur diesel fuel is not near as stinky as the old stuff. I got a tiny drop on my hand during a fill up and it didnít bother me on the way to work, although I did wash my hands as soon as I could. Carry a little package of Handi Wipes just in case.
The EPAís Green Vehicle Guide gives the Diesel Ram a 3 on the Air Pollution score, unsurprising. No Greenhouse Gas score was provided, even for the 2009 model. However, the truck uses a particulate filter and absorber catalyst to filter out soot and nitrous oxide, the traditional undesirable outputs of Diesel engines.
The big heavy duty Ram is a towing ace. Its tow / haul mode switch enhances capability. The standard exhaust brake prolongs brake life and it gives you more confidence and safety when youíre hauling a heavy load on a downhill grade. And the optional Trailer brake control (my tester had it) provides better driver control in trailer towing situations.
Pricing, as in all pickups, varies enormously depending on configuration, engine, trim line, and options. My SLT Crew Cab 4x4 Big Horn Edition started at $38,480, but by the time you added in the Cummins engine, six-speed automatic, premium interior package, Big Horn regional package, parking sensor, upgraded media center with 30-gigabyte hard drive
(With 6,700 song-capacity!) and more, my tester MSRP price hit $52,250. The base ST standard cab with no extras starts at only $28,165, including shipping.
I would not recommend a Ram as your daily driver unless youíre heading directly to the construction job site, but the Ram Heavy Duty pickups can really pull their weight when you need them to.
By Steve Schaefer © AutoWire.Net - San Francisco
Ram 2500 Heavy Duty Review is provided by: Tony Leopardo © AutoWire.Net. ďTony the Car GuyĒ is an automotive writer, editor and publisher in the San Francisco Bay Area. If you have a question or comment for Tony send it to TonyLeo@pacbell.net or visit AutoWire.Net at www.autowire.net - And remember: ď You Are What You Drive Ē

Column Name: Ram Heavy Duty pickups can really pull their weight
Topic: The 2010 Ram 2500 Heavy Duty
Word Count: 941
Photo Caption: The 2010 Ram 2500 Heavy Duty
Photo Credits: Ram 2500 Internet Media
Series #: 2010 - 20
Download the Microsoft Word version here: 2010 Ram 2500 HD
Download the Original Image File here: 2010 Ram 2500 HD