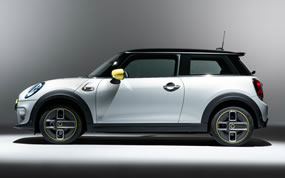 The Bottom Line: When the first Mini was launched in 1959 as the Spirit of the Streets, the public was a bit baffled. Soon enough, people began to recognize that the Mini was not merely a car, but a unique combination of classic British style in a low cost, small size, fun and nimble package that came to symbolize independence and spontaneity
Click below for Full Article

2020 MINI Cooper SE Hardtop 2 Door Electric Car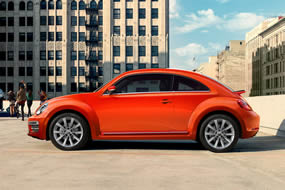 The 2019 VW Beetle Final Edition Cars: Volkswagen sold it's first Beetle in the United States in 1949. Since then it has built and sold over 20+ million copies of this iconic economy car worldwide. Now after 70+ years of Love Bugs, that tradition has come to an end. The 2019 model year is the last year of Beetle production, and it marks the End of an Era.
Click below for Full Article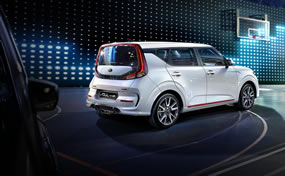 The 2020 Kia Soul GT-Line Turbo Review: The Kia Soul started out with lots of boxy competition. Through the years, its square-shaped rivals like the Honda Element, Scion xB and the Nissan Cube have all died off. You could say that the Kia is the Soul Survivor and has outlasted all of them combined. Now Kia is hoping to parlay its success into an all-new third generation model built for a world with very different competition: no longer Kleenex boxes on wheels, but small crossover vehicles that look like rough-and-tumble SUVs.
Click below for Full Article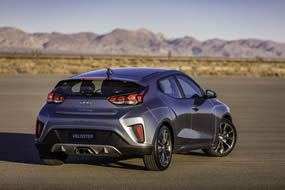 The 2019 Hyundai Veloster Ultimate Review: The 2019 Hyundai Veloster returns with its same oddball layout, a long, coupe-like door on the left side and two stubby, sedan-like doors on the right, while adding a lot more satisfaction for the driver. The driving enhancements were instantly apparent in my Veloster Turbo tester with the most powerful engine in the lineup, a 1.6-liter turbocharged four-cylinder that makes a meaty 201 horsepower and 195 pound-feet of torque. The high-performance Veloster N, with a ridiculous 275 horsepower and track-tuned suspension, is expected later this year.
Click below for Full Article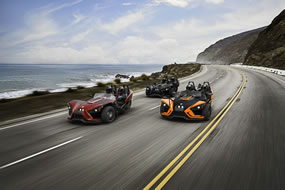 The 2018 Polaris Slingshot Review: When the traffic light turns green, I mash the gas pedal, let out the light-as-a-feather clutch, then feel a single rear wheel fighting to grip the pavement as the engine winds up to an ear-splitting wail just inches in front of my knees. From that first moment, it was clear I'd be spending the week driving something special, and hard to define. This alien-looking, three-wheeled contraption is one of the most thrilling and unusual vehicles I've ever driven, offering a hint of supercar styling and excitement but lacking some things I've come to expect in even the cheapest cars, including doors, a roof and basic safety equipment. It's called the Slingshot.
Click below for Full Article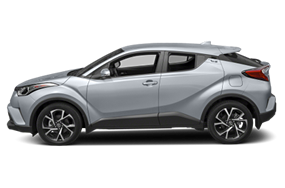 The 2018 Toyota C-HR Review: Remember Scion? The junior, fun brand in the Toyota family that was supposed to be where young people made their connection with Toyota. It was born because back in 2003, some folks at Toyota believed that the youth of America saw Toyota as too old and stodgy. In 2017, Scion is gone. The brand died when it received too little exciting new product, and, more importantly, when Toyota's leadership figured out that young people were buying Toyotas after all.
Click below for Full Article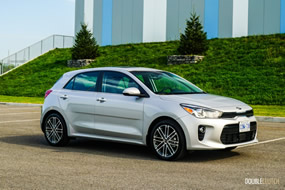 The 2018 Kia Rio 5-Door LX Review: High-priced dream cars may get all the attention, but it's cars like this, the affordably priced Kia Rio, that matter to a lot more Americans.
Heck, with a starting price under $14,000, a brand-new Rio is cheaper than a lot of the vehicles on used-car lots. The question, then, is how much drivers have to give up when they choose a new car off the bargain rack. After a complete redesign for 2018, the answer for the Rio is "not much."
Click below for Full Article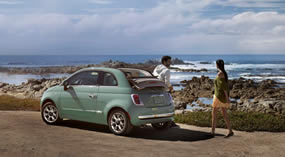 The 2017 Fiat 500 Review: The Fiat 500 is just like my youngest daughter. It's so cute, it gets away with stuff other cars couldn't. Its off-the-charts cuteness factor is undeniable. It's an adorable, cuddly, giggly toddler of a car, one that wants nothing more than to start the day with playtime and a smile. In fact, it's been a long time since I've driven a vehicle that got more attention or made more people grin than this one, which is odd for a car that's seen few noticeable changes since it was introduced to the U.S. market back in 2011 and now starts at under $15 grand. Most of the head-turners I drive are fresh, flashy and much more expensive.
Click below for Full Article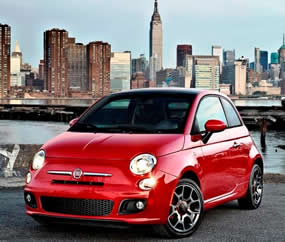 The 2015 Fiat 500e Review: The 500e joins several other pure-electric cars on the road. Being a Fiat 500, though, it still has the cute, fun-to-drive qualities that have endeared it to aficionados of mini-compact European-designed cars. The little electric motor comes to life silently with the turn of an old-fashioned key. The transmission is a simple stack of four dots. Press "D" and you're off. The 111 horsepower from the motor is enhanced by 147 lb.-ft. of torque, so the 2,980-pound car squirts off the line pretty quickly. Of course, for maximum battery charge, you need to take it easy.
Click below for Full Article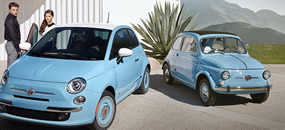 The 2014 FIAT 500 1957 Edition Review: Ever since it was introduced to America in 2010, the FIAT 500 has been a throwback car designed to evoke fond memories of yesterday's Italian coupes. It's easy to imagine zipping past the Coliseum on your way to a quaint cafe in Rome with opera music playing on the radio in this little car. Well, FIAT is cranking the retro knob up to 11 this year. There's a new version of the 500 called the 1957 Edition, and it's one of the most nostalgic cars for sale today, complete with two-tone pastel paint and old-school FIAT logos peppered all over it.

The 2014 Ford Focus ST Review: Around the world, Ford's Focus is a small, five-passenger vehicle that's priced within reach of most buyers. The ST, which stands for Sport Technologies in Ford's world, transitions into a 154-mile-per-hour racer, thanks to a 2.0-liter twin-turbocharged EcoBoost engine. When you put your right foot on the sporty-looking metal-covered accelerator pedal, it's generating 252 horsepower and 270 lb.-ft. of torque. That is about double what an ordinary compact hatchback delivers in its daily getting about town.

The 2014 Chevrolet Spark EV Review: The Spark EV is General Motors' entry in the growing all-electric car segment. These cars sell in small numbers and are not for everyone, but GM has taken its experience with the Volt plug-in hybrid and other hybrids it sells to bring a strong competitor to market.
Click below for Full Article

2014 Chevrolet Spark EV (Electric Vehicle)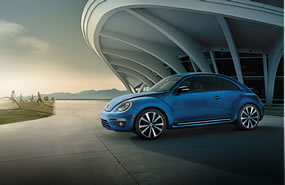 The 2014 Volkswagen Beetle Review: Fifty years ago, Volkswagen built my first car, a 1964 Beetle. It was the classic model, with narrow 15-inch wheels and tires, a painted metal dashboard below a flat glass windshield, and a noisy, 1.2-liter, 40-horsepower, air-cooled four-cylinder engine. It weighed just 1,629 pounds. In 2014, you can still buy a Beetle, but other than the styling and the name, it shares little with the old car.
Click below for Full Article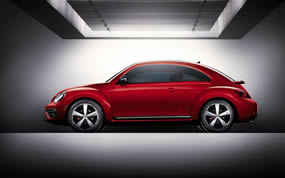 The 2013 Volkswagen Beetle Review: Some cars are just plain fun. Their very presence in your driveway makes you happy. The Yellow Rush 2013 Volkswagen Beetle I recently had was one of those cars. In 1998 the New Beetle showed up, evolved from a popular concept car. Based on the Golf, it had a water-cooled, front-mounted engine, unlike the original Beetle's air-cooled rear unit. The 2012 Beetle was all new, still based on the Golf. In some ways, it's more like the original car. Beetle maniacs will note the more upright windshield, flatter roof, and completely different tail lamps.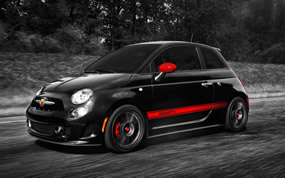 The 2013 Fiat 500 Abarth Review: People define joy in different ways. Major parts of philosophy, religion and social science are all centered around probing what makes people truly happy. For me, I think I've figured out the epitome of joy. It involves a Fiat 500 driving through the countryside with the windows rolled down and Italian opera blasting from the sound system. It's hard to find cars that generate smiles as easily as the little 500.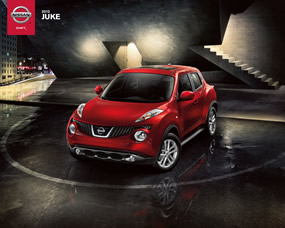 The 2013 Nissan JUKE Review: Have you seen a Nissan JUKE in traffic lately? It's the car with the lights along the tops of the bulging front fenders, like its corporate cousin, the all-electric LEAF, tapered tail with lights that look like they came from a late model Volvo station wagon, and in all likelihood a young, smiling driver behind the wheel. The JUKE is designed for fun, and targeted to a new generation that doesn't crave muscle car power or the wind in their face like the drivers of those old British sports cars savored.
Click below for Full Article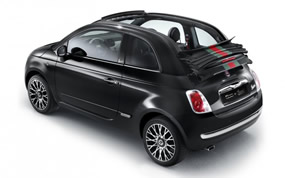 The 2012 FIAT 500 Gucci Edition Review: What do you picture when you think about Gucci? I visualize handbags and luggage, but the company also offers a wide range of expensive and exclusive items, including watches, jewelry, and clothing, that I have neither the figure for, nor the budget to own. My handsome son sports a pair of Gucci sunglasses, and that was expensive enough to be a special gift.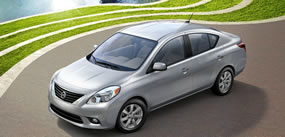 The 2012 Nissan Versa Sedan Review: The new Nissan Versa sedan offers solid, reliable transportation for less than $15,000. In that market, the Versa is surprisingly big inside, with remarkably accommodating legroom for rear seat passengers, and generous trunk capacity. In fact, I saw a Versa taxicab a few days ago.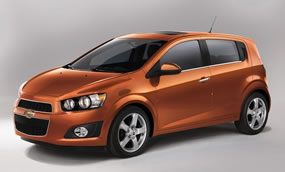 The 2012 Chevrolet Sonic 2LT Review: Chevrolet has historically had a split personality. On one side, it's always made some of the best full-size pickups and SUVs on the road. Chevy's engineers long ago figured out the formula for building big, comfortable vehicles that last a long time.
Click below for Full Article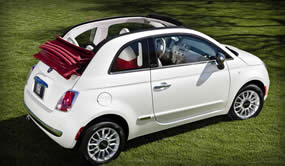 The 2012 Fiat 500 C Cabrio Review: I've waited for a long time for a chance to drive the tiny Fiat 500, cinquecento in Italian. With Fiat's control of Chrysler, the popular European brand returns to the U.S. for the first time in decades. After a week with a new 500C, I'm very happy to say it was worth the wait. The C stands for Cabrio, just like in convertible.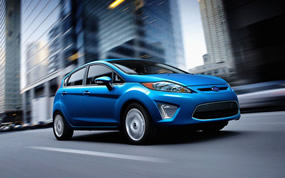 The 2011 Ford Fiesta Hatchback Review: After selling half a million Fiestas in Europe, Ford now builds Fiestas in Mexico for American buyers, just in time for $4 a gallon gas. You can buy a four-door sedan version, I tested one last summer. In Blaze Yellow, it was a dandy warm weather car, but it lacked hatchback versatility and came with the America-special automatic transmission, so I was very happy to spend a week with a Bright Magenta Metallic manual-equipped Fiesta SES hatchback recently.
Click below for Full Article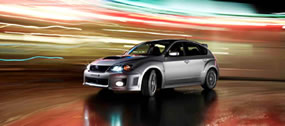 The 2011 Subaru Impreza WRX Review: Subaru has been smart at creating its own niche vehicles in the marketplace. At first, the company offered fuel-efficient little four-wheel-drive wagons that were a huge hit with skiers. Then, the Outback delivered an SUV alternative before crossovers became popular. The WRX provides a great combination of power and sporty handling in a modest compact car.
Click below for Full Article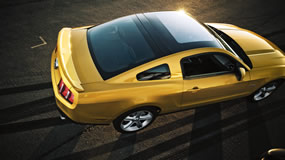 The 2011 Ford Mustang Review: The Mustang, Ford's iconic sports car, is significantly improved this year. After a major redesign for 2010, the 2011 model adds what buyers of the V6 model really wanted, more power! In place of last year's 4-liter 210-horsepower V6, the new model's 3.7-liter V6 jumps to 305!
Click below for Full Article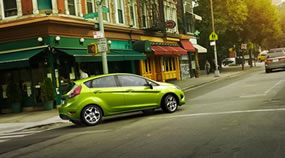 Ford Fiesta Review: A longtime favorite in Europe, the Fiesta finally returns to the States after a 30-year hiatus. The 1978-81 Fiesta was cute, zippy and, sadly, never sold well enough to justify it's continued importation. Ford instead gave us the Escort, a competent, slightly larger small car. Now the Focus, which replaced the Escort in 2000, gets dramatically redone next year. This year it's all about the 2011 Fiesta.
Click below for Full Article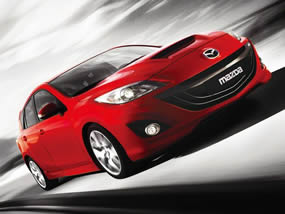 MAZDASPEED3 Review: Mazda wants you to think of them as a sports car vendor. Picture the little two-seat Miata, the most popular sports car ever made. More than half a million have been sold over the last 20 years, and that sounds like an old McDonalds sign. Or consider the legendary RX-7 with its rotary engine. And how about the unique four-seat RX-8? Granted, these are not big sellers on a yearly basis, but it all adds up.
Click below for Full Article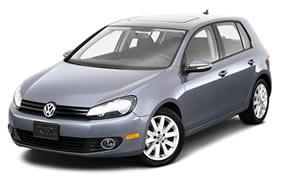 Volkswagen Golf TDI Review: Diesels are back, and theyíre fun, clean and inexpensive to run. Europeans have appreciated the advantages of Diesel-powered cars for decades, and they buy them in mass quantities. Now, in America, with ultra low sulfur clean Diesel fuel, and the technologies to limit emissions, Diesel powered cars are now sold even in emissions-conscious California.
Click below for Full Article
This Week's Pickup Article: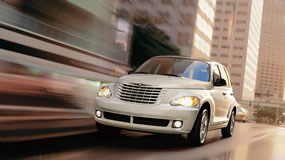 Chrysler PT Cruiser Review: If you like the way the PT Cruiser looks, you'd better move fast, as it probably won't be around much longer. This iconic Chrysler, one of the brand's most popular cars when it was introduced 10 years ago, was scheduled for a timely death in 2009. The New Chrysler Corporation decided to bring it back for one more year as a 2010 model, this time dubbed the PT Cruiser Classic.
Click below for Full Article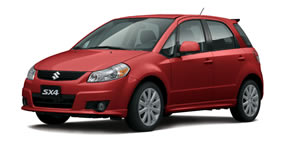 Suzuki SX4 Review: Iím going to let you in on a little secret, Suzuki sells a really fun, practical and sporty hatchback that you may not have considered.
Click below for Full Article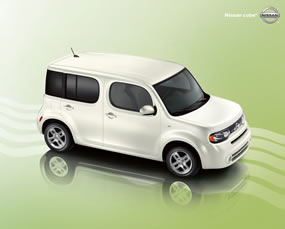 Nissan Cube Review: If you woke up this morning and thought, "I want to drive a crazy car," Nissan has built the perfect vehicle for you. It's called the Cube. Aside from the obvious, the fact that you'll be driving a square car with round windows, this thing is designed to be different from anything else on the road today
Click below for Full Article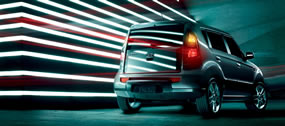 Kia Soul Review: Itís commonly believed that young people have short attention spans. Itís true that many are very fashion conscious. Whatís hot today is cold tomorrow. The Scion brand is suffering today because of the tyranny of trendiness. Into this youth market steps Kia, the bold Korean brand thatís remaking itself, one product at a time. With the 2010 Soul, Kia goes headlamp-to-headlamp with the four-wheeled box known as the Scion Xb.
Click below for Full Article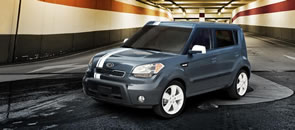 Kia Soul Exclaim Review: If you want a car that's fun, spunky and stylish enough to turn heads, you're probably not thinking about checking out the local Kia new car lot. But maybe you should.
Click below for Full Article
This Week's Luxury SUV Article: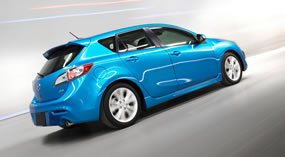 2010 Mazda3 5-Door Review: The redesigned Mazda3 looks very happy with its grinning face, the way Mazdaís people must feel over the success of the previous generation model. In 2008, the Mazda3 represented 44 percent of the Mazdaís sold in North America. Combining the right size and features with an affordable price and plenty of driving fun, it seems just about perfect.
Click below for Full Article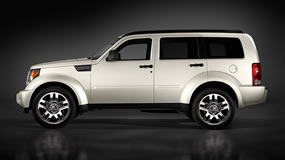 Dodge Nitro Review: Dodgeís Nitro, the brandís first midsized SUV, features a macho, sharp-edged design. Since its debut in 2007, I have always wondered who would buy one. A Sunburst Orange Pearl Coat Nitro came my way from the press fleet, so I got a chance to find out.
Click below for Full Article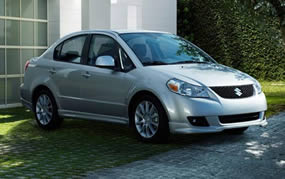 Suzuki SX4 Review: Suzuki is not a major player in the car market here in North America, but they would like to be. First known for their motorcycles, then their small, frugal and rugged SUVs, Suzuki has yet to cement an identity as a builder of passenger cars. That does not mean you should not put them on your list of possibilities.
Click below for Full Article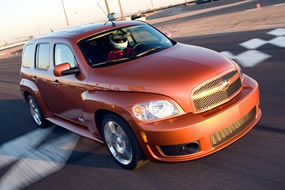 Car Review: If Al Capone was a Sesame Street character, he would drive something that looked like this. It's the retro-styled Chevy HHR. Yes, in some ways this is nothing but a PT Cruiser copycat with its retro Little-Debbie-van styling, but it offers a lot more than the cool sheet metal.
Click below for Full Article

2008 Chevrolet HHR SS Turbo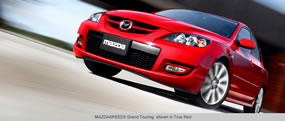 CAR REVIEW: The MAZDASPEED3 may be the perfect car. It certainly works for me. It combines a sporty driving experience with economy, environmental sensitivity, and the practicality of five doors and a folding rear seat. Oh, and the price is surprisingly reasonable, too. Buy it in True Red, like my tester, and itís unbeatable.
Click below for Full Article

2008 MazdaSpeed3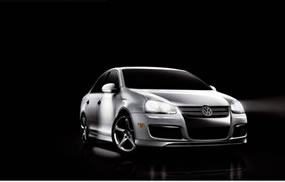 CAR REVIEW: Once upon a time, in a land known for sauerkraut, Schnitzel and cool beer, there was a small company called Volkswagen that made a little car for the masses. They made a lot of little cars actually, with little air-cooled engines and skinny tires and meager horsepower.
Click below for Full Article

2008 VW Jetta S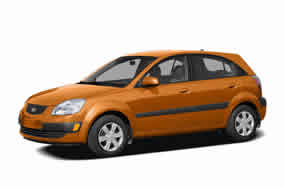 San Francisco:

A lot of people are looking for inexpensive, economical commuter cars these days. Just about every automaker offers at least one. The Rio is that car from Kia, and the Rio5 adds utility to what is usually a bland sedan. The Rio5 is a small, cute, 4-door hatchback, almost a mini-wagon.

Click below for Full Article

2007 Kia Rio5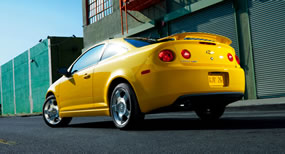 San Francisco:

The Chevy Cobalt SS is a fairly smart looking car. Its nip-and-tuck styling helps its driving feel and a conspicuous gauge on the driver's front pillar is the most obvious sign that you're sitting in a high-performance version of Chevy's Cobalt economy car.

Click below for Full Article

2007 Chevy Cobalt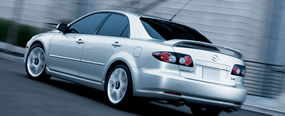 San Francisco:

This carís driving feel matches its aggressive body styling. The Mazda6 adds a new bargain-oriented model called the i Sport Value

Click below for Full Article

2007 Mazda6 i Sport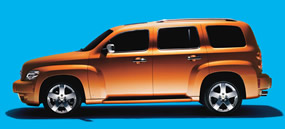 San Francisco:

The most distinctive car Chevy makes is probably the Corvette. But if youíre looking for something more practical and a lot less expensive, but still fun, try the HHR. And with OnStar you receive a portfolio of useful and life-saving features.

Click below for Full Article

2007 Chevrolet HHR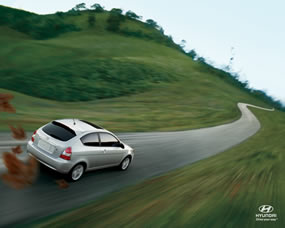 San Francisco: Hyundai's new two-door Accent looks good, considering its cheap price. It starts at under $11,000 for a basic, stripped-down model, and itís around $14,000 for one with more goodies.
Click below for Full Article

2007 Hyundai Accent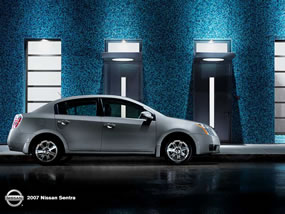 San Francisco: I get to drive a lot of new vehicles every year, maybe not one a week, but probably 40 or so a year. So itís hard not to get jaded, or to think that every car, truck, and SUV I drive is great. Heck, when your personal transportation is a 1986 Toyota Celica even the most basic new car is pure luxury. But every so often a car comes along that just blows me away.
Click below for Full Article

2007 Nissan Sentra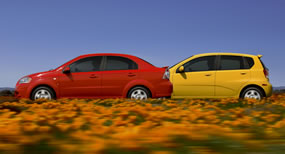 San Francisco: A founding principle of General Motors was to supply a car for every financial level of buyer, and then work those customers up through the system. So, if you could snag a young motorist with modest means into your Chevrolet showroom, you could eventually sell them a Pontiac, an Oldsmobile and then a Buick on the way up to a Cadillac when they made their fortune.
Click below for Full Article

2007 Chevrolet Aveo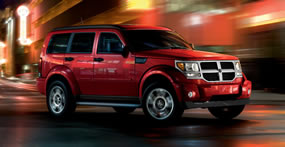 San Francisco:

Parents of teenagers will hate hearing this. So will corporate auditors, preachers, tax accountants and federal prosecutors. But sometimes - just sometimes - a person has to break the rules if they want to succeed.

Click below for Full Article

2007 Dodge Nitro SLT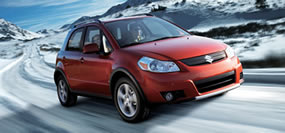 San Francisco:
SUVs were once the hot new thing, but their sales have cooled off dramatically now that everyone knows high gas prices are here to stay. It's a problem, though, because families' tastes haven't changed. People still want lots of space, a high ride height, G.I. Joe styling and the stability of four-wheel drive, only without an eye-popping bill at the pump. Suzuki thinks it's found a solution.
Click below for Full Article

2007 Suzuki SX4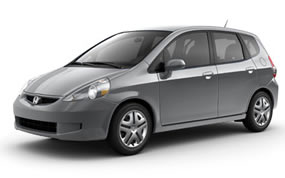 San Francisco:
When gas spiked at well over $3.00 per gallon many commuters started looking around for more economical transportation. The Japanese automakers saw the need and quickly re-engineered vehicles not originally intended for North America in order to fill this need. One of the most prominent was the Honda Fit.
Click below for Full Article

2007 Honda FIT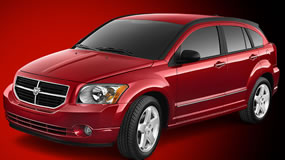 San Francisco:

Like the love child of a Durango and a hatchback, the 2007 Dodge Caliber is surprisingly stylish, roomy and innovative for its price. It combines the practicality of a minivan with the efficiency of an economy car.

Click below for Full Article

2006 Dodge Caliber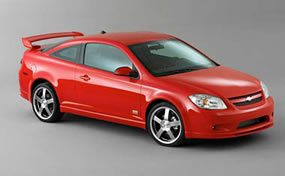 San Francisco:

A huge rear wing and loud exhaust note make the 2006 Chevy Cobalt SS Supercharged coupe seem like it was designed for a teenager. Still, it drives wonderfully and offers lots of speed for the money.

Click below for Full Article

2006 Chevy Cobalt SS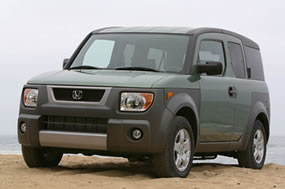 San Francisco: The Honda Element is the only SUV of its kind. This unique vehicle combines a relatively modest length with huge carrying capacity, mini-Hummer looks, limousine-length rear seating, and some eye-popping colors for some motoring fun with a practical streak.
Click below for Full Article

2006 Honda Element
This Week's SUV Article: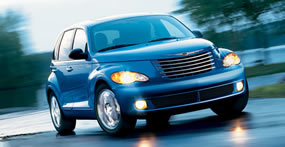 San Francisco: You'd be hard pressed to notice the difference, but Chrysler's PT Cruiser got a facelift for 2006. The new headlights look like a biology lesson on cell division, but the car remains unchanged in spirit.
Click below for Full Article

2006 PT Cruiser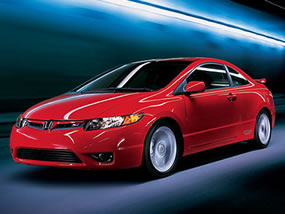 San Francisco: The Honda Civic remains one of the most popular cars in America. Folks love Civics for their rock solid reliability, and many serve commute duty. But if you want one of the most exciting popular cars in the U.S., you need to check out the Si model.
Click below for Full Article

2006 Honda Civic Si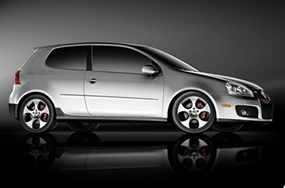 San Francisco: It's nearly a quarter century since VW unleashed its first pocket rocket on an unsuspecting but soon to be thrilled world. Back in 1983, the GTI combined driving excitement, reasonable price, and everyday practicality, and today, it still does.
Click below for Full Article

2006 VW GTI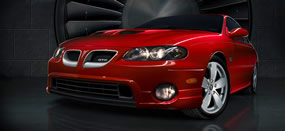 San Francisco: Giddy, excited, eager, awakened, inspired. There arenít many things that will make a mid-30s man spew adjectives like these. Winning the lottery and finding the perfect bargain on eBay are a few examples but not much else. These are just a few of those little wonders of this adult life that make it all seem worthwhile. That is, until you get behind the wheel of a sports car of top caliber.
Click below for Full Article

2006 Pontiac GTO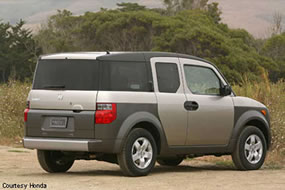 San Francisco: Several years ago, Honda management asked itself, what do young people want? We know nothing of their actual thoughts, but the result was the Element, a four-wheel-drive on-road adventurer that combines hauling practicality with a comfortable ride and distinctive styling. It is minimalist yet lacks little.
Click below for Full Article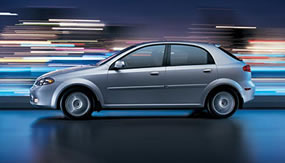 San Francisco: The 2005 Suzuki Reno is truly a World Car. Suzuki is Japanís fourth largest automaker. The Reno was designed by Italdesign in Italy, and the car is built by Daewoo in Korea.
Click below for Full Article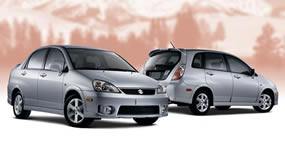 San Francisco: Amid the vast seas of compact vehicles vying for your attention, itís easy to lose sight of the worthy Suzuki Aerio. Built like a minivan but more like a tall station wagon, it offers superb value and amenities. Iím convinced that if more people knew the Aerio existed, many more of the little cars would be cruising American roads.
Click below for Full Article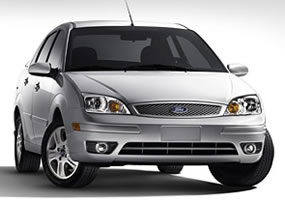 San Francisco: Fordís Focus has been helping the corporationís bottom line by offering interesting and economical motoring at the bottom of the companyís product line. Originally designed as a European car with worldwide applications, the Focus is built for Americans at Hermosillo, Mexico, or Wayne, Michigan.
Click below for Full Article

2005 Ford Focus ST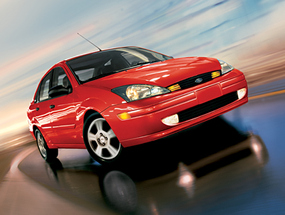 San Francisco: When I told friends I was testing the Ford Focus for this week's column, most of them gave me a look of pity as if to say, "You poor, poor soul." I still don't understand why some people look down their noses at the little Ford Focus, except because it's so inexpensive that they figure it can't be any fun to drive. After all, how good can a car be when its starting price is only about $13,000, minus incentives?
Click below for Full Article

San Francisco: The SRT-4 is new for 2003, and is based on the 2000 Neon SRT concept car. The word "Neon", however, appears nowhere on the 2003 car or in its literature. That's probably because the Neon, in its nine years, has been a roomy but unremarkable econocar. Conversely, the SRT-4 is tricked out with all the stuff you would add yourself.

Click below for Full Article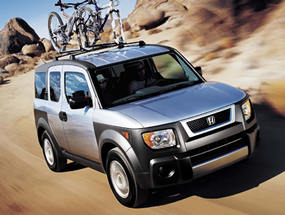 San Francisco: You'd think that Honda would be satisfied with the youth market it already has with its popular Civic. Actually, Honda pleases people of all ages. But the Element is a direct attempt to connect with "Generation Y".
Click below for Full Article

San Francisco: This sharp little car is an appealing offering for the young, and first time car buyer. It's been around for some time now, but gets an update here and there, just enough to keep it in the running in the crowded sub-compact category.
Click below for Full Article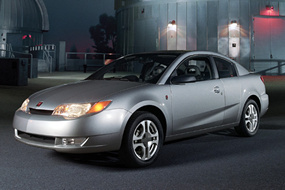 San Francisco: Let's face it. Most entry-level cars are basically the same. This automotive parity is perfect for producing good performance and reliability across all models, but it doesn't bode well for drivers looking for something different, perhaps a little off the wall. That's why Saturn exists.
Click below for Full Article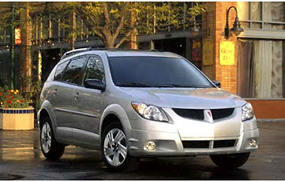 SAN FRANCISCO: Every once in a while the advertising people get it right and produce ads that portray the realness of the product they are selling. The ads for the 2003 Pontiac Vibe showed "real" people on the street that had just gotten a look at the new Vibe up close and personal. Their reactions varied from "That's cool" to "What an awesome car!" And we wholeheartedly agree.

Click below for Full Article

2003 Pontiac Vibe

SAN FRANCISCO: Hatchbacks have never been too popular in the United States. Most people seem to prefer large wagons, an SUV, or a minivan, over smallish economy cars with an increased carrying capacity, compared to a sedan. Enter the new for 2002 Mazda Protťgť. Click below for Full Article

2002 Mazda Protege 5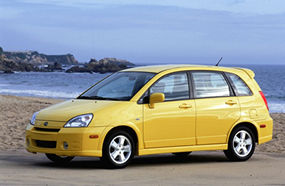 SAN FRANCISCO: The latest trend in new vehicles is the "crossover" models that attempt to combine the best features of a small sport utility vehicle and a four-door sedan. Suzuki has entered this market niche with the all new for 2002 Aerio SX, standing for "Sport Crossover." Plus there is a traditional sedan version of the Aerio too. Click below for Full Article

2002 Suzuki Aerio SX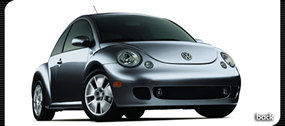 SAN FRANCISCO: Finally, there is truth in automotive packaging. Walking around the 2002 New Beetle Turbo S, you may notice that this bulbous Bug seems a little edgier, with slightly more aggressive front and rear fascias, and that its blocky alloy wheels and their low-profile tires hint at a bit more handling panache. Overall, you get the sense that Volkswagen has endowed this particular Beetle with a little extra beefiness. That, in a nutshell, is exactly what they did. Click below for Full Article

2002 Volkswagen Beetle Turbo S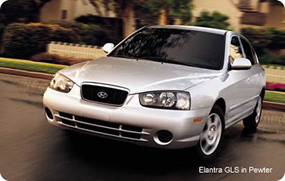 SAN FRANCISCO: Those who wanted an inexpensive, basic transportation vehicle, but didn't want to buy a used car, originally purchased Hyundai's. Hyundai is changing that image, first with its value-packed Santa Fe SUV, and now with the new 2002 Elantra. Click below for Full Article

2002 Elantra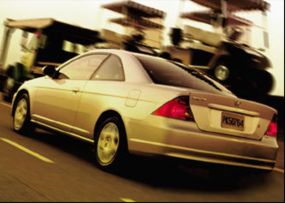 SAN FRANCISCO: In the hilly outreaches of suburban San Francisco, there are many twisty, curvy roads that beg to be driven. Hard. The car of choice might be a Corvette or one of the many expensive sports cars on the market today. But if you, like many of us, can't afford one of these, then a drive in the new-for-2001 Honda Civic EX will give you a taste of what else is out there. Honestly, the only thing smoking during this road test was nothing but tires. Click below for Full Article

2001 Honda Civic EX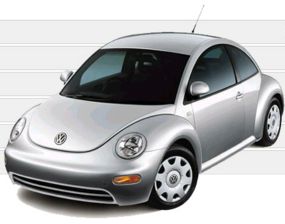 SAN FRANCISCO: Our test drive this week is Volkswagen's New Beetle GLS, a design the German car builder re-introduced to waiting consumers back in 1998. Although the car's exterior evokes a DejaVu experience linked to the original, rear-engined "buzzer" we grew to love, it's actually a safe, completely different and well-built version. The result is a Beetle that not only supersedes the original in all areas, it can be downright fast, too. Click below for Full Article

2001 VW Beetle GLS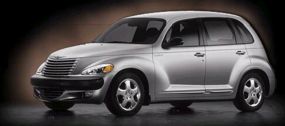 SAN FRANCISCO: Chrysler is credited with "inventing" the tall car - short truck minivan in the mid 1980s. Now it has introduced another unique vehicle with the PT Cruiser that is part car, part truck for the 2001 model year. PT stands for Personal Transportation and it is basically the same vehicle that debuted as the Pronto Cruizer at the 1998 Geneva Auto Show. With rave reviews from the public, Chrysler wisely decided to put it into production. Click below for Full Article

2001 Chrysler PT Cruiser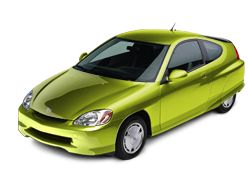 SAN FRANCISCO: With automobile clean burning engine laws already in effect, car manufacturers are scurrying to produce workable, mass-produced electric cars. Well, somewhat.
Several companies have rolled out electric prototypes, but only two manufacturers have successfully brought to market viable entities, namely Toyota and Honda. Toyota is selling its four-passenger Prius, while Honda concentrates on its Insight, a sportier two-seater vehicle and the subject of this week's test drive.
Click below for Full Article

2000 Honda Insight
SAN FRANCISCO: Who would have thought that peace and love would get tough? I mean, I was there. VW Beetles were what we drove. Power to the people! Yeah, right on. So what if they were slow? Hey man, we're not into your middle class, American, chrome studded boats!
Click below for Full Article

2000 VW 1.8T Turbo Beetle
San Francisco: I was off to San Francisco to check out the new Beetle this past month, just as I came back to California. I never thought of myself as prejudiced until that day. I was eager - not to like it. After all, the original was my history; I destroyed a gearbox learning to drive in that car. My 1965 Beetle gave me a golden pass to the "Summer of Love".
Click below for Full Article

'99 VW Beetle