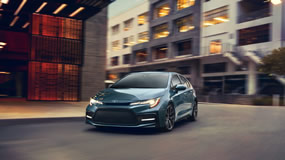 The Bottom Line: The Toyota Corolla is a line of compact cars manufactured by Toyota. Introduced in 1966, the Corolla was the best selling car worldwide by 1974, and has been one of the best selling cars in the world since then. With more than 45 million Corollas sold around the globe, in over 54 years of production, the Toyota Corolla is the best selling car in history.
Click below for Full Article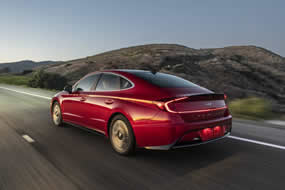 The Bottom Line: Hyundai Motor Company was founded in 1967. Along with its 33% owned subsidiary of Kia Motors, and its 100% owned luxury subsidiary Genesis Motors, they together comprise the Hyundai Motor Group. They have learned a thing or two in their 53 years of manufacturing, and today they are the third largest car company in the world.
Click below for Full Article

2020 Hyundai Sonata Hybrid Limited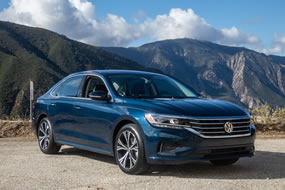 The Bottom Line: Lately automotive consumers have shifted their preferences from buying and leasing 4 door sedans, to crossovers, SUV's and pickup trucks. That trend has been going on for over 5 years, and the crossover, SUV and pickup truck market is now over 50% of US sales, and going higher each year. As the sedan market continues to shrink all the car companies have to be very competitive to make a 4 door car sale today.
Click below for Full Article

2020 Volkswagen Passat 2.0T SEL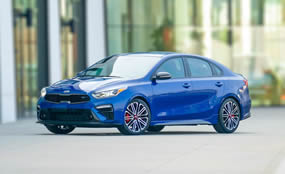 The Bottom Line: If you are in the market for a compact car your choices have dwindled. The Big 3, GM, Ford and the Chrysler Group, have all stopped building and selling everyday cars. Muscle cars and large sedans are still available, but the small and compact mid sized American cars are all gone now. They have been replaced with SUV's, crossovers and pickup trucks. If you want a small or compact car you need to look to Japan, Korea or Germany for your next ride.
Click below for Full Article
The 2019 Volkswagen Jetta GLI Review: It's remarkable that Volkswagen's engineers spent years creating an all-new design for the 2019 Jetta, but my brain most loudly registers one crude thought after driving it. "There's a red stripe around the wheel!"
Yes, the freshly designed Jetta looks more svelte with coupe-like arches. It has a completely new interior that is built around the lightweight-but-solid MQB architecture, making it feel better than I can ever recall a Jetta feeling from the driver's seat. It's taller, wider and longer than before.
Click below for Full Article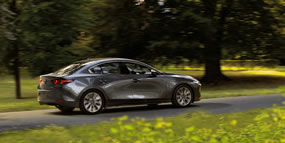 The 2019 Mazda3 Sedan Review: If I made a checklist of what every car company should do to boost their sedan sales at a time of crossover-vehicle mania, it would look something like this: "Give it a gorgeous cabin covered in soft-touch materials. Install a smartphone interface that's incredibly easy to use. Pen it a sexy body. And to woo those crossover buyers, make it get noticeably better gas mileage than a similar sized CUV, plus offer it with all-wheel drive."
Click below for Full Article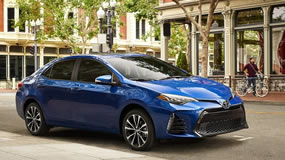 The 2019 Toyota Corolla Hatchback XSE Review: Toyota hasn't offered a hatchback version of the Corolla since the 1990s, but that's changing this year. With the oh-so-creative name of Corolla Hatchback, this new 2019 model is smaller, sportier, different and much more interesting than the Corolla sedan that sells in mind-blowing numbers every year. People who buy the Corolla sedan, and there are whole lot of you out there, do so for straightforward reasons: practicality, low ownership costs and an almost supernatural reputation for reliability. If you want cheap, dependable transportation, buying a Corolla sedan and driving it until the wheels rust off is your default choice.
Click below for Full Article

2019 Toyota Corolla Hatchback XSE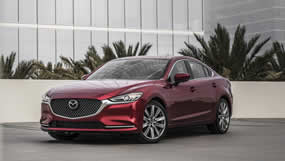 The 2018 Mazda6 Review: At a time when most manufacturers are pouring their development money into electric cars and endless iterations of crossover vehicles, Mazda still sees room to push the limits of what a four-door sedan can be. Need proof? Take a drive in the heavily updated 2018 Mazda6. This mid-size car was already one of my favorites thanks to the many things it does well: fuel efficiency, styling, cabin design and, above all else, driving dynamics that make it feel more like a pricey European sports sedan than an affordable family runabout. Now it's moving into two territories where family cars, especially ones at this price, rarely tread.
Click below for Full Article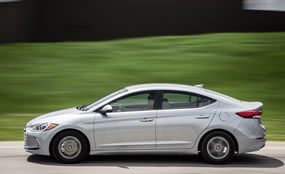 The 2018 Hyundai Elantra SEL Review: In a relatively short period of time, the Hyundai Elantra has risen from a cheaply built, economy car, to one of the most refined in its competitive class. In fact, if you drive it back-to-back with its American and Japanese rivals, it's hard to find any of the glaring shortfalls that were so obvious in its ancestors. The materials and design feel surprisingly nice for its low price, starting at $16,950, and its driving feel is perfectly pleasant.
Click below for Full Article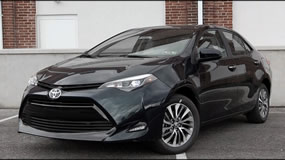 The 2018 Toyota Corolla XSE Review: Toyota says the Corolla is one of the most popular cars on Planet Earth, selling around 1.5 million copies in more than 150 countries each year. That begs a question. Why? From a driver's standpoint, it's hard to see what would make it such a hot seller considering it's never been known for the 3 classic car-magazine bullet points, horsepower, handling and sex appeal.
Click below for Full Article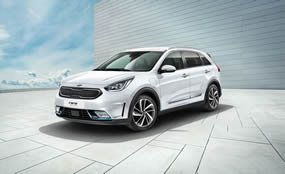 The 2018 Kia Niro Plug-In Hybrid Review: The Niro is Kia's green warrior. A hybrid Niro preceded the plug-in, and an all-electric version just debuted at the North American International Auto Show in Detroit in January (it's about a year away). There is no gasoline-only Niro. The Niro is blessed with appealing, nicely balanced lines and proportions, without any extreme styling excesses. It wears Kia's now familiar tiger mouth grille with the pinch in the middle and it looks good from every angle.
Click below for Full Article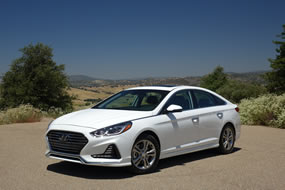 The 2018 Hyundai Sonata Limited Review: Understanding the 2018 Hyundai Sonata requires a short history lesson. At the start of this decade, Hyundai began selling its sixth-generation Sonata that turned out to be a huge hit in the United States. That 2011 model was the first Sonata I'd characterize as a good car, compared to its ancestors that worked their way up the descriptor ladder from "truly awful" to "good for the money." Here was a Sonata that, as I recall, was the first Korean car I'd ever driven that felt better than the strongest Japanese and American products in its segment.
Click below for Full Article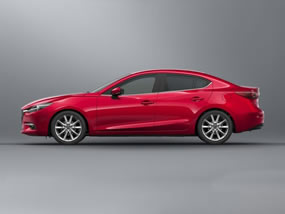 The 2018 Mazda3 Four-Door Grand Touring Review: A few car companies are doing something that would have been unthinkable just a couple of years ago: dropping small cars from their lineup. It started with Fiat Chrysler Automobiles deciding to kill off the Chrysler 200 sedan, a car that wasn't all that bad by the end of its life. I liked a lot of things about it, but FCA decided to pull the plug and stop investing in small cars completely. There's more money to be made in trucks and SUVs, so that's where they're focusing instead.
Click below for Full Article

2018 Mazda3 Four-Door Grand Touring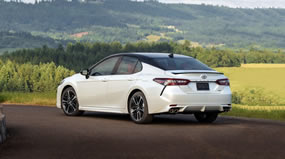 The 2018 Toyota Camry XSE Review: When Toyota started its top-to-bottom redesign of America's most popular car, the Camry, the goal could be summed up with one word: emotion. That's a dramatic change for a vehicle long known for being automotive vanilla. Its decades-long reputation is built on reliability and practicality more than style and feel, so the decision to inject some excitement into the Camry, even a little bit, is a big deal.
Click below for Full Article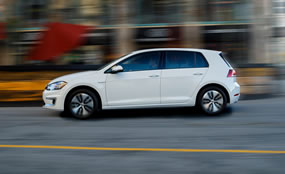 The 2017 Volkswagen e-Golf Review: In the wake of the Diesel emissions scandal, VW is emphasizing its electric car goals, but so far, its only all-electric car is the e-Golf. I enjoyed a week with a handsome White Silver example. With the sound and vibration of an engine removed, tire noise, wind, and EV functions come to the fore, so the engineers worked hard to make the e-Golf extremely quiet inside. They also installed a tone that's emitted at low speeds to warn pedestrians that the silent cruiser is close.
Click below for Full Article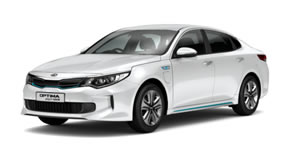 The 2017 Kia Optima PHEV Review: Plug-in Hybrids address two concerns. First, they help reduce carbon emissions by limiting gas consumption. With an 18-mile commute each way and a charger at work, I drove my Snow White Pearl test car to the office and back all week, burning exactly zero gasoline, thanks to the Optima's 27 miles of all-electric range. The second concern is limited ability to take long trips. But with the Optima PHEV, if I suddenly decide to drive from San Francisco to Los Angeles on the weekend, I can, without stopping to refuel. The total gas plus electric range is more than 600 miles!
Click below for Full Article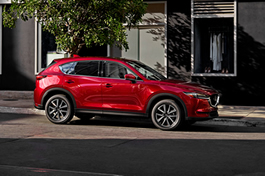 The 2017 Mazda CX-5 Grand Touring Review: Driving on the country roads that zigzag around plots of farmland in rural East Texas, one thing is clear about the new Mazda CX-5. It still carries some sports-car DNA. That's long been the chief selling point for the CX-5, a family-friendly vehicle that has reasonable space for baby seats in back, yet still feels light, nimble and enjoyable when you flick the steering wheel and zoom by cow pastures. It's perfect for drivers who need practicality, but also want a hint of the MX-5 Miata's smile-making personality.
Click below for Full Article

The 2017 Kia Forte Review: Despite all the excitement over crossovers these days, many people still want a reasonably sized, economical sedan, that's big enough to have road presence and safety, but doesn't break the bank either. The Kia Forte offers a rich mix of features for day-to-day living, plus has five-star government safety ratings and affordability.
Click below for Full Article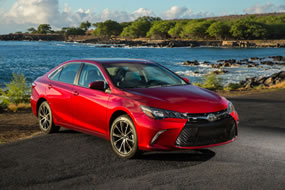 The 2017 Toyota Camry Hybrid Review: The midsize Toyota Camry sedan has enjoyed the top spot in car sales in the U.S. for the last 14 years. Now in its 35th year and seventh generation, it remains a hit. What folks may not know is that Toyota sells lots of other hybrids besides the Prius. There's an Avalon, Highlander and RAV4 Hybrid offered, and even a Camry model. While it's not as fuel efficient as the Prius, the Camry Hybrid still is significantly more green than the gasoline-only models.
Click below for Full Article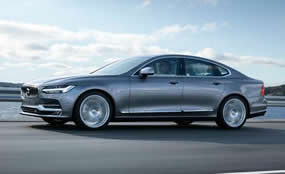 The 2017 Volvo S90 Review: Today, most people no longer associate Volvo with boxy cars and safety. Yes, they did look like shoeboxes from the late 1960s through the 1990s, and you wanted to be in one if a crash occurred, as they invented shoulder belts. But in the 21st century, Volvos look much sleeker and more appealing today. Now with Chinese ownership, and the resultant inflow of investment cash, the brand enjoys a product renaissance. Following in the footsteps of the award-winning XC crossover comes the lovely new S90 flagship sedan.
Run your eyes over the exterior. The flanks present forthright styling that captures some of the old edginess, but framing a sensuous midsection. The concave grille wears a waterfall of matte silver bars and the traditional ironmark, surrounded by a chrome ring.
Click below for Full Article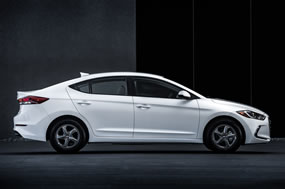 The 2017 Hyundai Elantra Eco Review: Even with low gas prices and SUVs aplenty, some people just want to drive a good compact sedan. Honda, Toyota, Mazda, and others have mastered the art off providing these over the years with the Civic, Corolla, and Mazda3, respectively. Hyundai's Elantra is a good way to do it, too. And today, the "compact" sedan has grown to more like a midsize inside.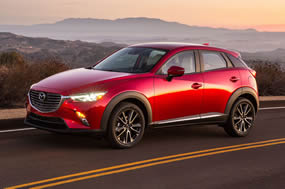 The 2017 Mazda CX-3 Review: The 2017 CX-3 is Mazda's entry-level car, it's a cute UTE. Sitting below the Mazda3 wagon and the popular CX-5 crossover, it offers a fun little runabout with lots of practicality and efficiency, at a low price. With loads of competition now, it flaunts its Mazdaness to compete.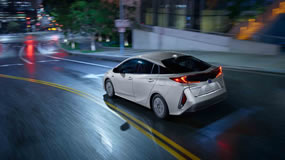 The 2017 Toyota Prius Prime Review: If you want to peek inside an alternate universe to see what everyone would be driving if gas prices weren't so cheap right now, take a look at this car: the 2017 Toyota Prius Prime. It's OPEC's worst nightmare. This is the car that could see America go through an oil embargo relatively unscathed, assuming Toyota could ramp up production in time. Why is it so special? Because it makes gasoline completely unnecessary for around-town trips and is very inexpensive for long ones.
Click below for Full Article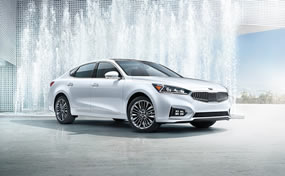 The 2017 Kia Cadenza Limited Review: The first thing I noticed about this car was its window-sticker price of $45,290, a number I still struggle to wrap my mind around on a Kia. Then I drove it and realized this might be the nicest $45,000 car I've ever been in, making it feel like a steal. There are plenty of strong choices for premium sedans in this price class, starting around $32,000, but few of them can reach the lofty level of my loaded-up 2017 Cadenza tester. It came with everything I'd expect from a $60,000 luxury car, sans the snob appeal.
Click below for Full Article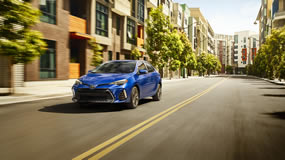 The 2017 Toyota Corolla XSE Review: Forty-three million. Think about that.
It's the number of Corollas Toyota has sold since it began production in late 1966, making this the best-selling automotive nameplate in the history of the world. That's selling an average of around 100 Corollas per hour, 24 hours a day, nonstop for 50 years.
If you parked 43 million Corollas end to end, that's enough to circle the equator five times. It could stretch halfway to the moon.
Click below for Full Article
The 2016 VW Jetta Review: The compact Jetta has been a big seller for VW in the U.S. because it delivers some of what you get in a Mercedes-Benz or a BMW at a bargain price. A big change for 2016 is the new 1.4-liter turbo four-cylinder engine, which replaces the 2.0-liter non-turbo in the lower level models. This gives the car 15 percent better highway fuel economy, while still providing plenty of pep, with 150 horsepower and 184 lb.-ft. of torque.
Click below for Full Article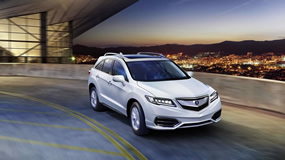 The 2017 Acura RDX AWD Review: Acura, Honda's upscale brand, arrived in the late 1980s with a big sedan, the Legacy, and a compact sporty sedan/coupe the Integra. Today, the nameplate fields a wider range of vehicles, including the RDX crossover. The RDX is the smaller of the two Acura crossovers, under the MDX. With significant upgrades for 2016, the 2017 version carries over with little change. As usual, there's a well-equipped model, and then lots of ways to upgrade it.
Click below for Full Article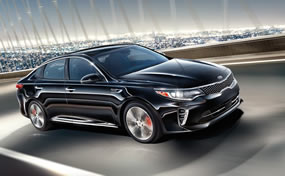 The 2016 Kia Optima SX Turbo Review: Perhaps no car sums up the status of Korean vehicles like this one, the new-for-2016 Kia Optima. My perception of this car will always be clouded by what it used to be more than a decade ago: a sedan for people who either couldn't afford better or didn't know better. In my mind, the Optima of yesteryear was a last-resort car akin to the awful Daewoo Leganza, that my wife drove until it fell apart all too soon after it left the factory.
Click below for Full Article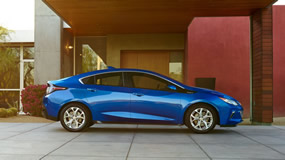 The 2016 Chevrolet Volt Review: The all-new Chevrolet Volt may be the best solution today for moving to greener driving to reduce CO2 emissions and mitigate the effects of climate change. It's an electric vehicle (EV) without the drawbacks.
Click below for Full Article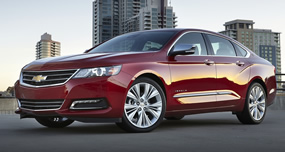 The 2016 Chevrolet Impala Review: There are some folks who still want a full-size, American made sedan, and the Chevrolet Impala is a bona fide classic. Now in the third year of this latest iteration, it's picked up endorsements as a great family car from Kelley Blue Book and U.S. News and World Report.
Click below for Full Article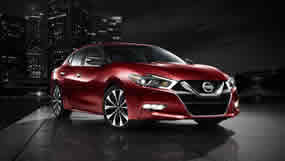 The 2016 Nissan Maxima Review: When Nissan began selling Datsun's in the United States in the mid 1960s, the cars were tiny sedans and pickup trucks. In the 1970s, Datsun expanded. It wasn't until 1981 though, that the first Maxima arrived, offering a real step up from basic transportation.
With a modest 2.4-liter inline six from the 240 Z sports car making all of 145 horsepower, the early Maximas weren't barn burners, but they developed into midsized sedans that Nissan marketed as "The 4-door Sports Car," the poor man's BMW.
Click below for Full Article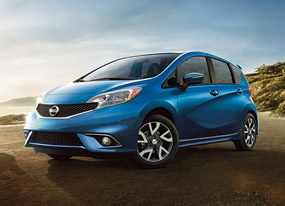 The 2015 Nissan Versa Note Review: Normally, I drive my test cars back and forth to work and around town, but my Red Brick 2015 Versa Note test car took me from the San Francisco Bay Area to San Juan Capistrano, below Los Angeles, and back. It was a surprisingly pleasant ride, and never let me down.
Click below for Full Article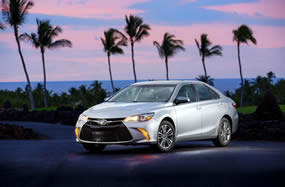 The 2015 Toyota Camry Hybrid Review: The Toyota Camry, introduced in 1983, has developed into America's favorite midsize car. So, when Toyota's management updates it every several years, they are generally cautious. The 2015 Camry, though, is probably the most adventurous one ever.
Click below for Full Article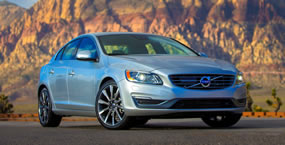 The 2015 Volvo S60 Review: Volvo is a Swedish brand, now owned by a Chinese corporation, whose origins go back 100 years, to when the company was founded as a subsidiary of a ball bearing manufacturer. The official founding date, however, is April 14, 1927, when Volvo built its first car in Gothenburg, Sweden.
Click below for Full Article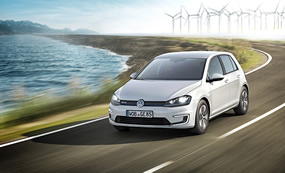 The 2015 Volkswagen e-Golf Review: The Volkswagen Golf has been sold around the world for 40 years. A mainstream model in Europe, it is less central to VW's model mix in the U.S. However, with a major redesign for 2015 comes Volkswagen's first all-electric car, the e-Golf, and it was worth the wait.
Click below for Full Article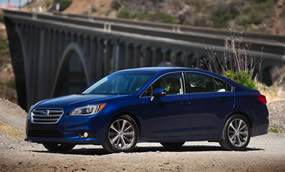 The 2015 Subaru Legacy Review: Subaru has staked its reputation on all-wheel-drive cars. Every Subaru for sale these days sends traction to all four wheels. That's why these cars are so popular in places like Colorado and Vermont, where there's lots of snow and mountainous terrain, and the Pacific Northwest, where the roads are always wet from rainfall.
Click below for Full Article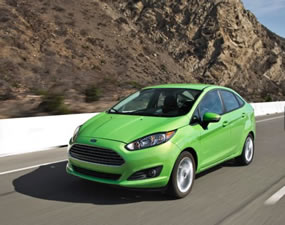 The 2014 Ford Fiesta SE Review: It may seem weird to draw comparisons between economy cars and hyper-expensive supercars, but it's hard not to see some exotic influence in the new-for-2014 Ford Fiesta. For one thing, its new nose borrows heavily from Aston Martin, which gives it the same hint of British exclusivity that makes the bigger Fusion such a pretty car to look at.
Click below for Full Article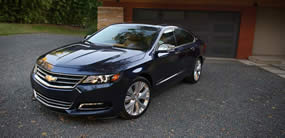 The 2014 Chevrolet Impala Review: The Chevrolet Impala debuted in 1958 as the top model of the full-size BelAir car line, in coupe and convertible form. Flash forward to 1965. The Impala, likely the most beautiful version ever, sold more than a million units. It still stands as a record for a single model. In the 1990s the Impala became less important as midsize sedans, such as the Oldsmobile Cutlass, took over as the mainstream favorites. After a brief hiatus, the Impala reappeared in a 2000 model, but as an anonymous midsize front-wheel-drive sedan. With GM's post-bankruptcy rebirth, the corporation has finally delivered the first new Impala in a long time worthy of the name Impala.
Click below for Full Article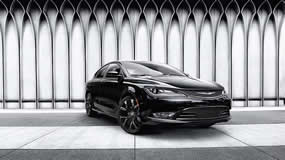 The 2015 Chrysler 200 Review: It's hard to overstate how much this car, the all-new 200, means for the Chrysler brand. Not only does it have to replace the old memories of rental-car mediocrity that so many drivers experienced in the old Chrysler Sebring, but it also has to prove that FIAT-based cars can be fully tailored to the American market. And, make no mistake, the Chrysler 200 is trying its best to turn an Italian car into something that feels more American.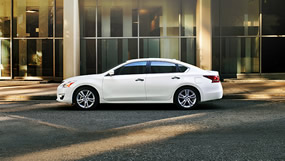 The 2014 Nissan Altima Review: It takes a lot for a four-door car to stand out in today's world, but the new-generation Nissan Altima seems to have found the right recipe. At a time when the sedan market has never been more competitive, with brilliant products available this year from America, Japan, Korea and Europe, the Altima's sales are growing faster than any other car in its class so far this year. Why all the interest? Three things: polish, fun and comfort.
Click below for Full Article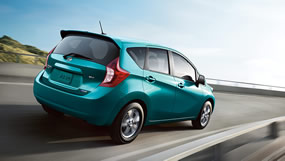 The 2014 Nissan Versa Note Review: The 2014 Versa is Nissan's lowest-priced car. Assembled in Mexico, it leads the pack of entry transportation modules, and it's no surprise. For 2013, Nissan brought in a brand-new Versa sedan. It was nice enough, but not that exciting. The '14 Versa Note is something different, though. Called simply the Note in the other places it's sold, it's a five-door hatchback, a very useful configuration, and looks different from the sedan. It has the kind of eye-catching look that you'd find on, say, a Mazda3, with plenty of motion and character. My test car, in a bright, unpretentious Metallic Blue, seemed happy to be a car.
Click below for Full Article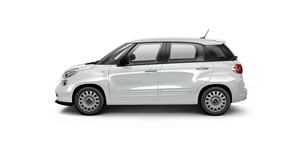 The 2014 Fiat 500L Review: This is a car that can't be judged by the pictures. If you haven't seen it in person, you might assume the Fiat 500L is an ever-so-slightly larger version of the Fiat 500, the cute, lovable Italian car that's one of the smallest vehicles on the road. But that one letter makes a huge difference.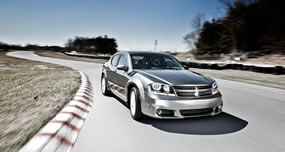 The 2014 Dodge Avenger Review: If you're someone who appreciates the golden age of domestic sedans, those big, comfortable, heavy-feeling cars with a uniquely American sense of style, this one ought to pique your interest. It's the Dodge Avenger, and it's part of a disappearing breed of domestic family cars that actually feel American.
Click below for Full Article

The 2014 Chevrolet Malibu Review: Long before the Honda Accord and the Toyota Camry, the Chevrolet Malibu was a major midsize pioneer. It debuted a half century ago as the top level of the midsize Chevrolet Chevelle. Now in its 8th generation, the Malibu is striving for market share in its hotly contested and popular market segment.
Click below for Full Article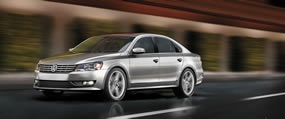 The 2014 Volkswagen Passat Review: The Passat is Volkswagen's midsize sedan. While earlier versions were imported, the latest one was designed especially for Americans and is built here in the US. It has lots of room and a long list of features we expect from the other midsize cars, such as the Chevy Malibu, Ford Fusion, Toyota Camry, Honda Accord and Hyundai Sonata. The Passat is meant to compete, but also provide something special.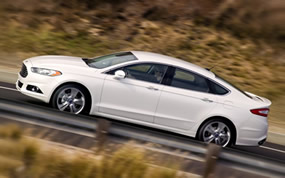 The 2013 Ford Fusion Titanium Review: Picking a car is a bit like shopping for sandwich bread. Every choice can do the job, but the tiny differences between them can make you love one type and hate another, for reasons that are sometimes difficult to explain. Picking a mid-size sedan, often called the automotive equivalent of white bread, makes it even tougher.
Click below for Full Article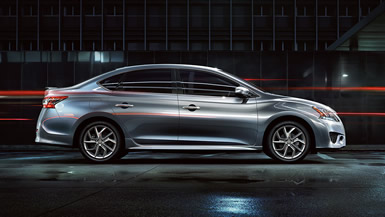 The 2013 Nissan Sentra SL Review: Nissan made two bold moves when redesigning the 2013 Sentra. First, it did a particularly good job on the tried-and-true plan for freshening compact cars: make it bigger, smoother, quieter, nicer and prettier looking. The new generation Sentra does all that, which makes it a dramatically better car than the rather forgettable 2012 model.
Click below for Full Article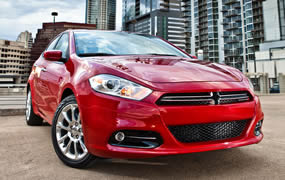 The 2013 Dodge Dart Review: In the early 1960s, American car companies decided to take on a rising tide of imports. The Big 3 introduced the Chevy Corvair from GM, the Falcon from Ford and the Plymouth Valiant from Chrysler. In 1963, the Dodge division got the new Dart, based on the Valiant platform. The Dart became Dodge's first successful compact car, and was sold through 1975, when it was replaced by the Dodge Aspen. Now with the new 2013 Dart, Dodge has a nice credible mid size compact sedan. Why use the old name? Apparently it tested very well in consumer research with both folks old enough to remember the old Dart fondly and with young millennials, and that means fresh new buyers.
Click below for Full Article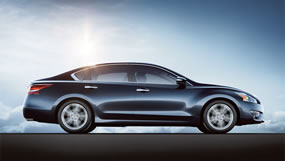 The 2013 Nissan Altima Review: Lots of people want to carry five people in comfort, with decent trunk space and enough maneuverability to park without trauma. If they don't crave a trendy crossover or a workhorse SUV, and aren't seeking a super-economical commuter mobile, what better than a midsize Nissan Altima?
Click below for Full Article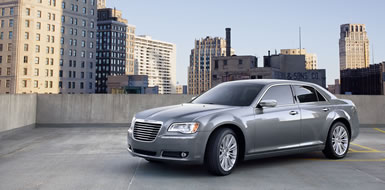 The 2012 Chrysler 300C Review: The Chrysler 300 has been good for Chrysler, was renewed back in 2011, and it has helped return some prestige to the brand. The 300 series goes all the way back to the 1950's, when the potent Hemi V8 engines were part of the explosion of power and fins that defines that age for us today.
Click below for Full Article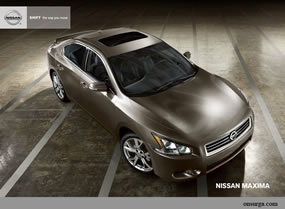 The 2012 Nissan Maxima Review: Nissan likes to tout the Maxima as a "four-door sports car." While that may be a stretch seeing how the Maxima is a front-wheel-drive sedan with a continuously variable transmission
(CVT), two mortal sins in the sports car Bible, it does have the kind of power and handling that make it stand out from its peers. In fact, the Maxima is unusual because it doesn't come from a luxury brand.
Click below for Full Article

The 2013 Buick Verano Review: Buick built its reputation on big, smooth, quiet cars. There are plenty of people who buy luxury cars, especially the entry-level luxury cars that Buick specializes in, who don't want their car to feel like something that Grandma would drive. That's why the Buick Verano exists.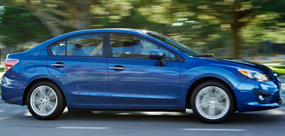 The 2012 Subaru Impreza 2.0i Sport Limited Review: If you've ever driven the rock-hard, super-fast version of the Subaru Impreza, you know it's a car with great bones. In this hopped-up trim, the Impreza WRX is one of the most thrilling cars you can buy with four doors, and that includes much more expensive offerings like the BMW M3. The WRX is raw, exciting and total proof that this car's architecture is designed to withstand the brutal demands of a performance car.
Click below for Full Article
The 2012 Chevrolet Volt Review: The Chevrolet Volt is unique in the world of hybrid and electric vehicles. It is powered by an electric motor all the time, unlike a hybrid, in which the gasoline engine powers the car part of the time. Its on-board gas engine is used only to charge the battery when the car runs out of electricity; the engine itself never powers the wheels directly.
This gas engine's presence is meant to remove "range anxiety," a malady suffered by owners of all-electric cars such as the Nissan Leaf. The Leaf can go up to 90 miles on a charge, but when you're out of juice, you're stranded.
Click below for Full Article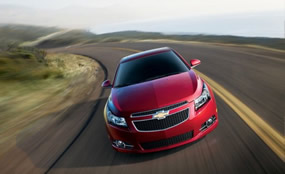 The 2012 Chevrolet Cruze 2LT Review: You know Chevrolet has come a long way when its cars are outshining competitors from Japan, even after their new models are launched. That's exactly what Chevy is doing with the Cruze, a compact car that looks and feels like an upscale midsize vehicle.
Click below for Full Article
The 2012 Subaru Legacy 2.5i Limited Review: The Subaru Legacy can be summed up in one word: solid. Rarely do four-door family cars feel as well built as this one, with its standard all-wheel drive and chassis that seems more German than Japanese. It's one of those special cars that feels like it's built from a single block of steel
Click below for Full Article
The 2012 Ford Focus Review: The Ford Focus was a nice step forward when it debuted in 2000 here in the U.S. It was based on a European design, and although it was built in North America, it was taut and fun to drive. But despite some restyling, it was never the real European model, and as time went on, the folks across the pond got a better car, while we settled for a restyled version of the old one. Well, that's over.
Click below for Full Article
The 2012 Cadillac CTS-V Review: If you want to buy the fastest four-door car in the world, where do you look? You might think of something Italian, like a four-door Ferrari or the Maserati Quattroporte. Germany is another obvious place to consider, with the Porsche Panamera, BMW M5 and Mercedes-Benz AMG models generating lots of headlines. But you'd be wrong. The fastest production sedan in the world is actually made here in America, and it's called the Cadillac CTS-V.
Click below for Full Article

The 2012 Infiniti M Hybrid Review: In building its first hybrid car, Infiniti has figured out how to solve a big problem. Hybrids are usually too slow and too expensive. The added weight and complexity of its fancy drive train means buying a hybrid vehicle comes at a cost, both in terms of performance and money. But not this one ….
Click below for Full Article

The 2012 Nissan Sentra 2.0 S Review: Nissan sells Sentra sedans like Baskin Robbins sells ice cream. No matter what flavor you're in the mood for, they'll probably have it. Most people probably think of the vanilla Sentra first. It's a straightforward four-door car, basically a smaller, slower version of the Altima, and that's good enough for many drivers, but not exactly exciting. But that's just the start. Read on ….
Click below for Full Article
The 2011 Chrysler 200 Review: During the last Super Bowl, Chrysler received a lot of attention for its bold "Born of Fire" ad for the Chrysler 200. It featured stark Detroit photography and rapper Eminem, with a gritty narrator telling the tale of a tough, hardworking city. It later won an Emmy, and five awards at the Cannes Lions 58th International Festival of Creativity. All this for a car that used to be known as the Chrysler Sebring, and which was considered barely mediocre in the midsize car market.
Click below for Full Article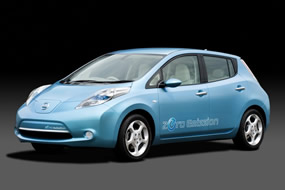 The 2011 Nissan LEAF Review: The Nissan LEAF is the first completely normal, mass market, all-electric vehicle. It's dramatically styled outside, pleasant to drive and ride in and equipped with all the accoutrements you require, satellite radio, USB, climate control, power accessories, navigation and more. The LEAF looks like a regular car, but it's especially rounded and organic. There's generous rear set legroom, and with those seats folded, an upright bass will fit, thanks to a convenient hatchback. So you'll be in fine shape for monthly runs to Costco or visits to Home Depot for weekend projects.
Click below for Full Article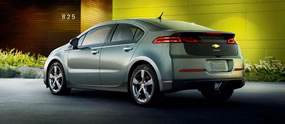 The 2011 Chevrolet Volt Review: After driving the Chevy Volt for a couple of hours last year, I came away with one overriding impression: it's an engineering masterpiece. In case you haven't heard about it yet, the Volt is an electric car that can drive up to 40 miles before it needs to be charged. But, unlike other electric cars, the Volt also has a gasoline engine that can keep you going after the battery power runs out.
Click below for Full Article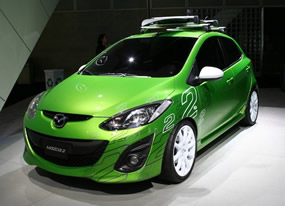 The 2011 Nissan Versa Review: Some cars come along in the test cycle that seem to do everything right, without glamour, fanfare or pretension. The Nissan Versa is one of them. For its fifth year, the 2011 model returns with a four-door sedan and a five-door hatchback, in three levels.
Click below for Full Article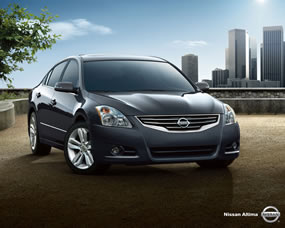 2011 Nissan Altima 2.5 S Review: If you're looking for a four-door car that feels sharp and precise, this is the one for you. It's the 2011 Nissan Altima, and while it doesn't receive any changes this year, it does retain that nimble, edgy feel that gives it such a playful personality
Click below for Full Article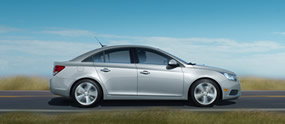 2011 Chevy Cruze Review: Cruze is what Chevrolet calls its newest compact car, and it makes sense that they're starting with a totally different name. That's because the Cruze breaks ranks with the small Chevy cars that have preceded it, most of which are easily forgettable, and competes directly with the Japanese stalwarts that have been eating away at American-brand car sales for decades. How so?
Click below for Full Article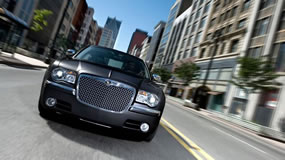 Chrysler 300C Hemi Review: Even in the era of crossovers, SUVs and minivans, there's something to be said for the good ol' American family car. The market for big, full-size four-door cars has all but disappeared as drivers have turned to bigger, boxier, heavier vehicles to replace them. The barge-like sedans that floated down America's highways in the 1960s and '70s are replaced today by nimble, Japanese-style sedans and taller, tougher-looking vehicles.
Click below for Full Article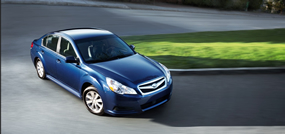 Subaru Legacy Review: If you're looking for a German car, you're probably thinking about buying a Volkswagen, BMW, Audi or Mercedes. But have you ever considered a Subaru? Subaruís aren't made in Germany, obviously, and I'm not aware of any legitimate German connection. They're about as German as a Chicken McNugget.
Click below for Full Article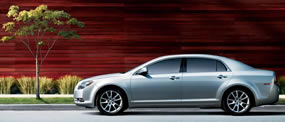 Chevy Malibu Review: General Motors is about to try something gutsy. According to Marketing Daily, GM is gearing up to do experiments in two markets where it allows, and even encourages, shoppers to drive competing brands. Why such confidence now? because GM is building cars like the new Chevy Malibu.
Click below for Full Article

Lincoln MKS and MKZ Review: What is a Lincoln? Henry Leland, who had worked closely with Ford very early on, and later founded Cadillac, founded the brand, named for the 16th president, in 1917. Lincoln originally built luxury vehicles, but ran into financial trouble, and Ford acquired them in 1922.
Click below for Full Article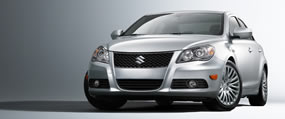 Suzuki Kizashi Review: The new Suzuki Kizashi, yes, Kizashi, is at least as good as the all-star Toyota Corollas and Honda Civics it competes with, so let's get that out of the way right now. It's a true, world-class car.
Click below for Full Article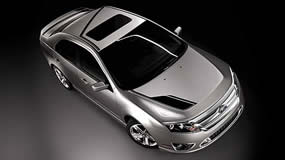 Ford Fusion Review: Thereís been plenty of good news for Ford Motor Company despite the horrible auto market. The company managed to avoid bankruptcy and the government bailout money, and now has some great cars to sell. The 2010 Fusion is one of them.
Click below for Full Article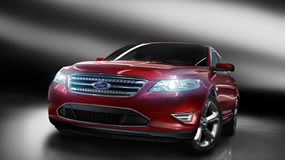 Ford Taurus Review: At Ford the blocky, old-fashioned rear-wheel-drive behemoths, such as the LTD, were hopelessly out of date. Enter the original ďjelly beanĒ Taurus, which debuted on Christmas Day 1985, and it was a blockbuster for Ford, literally.
Click below for Full Article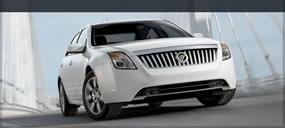 Mercury Milan Hybrid Review: Many years ago, I would accompany my (first) wife to her pottery studio, where she not only threw new pots but also worked on earlier ones that had partially dried. It was this crucial trimming procedure that made them into finished art. Such is the case of Mercuryís popular Milan midsize sedan, which has been significantly upgraded for the 2010 model year.
Click below for Full Article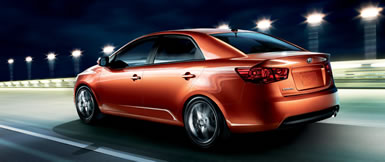 Kia Forte SX Review: Normally when you're shopping for a low-priced car you have two choices. Option one is getting a car that has plenty of standard features, but drives like a clunker. It may have power windows and a gazillion-watt stereo, but what does that matter when it has a suspension from a skateboard and an engine from a blender? Option two is getting a car that feels nice, but comes with zero features. It might have a refined drivetrain and silent cabin, but you'll have to pay extra for the carpeting, and pretty much everything else.
Click below for Full Article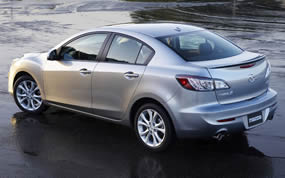 Mazda3s Sport Automatic Review: If there's one word to sum up the new 2010 Mazda3, it's refinement. This new generation of Mazda's compact car is still sporty, tossable, light feeling, just everything you'd expect from the Zoom Zoom brand, but there's something more sophisticated about the latest rendition that's hard to pin down. Is it the slimmer styling, the softer ride, the upscale cabin? Perhaps it's all of those things.
Click below for Full Article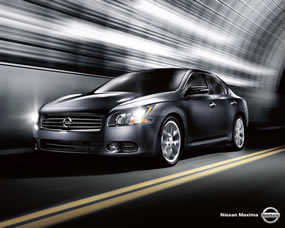 Nissan Maxima Review: Nissanís flagship has been a fun car to drive for its entire life. It may not have been the most exciting sedan to look at sometimes, but its healthy, happy V6 pulled it along vigorously. With a seventh generation for 2009, the company has dumped conservatism and gone for the gold.
Click below for Full Article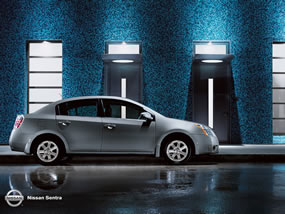 Nissan Sentra Review: The Sentra used to be Nissan's smallest and cheapest car. In recent years it's grown bigger and become more cushy, leaving room at the bottom of Nissan's lineup for the new Versa.
Click below for Full Article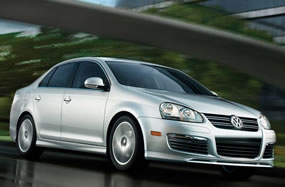 Volkswagen Jetta TDI Review: It's hard to believe modern diesel cars aren't more popular. That's probably because they have a reputation for being stinky, dirty and noisy. Back in the 1980s they used to sound like machine guns, smell like gas stations and belch smoke like locomotives in an old Western film. Today's newest diesels are nothing like that.
Click below for Full Article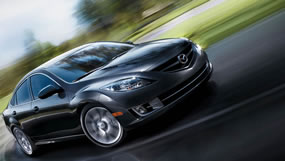 Mazda6 Review: About 30 seconds after my Sangria Red Mazda6 test car entered winding, two-lane Crow Canyon Road, I remembered why people buy Mazdas. The five-passenger family sedan handled like a bigger version of the legendary Miata sports car.
Click below for Full Article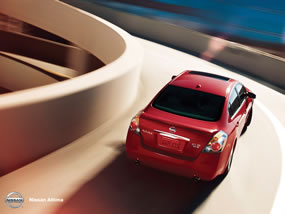 Car Review: For the many car shoppers who have no need for a lumbering SUV, desire for a sporty two-seat sports car, or budget for upscale luxury, the obvious choice is a nice, mid sized sedan.
Click below for Full Article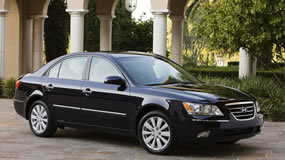 Car Review: Hyundai's mid-size Sonata sedan gets a thorough refreshing for 2009 as it faces new and improved competition. A tweaked body matches the car's overall driving refinement, which is especially impressive for the money. It starts under $20,000.
Click below for Full Article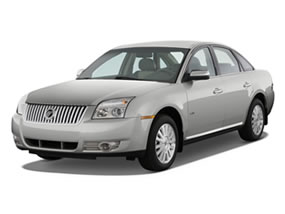 Family Car Review: Mercury is a hallowed name in the American automotive universe. The brand still occupies its original role between an everyday Ford and a luxury Lincoln. However, that space has narrowed as lesser Lincolns and fancier Fords crowd the brand out. Sales have been less than spectacular in recent years too.
Click below for Full Article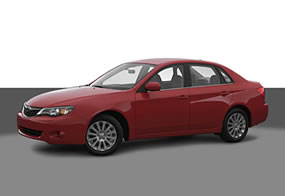 Family Car Review: I recently had the good fortune to spend several days in San Diego on vacation with my family. My trusty ride was a Lightning Red 2008 Subaru Impreza, and it was the perfect car for the job.
Click below for Full Article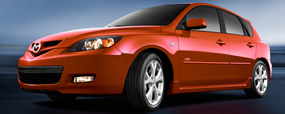 Hatchback Review: Four-dollar-a-gallon gas no longer shocks people, but is still a big concern. And every day we hear more about the threat of global warming. The Mazda3 is well suited to this new world as we know it today.
Click below for Full Article

2008 Mazda3 5 Door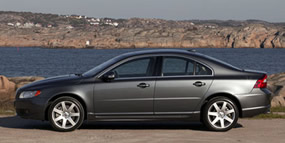 Family Sedan Review: Volvoís flagship sedan, the S80, got redone for the 2007 model year, but it took until now to get a date with one, a beautiful 2008 model. It was worth the wait.
Click below for Full Article

2008 Volvo S80 T6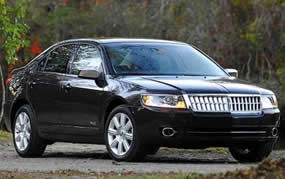 Car Review: At some point in the 1990s, entry-level luxury cars didn't just have to be luxurious they also had to be "sporty." I'm not sure why this happened. Perhaps it's because people who write about cars, folks like me, tend to prefer fast, nimble cars instead of big, plodding ones, so the car makers figured they could get better reviews if they started copying fast cars.
Click below for Full Article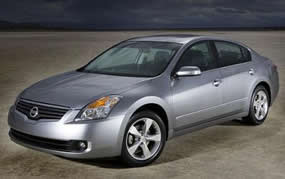 Car Review: There was a time, not too long ago, when American cars were designed with Jet-Puffed suspensions designed by sadists. The cars, with very few exceptions, would bounce along on a cushion of creme, which was great for comfort, but unfortunately came with the side effect of making them handle like the Lincoln Memorial.
Click below for Full Article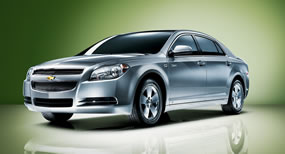 HYBRID CAR REVIEW: Chevroletís Malibu has impressed auto writers, and apparently, the public too. It is one of the best looking new cars around, quality appears high, and prices are still relatively reasonable. A hybrid model should make things even better, shouldnít it?
Click below for Full Article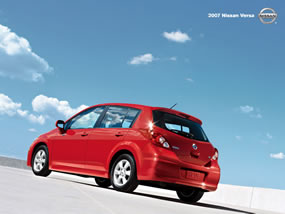 CAR REVIEW: Some car buyers are seeking good, reliable transportation. The problem is that if you opt to go basic, you can end up feeling like youíre stuck in the generic aisle at Pak N Save. The answer could be the surprising Nissan Versa.
Click below for Full Article

2008 Nissan Versa
New Car Review: The Taurus, once the shining gem in Fordís crown, was quietly put out to pasture a couple of years ago. Ford brought in the Five Hundred in its place.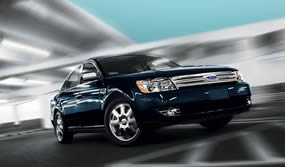 New Car Review: The Taurus, once the shining gem in Fordís crown, was quietly put out to pasture a couple of years ago. Ford brought in the Five Hundred in its place.
Click below for Full Article

2008 Ford Taurus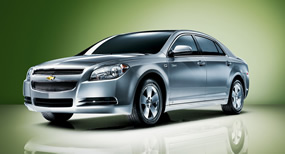 Car Review: The two-tone interior in the new 2008 Chevy Malibu LTZ looks like it would be perfectly fitting in a Lexus, with excellent build quality and nice feeling materials. Only itís better, in more ways than one.
Click below for Full Article

2008 Chevy Malibu LZT

Car Review: Ever heard of a "sleeper", a car that looks ordinary but drives really fast? This is the opposite, the quick-looking Mitsubishi Lancer GTS, which comes with the wild styling but makes do with the ordinary Lancer's 152 horsepower engine.
Click below for Full Article

2008 Mitsubishi Lancer GTS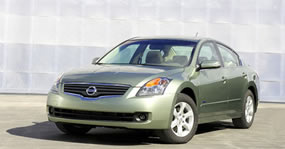 Hybrid Review: If you want to enjoy the benefits of a hybridís great mileage, now thereís a better way to do it - buy the new fourth-generation 2007 Nissan Altima Hybrid.
Click below for Full Article

2007 Nissan Altima Hybrid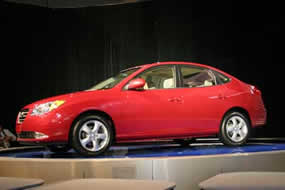 San Francisco: Every time Hyundai introduces a replacement for a model, it ups the ante significantly. This time, the trusty Elantra gets breathed on, and the result is remarkable.
Click below for Full Article

2007 Hyundai Elantra
T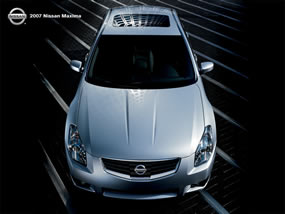 San Francisco: Every brand needs a flagship, a leader, the vehicle that represents what the company stands for. Since 1981, that has been the Maximaís job at Nissan. For 2007, this iconic ride gets significant tweaks to make it even more appealing.
Click below for Full Article

2007 Nissan Maxima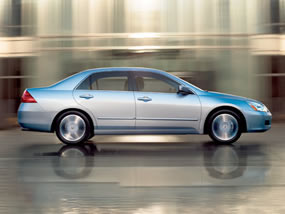 San Francisco: The Accord is Hondaís mid sized sedan and coupe that does everything well and some things wonderfully. It is well built and reliable. It has been their best selling vehicle year after year and manages to clean up in the awards department - even from the automotive buff books, which are run by folks who crave Ferraris and Corvettes.
Click below for Full Article

2007 Honda Accord

San Francisco: It would seem to be the meeting of two great ideas, the quintessential Japanese midsize sedan with the popular hybrid power system. The Honda Accord Hybrid, however, disappoints, and itís not because of the quality, itís superb, as always. But the car simply doesnít save much fuel.
Click below for Full Article

2006 Honda Accord Hybrid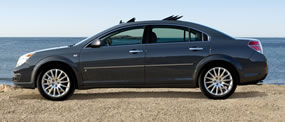 San Francisco: The Saturn project is 20 years old now. In the mid 1980ís, GM proudly unveiled a plan to build an economical small sedan that would rival the Japanese in quality and economy, while being designed and built right here in the good, old U.S.A. Early models lacked refinement, but sold well, and the brand took off.
Click below for Full Article

2007 Saturn Aura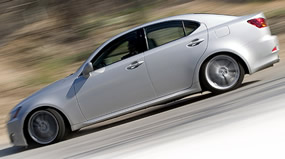 San Francisco: I spent a week with the all-new Lexus IS350. The IS sedan is the baby sport Lexus aimed squarely at a certain German automakerís North American entry level vehicle.
Click below for Full Article

2006 Lexus IS350

San Francisco: This affordable luxury sedan, the Zephyr, is helping Lincoln shed its stodgy image as a brand for limousine companies and AARP members. It's been a long time since Lincoln has made a great car.
Click below for Full Article

2006 Lincoln Zephyr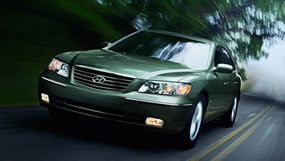 San Francisco: It's been an incredible two decades for Hyundai in America. From the cheap, humble Excel econobox to the wide range of high quality offerings today, the people at Hyundai have toiled ceaselessly to improve their product. Now, the new flagship Azera goes after the luxury carmakers with its typically long feature list and affordable price.
Click below for Full Article

2006 Hyundai Azera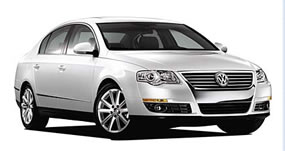 San Francisco: Volkswagen has been hurting lately, and it's not because their cars aren't good. Until this model year, they were just old. The last Passat debuted in 1997 as a 1998 model, so it was overdue for a redo. And that's what VW has done, and brilliantly I would say.
Click below for Full Article

2006 Volkswagen Passat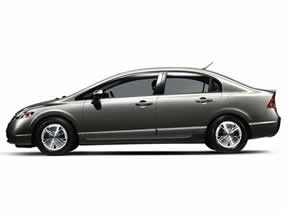 San Francisco: Honda was the first manufacturer to introduce a car with a hybrid engine technology to the American market, with the tiny Insight in 1999. Honda has been building efficient automobiles for decades, so making a hybrid version of the Civic seems like a great idea.
Click below for Full Article

2006 Honda Civic Hybrid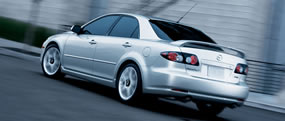 San Francisco: An athletic, feline body makes the Mazda 6 sedan look sporty without being outrageously styled. Its precise, balanced, sports-car-like handling makes it drive even sportier than its body suggests.
Click below for Full Article

2006 Mazda 6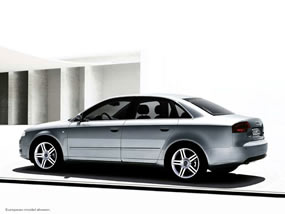 San Francisco: While many of today's cars look like they were inspired in one way or another by designers smoking a joint, the A4 actually has an elegant, intelligent, sophisticated look, and it looks marvelous.
Click below for Full Article

2006 Audi A4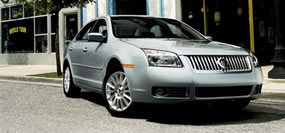 San Francisco: Clean, fresh styling on the 2006 Mercury Milan is similar to the Ford Fusion but not totally identical. It's a classy looking car, with Mercury's signature grille drawing attention to its distinctive front end. Aluminum-look trim and a two-tone cabin make the Milan feel like a low-priced Jaguar on the inside. It's a quiet, comfortable cabin that's great for long commutes.
Click below for Full Article

2006 Mercury Milan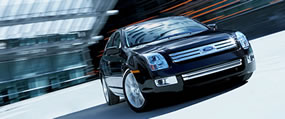 San Francisco: Distinctive styling sets the 2006 Ford Fusion apart from its dull competitors. This all-new family car is finally a legitimate competitor to the Honda Accord and Toyota Camry, unlike the aging Taurus it's replacing.
Click below for Full Article

2006 Ford Fusion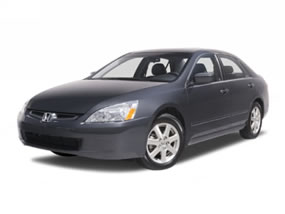 San Francisco: For what seems like forever, Honda has sold a huge fleet of Accords to American buyers. Whatever the company puts in the dough, this model bakes up to an almost boringly routine success story year after year.
Click below for Full Article

2006 Honda Accord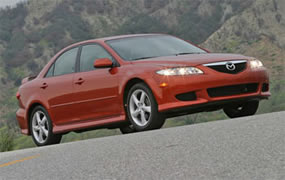 San Francisco: Mazda is becoming the company that gives you cars you canít find anywhere else. The brand has offered the sporty Miata roadster for 15 years, and now sells the unique four-door RX-8 sports car. Mazda is also home to the new junior-sized Mazda5 minivan. But just as importantly, Mazda sells the intriguing midsize Mazda6. You can get it not only as a four-door sedan, but also as a wagon and as a five-door hatchback. No other midsize car offers such a range.
Click below for Full Article

2005 Mazda6 Five Door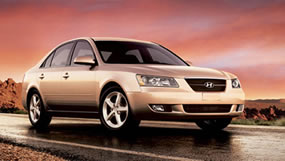 San Francisco: Something truly remarkable, even awe-inspiring, is happening at Hyundai. In 20 years in the American market, the Korean company has gone from a provider of marginal quality econoboxes to a producer of a range of appealing models, including a large, handsome, powerful sedan known as the Sonata.
Click below for Full Article

2006 Hyundai Sonata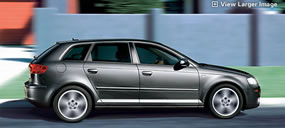 San Francisco: Many of the bits and pieces in the 2006 A3's cabin are the same ones found in much more expensive Audi models like the TT and A8. Materials and build quality are second to none at this price. It feels like I'm in heaven - if heaven could possibly feel this good.
Click below for Full Article

2006 Audi A3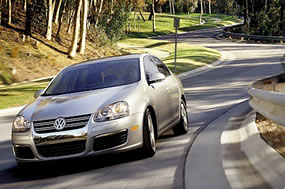 San Francisco: The 2006 Volkswagen Jetta, introduced as a mid-2005 model, is all new. It is no longer just a VW Golf with a trunk. Styling is more conventional than previous Jettas. Read Ė it looks like several of its competitors from Asia.
Click below for Full Article

2006 VW Jetta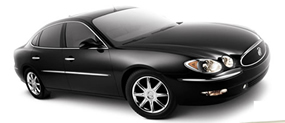 San Francisco: In the last ten years or so, change has been constantly reforming the world around us. So itís a good thing we got a chance to drive Buickís all-new 2005 LaCrosse, the car replacing the Century and Regal.
Click below for Full Article

2005 Buick LaCrosse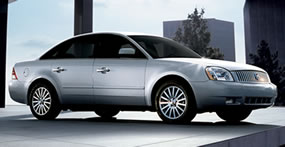 San Francisco: After about 30 years the Mercury Montego is back. Just as it was all those years ago the Montego is a redressed Ford Five Hundred. The Montego does not replace anything in the Mercury line up; itís a new 2005 model addition. Dimensionally it is very close to the old Mercury Sable, but in just about every other way it is light years advanced.
Click below for Full Article

2005 Mercury Montego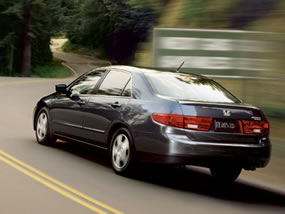 San Francisco: If you think hybrid cars are tiny or weak, the Honda Accord Hybrid is here to prove you wrong. Itís actually more powerful than the normal V6-powered model, and has fuel mileage numbers 33 percent better.
Click below for Full Article

2005 Honda Accord Hybrid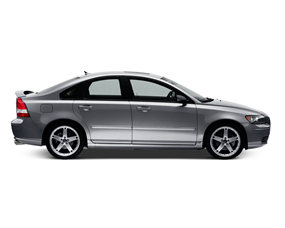 San Francisco: In mid-year 2004, Volvo introduced its 2005 Volvo S40 entry-level car. However, with prices starting around the $24,00 mark, ďentryĒ hardly fits this completely new Volvo. While the previous S40 was based on a Mitsubishi platform, the new model shares some of its some of its architecture with the Mazda 3 and the second-generation Ford Focus that is now on sale in Europe.
Click below for Full Article

2005 Volvo S40
San Francisco: I had high expectations when I stepped inside the new 2005 Ford Five Hundred, especially after seeing the hot GT and the sexy new Mustang. They prove Ford still knows how to make cars sizzle. Thankfully, Ford gave the Five Hundred's interior proper styling. It comes with a long list of standard equipment at a low price, offering what Ford calls "guilt-free luxury."

Click below for Full Article

2005 Ford Five Hundred
San Francisco: Suzuki, best known as a seller of small sport utility vehicles and motorcycles, wants to sell you a good car. Billing themselves as America's Best Value, the company is offering the compact Forenza, to do battle against numerous opponents, led by the highly regarded Toyota Corolla and Honda Civic.

Click below for Full Article
San Francisco: With all the flashy new cars on Chrysler lots, it's easy to forget about the company's more traditional models. The 2004 Sebring sedan doesn't have the flashy looks of Chrysler's newest models, but it's still attractive. Its driving feel, however, is slightly unrefined compared to some of its more recently designed competition.
Click below for Full Article

2004 Chrysler Sebring
San Francisco: Honda's latest Civic Hybrid looks like virtually every other new Civic on the road, which is a good thing. It proves that you can be frugal, responsible, and practical without carrying the enviro-geek stigma.
Click below for Full Article

2004 Honda Civic Hybrid
San Francisco: In my humble opinion the Toyota Prius may be the most important vehicle of the decade, or maybe the millennium. The problem with that is the original Prius was introduced in the last decade. Regardless of the time line the Toyota Prius is a very important vehicle.
Click below for Full Article

2004 Toyota Prius
San Francisco: Need proof that cars don't have to be flashy to sell? Just look at the Buick LeSabre. While the 2004 Buick LeSabre looks like one of the most boring new cars available today, its terrific practicality and relatively low price make it a hot seller.
Click below for Full Article

2004 Buick LeSabre
San Francisco: Chevrolet is on a roll, or at least they hope they are. They are introducing so many new models that they certainly don't seem like the big, old, staid car company they have been known as. In fact their new advertising slogan is Revolution, emphasizing both Revolution and the Evolution. Time will tell if Chevrolet is revolutionary or evolutionary. Either way, the car buying public benefits from the choices.
Click below for Full Article

2004 Chevy Malibu Maxx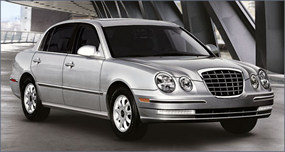 San Francisco: What a difference a decade makes. In 1994, Kia began selling cars in the U.S. under its own name with the modest little Sephia sedan and the Sportage small SUV.
Click below for Full Article

2004 Kia Amanti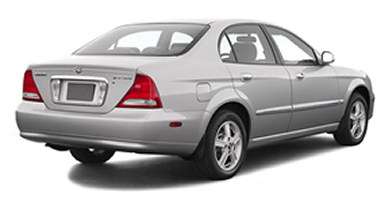 San Francisco: Suzuki equips the new 2004 Verona for an assault on the sedan market. Everybody knows the Honda Accord and Toyota Camry reign atop the family sedan hill. They're the cream of the crop, the best of the best, and a thousand other overused clichťs.
Click below for Full Article

2004 Suzuki Verona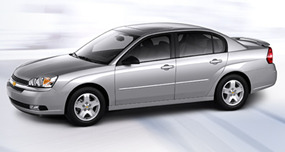 San Francisco: After dominating the North American market for family sedans only to see Japan steal it like a masked bandit, General Motors is trying to recover from lackluster sales in America. So now in 2004 say hello to the all-new Chevy Malibu.
Click below for Full Article

2004 Chevy Malibu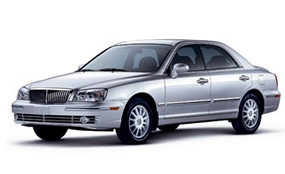 San Francisco: Everybody likes a good deal. Hyundai, Korea's industrial giant, sells lots of cars based on this philosophy. The company offers everything from econoboxes to sport utilities to luxury sedans, making sure that in each case, they exceed customer expectations for the price.
Click below for Full Article

2004 Hyundai XG350

San Francisco: Many years ago, cars were named for noble beasts, such as Impala or Cougar. Some were named for places, like New Yorker or Malibu. Some were even named for astrological signs, such as Aries, and the still popular Ford Taurus. But Stratus is a type of cloud formation.

Click below for Full Article

2003 Dodge Stratus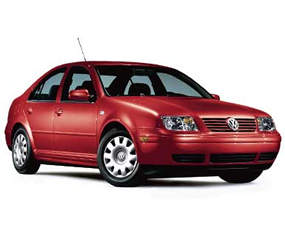 San Francisco: Volkswagen has come a long ways from the early Beetle days when the choices were limited to essentially the color. Today, VW dealers offer a large range of models from the budget-oriented Golfs and Jetta GLs to the new Taureg SUV and the $60,000- plus Phaeton sedan. Additionally, each model lineup includes several versions to choose from.
Click below for Full Article

2003 VW Jetta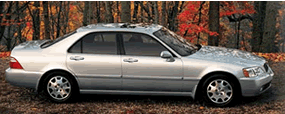 SAN FRANCISCO: The 2003 Acura 3.5 RL is the ultimate Honda four-door sedan. Substantially larger than the ubiquitous Accord, it is a direct descendant of the Legend, which, along with the Integra, introduced the world to the new upscale Acura line in 1986.
Click below for Full Article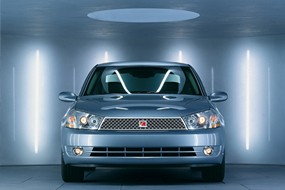 SAN FRANCISCO: Saturn owners are among the most loyal car buyers in the industry, largely because of the GM division's earned reputation for consumer-friendliness with its original S-Series. More recently it introduced the Saturn Vue to capture SUV buyers. To capitalize on this brand loyalty a few years ago Saturn introduced its L-Series, so Saturn buyers could move up to a larger vehicle. Now for 2003 Saturn has a new L series.
Click below for Full Article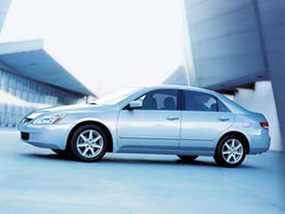 SAN FRANCISCO: Have your expectations pleasantly smashed and reorganized in the shape of the new 2003 Honda Accord. And with 240 angry HP and a 6-speed transmission this definitely isn't your old Accord. Expect More. Be surprised –even overwhelmed.
Click below for Full Article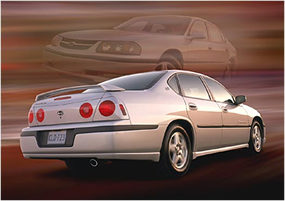 SAN FRANCISCO: Except for maybe senior citizens, police officers and low-rider fans, the name Impala probably envisions very fast running African animals. However, between 1958 and 1978, the Impala was an American icon as Chevrolets top of the line model and often America's best selling car nameplate.
Click below for Full Article

2002 Chevrolet Impala

SAN FRANCISCO: New to the US as of last fall, the Lancer is the successor to Mitsubishi's entry-level Mirage, which will soon become an illusion of the past. Mitsubishi's newest Lancer model is now the OZ Rally edition.
Click below for Full Article

2002 Mitsubishi Lancer OZ Rally edition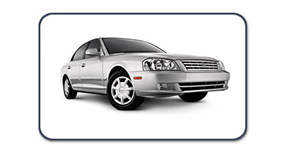 SAN FRANCISCO: I recently drove a car that surprised the heck out of me. Driving a lot of different cars tends to make me just a little blasť. So when the Kia Optima SE V-6 was parked in front of my house I didn't think much about it, after all, it was just another low priced Korean car. Sure its Magenta Red paint looked nice all shiny and new but, c'mon, looks can be deceiving right? Wrong.
Click below for Full Article

2002 Kia Optima SE V-6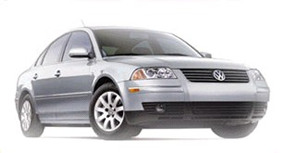 SAN FRANCISCO: Volkswagen built its reputation on the noisy, old-fashioned, economy-oriented Beetle, but today the company is flourishing by offering just the opposite. The new VW Passat is much closer to a Mercedes-Benz than it is to basic transportation.
Click below for Full Article

2002 Volkswagen Passat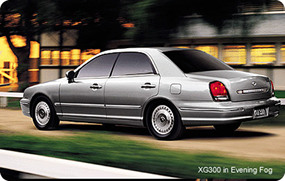 2001 Hyundai XG300
SAN FRANCISCO: Hyundai, the company that built its reputation in America with inexpensive, basic transportation, continues to surprise car shoppers. After introducing economy sedans like the surprisingly refined Accent, sleeper sports cars like the Tiburon, and the competitive midsize Sonata, Hyundai now debuts a flagship full-size sedan in America. Welcome the XG300.
Click below for Full Article

2001 Hyundai XG300

2001 Hyundai Accent
SAN FRANCISCO: South Korean automakers like Hyundai, Kia and Daewoo, relative newcomers to the American automobile scene, are demonstrating with their lowest priced models, that inexpensive cars do not have to be "cheap" looking or low performing. Hyundai's new entry-level model, the Accent, shows that you can buy a new car, and a quite capable car, for around the $10,000 mark.
Click below for Full Article

2001 Hyundai Accent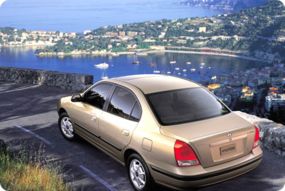 2000 Hyundai Elantra
SAN FRANCISCO: A funny thing happened while dropping my niece off at school one morning. As we approached a group of her friends, turning into the parking lot, she ducked down on to the floor saying " Oh no, I can't let anyone see me in this." Huh !!?? What was this all about? Here we are in a brand spanking new, cute, lively, electric-green Elantra, and she feels embarrassed?? At once, I realized that there still is an image issue in regard to Hyundai that I feel compelled to address. So let's hop in a time machine and go back to the mid-eighties.
Click below for Full Article

2000 Hyundai Elantra
2000 Plymouth Neon
SAN FRANCISCO: It's time to say goodbye to Plymouth, the workingman's friend since 1928. With little to distinguish itself as part of DaimlerChrysler in the post-merger international car market, the brand will be put to rest after the 2001 model year.
But don't despair. The new, very-much-improved 2000 Neon is here, and the last Plymouth perfectly represents the entry-level brand in its final days. And don't worry about buying an "orphan." Neon's will still be sold by Dodge dealers for years to come, and the same Chrysler dealership that sold you your Neon will still be around to service the car.
Click below for Full Article

2000 Plymouth Neon
2000 Nissan Sentra
SAN FRANCISCO: Nissan's entry level Sentra was completely redesigned for the 2000 model year. While the styling is attractive, it looks like so many other cars in this class, so it won't get any second glances. However, buyers of cars in this low price range usually are not after breathtaking styling, but want reliability, low initial and operating costs, and overall good value. And here's where the Sentra delivers.
Click below for Full Article

2000 Nissan Sentra
2000 Volvo S70 AWD
SAN FRANCISCO: Somewhere in the rugged, all-wheel drive surroundings of Torslanda, Sweden is a manufacturing plant where employees share the same "big picture" vision for the future. Their mission is to blend Scandinavian innovation with traditional values in the cars they build, Volvos. They hope to help their customers live long lives and remain Volvo owners forever. Their goal is to create fierce customer loyalty which becomes almost subliminal, inspiring the well-known "Volvo for Life" philosophy.
Click below for Full Article

2000 Volvo S70 AWD
2000 Nissan Altima
SAN FRANCISCO: The Nissan Altima epitomizes what we have come to expect in family-friendly sedans from Japan - solid reliability and durability, excellent fit and finish, more than adequate though not spectacular performance, nice but not dazzling styling, and generally good value for the dollar. In reality, the Altima is not really a Japanese car since it is built in America in Smyra, TN.
Click below for Full Article

2000 Nissan Altima
2000 Subaru Outback Limited
SAN FRANCISCO: When the popular Subaru Outback was redesigned for 2000, it gained a lot. The 2000's bolder looks are spread across a three-inch-longer body mounted atop a slightly stretched wheelbase. A new multilink rear suspension spreads more than five inches of additional space between the wheel intrusions inside, for enough room, Subaru claims, to handle four suitcases side by side. The 2.5-liter flat four "boxer" engine has improved fuel mileage and acceleration, too.
Click below for Full Article

2000 Subaru Outback Limited
2000 Ford Focus SE
SAN FRANCISCO: With a name like Focus I suppose I could lead off with some witty pun (if such a thing exists), like Focus on Ford. But the new Ford Focus is no joke. No way. It's serious business for Ford. It would be too melodramatic to say that this is a make or break car for Ford.
Click below for Full Article

2000 Ford Focus SE
2000 Volvo S40
San Francisco: In a world filled with miniatures, from Ritz Bits snacks to Beanie Babies to Hot Wheels, there is now a pint-size Volvo, too. A smaller Volvo makes sense. The recognized purveyor of safe, environmentally sensitive family vehicles wants a less-expensive car to sell to younger singles, small families, and empty nesters. So, from the Netherlands, please welcome the S40 sedan and the V40 station wagon.
Click below for Full Article

2000 Volvo S40
2000 Suzuki Esteem
SAN FRANCISCO: Been looking for a good used car because you think you can't afford a brand new one. Before you plunk down $13,000 to $15,000 for a car with many miles on the odometer, you might take a look at the Suzuki Esteem. For about the same price, you can get zero miles and the new car smell.
Click below for Full Article

2000 Suzuki Esteem
2000 Acura 3.5 RL
SAN FRANCISCO: The Acura 3.5RL succeeds the original Legend sedan, and flaunts a more chiseled appearance than its predecessor. Its looks like one of the guys when placed next to the popular Mercedes E320, BMW 528i and its fellow Japanese cars, the Lexus LS 400 and GS 300.
Click below for Full Article

2000 Acura 3.5 RL
2000 Chevrolet Impala
SAN FRANCISCO: Self-proclaimed as "America's Best Ride" in promotional literature, Chevy's new 2000 Impala is sure to create showroom excitement. Impala's legacy dates back to 1958, when Chevy introduced what would become one of its all-time favorites to hungry American consumers. In its 13-year reign through 1971, Impala sold more units than any of its Bowtie siblings, yet was shelved by GM in 1972 when Caprice nomenclature upended Impala as the flagship model.
Click below for Full Article

2000 Chevrolet Impala
'99 Hyundai Sonata GLS
SAN FRANCISCO: Our test vehicle this week is the 1999 Hyundai Sonata GLS V-6, a 4-door sedan that is sure to make both consumers and the manufacturer very happy indeed. It's the suprise car of the year!
Click below for Full Article

'99 Hyundai Sonata GLS
2000 Buick LeSabre
SAN FRANCISCO: Before SUVs and minivans became popular, families bought family sedans. This means a roomy, four-door sedan with a comfortable ride, powerful V8, large trunk and a reasonably affordable pricetag. The all-new Buick LeSabre fits this description in spades! While the LeSabre was completely redesigned for 2000, it still looks like a Buick should look. Indeed, the restyling is so subtle that you may have to park a 1999 and 2000 model side by side to see the differences.
Click below for Full Article

2000 Buick LeSabre
'99 Infiniti G20
SAN FRANCISCO: Since 1989, Infiniti has been Nissan's upscale line, a sports/luxury rival of Lexus, Acura, and challenger to the premium European brands, including Mercedes and BMW. The original G20, based on the European market Primera model, represented the bottom end of Infiniti's line-up. Now, after a two-year hiatus, the 1999 model is, as the TV commercial says, "designed in Japan, educated in Europe", and is, presumably, fit for America.
Click below for Full Article

'99 Infiniti G20
'99 Mazda Protege ES
SAN FRANCISCO: Are you looking for a compact four-door sedan? Have I got a deal for you (or rather Mazda does). The 1999 Mazda Protege ES is a worthy contender in the compact sedan arena and it's priced very competitively at $15,555. Mazda has done a super job of packaging just about everything you might want in a tasteful, roomy, compact sedan.
Click below for Full Article

'99 Mazda Protege ES
'99 Subaru Legacy SUS
SAN FRANCISCO: A few years ago, Subaru, which was suffering through some lean years, hit paydirt with the Outback, an all-wheel-drive Legacy station wagon modified for off-road use. The model became such an overwhelming hit that it drove the company into the black and inspired Subaru to become an exclusively all-wheel-drive company.
Click below for Full Article

'99 Subaru Legacy SUS
'99 Buick Regal GS Family Sedan
San Francisco: How many of your remember that Buick was known as a doctor's car? That was way back, when every General Motors division had a different intended market. Buick stood for reliability (doctors needed a reliable car for all those house calls they used to make), stability (who's more stable than a doctor) and respectability (ditto) without being ostentatious. There were those who might even have called Buick dull.
Click below for Full Article

'99 Buick Regal GS Family Sedan
2000 Dodge & Plymouth Neon
San Francisco: In my opinion, Chrysler stylists are the best in the business. They keep turning out great looking cars and trucks. The 2000 Neon is the latest example. While the previous Neon, around since 1994, was "cute", the completely restyled Neon is handsome. The Y2K model is not only better looking; it is improved in many ways. Incidentally, more than 1.5 million 1995-99 Neons were sold worldwide, a commendable feat considering the Neon had to go up against some pretty stiff competition in the compact car class.
Click below for Full Article

2000 Dodge & Plymouth Neon
'99 Mitsubishi Galant ES Sedan
SAN FRANCISCO: Mitsubishi just might just have too much riding on its new Galant.Mitsubishi's very future as a car company in North America may hinge on how well the Galant sells.The pundits will give you all kinds of reasons for Mitsubishi's failure to find success on a par with Honda or Toyota. Maybe it's because way back in the beginning, they sold their product under the Dodge and Plymouth nameplates.
Click below for Full Article

'99 Mitsubishi Galant ES Sedan