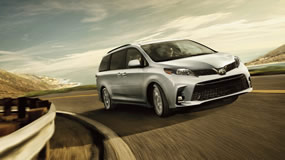 The Bottom Line: Toyota started making cars in 1936. They started selling vehicles in the US in 1958. Toyota then introduced a van in 1984. The Toyota Previa was the first minivan introduced to the US in 1990 as a replacement for the creatively named Toyota Van, and it was meant to be a serious competitor to the all dominant Chrysler Town & Country and Dodge Grand Caravan minivans. It wasn't.
Click below for Full Article

2020 Toyota Sienna SE Premium Edition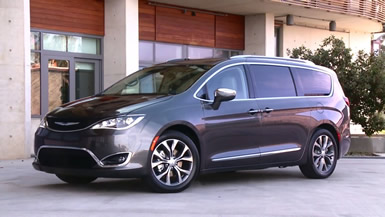 The 2018 Chrysler Pacifica Hybrid Limited Review: It's hard to imagine a better family vehicle than this one, the Chrysler Pacifica minivan. While minivans have fallen out of fashion in recent years, largely replaced by rugged-looking CUVs and SUVs on America's highways, there's no denying the unrivaled practicality that vans offer with their sliding doors, gigantic cabins, huge road-trip storage capacity and reasonable gas mileage.
Click below for Full Article

2018 Chrysler Pacifica Hybrid Limited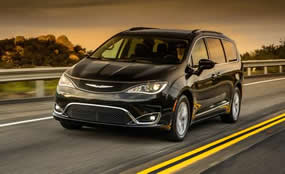 The 2017 Chrysler Pacifica Hybrid Platinum Edition Minivan Review: There are a lot of reasons I think the Chrysler Pacifica is the best minivan on the market right now. It offers more amenities than the aging Toyota Sienna and a quieter, smoother ride than even the newly redesigned Honda Odyssey. This year, though, the Pacifica is pole-vaulting straight over the Japanese competition by rolling out something new and innovative: a plug-in electric hybrid power train. As I see it, the fact that a vehicle like this even exists at all is a modern miracle.
Click below for Full Article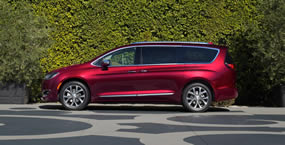 The 2017 Chrysler Pacifica Limited Review: Chrysler's new 2017 Pacifica has split personalities. The interior is designed for people who love minivans, and the exterior is designed for people who hate them. It's an interesting and bold experiment as Chrysler tries to re-ignite the passion people once had for minivans in the 1980s and '90s. The segment has dramatically shrunk in recent years as many buyers have switched from boxy, utilitarian vans to trendier crossovers and SUVs, despite their sometimes gluttonous gas consumption and less useful cabins.
Click below for Full Article

2017 Chrysler Pacifica Limited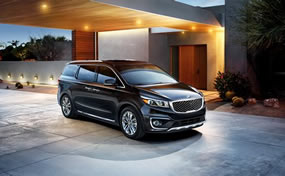 The 2016 Kia Sedona Review: What do you use your car for? If its primary job is moving lots of people, then a minivan is probably your best choice. I know you may be grimacing and shaking your head. "Me, drive a minivan?" A lot of people bypass the minivans in the showroom and focus their attention on crossovers, those car-based SUVs. Those tall wagons look cooler, seem more macho, or are just trendier. But if space efficiency is your prime consideration, driving a minivan is worth it. Hello Kia Sedona.
Click below for Full Article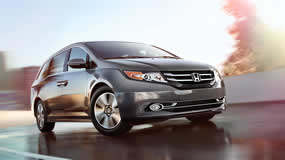 The 2016 Honda Odyssey SE Review: The last time I drove the Honda Odyssey minivan, I fell in love with its newest feature: a built-in vacuum cleaner called the HondaVac. I just had one gripe about it. You could only get the HondaVac if you bought the pricey, fancy-pants Touring Elite trim level for around $45,000. And if I bought a brand-new, top-of-the-line luxury van like that, I'd be mortified to think of my kids spilling messy crumbs and grinding up Cheerios into the carpet with a ferocity that required a permanent vacuum. "I'm hoping Honda makes it an option on more affordable trim levels in the future," I wrote at the time. Well, wish granted.
Click below for Full Article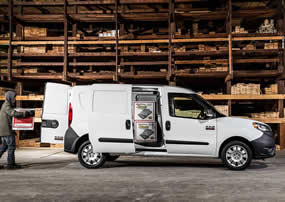 The Ram Promaster City Review: The Promaster City is Ram's latest weapon in the delivery-van wars. Smaller than the full-size Promaster, it's designed for commercial customers who do urban deliveries and value efficiency in their workday.
Click below for Full Article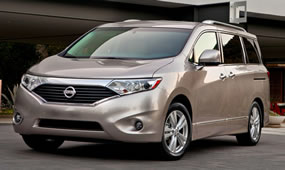 The 2011 Nissan Quest Review: Minivans, a creation of Chrysler in the mid 1980's, were designed to combine car like accommodations and driving quality with the practicality and hauling ability of the full-size, truck-based vans. They were very successful, filling a huge need, and Nissan's first Quest was one buyer's option in the minivan market.
Click below for Full Article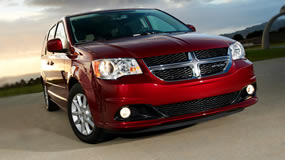 2011 Dodge Grand Caravan Crew Review: Let's get one thing out of the way first. If you want the best minivan for sale today, you want a Honda Odyssey. But what if you're looking for the best value? That's where things get complicated, and Dodge has made the decision much more difficult with a nicely improved Grand Caravan for 2011.
Click below for Full Article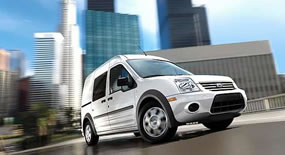 Ford Transit Connect Review: Anyone with a business that uses vans needs to know about Fordís European-designed little hauler, the Transit Connect. With huge cargo capacity and fuel efficiency, itís a great choice for florists, computer fixers, dog washing services and many more.
Click below for Full Article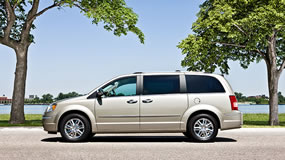 Chrysler Town & Country Review: After a trip like this, I ought to be exhausted. It's 9:40 p.m. on a Sunday, and I just got home from a marathon three-day jaunt to central Texas with my wife, three kids, including an 8-month-old baby, and two grandparents, with all of us packed into one car. That's a formula for disaster that comes straight from the recipe box of National Lampoon.
Click below for Full Article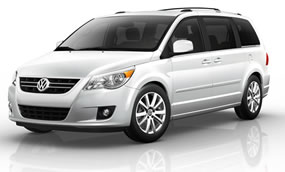 Volkswagen Routan Review: At the beginning of the new millennium, Volkswagen showed off an exciting New Microbus. Featuring the famous boxy proportions, but with up-to-date reclined windshield and modern sensibilities (and a front engine), it would have followed the New Beetle in a wave of nostalgia.
Click below for Full Article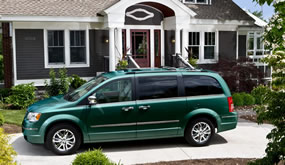 Minivan Review: A quarter of a century ago, Chrysler introduced the first minivan. The fifth generation, introduced for the 2008 model year, brings more innovation to the product segment it invented while continuing to command more than 40 percent of the minivan market.
Click below for Full Article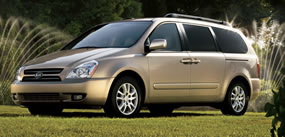 San Francisco: The Kia Sedona minivan may have an economy-car badge, but it doesn't drive like one. With 250 horsepower and a refined feel on the road, it drives more like a well-build Japanese car than the old Korean clunkers you may remember.
Click below for Full Article

2007 Kia Sedona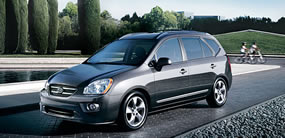 San Francisco: With todayís concerns over the twin problems of fuel prices and global warming caused by fuel combustion, many families are wondering what to do. Sport utility vehicles and minivans are not the most fuel-efficient rides, yet if you want to carry five or six (or even seven) people, what choice do you have?
Click below for Full Article

2007 Kia Rondo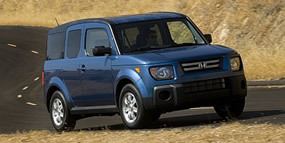 San Francisco: Honda introduced the Element several years ago as a rugged, go anywhere, do anything, carry anything youthmobile. Eschewing graceful, sweeping lines for the appearance of a shipping container, the Element had its own kind of ďstick it to the manĒ coolness.
Click below for Full Article

2007 Honda Element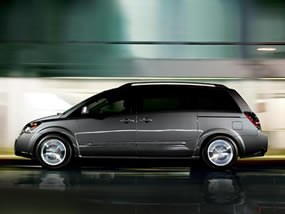 San Francisco: Before SUVs stole the spotlight in the mid '90s, there was a time when minivans were actually cool. Moms and dads across America aspired to drive their munchkins around in these new shiny boxes, never mind the fact that most minivans were pieces of garbage. They drove like beat-up old plumber's vans and had interiors that felt like they were made of cardboard panels held together by Seran Wrap. But oh, they were practical.
Click below for Full Article

2007 Nissan Quest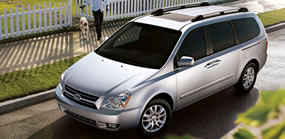 San Francisco: Just what the world needs is another minivan, right? Well, with prices heading toward the $30,000 mark, maybe the world wouldnít mind a reasonably priced one. Thatís been Kiaís specialty all along, value, so welcome the new 2006 Sedona.
Click below for Full Article

2006 Kia Sedona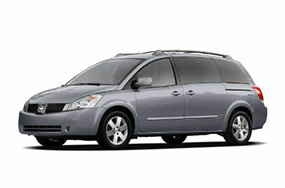 San Francisco: Nissan has crafted a minivan that doesnít look like a bread van. So, even if youíve got five kids, you donít have to feel like a bus driver any more.
Click below for Full Article

2006 Nissan Quest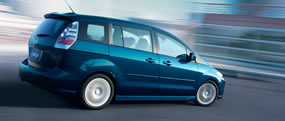 San Francisco: If you're a family of 6, you have probably at least considered buying a minivan. There are plenty of good ones out there. But if you're worried that piloting one means giving up enjoyable driving, you now have an option. Take a look at the new Mazda5.
Click below for Full Article

2006 Mazda5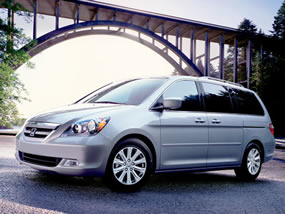 San Francisco: When the second generation Honda Odyssey debuted in 1999, it quickly became the minivan to own. Honda had applied the same care and skill to the family vehicle that it previously lavished on the benchmark Honda Civic compact and the perennially huge selling Accord midsize sedan. But time moves on, and the Odyssey was getting dated.
Click below for Full Article

2005 Honda Odyssey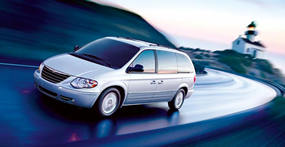 San Francisco: Chrysler invented the mini-van and they still sell more than anyone else but the competition has been creeping closer recently. So Chrysler needed something to stand out, something to crow about. Maybe you've seen the ads on TV for the Stow 'n Go seats.

Click below for Full Article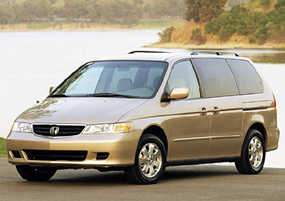 San Francisco: Honda's venerable Odyssey minivan is in its sixth year since a 1999 redesign, but Honda is apparently happy to not fix what ain't broke.
Click below for Full Article

2004 Honda Odyssey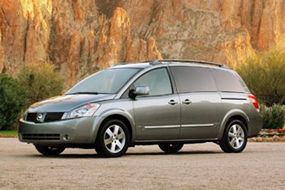 San Francisco: With the Quest, Nissan has applied its newfound flair for design to the common minivan. After 20 years, the minivan is becoming humdrum, even to soccer moms. And, there are many choices on the market, including the popular sport utility vehicles. Now we have the new Nissan Quest to add to the minivan mix.

Click below for Full Article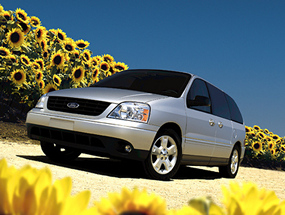 San Francisco: Ford would love for me to write, "The new Ford Freestar minivan is better than the Honda Odyssey and Toyota Sienna!" Too bad I can't write that. It's the newest minivan on the block, but it's still not the best.

Click below for Full Article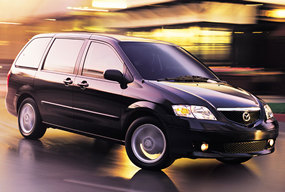 San Francisco: Styling on the Mazda MPV, especially its chiseled front end, reflects the company's desire to make a sporty, fun to drive minivan. While it's not exactly at home on the racetrack, it does offer surprisingly good performance to go along with its family friendly cabin.

Click below for Full Article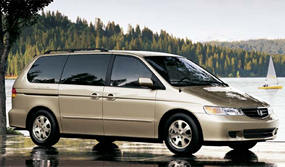 San Francisco: When Honda brought out the Odyssey it was a nice van from the start. But the second-generation model of 1999 pushed it into the top tier of the minivan market. Honda knows how to give buyers a quality vehicle at the right time.

Click below for Full Article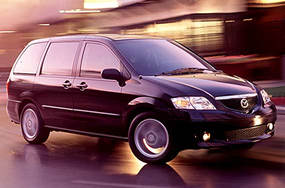 SAN FRANCISCO: The Mazda MPV has been a player in the minivan market for quite some time. But it has not been a major player with only 32,181 sold versus 430,383 sold for the Chrysler and Dodge minivans in 2001. This is a shame because the MPV is, and has always been, a very nice vehicle. I recently drove a 2002 MPV ES, the top of the line MPV, and came away wondering why more people don't choose a Mazda MPV.
Click Below for Full Article

2002 Mazda MPV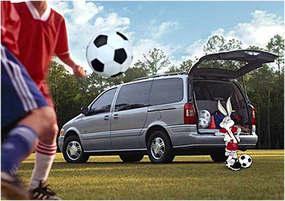 SAN FRANCISCO: As a 31-year-old, single American male, it is difficult for me to fathom the responsibility and other pressures that would make me give up my car and get a minivan. I'm not saying that there's anything wrong with needing all that extra space and comfort for people and things that minivans are famous for having. Space is what these vehicles are all about. There's space up front, space in the rear and generous amounts of space in between. Our test van was the 2002 Chevy Venture EXT AWD Warner Brothers Edition and what a van it was.
Click Below for Full Article

2002 Chevy Venture EXT AWD Warner Brothers Edition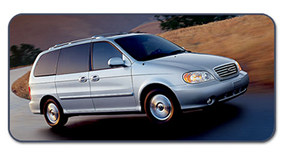 SAN FRANCISCO: Korean automakers, namely Kia and Hyundai, are making significant inroads into the U.S. market. They are doing this with high quality products at very affordable prices. The Koreans are especially good at offering more standard and even luxury features for prices that are noticeably lower than comparable American and Japanese models. The new Sedona, the first Korean-built minivan to be sold in the U.S., is an excellent example of this marketing strategy.
Click Below for Full Article

2002 Kia Sedona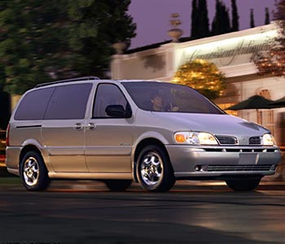 SAN FRANCISCO: This week we're looking at the Oldsmobile Silhouette and it's so sad that it also comes at a time when Olds, the granddaddy of all automobile manufacturers, is being phased out of existence. I grew up with Oldsmobile and I'll miss it.
Click Below for Full Article

2001 Oldsmobile Silhouette Premiere Edition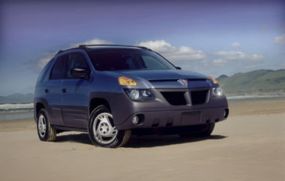 SAN FRANCISCO: Quite possibly the most versatile vehicle on the planet. That's Pontiac's slogan for its new Aztek – a cross between a sport utility vehicle, a minivan and a small RV.
Click Below for Full Article

2001 Pontiac Aztek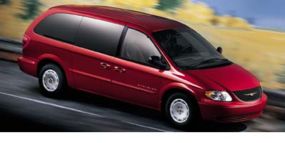 SAN FRANCISCO: Chrysler is credited with inventing the "garage-able" minivan. Since 1983, DaimlerChrysler has been the leading producer of minivans, selling some 8 million worldwide to capture nearly 40% of the North American minivan market. It is credited with almost 50 minivan firsts, including several for 2001. For its 17th year, DaimlerChrysler has completely redone its minivans. The minivans come in Dodge Caravan, Chrysler Voyager and Chrysler Town & Country versions. The Plymouth nameplate, which was attached to the Voyager, is now history.
Click below for Full Article

2001 DaimlerChrysler Minivans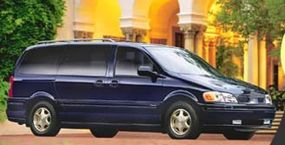 2000 Oldsmobile Silhouette Premiere Minivan
SAN FRANCISCO: Last summer, I packed up the family in a Nissan Quest for a vacation to Chicago. The neat thing about the trip was that our daughter was happy in the back, watching Snow White and Anastasia on the vehicle's TV and video player. But after 10 days in the Quest, we found some problems, including the entertainment system that fit between the front bucket seats. The entertainment console just seemed like it was always in the way and took up too much space. After driving the 2000 Oldsmobile Silhouette Premiere, I now know that this minivan is the one for any long trips with Haylee or any other screaming kid.
Click below for Full Article

2000 Oldsmobile Silhouette Premiere Minivan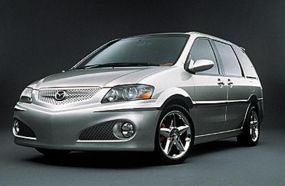 2000 Mazda MPV Minivan
SAN FRANCISCO: Mazda has offered the MVP minivan for years as an alternative to the mainstream minivans. But as competitors remodeled, the MPV rolled along with minimal change. Finally, for 2000, a totally new Mazda people mover is ready for inspection.
Click Below for Full Article

2000 Mazda MPV Minivan
'99 Honda Odyssey
SAN FRANCISCO: Honda, master of the compact and subcompact sedan, wizard of the affordable sports coupe, introduced its first minivan in America a few years ago. The Odyssey was a good practice swing, but it didn't quite hit the ball out of the park. So Honda studied minivan customers and the competition and brought out the second generation Odyssey as a 1999 model.
Click Below for Full Article

'99 Honda Odyssey
99' VW EuroVan MV
San Francisco: Okay, everybody knows that VW invented the mini-van umpteen years ago. Only they called it the VW Microbus. But that was yesterday, and yesterday's gone.
Click Below for Full Article

'99 Volkswagen Eurovan MV
Lincoln Mercury Funds to
Benefit California Schools
Sacramento: Lincoln Mercury announced its California "Lincoln Mercury Tools for Achievement" program designed to generate an estimated $1 million for the state's public and private elementary schools.
Click Below for Full Article

Lincoln Mercury Funds California Schools