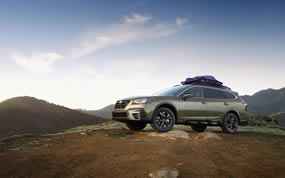 The Bottom Line: Over the years 4WD 4 wheel drive has been associated with trucks and SUV's as the go to drive train for work, mud and snow. Having the ability to engage all four wheels with traction control and equal power to pull the vehicle over what ever is on the ground.
Click below for Full Article

2020 Subaru Outback XT Onyx Edition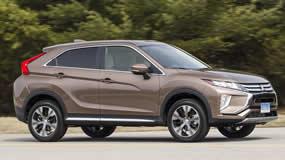 The 2018 Mitsubishi Eclipse Cross Review: Mitsubishi is selling a new crossover vehicle this year, and it's whipped up a name that's either brilliant or sacrilegious: Eclipse Cross. Named after one of the most beloved and best-selling Mitsubishi cars of all time, the sporty and stunning Eclipse, the new Eclipse Cross is trying to evoke some of the same emotions that made people fall in love with its sleek, spaceship-styled sports coupe in the 1990s. In some ways, it works.
Click below for Full Article

The 2018 Jeep Wrangler Rubicon Review: Driving through the dusty, rocky Sonoran Desert northwest of Tucson, I turned a corner and saw several of Jeep's spotters perched on top of a mountain. They looked like specks. "You want me to drive up that?" I thought, seeing what looked like a sheer, cactus-covered cliff in front of me. With the help of those expert spotters, though, the same people who run the Jeep Jamboree that crosses the Rubicon Trail each year, I was able to plant the tires in just the right spots, at just the right angles, to deftly pick my way between the cacti and up the mountain.
Click below for Full Article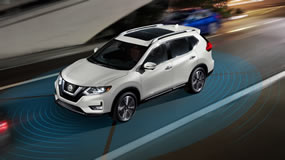 The 2018 Nissan Rogue SL AWD Review: Altima, Sentra and Maxima may be the Nissans with the best name recognition, but their importance pales in comparison to the one I'm driving this week. The midsize Rogue crossover has risen to become Nissan's top selling vehicle, easily surpassing the sedans that once served as the bread and butter for this Japanese brand. It's been such a hit that Nissan spun off an ever-so-slightly smaller sibling, the Rogue Sport, last year to give buyers a subtly different twist and juice its sales numbers even further.
Click below for Full Article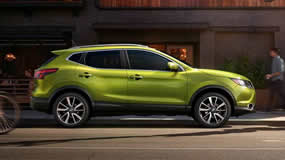 The 2017 Nissan Rogue Sport SL AWD Review: Crossover vehicles are so popular right now that car companies are apparently dumping them into a food processor to slice and dice them into tiny segments. The latest sliver? Nissan has chopped its fast-selling Rogue into a new variant, the Rogue Sport. Just looking at the two in pictures, I struggle to tell the difference. They both have Nissan's familiar crossover face and the slightly rakish roofline that's so in vogue right now. Pull out your measuring tape and the differences become clear. The Sport's wheelbase is about 2 inches shorter, and its overall length is over a foot shorter than the ordinary Rogue, Nissan's top-selling vehicle.
Click below for Full Article

The 2017 Jeep Compass Trailhawk 4x4 Review: It's interesting that, at least for a brief period of time, you can buy two completely different vehicles called the "2017 Jeep Compass." One is an old, out-of-date design that better be a screaming bargain if you buy it; the other is a fresh looking, quieter, better handling vehicle that's unquestionably the best off-road machine in its price class, starting at only $20,995. If your dealer stocks both, drive the two and compare. The difference is striking.
Click below for Full Article

2017 Jeep Compass Trailhawk 4x4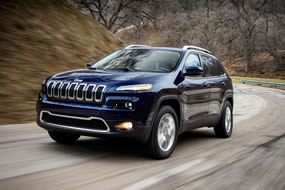 The 2017 Jeep Cherokee Overland Review: If you want a Jeep that's grand, there's an obvious place to turn. It's even in the name: the Grand Cherokee. While high-end versions of the Grand Cherokee can easily top $50,000, there's a new luxury Jeep that's considerably smaller but also doesn't require such a grand bank account. It's a fresh, premium trim level for the smaller 2017 Cherokee called the Overland.
Click below for Full Article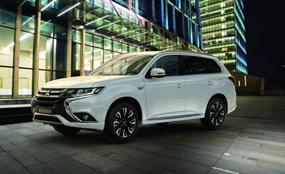 The 2017 Mitsubishi Outlander Review: When you're shopping for a family-friendly crossover, there's no sense asking yourself whether it's a nice vehicle or not. There just aren't any bad ones in this segment right now. The question you need to ask is a bit trickier: Is it nice enough? That's what I keep wondering as I drive the revamped for 2017 Mitsubishi Outlander, a three-row crossover that starts at a budget friendly $23,495 but has long struggled to stand out in a market oversaturated with strong products.
Click below for Full Article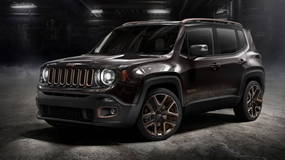 The 2016 Jeep Renegade Review: Jeep is an iconic American brand that requires no introduction or explanation. Now at 75, Jeep is selling a small Jeep that's in a real sweet spot with the subcompact crossover Renegade. The Renegade has big shoes to fill, and customers have expectations. Does it look and drive like a Jeep? Can I take it off-road? The Renegade does the job, bringing Jeep qualities to this growing market segment.
Click below for Full Article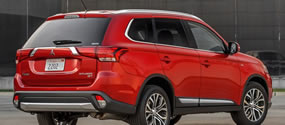 The 2016 Mitsubishi Outlander Sport GT Review: When you turn off the engine in the Mitsubishi Outlander Sport, a digital screen behind the steering wheel doesn't just go blank. It displays the words, "See you." That says a lot about the playful, seemingly youth-oriented attitude that comes from this vehicle. It's a two-row crossover, perhaps the most consistently dry segment of today's automotive market, replacing the white-bread sedan of yesteryear, but Mitsubishi tries to make this one a bit more fun.
Click below for Full Article

2016 Mitsubishi Outlander Sport GT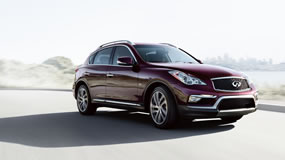 The 2016 Infiniti QX50 Review: Despite looking much like its predecessor, the new 2016 model adds 3.2 inches of wheelbase and 4.5 inches of length. Most of this increase is given to rear seat leg and knee room, so your passengers will be grateful, and you'll get an extra 8 cubic feet of cargo space. Now the QX50 is considered a "small station wagon" by the EPA.
Click below for Full Article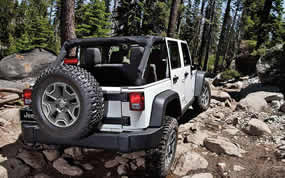 The 2016 Jeep Wrangler Unlimited Sahara Review: Kobe Bryant just retired from playing basketball, prompting all kinds of retrospectives about his famous marathon workout sessions that can start hours before dawn. His work ethic made him one of the best players in the history of the NBA, some say. But you know what people don't say? That he was a gifted painter, an award-winning scientist or a sensation at playing tennis.
Click below for Full Article

2016 Jeep Wrangler Unlimited Sahara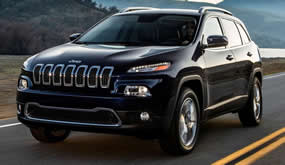 The 2015 Jeep Cherokee Review: The Jeep Cherokee is a look at the future of the Jeep brand. Jeep is nearly 75 years old, dating back to the indestructible little WWII combat units. The CJ model (Civilian Jeep) kept things going postwar, eventually becoming today's Wrangler. However, the other stream of Jeep, from the family-oriented Wagoneer to today's Grand Cherokee, is oriented to serving the needs of families, some of whom may want to go off road, or not.
Click below for Full Article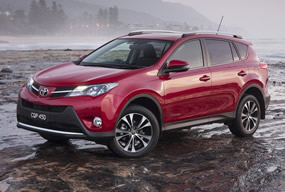 The 2014 Toyota RAV4 Review: The Toyota RAV4 has never screamed for attention, which might be a big reason it's been so successful. In fact, after driving a 2014 RAV4 for a week, I'm struck by the fact that this crossover never makes a fuss about anything. There are no gimmicks, no weirdo styling touches, no funky features to generate headlines. It simply does its job, which is to transport people comfortably while offering more cargo space and flexibility than you can get from a sedan.
Click below for Full Article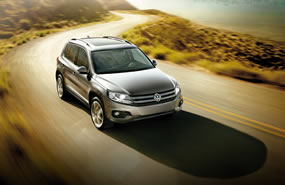 The 2014 Volkswagen Tiguan Review: If you want to know what sets the Volkswagen Tiguan apart from the other gazillion crossover vehicles on the market, it's one word: fun. That's a hard thing to quantify, but the Tiguan seems to have it in spades. It's sporty like the Mazda CX-5 and spunky like the Kia Soul, but it combines those traits in a unique way that only VeeDub can do.
Click below for Full Article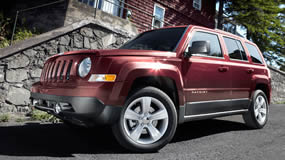 The 2013 Jeep Patriot Review: The Patriot sits somewhere between the glamorous and highly regarded new Grand Cherokee and the legendary Wrangler. The Wrangler is the direct descendant of the rugged four-wheeled World War II winner. The Patriot could be a car that a lot of people will enjoy owning and driving.
Click below for Full Article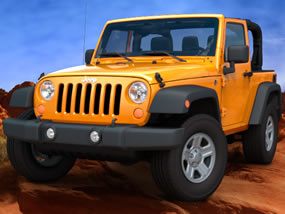 The 2013 Jeep Wrangler Sport Review: Too many of today's cars feel exactly the same. If you're looking at a new crossover vehicle or mid-size sedan, nearly every single one is a slightly different flavor of vanilla. They've all got good brakes, good steering and a good suspension. They're all quiet and relatively smooth riding. The differences between them are so small, so subtle, that it's easy to accuse the auto manufacturers of playing a giant, expensive game of copycat. Then you drive a Jeep Wrangler and realize just how different a vehicle can be.
Click below for Full Article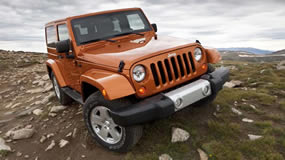 The 2012 Jeep Wrangler Review: The Jeep Wrangler Rubicon is a surprisingly compelling vehicle. You know the look, it's the classic Jeep from WWII and Beetle Bailey, but so much nicer than it ever was for our fighting men and women. For one thing, my car, the top of the line model, came in a beautiful Flame Red Clearcoat paint instead of Army Green.
Click below for Full Article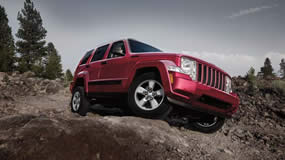 The 2011 Jeep Liberty 70th Anniversary Edition Review: I just spent a week motoring around in the Jeep Liberty 70th Anniversary Edition. It commemorates the debut of the iconic Jeep military four-wheel-drive vehicle, which helped win World War II.
Click below for Full Article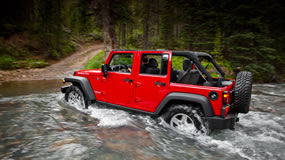 The 2011 Jeep Wrangler Unlimited Review: Through the years, I've been tough on the Jeep Wrangler because it's one of the noisiest, roughest riding, crudest vehicles you can buy. That's not entirely fair, because the Wrangler isn't designed to be quiet, smooth and refined. No, the Wrangler is designed for one thing, traveling off-road where no other vehicles can go, which, in automotive terms, puts it on another planet.
Click below for Full Article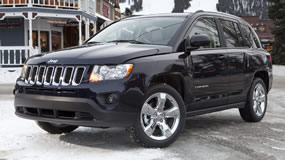 The 2011 Jeep Compass Review: As you probably know, Chrysler is now on its own, with the help of the U.S. Government. Partial owner FIAT's current plan is to improve the existing vehicles (and shed a few) before bringing in all-new products. The Jeep Compass is the first of these improved vehicles I've tested. From the myriad changes I saw, the remaking of the company's product lines is well underway, and is much more than simply marketing.
Click below for Full Article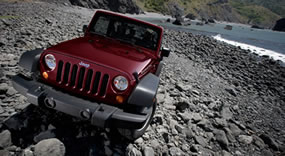 Jeep Wrangler Review: The Jeep Wrangler claims ancestry with the World War II simple device, complete with its round headlamps, seven-slot grille, straight sides, separate front fenders, and folding windshield. The Wrangler Unlimited, introduced for 2004, added 20 inches and two rear doors, making it a five-passenger model. For 2010 the Wrangler goes upscale with the Unlimited models.
Click below for Full Article

Suzuki Grand Vitara Review: In this age of the ubiquitous crossover vehicle, it's easy to forget about real SUVs. What if you want a reasonably sized vehicle that can actually go off road occasionally and has real four-wheel drive? The Suzuki Grand Vitara can do it, while still offering the creature comforts buyers demand today.
Click below for Full Article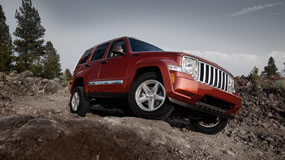 Jeep Liberty Limited Review: There are two main reasons people buy Jeeps. One is that they really need the four-wheel-drive off-road capability of a vehicle with spiritual roots in World War II. They drive deep in the woods, up the rock face of mountains and down snowy hills, places only a Jeep can take them.
Click below for Full Article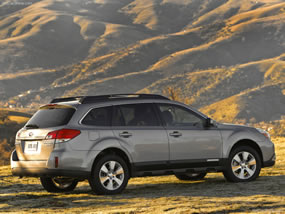 Subaru Outback Review: Subaru had a good sales year in 2009, unlike nearly every other car company. Why? Maybe it's because they had fresh versions of the kinds of cars people wanted to buy. One of them was the new, fourth-generation, Subaru Outback.
Click below for Full Article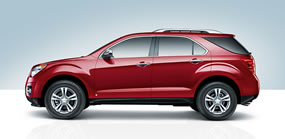 Chevy Equinox Review: There are plenty of boring numbers you might want to know about the new Chevy Equinox, 31.4 cubic feet of cargo space, 1,190 pounds of payload capacity, 40-foot turning radius, but only one number really matters. It's 32.
Click below for Full Article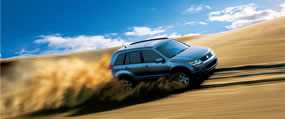 Suzuki Grand Vitara Review: Most of today's compact SUVs aren't SUVs at all. Instead they're car-based crossover vehicles, which actually are nothing but taller, hormone-injected versions of regular four-door sedans. Like the Honda CR-V, for example, is really just a Civic with facial hair.
Click below for Full Article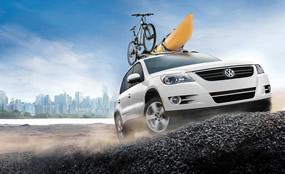 SUV Review: Every automaker these days wants to sell a mini-SUV, and Volkswagen is the latest to join the cute-ute club. The new Volkswagen Tiguan looks like a miniature Touareg, but it feels more like a giant Golf.
Click below for Full Article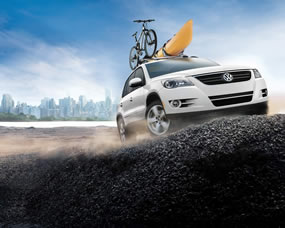 Compact SUV Review: Volkswagen has done it again, they've come up with a model name that thoroughly baffles just about everyone -Tiguan. I am sure that it means something to somebody, but I just cannot find out what. I will leave that mystery for another day.
Click below for Full Article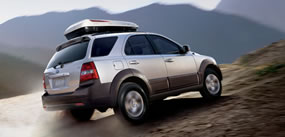 Compact SUV Review: You're looking at what is perhaps the most inoffensive SUV on the planet. It's the Kia Sorento, and while it doesn't excel at a lot of things, it's nearly impossible to find a reason to dislike it.
Click below for Full Article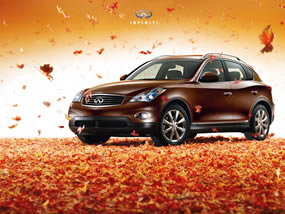 SUV Review: This vehicle is a mystery. Infiniti's new mini SUV, the EX35, is one of the best performing SUVs on the road. Its handling is so precise, its performance on the limit so well balanced, that you'd swear you were driving a great sports sedan and not a whale-butt SUV. On the other hand, this is hardly an SUV at all.
Click below for Full Article

2008 Infiniti EX35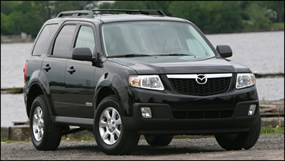 SUV Review: There comes a point in every person's life when they realize they're no longer young. For me that moment came when I heard a Nirvana song playing as background music at Wal-Mart. Hearing Kurt Cobain wailing while people shopped for their deodorant and ground beef, I instantly knew I was on my way to becoming an old man.
Click below for Full Article

2008 Mazda Tribute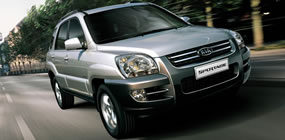 SUV Review: The 2008 Kia Sportage seats five people comfortably and it compares well with other compact SUVs, particularly in terms of price and standard equipment. This vehicle carries the Sportage name, but it's nothing like the cramped, truck-based original Sportage.
Click below for Full Article

2008 Kia Sportage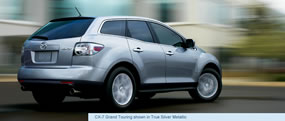 Crossover Review: Mazda's fun-to-drive CX-7 is roomy enough on the inside, has room for five people and eschews the typical Kleenex-box styling on mid-size crossovers in favor of a cleaner, sexier, curvier look. And I was beginning to think Mazda's sales pitch was wearing thin. Can every Mazda have the soul of a sports car? Really?
Click below for Full Article

2008 Mazda CX-7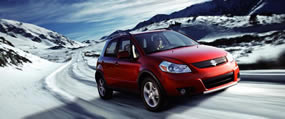 CROSSOVER Review: Suzuki, who builds really fine small SUVs, has been trying to break into the car market for a while now, but their products, although good, just have not caught fire with the car buying public. For 2008 Suzuki is trying another approach, a small vehicle, the SX4, available as either the SX4 Crossover or the SX4 Sport sedan.
Click below for Full Article

2008 Suzuki SX4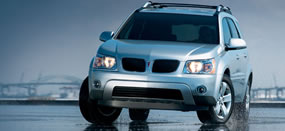 Crossover Review: Pontiac has spent decades telling us its cars are about excitement. That makes sense when you think about all the hot Pontiacs through out the years, like the GTO, Firebird and Trans Am. Those cars were worthy of the "Building Excitement" advertising slogan.
Click below for Full Article

2008 Pontiac Torrent SE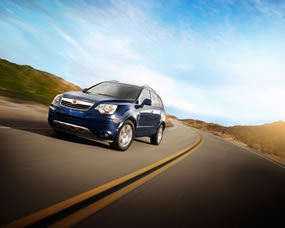 SUV Review: Saturn, the car brand, not the ringed planet, has always been a mystery to me. On one hand it's the most lovable branch of General Motors, one that keeps its buyers sublimely happy.
Click below for Full Article

2008 Saturn Vue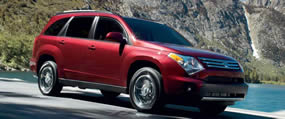 SUV Review: The Suzuki XL7 has a car-like body, but it's not a normal crossover SUV. It also uses traditional frame rails, giving it a combination of car-like solidity and truck-like durability. The interior space is what the XL7 is all about.
Click below for Full Article

2008 Suzuki XL7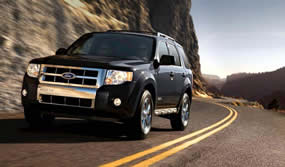 SUV Review: When Ford's Escape compact SUV debuted at the turn of the millennium, it was an immediate hit. Why? Following in the wake of its groundbreaking big brother, the Explorer, the Escape offered a more compact, car like SUV with better fuel economy.
Click below for Full Article

2008 Ford Escape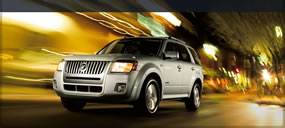 Hybrid Review: A growing number of people today are sensitive to the amount of fuel they consume, thanks to higher gas prices. Many of these folks are also becoming more aware of the environmental impact of driving, and want to create a smaller "carbon footprint" on the earth. But they are left cold by the Toyota Prius and want a small, compact SUV.
Click below for Full Article

2008 Mercury Mariner Hybrid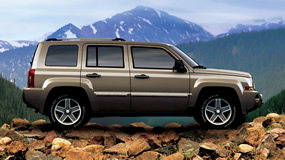 San Francisco: The Jeep dealers under Daimler Chrysler expanded their model lineup greatly. There is the Jeep Compass, Patriot, Liberty, Wrangler, Grand Cherokee, and Commander. The idea was to build a Jeep for everyone.
Click below for Full Article

2007 Jeep Patriot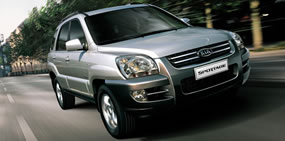 San Francisco: The 2007 Kia Sportage looks good, but the real treat is on the window sticker. It comes with a lot of standard equipment for a low base price. Build quality is surprisingly good and the body panels line up precisely, plus the interior materials feel like they're designed to last.
Click below for Full Article

2007 Kia Sportage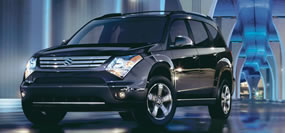 San Francisco: Suzuki's new XL7 may look like a crossover, but it still has some elements of a truck-based design with rails underneath the body. I like the way it drives, but quality inside the Suzuki XL7 is mediocre. It's not ugly enough to make you gag, but it also won't produce any wows for its fit and finish.
Click below for Full Article

2007 Suzuki XL7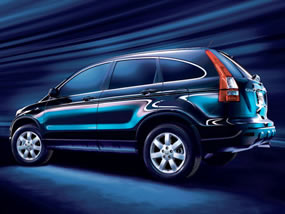 San Francisco: Honda's CR-V helped pioneer the car-based "crossover" SUV segment ten years ago, and now it's time for the third version of this popular model. Honda's been on a styling renaissance lately, so the new CR-V stands out from its ancestors.
Click below for Full Article

2007 Honda CR-V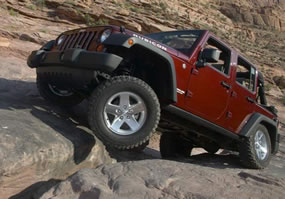 San Francisco: I drove the King of 4WD vehicles recently. Not a big SUV built for carrying suburbanites over vast stretches of asphalt and concrete, but a real off-road vehicle built to handle some of the roughest, toughest, off-roading out there. I am talking about the latest offspring of the original Jeep, the 2007 Jeep Wrangler Rubicon.
Click below for Full Article

2007 Jeep Wrangler Rubicon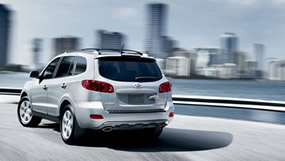 San Francisco: Perception is an amazing thing. It has a way of clouding our judgment, especially about cars, so that we see things in a way that doesn't even remotely match reality. Take Jaguar, for instance. In the mid '90s, Jaguar was still making cars that were absolute pieces of garbage, with 12-cylinder engines that leaked more oil than the Exxon Valdez and so many electrical problems that warning lights on the dash would flash like a New York City disco. There was no getting around the fact that they were terrible, terrible cars.
Click below for Full Article

2007 Hyundai Santa Fe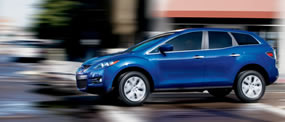 San Francisco: In many families, the kids end up taking on different roles. Johnny plays football, so brother Bob programs computers and sister Cynthia goes dancing. In the same way, Mazda, the Japanese auto company, is the athlete of the global Ford family. Starting with the historic rotary-powered RX-7, through the groundbreaking Miata in 1989 and up to today's RX-8 four-door sports car, Mazda has dished out affordable, fun-to-drive sports cars. Mazda now offers, for 2007, perhaps the sportiest crossover SUV the world has ever see, the Mazda CX-7.
Click below for Full Article

2007 Mazda CX-7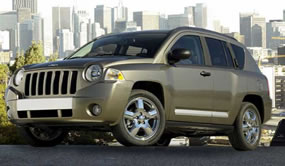 San Francisco: Jeep has jumped into new territory with the all-new Compass, the compact SUV market segment. Although there have been other compact Jeeps the Compass strikes out in a new direction for Jeep. This is the most car-like Jeep ever produced. The Compass has a transverse engine and in its base 4x2 design is front-wheel-drive, the first ever from Jeep.
Click below for Full Article

2007 Jeep Compass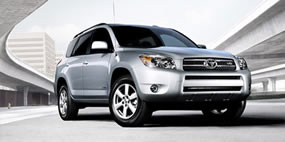 San Francisco: The RAV-4 might be considered the grandfather of compact SUVs. It has been around seemingly forever. The RAV-4 changed the way we collectively think about SUVs, that they are not all big, hard-riding, gas-guzzling behemoths. They could be smaller, car-like, fun, and fuel-efficient.
Click below for Full Article

2006 Toyota RAV-4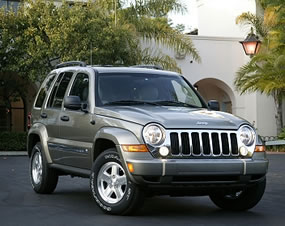 San Francisco: What happens when you drop a diesel engine into a normal Jeep Liberty? Not very much, and that's a good thing. Compared to a regular Jeep Liberty, the 2006 diesel powered version offers a slightly stronger kick when you step on the gas while adding only a tiny bit of noise. It's an incredible machine for that reason alone.
Click below for Full Article

2006 Jeep Liberty Diesel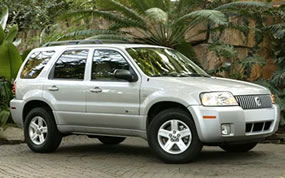 San Francisco: The Mercury Mariner Hybrid looks almost exactly like the normal Mariner but is more environmentally friendly. The only noticeable difference is a Hybrid badge on the sides and rear of the SUV. Inside, unique gauges and an LCD screen set the hybrid Mariner apart from its gasoline-only counterpart. They feel very similar from the driver's seat, which is a good thing.
Click below for Full Article

2007 Mercury Mariner Hybrid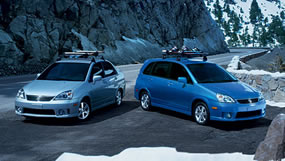 San Francisco: A body that looks like a shrunken minivan on the Suzuki Aerio SX draws more compliments than most cars in its price range. It starts around $14,500 and comes with lots of standard equipment and has a surprisingly big, comfortable cabin.
Click below for Full Article

2006 Suzuki Aerio SX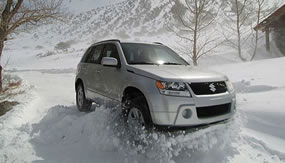 San Francisco: For a long time there was nothing grand about Suzuki's Grand Vitara. Well, Suzuki has finally gotten around to making the Grand Vitara a little grander for 2006. It's still not an industry benchmark - not even close - but it does offer a solid value and can, at long last, compete head-to-head with the popular mini-utes.
Click below for Full Article

2006 Suzuki Grand Vitara SUV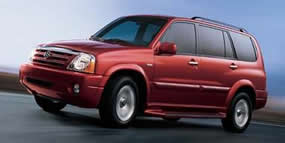 San Francisco: Suzuki's XL-7 doesn't just look like a tough, off-road SUV. It's the real thing. Unlike its car-based competitors, it rides on a truck-style frame that makes it durable enough for extreme off-road driving.
Click below for Full Article

2005 Suzuki XL-7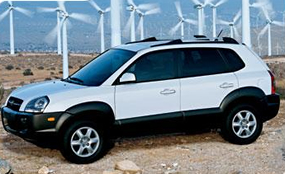 San Francisco: Hyundai has come a long ways from the day that its first Excel sedans appeared on our shores. The Korea-based automaker now offers a full line of vehicles ranging from economy and near luxury cars to SUVs and minivans. Its newest offering is the Tucson compact SUV.

Click below for Full Article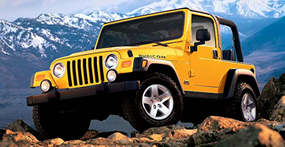 San Francisco: At a time when SUVs are becoming more like cars with each passing year, it's refreshing to drive one that hasn't lost touch with its off-road roots. With a classic American attitude, the 2004 Jeep Wrangler still looks like it could be carrying home the heroes of World War II.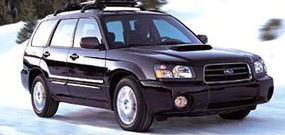 San Francisco: Just when I think Subaru cannot do anything better, they introduce another model that blows me away. I cannot think of a Subie that I did not like. Oh all right, the original Forester was not my favorite. It looked like, well, it looked down right frumpy.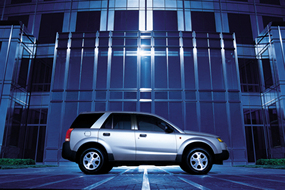 San Francisco: Saturn entered the SUV fray in 2002 with its functional, modern-looking VUE that came packed with what today's buyer's want in a family vehicle. The VUE, after seeing a few minor changes for 2003, retains its rugged, modern look that favors machine like creases over cute curves.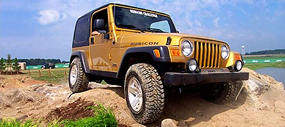 San Francisco: The Jeep Wrangler is not your typical SUV that seldom, if ever, ventures off-road. The Wrangler is designed specifically for off-roading and the new-for-2003 Rubicon Edition is meant for very serious off-roading. Its name comes from the famed Rubicon Trail on the California-Nevada border.

2003 Jeep Rubicon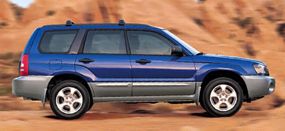 2003 Subaru Forester
SAN FRANCISCO: Sport utility vehicles are an important and growing segment of the American automotive marketplace. Every year, more choices arrive, with each manufacturer hoping to lure buyers away from the competition. New for 2003, Subaru has redesigned their Forester SUV Station Wagon.

2003 Subaru Forester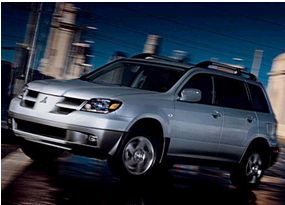 2003 Mitsubishi Outlander
SAN FRANCISCO: Mitsubishi is the latest automaker to enter the already crowded entry-level, crossover, SUV market segment. Like most of its competitors, the new Mitsubishi is more at home hauling families on paved roads than trashing over rugged trails. Indeed, the name Outlander might be a bit of a stretch.

2003 Mitsubishi Outlander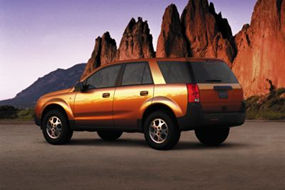 2002 Saturn VUE
SAN FRANCISCO: When General Motors first started producing Saturn cars in Spring Hill, Tennessee, back around 1990, the SUV boom was just beginning. And, with the continuing popularity of the small SUV realm, Saturn has finally jumped into the fray with the all-new-for-2002 VUE.

2002 Saturn VUE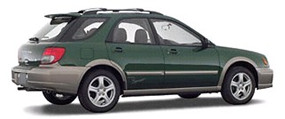 2002 Subaru Outback Sport
SAN FRANCISCO: Drivability on all sorts of road surfaces and in all sorts of conditions has been the rallying cry for Subaru for as far back as we can remember. Their tagline—the beauty of all-wheel drive—demonstrates their focus on safety and a go anywhere mentality rivaled only by Jeep. This year Subaru has taken a huge chance and restyled their Impreza line of small cars, of which we drove the new-for-2002 Impreza Outback Sport.
Click below for Full Article

2002 Subaru Outback Sport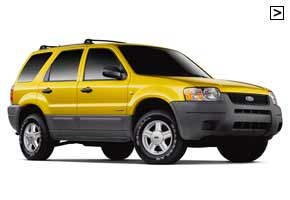 2001 Ford Escape
SAN FRANCISCO: The Ford Explorer helped launch the sport utility vehicle explosion of the 1990s. But Toyota, Honda, and Kia, among others, created a healthy market for smaller SUVs, sometimes referred to as "cute utes." Seeing an opportunity, Ford now has one too.
Click below for Full Article

2001 Ford Escape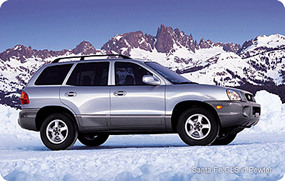 2001 Hyundai Santa Fe
SAN FRANCISCO: Korea's Hyundai has entered the sport utility market with its new Santa Fe. Recognizing an uphill battle to be competitive in this already crowded market segment, Hyundai is offering an SUV with many premium features at a very affordable price. For starters, the styling has an upscale, yet aggressive look, than many will mistake for a luxury SUV if they don't look closely at the Hyundai emblems. As the name might imply, the Santa Fe was designed specifically for sale in North America.
Click below for Full Article

2001 Hyundai Santa Fe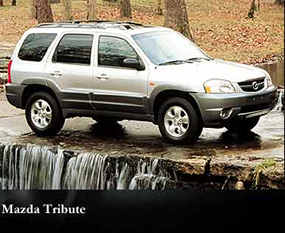 2001 Mazda Tribute SUV
SAN FRANCISCO: Mazda is back in the SUV market with the new Tribute, which shares its platform with Ford's new Escape. Both are built at Ford's Kansas City Assembly Plant in Claycomo, MO. It's been several years since the Mazda Navajo, based on the Ford Explorer was offered. Style wise, the Tribute lines are a bit smoother compared to the more aggressive looking Escape. The Tribute also has a different instrument panel, controls and steering wheel. Lacking a low gear on 4WD models and equipped with "street" tires indicate most Tributes will seldom, if ever, see serious off-road duty.
Click below for Full Article

2001 Mazda Tribute SUV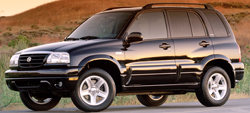 2001 Suzuki Grand Vitara LTD
SAN FRANCISCO: Way back, when Suzuki just about created the mini-SUV market when they introduced their Samurai, the 4WD world laughed. The Samurai was tiny, even when compared to the old AMC Jeep CJ. And the Samurai only came with a minuscule 4-cylinder engine. There was just no way the Samurai, or any mini-SUV, would ever be considered a real off-road 4WD vehicle. Flash forward to 2001.
Click below for Full Article

2001 Suzuki Grand Vitara LTD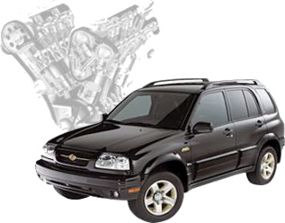 2000 Suzuki Grand Vitara LTD
SAN FRANCISCO: At first, I thought they said Grand Viagra, so I was ready for something impressive. It was a handsome sight to behold - in stunning Polar White with black trim, and a luxurious gray leather interior. This mini-SUV's contemporary styling caught my eye and the attention of nearly ever person I passed in the week I drove it.
Click below for Full Article

2000 Suzuki Grand Vitara LTD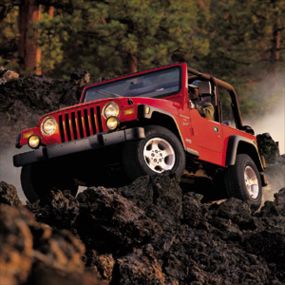 2000 Jeep Wrangler
SAN FRANCISCO: In a time when cars are fine-tuned to the level of a quietly running appliance, the Jeep Wrangler shows you what real driving can be like. Too tall & rugged to qualify as a true sports car, the soft-top Wrangler feeds back road and wind information and presents a rich sampling of surrounding sounds and aromas, just like the original Jeeps.
Click below for Full Article

2000 Jeep Wrangler
2000 Isuzu VehiCROSS
SAN FRANCISCO: Looking for a vehicle that's guaranteed to attract stares and own the road? Isuzu's VehiCROSS looks like a refugee from Disneyland's Toon Town, but it's a real, all-wheel-drive sport utility vehicle that was designed to drive as well on the street as it does off road.
Click below for Full Article

2000 Isuzu VehiCROSS
99' Kia Sportage 4x4
San Francisco: This week's test drive centers on a bright blue 1999 Kia Sportage 4x4 Wagon, a vehicle that impressed the Sport Utility crowd when it arrived on the scene five years ago. This Korean built 4x4 attracts those who want all-wheel fun and security, yet don't have $30,000 available to spend. In this sense, Kia is a great success.
Click below for Full Article

'99 Kia Sportage 4x4
Suzuki Grand Vitara JLX+
San Francisco: When you think of a Sport Utility Vehicle (SUV), what comes to mind? Maybe a Jeep? A Ford Expedition? A GMC Yukon? A Dodge Durango? Whatever it is, it's probably a real he-man SUV, right? Something that looks big and tough on the outside. That's usually what I think of too. And my thoughts aren't always that positive. Then I get to drive one of the mini-SUVs, like the Suzuki Grand Vitara JLX+ and I think, "if you really have to have an SUV, this is the way to go." It's sensibly sized, easy to maneuver, and relatively frugal.
Click below for Full Article

'99 Suzuki Grand Vitara JLX+ SUV