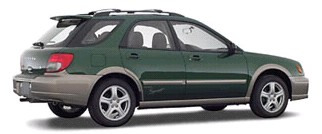 SAN FRANCISCO: Drivability on all sorts of road surfaces and in all sorts of conditions has been the rallying cry for Subaru for as far back as we can remember. Their tagline—the beauty of all-wheel drive—demonstrates their focus on safety and a go anywhere mentality rivaled only by Jeep. This year Subaru has taken a huge chance and restyled their Impreza line of small cars, of which we drove the new-for-2002 Impreza Outback Sport.
The new design encompasses new flared fenders (like the World Rally cars), a new face with oval headlights and trademark trapezoidal grill. In the rear the changes are a bit more subtle. A large rear wing that hangs over the tailgate and redesigned taillights mark the most noticeable changes.
This "baby" Outback is outfitted like its bigger sibling but its smaller design lends itself more to the rugged nature of the Outback line. The body side molding, along with the front and rear bumpers and lower body panels, are in Graystone Metallic. The front fascia has built in fog lights and there's a clever cargo area tray for dumping dirty things on and four cargo tie-down hooks, among other Outback-only touches.
There is a ton of storage space with the rear seats folded flat (another new feature this year), 61.6 cubic feet, since you asked so nicely. And the 12-volt outlet back there really makes life in the backwoods easier.
The 80-watt AM/FM/CD radio sounds nice with its four speakers pumping out everything from country to rock, rap and hip hop. The storage space above the radio is good for holding a couple CDs or sunglasses but not much else. We'd prefer to have both spaces (radio and storage) taken up by the Macintosh unit from the big Outback.
The seats, with their tweed-looking material, were supportive and comfortable. The side bolsters on the bottom cushions and seat back kept us in place during radical cornering maneuvers and they never impeded heavily on our personal space like some sports car's seats can.
Speaking of cornering, the Outback Sport was just that…sporty. We had a great time flinging this highly maneuverable car around our test loop. For truly fun driving, you need good handling and plenty of power. In the power front, our car's 2.5-liter boxer four-cylinder put out 165 horsepower and 166 pound-feet of torque, which gave us enough oomph to scoot out of corners and made the straights that much shorter.
The day we took the Outback Sport to our favorite test loop it had rained that morning and the road was still wet. While this didn't deter us too much, we had to take things a bit slower, because on most corners we were pushing the Outback's limits. Thankfully the ride was very controllable, in part because of all-wheel drive, and the decent size tires of P205/55 R16's.
Our Outback Sport came equipped with tons of standard features like all-wheel drive, anti-lock brakes, four-wheel independent suspension, air conditioning, a single CD player with a decent radio and a whole bevy of other things. And all Outback's come with roof racks.
For all that, the standard price for our tester was only $18,695, compared with $17,495 for a base Impreza, that's a really good bargain. The only optional equipment on our Outback Sport was a keyless entry system ($175) and wheel splash guards ($150), bringing our total as-tested price, after a $525 destination charge, to $19,545.
For the price, the 2002 Subaru Impreza Outback Sport is a better bargain than the Mazda Protege5, Ford Focus ZX5 and the Pontiac Vibe/Toyota Matrix twins. It's a fun vehicle to drive and will be a pleasure to own for its practicality and sporty flair.
By James E. Bryson © AutoWire.Net - San Francisco

Subaru Home Page
Byline: Syndicated content provided by Tony Leopardo © AutoWire.Net
Column Name: This Mini Sport-Ute with Big Personality
Topic: 2002 Subaru Outback Sport
Word Count: 943
Photo Caption: The 2002 Subaru Outback Sport
Photo Credits: Subaru Internet Media
Series #: 2002 - 22
Download the Microsoft Word version here: 2002 Subaru Outback Sport
Download the original image file here: 2002 Subaru Outback Sport