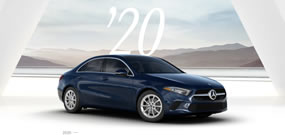 The Bottom Line: Literally everyone who is saying the word Mercedes today is actually pointing to Mercedes-Benz. Mercedes is the commonly used brand name that people know, but the company actually is Mercedes-Benz. The partnership dates back to 1901. It all started when Carl Benz and Gottlieb Daimler started their partnership.
Click below for Full Article

2020 Mercedes Benz A220 2.0L Turbo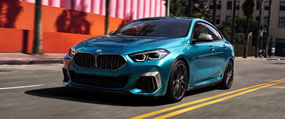 The Bottom Line: When ever the topic of German luxury cars comes up, one marque always floats to the top of the list. Headquartered in Munich, the company originated in 1916 as Bayerische Flugzeug-Werke, a builder of aircraft engines, and assumed the name Bayerische Motoren Werke in July 1917. They began building motorcycles in the 1920s, and entered the automobile business in 1928. Today they are over 104 years old, and we know them simply as BMW.
Click below for Full Article

2020 BMW 228i xDrive Gran Coupe Mi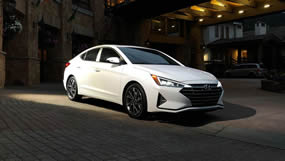 The 2019 Hyundai Elantra Sport Review: Long known for being affordable, basic transportation, the Hyundai Elantra has been getting more sophisticated with every update. This year it takes a big leap in terms of safety and driving dynamics.
Click below for Full Article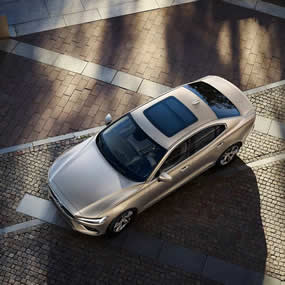 The 2019 Volvo S60 T6 AWD Review: When you build a mid-sized, mid-priced car, there are two ways to go about it. One is stretching and adding content to your cheaper models. The other is shrinking and taking content away from your more expensive cars.
Volvo took the second route when completely redesigning the S60 for 2019, although it broke from automotive tradition by keeping its content almost identical to the large and luxurious S90.
Click below for Full Article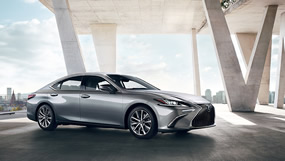 The 2019 Lexus ES Review: The new-generation Lexus ES makes the case that "all new" doesn't have to mean "very different." The 2019 version of Lexus' pantry-staple executive sedan offers one surprise, its sleeker, bolder, and mildly polarizing design, while delivering more of what makes it perennially popular with buyers.
Click below for Full Article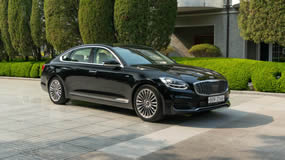 The 2019 Kia K900 Luxury Review: The original K900 was designed to do one thing: prove Kia can build a luxury car. Now completely redesigned for the first time ever and released as a 2019 model, the second-generation K900 is moving its goalposts. It seems to be aiming not just for luxury, but world-class luxury. It also has made an impossible-to-miss shift to sportiness that's a stark turnaround from the outgoing K900, a spacious, soft-riding boulevard cruiser.
Click below for Full Article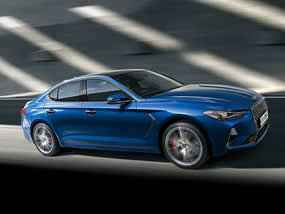 The 2019 Genesis G70 3.3T Review: If Genesis succeeds as a luxury brand, it's going to be thanks to the strength of products like this: the new G70 sports sedan. If it fails, there could be other places to lay blame, the marketing plan, the dealer network, or the decision to initially fill its lineup with sedans when the market is ravenous for SUVs, but this Korean upstart is somehow managing to build cars that are just as compelling as the German stalwarts. That's my impression after driving the G70 for a week. This is the first car designed from the ground up as a Genesis product, not one with roots as a Hyundai, and it feels just as thrilling, composed and elegantly dramatic as its deeply established competitors from Audi, Mercedes-Benz and BMW.
Click below for Full Article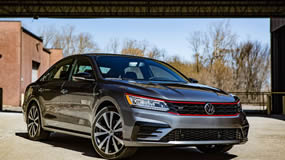 The 2018 Volkswagen Passat GT Review: It's easy to imagine many of Volkswagen's cars on the streets of their close-to-home markets in Europe. That's part of their charm.
The compact Golf, zippy Jetta and nostalgic Beetle have global appeal, but seem to unabashedly draw their spirit from German roots. The big Passat, in contrast, with its gigantic cabin, syrupy ride and wide-swinging doors, feels like it's built not just for Americans, but for an outsized caricature of Americans with our Big Gulp drinks, cowboy hats and beer bellies.
Click below for Full Article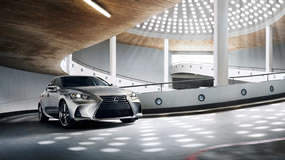 The 2018 Lexus IS 300 Review: At some level luxury cars are all about prestige, and a simple name change helps Lexus pump up the stature of its IS sports sedan this year.
Click below for Full Article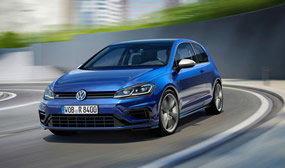 The 2018 Volkswagen Golf R review: This car is a bad influence on me. It sits low, handling is light, responsive and tossable. It's quick, has excellent lateral support, smooth shifter, torquey, great visibility …. why the heck are these other cars in my way? Accelerate, zig right, zag left, accelerate again, oops too fast. No matter, into a neutral all-wheel drift, recover while accelerating. That's five or six cars dispatched already. Speed limit barely exceeded, I still need to show better judgement …
Click below for Full Article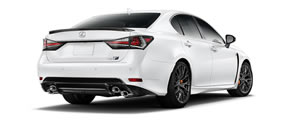 The 2017 Lexus GS200t Review: Call me old-fashioned, but when I turn the key of a $50,000 luxury car, I still anticipate hearing the velvety baritone rumble of a V8 engine. When I fired up the new Lexus GS tester in my driveway, though, I didn't hear a baritone. I heard a mezzo-soprano, a wispy, airy, higher pitched voice emanating from its turbocharged four-cylinder engine. Yes, a four cylinder. It's a far cry from the days when you could tell a luxury car apart from its mundane cousins based on just the cylinder count.
Click below for Full Article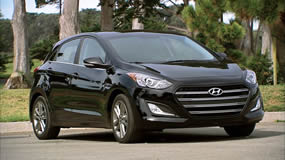 The 2016 Hyundai Elantra GT Review: The car market is packed with compact sedans that deliver more than basic transportation. The Hyundai Elantra, which when rated on interior capacity, actually sneaks into the midsize category, is one of the best. However, for more action and function, try the Elantra GT Edition. The GT gets a tauter suspension than ordinary Elantras, and the Style Package, for only $1,975, tightens it up a bit more. You also get meatier tires on new 17-inch rims, up from the standard sized 16's too.
Click below for Full Article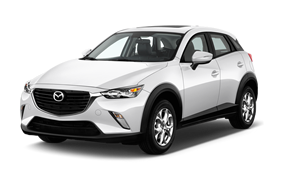 The 2016 Mazda CX-3 Grand Touring AWD Review: Subcompact crossover vehicles are cropping up everywhere this year, including one that puts Mazda's unmistakably fun-to-drive spin on the category. It's called the CX-3, and it is, by a long shot, the most engaging car to drive in this burgeoning class. While competitors all have their own strong points, like the cute Italian styling on the Fiat 500X, the comfy highway ride of the Chevrolet Trax or the logical, solid cabin in the Honda HR-V, none of them are the kinds of cars an enthusiast driver could take seriously.
Click below for Full Article

2016 Mazda CX-3 Grand Touring AWD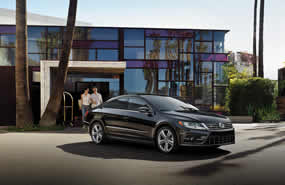 The 2016 VW CC Review: The CC is a mystery car. Americans are very familiar with the compact Jetta and the midsize Passat, but the CC slips between them. It's a sportier ride, made in Europe, different from the designed-for-America other two.
Click below for Full Article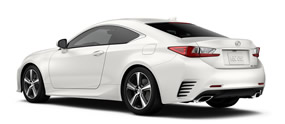 The 2016 Lexus RC 200t Review: If you think of Lexus vehicles as big sedans or medium-size crossover SUVs, it's understandable. But Lexus delivered a knockout coupe last year, the RC line. Low, sensuous, and energetic, it may change a lot of minds.
Click below for Full Article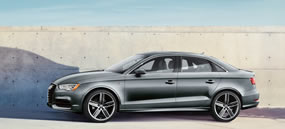 The 2016 Audi A3 Review: The A4 has long been Audi's bread-and-butter model. The A3 was a smaller wagon configuration, directed at a different buyer. The A4 stretches nearly 10 inches longer on a nearly seven-inch-longer wheelbase. That does give rear passengers in the A4 more than three inches of greater legroom. But in 2015, the A3 was recast as a sedan or a convertible, offered with three engine choices and option packages to load it up to your specifications. Now for 2016, the A3 five-door version returned as the E-tron Sportback, a gasoline / electric hybrid.
Click below for Full Article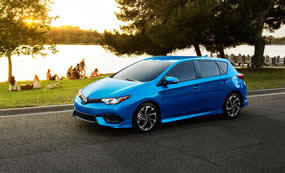 The 2016 Scion iM Review: Scion, Toyota's youth brand, began life early in the last decade. The huge Japanese company was selling lots of cars, but had concerns that young, first-time buyers were opting for other brands. The answer? Import a few quirky models from Japan under a new brand and change the buying experience. No annoying salesman when you walk in the door. Do your research online. Show you're cool by driving an inexpensive, offbeat model like the original xB, a rolling statement of independence from tradition.
Click below for Full Article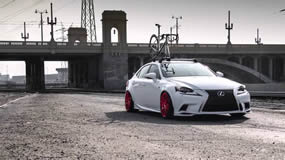 The 2015 Lexus IS 350 Review: The IS is Lexus answer to the BMW 3 Series, along with other contenders in the compact luxury sports sedan field. It flaunts dramatic styling, with the official Lexus spindle grille up front. This is as dramatic and imposing as the 1958 Edsel's vertical slit must have seemed, and it's more stunning than beautiful. It juts out defiantly, and the rest of the car is hardly a shrinking violet either.
Click below for Full Article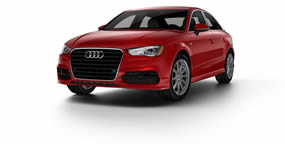 The 2015 Audi A3 Review: Luxury brands build their reputations around their biggest and most expensive cars, which is why vehicles like this, the new, compact A3 from Audi, can sometimes be disappointing. Fortunately, this one feels like it has more in common with the fancier end of the Audi lineup than its sub-$30,000 sticker would suggest. .
Click below for Full Article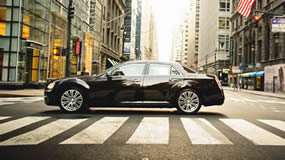 The 2014 Chrysler 300S Review: American luxury cars have traditionally been designed to deliver three things: big size, big power and big style. While Cadillac and Lincoln have been making smaller, sportier and more European-feeling cars in recent years, Chrysler has taken a decidedly different approach with its huge, brash 300 sedan.
Click below for Full Article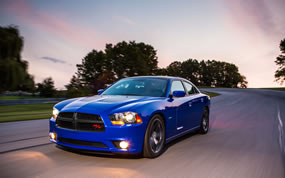 The 2013 Dodge Charger R/T Review: When I think of an American muscle car, I always imagine a stripped-down, bare-bones, 1960s-style coupe with nothing but four wheels and a big ol' engine. This week, though, I've been driving the Dodge Charger, a muscle car that shatters those stereotypes. Not only does it have four doors, making it the last of the V8-powered spacious, American sedans that once packed our nation's highways, that my test car came loaded with more luxury gadgets than an Apple Store.
Click below for Full Article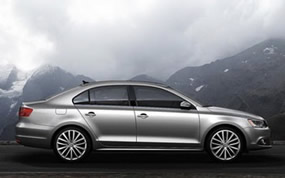 The 2012 Volkswagen Jetta GLI Review: The Jetta has always been kind of a cool car to drive and own. In a sea of Hondas and Toyotas, it delivers German engineering and a sportier feel. So, when I read about the new Jetta four-door sedan I was a little concerned. There were comments in the automotive press about "cheaper plastic" in the interior and the external design language seemed a little simplified. But before long, new Jettas started appearing everywhere I looked. As it turns out, the new Jetta is a success.
Click below for Full Article
The 2012 Infiniti G37 6MT Review: To most people, driving a luxury vehicle is all about letting the car do the work. Luxury cars come with features that make drivers feel pampered by saving them a little bit of effort, things like automatic climate control, automatic windshield wipers and automatic headlights that turn on at sunset.
Click below for Full Article
The 2012 Audi A7 Review: The new Audi A7, slotted between the midsize A6 and full-size A8 sedans, creates its own identity there. Besides its unique fastback styling, it offers a convenient and spacious liftback, something that some American buyers may find perplexing. Aren't hatchbacks just for cheap econoboxes? Well, no.
Click below for Full Article

The 2012 Volvo S60 Review: Volvo, long known for offering boring, boxy, solid (but safe) transportation, has become much more performance-oriented over the last decade or so. The S60 is something of a rocket car. There are now three levels of performance for the handsome S60.
Click below for Full Article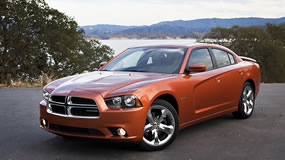 The 2011 Dodge Charger Review: The Dodge Charger has received a major overhaul as the flagship vehicle of the Dodge Brand. Greatly improved quality is just part of this redesign. While there was some grousing in the Mopar enthusiast community over the presence of four doors on the last generation Charger, as the originals were coupes, this new one takes on some of the dramatic styling of the iconic 1968, 1969 and 1970 models.
Click below for Full Article


2011 Buick Regal CXL Turbo Review: Buick resurrected the Regal name for its newest car, but that doesn't mean it's anything like the Buicks of old. Quite the opposite, in fact.
Click below for Full Article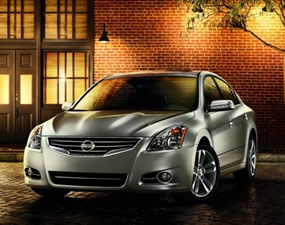 Nissan Altima Coupe Review: Four-door sedans are great for taking yourself and your friends and family somewhere in comfort and safety. But sometimes you want a little more style and performance to go with it.
Click below for Full Article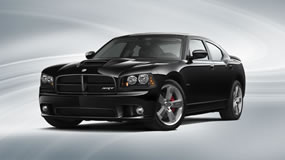 Dodge Charger SRT8 Review: Back in the 1960s, muscle cars defined America's automotive scene. These were big, heavy, bombastic cars that had loud paint schemes and even louder engines that were designed more for drag racing than mere transportation. Then the energy crisis of the 1970s killed the muscle car, but not for good.
Click below for Full Article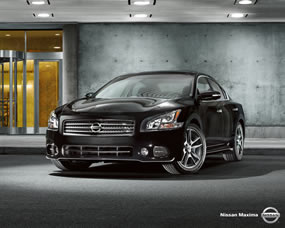 Nissan Maxima Review: Just by looking at the latest Nissan Maxima, you might assume it's a bigger version of Nissan's bread-and-butter family car, the Altima. Get behind the wheel and you'll quickly discover these two cars come from very different branches on the family tree.
Click below for Full Article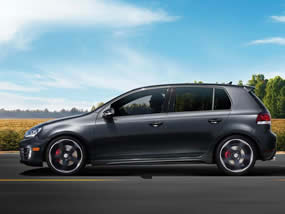 Volkswagen GTI Review: If you're shopping for a compact car, there are a few things you can always expect to find, like a low price and good gas mileage. But what about refinement?
Click below for Full Article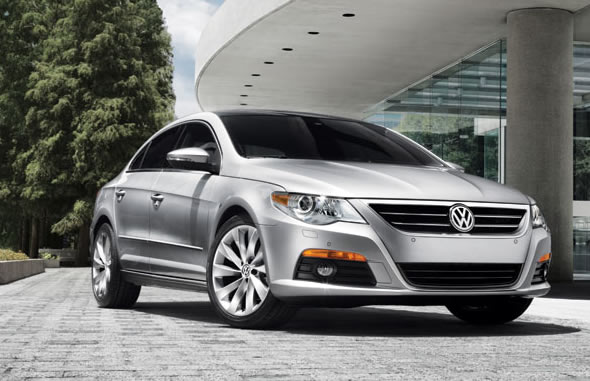 Volkswagen CC Review: After lunch one day last week, I walked into the parking lot, sat in the car, and couldn't find where to put the key. The Volkswagen CC I was driving had an unusual electronic key that inserts into the dash, not the steering column.
Click below for Full Article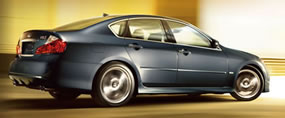 Infiniti M45 Review: Atop the Infiniti lineup lives the mighty M. Available with a brawny V8 in the M45 or still strong V6 engine in the M35, and offering rear-wheel drive or all-wheel drive, it blends sporty performance with the luxury features buyers crave in a midsize premium car.
Click below for Full Article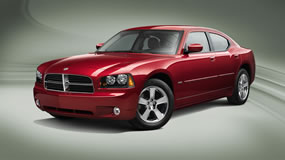 Dodge Charger Review: Forget the 1950s. Decades from now, people will look back on today as the golden age of American motoring. Think about it. We've just lived through a years-long horsepower war that's put excitement into the hands of more drivers than ever before. It's not uncommon to find cars that make 300 horses right on the dealer lot, many of which, like the Dodge Charger, are actually affordable.
Click below for Full Article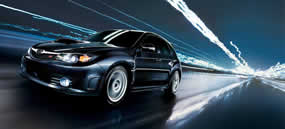 Subaru Impreza WRX Review: The Subaru WRX looks like any other four-door compact car with one gaping exception: a huge hood scoop that feeds air to the intercooler. So now the 2009 WRX feels exciting again after an experiment with a softer model in 2008.
Click below for Full Article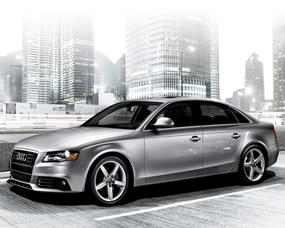 Audi A4 Review: I have had a love and hate relationship with just about every Audi I have ever driven, and the 2009 Audi A4 is no exception. Let me hit the love side of the equation first.
Click below for Full Article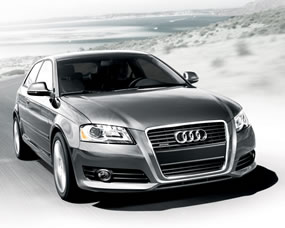 Audi Review: Audi's A3 premium compact car has the same dramatic front end as its bigger, far more expensive siblings. It also drives like a high-end European luxury car, despite its small car size.
Click below for Full Article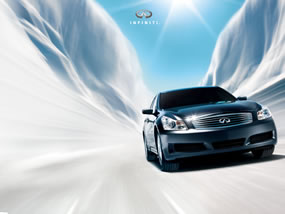 Infiniti Review: Infiniti's G37 sedan feels more like a sports car than most of its competitors. It's light, nimble and powerful, rewarding drivers with its make-you-smile handling.
Click below for Full Article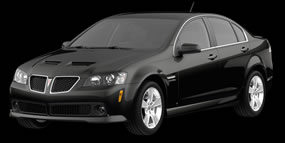 Car Review: It takes years to develop a new model. How can a manufacturer know what the future holds when they are looking from so far away? The G8 is a powerful, even amazing car from GM, but in today's world, it may be a little late for the party.
Click below for Full Article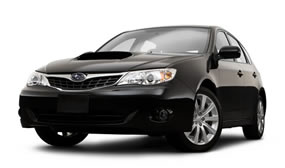 Car Review: A hood scoop feeds cold air to the intercooler in Subaru's turbocharged 2009 Impreza GT. It's fun to drive, sort of like Subaru's wild WRX, but far more comfortable for everyday driving.
Click below for Full Article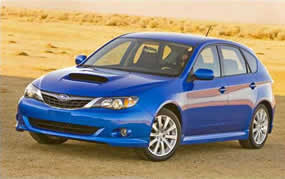 Sports Sedan Review: Subaru has had a winner for years with its rally car for the street WRX model. Based on its perfectly regular Impreza compact sedan, the WRX version uses turbocharging to give rocket performance with no hint of pretensin.
Click below for Full Article

2008 Subaru Impreza WRX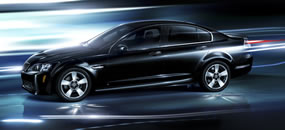 CAR REVIEW: Not since the new GTO came out in 2004 have we been so anxious for a new American car to hit the marketplace. The 2008 Pontiac G8 GT could easily be the best Pontiac this side of the muscle car era.
Click below for Full Article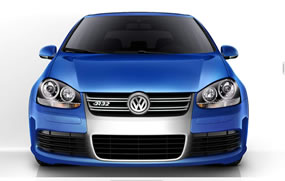 CAR REVIEW: Decades ago, Volkswagen gave its Rabbit and Golf a boost and made it into the GTI. There wasn't that much more juice on tap, but with a firmer suspension and a few visual extras the spunky little three-door hatchback created a ton of enthusiasm for pocket rockets. The GTI is the ancestor of today's Volkswagen R32.
Click below for Full Article

New Car Review: Audi is renowned for building small A4, medium A6, and large A8 sedans. Replace the letter A with an S and you get the sporty, more powerful model. So, the S5 is the powerful version of the A5, and is a brand new coupe in the Audi family.
Click below for Full Article

2008 Audi S5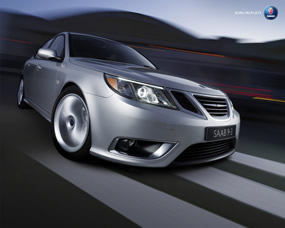 CAR Review: If you look up the word iconoclast you will undoubtedly see a picture of a Saab. Even though they are part of the General Motors family, there is almost nothing traditional about a Saab.
Click below for Full Article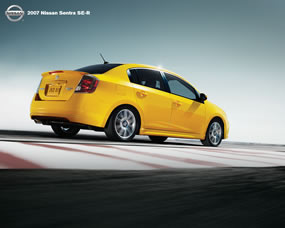 Car Review: Nissan's Sentra SE-R has more tasteful styling than some of its boy-racer competitors. It has a more grown-up driving feel, with a smooth highway ride and refined suspension.
Click below for Full Article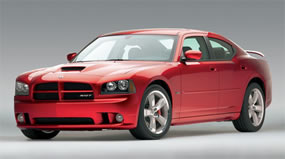 Car Review: If you noticed a line of teenage boys in front of my house last month, here's why. The Dodge Charger SRT8 with its mighty 6.1-liter, 425-horsepower HEMI V8 was parked in my driveway for a week.

Click below for Full Article

San Francisco:

The Audi RS 4 looks pretty much like the more mundane Audi A4, but the resemblance is only skin deep. The RS 4 is closer to a purebred race car than it is to a family grocery-getter.

Click below for Full Article

2007 Audi RS 4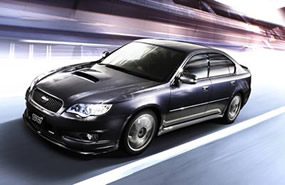 San Francisco:

From humble origins, Subaru has worked its way up to being a rather upscale and technically sophisticated line of automobiles. As the compact Impreza takes on new life as the WRX rally-inspired rocket and the B9 Tribeca pushes the brand into the luxury SUV crossover realm, the Legacy midsize sedan and wagon have grown up too.

Click below for Full Article

2007 Subaru Legacy

San Francisco:
Over at Lincoln things need to settle down. Lincoln keeps building fine vehicles that no one seems to care about. 2006 was the last year for the Lincoln LS, a really nice car that few bought. R
ight now Lincoln has five models; could you name more than one without looking?
Click below for Full Article

2007 Lincoln MKZ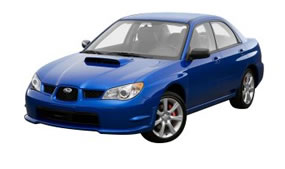 San Francisco: Subaru has learned how to make a lot from what they have. Their intercooled, turbocharged WRX turns the Impreza compact sedan into a powerhouse in the world rally scene and in your neighborhood.
Click below for Full Article

2007 Subaru Impreza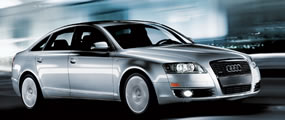 San Francisco:

Let's suppose, just for giggles, that you want to rob a bank.

Click below for Full Article

2007 Audi A6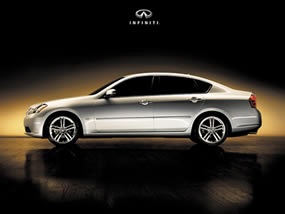 San Francisco:
When I first drove the Infiniti M sedan late last year, I got the brutal M45 with a big, brawny V8 under the hood. That car was a monster. It felt almost like an American muscle car, with a heavy, deliberate driving feel and a relatively soft suspension that made it seem like you were riding on bowls of Cream of Wheat. It was a great car, but it was more of a Grand Tourer than a true sports sedan.
Click below for Full Article

2007 Infiniti M35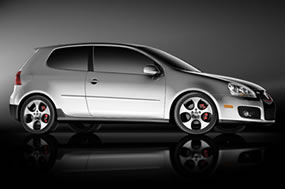 San Francisco:

Imagine you're an engineer at Volkswagen. You've been working on one of the world's greatest luxury cars, the VW Phaeton. You've contributed to the awesome, four-wheel-drive Touareg SUV. You've also helped create the most expensive, most powerful and fastest production car in the world, the Bugatti Veyron. And then one day your boss walks in and says, "I need your help with the new VW Golf, our little compact car. Remember the Golf?"

Click below for Full Article

2007 VW GTI

San Francisco:
You may not have been thinking about Mitsubishi lately. Sure, the new Eclipse is great looking and fast, but you need more room. That Lancer Evolution is a little too, well, exuberant for you. Mitsubishi makes SUVs, but doesn't everybody? Well, before you wander into some Toyota or Honda dealership, think about this. The new 2007 Mitsubishi Galant Ralliart is a great reason to remember Mitsubishi.
Click below for Full Article

2007 Mitsubishi Galant Ralliart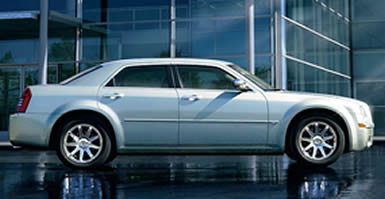 San Francisco:

Like a classic muscle car or chopped street rod, the Chrysler 300 has a mean, all-American look like no other car on the road. Available with a 340-horsepower Hemi V/8 engine, this big sedan can burn some serious rubber.

Click below for Full Article

2006 Chrysler 300C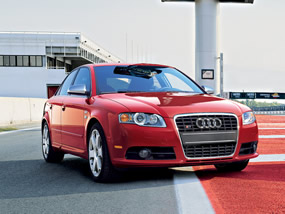 San Francisco:

Audi's A4 has been a worthy competitor in the compact to midsize upscale sedan market for a decade. With clean, elegant proportions inside and out, fine materials, excellent assembly, and rewarding vehicle dynamics, the car has been a big success for Audi.

Click below for Full Article

2006 Audi A4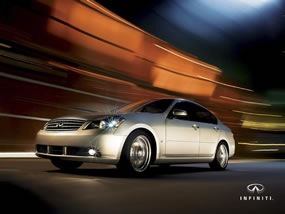 San Francisco:

With the new M45, Infiniti makes another move forward in its search for the perfect luxury contender in each segment. With the legendary Q45 sedan at the top and the G35 holding down the affordable sedan and coupe role at the bottom, the M45 slots in between nicely. It blends the power of the Q's 4.5-liter V8 with less mass and a style all its own.

Click below for Full Article

2006 Infiniti M45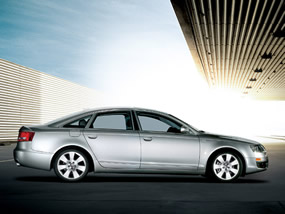 San Francisco:

Audi's previous A6 was a real looker, but the all-new 2006 model is even better. A huge grille gives it a style like no other car on the road, and the overall look is both sophisticated and athletic - exactly like the car itself.

Click below for Full Article

2006 Audi A6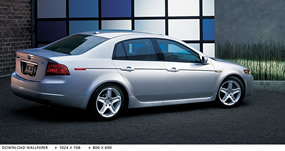 San Francisco:

Acura's near luxury TL got a thorough redesign last year when the third generation car debuted, so 2005 marks a year of little change. The features that make this high-tech vehicle so desirable have also made the new TL the brands biggest seller since its debut.

Click below for Full Article

San Francisco:

The all-new Chevrolet Cobalt is part of Chevy's strategy to become a major player in the compact car segment in the US. The old compact model was the Cavalier and that car has been around forever. The 2005 Cobalt is a quantum leap ahead of the model it replaces and brings with it a higher level of refinement, quality and performance.

Click below for Full Article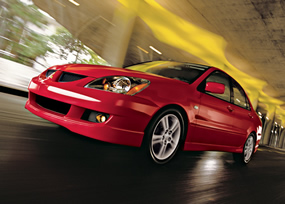 San Francisco: There are several cars on the market now that deliver exciting performance and are still affordable for the young buyers who want them. One of these is the Mitsubishi Lancer Ralliart, named for Mitsubishi's performance wing. (See www.ralliart.com )
Click below for Full Article

2005 Mitsubishi Lancer Ralliart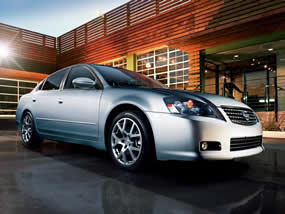 San Francisco: Since 2002, the Nissan Altima has offered buyers something different in the midsize field. The original Altima was more of an oversized compact when it debuted in the early 1990's, but the new model goes toe-to-toe with the extremely popular Japanese-name brands (you know who they are).
Click below for Full Article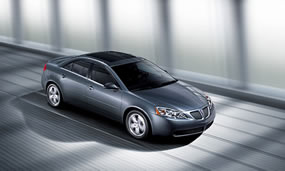 San Francisco: The brand that brought you the Firebird, Bonneville, and Trans Am now offers a brand new sedan with a European sounding two-digit name that tells you nothing. The G6 replaces the venerable Pontiac Grand Am, which was Pontiac's bread and butter four door sedan and coupe for decades.
Click below for Full Article

2005 Pontiac G6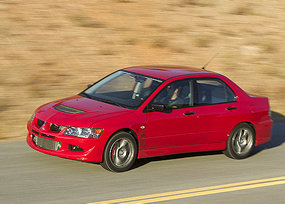 San Francisco: If you want world class performance and handling, but a Porsche 911 or Jaguar XK isn't in your budget, you should take a look at the Mitsubishi Lancer Evolution.
Click below for Full Article

2004 Mitsubishi Evolution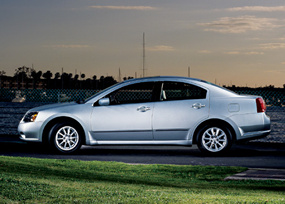 San Francisco: Mitsubishi seems to be the hard luck car company. Despite a raft of exciting - the Evo, dependable - the Galant, SUVs - the Montero, and an aggressive Zero, Zero, Zero marketing campaign, their sales seem to be stuck in a no-growth mode.
Click below for Full Article

2004 Mitsubishi Galant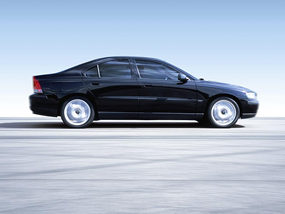 San Francisco: With the S60 R sedan and V70 R wagon, the Swedish manufacturer Volvo has entered new territory, and has mounted its first real challenge to the well-known German performance four-doors.
Click below for Full Article

2004 Volvo S60 R

San Francisco: The all-new Grand Prix is instantly recognized as a Pontiac by its characteristic split grille and cat's-eye shaped headlights. Another recent styling cue, the radical body-side cladding is gone, fortunately.
Click below for Full Article

2004 Pontiac Grand Prix GTP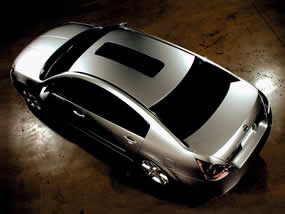 San Francisco: It was only a few years ago when Nissan teetered on the brink of bankruptcy, nearly committing corporate suicide with a lineup of stale, flavorless sedans and generally unimpressive trucks. It was a sad sight, indeed. Nissan knew it needed a miracle to stay alive as a company, and that's what it appears to be getting today.
Click below for Full Article

2004 Nissan Maxima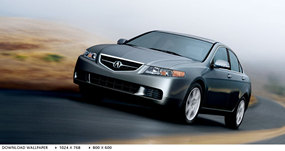 San Francisco: When you've got a good thing going, do the thing good. That surely must be Acura's motto with its new TSX. The TSX comes only one way - packed with goodies - and looks great doing it, too.

Click below for Full Article

2004 Acura TSX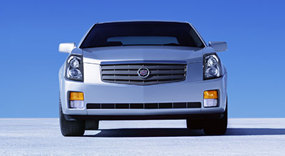 San Francisco: As Cadillac commemorates its centennial, the CTS sedan represents a fresh start for America's oldest luxury brand. Finally, after watching baby boomers abandon the company for European and Japanese choices, Cadillac has given people under 70 years old something to savor.
Click below for Full Article

2004 Cadillac CTS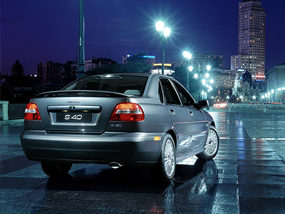 San Francisco: At the grocery store you don't have to buy giant packages to experience the full taste of your favorite foods. That's why there are pint-size cartons of ice cream, little bottles of soda pop and tiny cans of soup. Volvo follows this philosophy by cramming its big-car attributes in a small, attractively priced package called the Volvo S40.
Click below for Full Article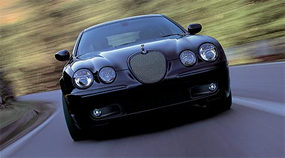 2003 Jaguar S-Type
SAN FRANCISCO: The Jaguar S-TYPE sport sedan retains the same exterior yet boasts approximately 70 percent new content. Jaguar has added more luxury, more safety and more performance. The 2003 S-Type has an all-new interior, new suspension, two new transmissions, a 6-speed automatic and a 5-speed manual, and a revised 3.0-liter V6 engine with 240 horsepower.
Click below for Full Article
San Francisco: As Infiniti ramps up for the luxury performance marketplace it has created a performance oriented luxury car with an emphasis on rear-wheel-drive with a front engine. In this new category comes an attractive new vehicle, the 2003 G35 Sport Sedan.

Click below for Full Article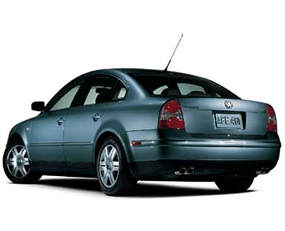 SAN FRANCISCO: Volkswagen has come a long ways since the original Beetle. The top-of-the-line 2003 Volkswagen Passat W8 with a starting price of over $38,000 puts it into pretty pricey company. And what do get for your money? For starters, this is the first German car in its market segment to offer an 8-cylinder engine.

Click below for Full Article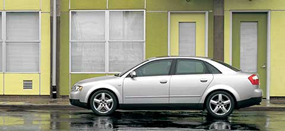 SAN FRANCISCO: Introducing the 2003 Audi A4 & A6 series with CVT, the Multitronic continuously variable transmission. The bottom line is great value in a car that combines the latest technology in an upscale German-built sports sedan.

Click below for Full Article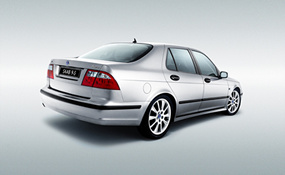 2003 Saab 9-5
SAN FRANCISCO: Ever since Saab was absorbed into the General Motors Corp it has tried to walk a fine line between being a somewhat quirky car that "makes a Saab owner always a Saab owner" and a mainstream car that can attract new buyers. Saab has done a good job in accomplishing this with its premium series, the 9-5. And yes, the ignition switch is still between the seats. The Saab 9-5 series comes in three versions – Linear, Arc and Aero. Rather than being merely ascending trim levels, each is a distinct model aimed at the preferences of different types of buyers and drivers.
Click below for Full Article

2003 Saab 9-5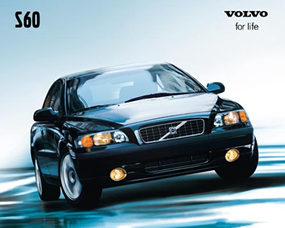 2002 Volvo S60
SAN FRANCISCO: In 2001, Volvo introduced its all-new S60 mid-range series. The 2.4T AWD version – AWD for "All-Wheel-Drive" was added for 2002. The S60 series has the new Volvo "look" with a coupe-like roofline replacing Volvo's famous boxy styling. Volvos have always had that "last forever" feeling and the S60 is no exception.
Click below for Full Article

2002 Volvo S60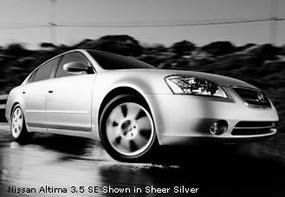 2002 Nissan Altima 3.5 SE
SAN FRANCISCO: For the past few years, Nissan Motors has been trying to break out of a veritable rut of slow sales and somewhat lackluster cars by designing and building more interesting and powerful vehicles. Let me introduce you to the new 2002 Nissan Altima.
Click below for Full Article

2002 Nissan Altima 3.5 SE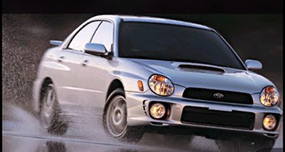 2002 Subaru Impreza WRX
SAN FRANCISCO: I've always like Subarus. Heck, I'm one of the few writers who liked the Impreza 2.5 RS just the way it was. Sure, it could have used a little more power, but what car couldn't? But it was a very impressive and fun car to drive just the way it was. And now Subaru has finally responded to all the comments. The 2002 Subaru Impreza WRX is a true performance car by any measure.
Click below for Full Article

2002 Subaru Impreza WRX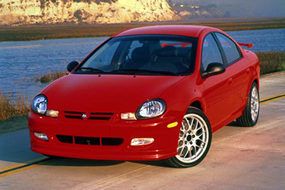 2001 Dodge Neon R/T
SAN FRANCISCO: There is another player in the growing youth vehicle market, and it's not a Honda or a Volkswagen. This one is built in Belvidere, Illinois, America's heartland. Challenging the Honda Civic, Volkswagen Jetta, Ford Focus, and a few others, is the new Dodge Neon R/T.
Click below for Full Article

2001 Dodge Neon R/T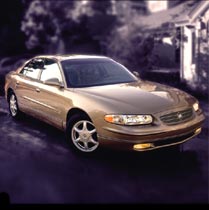 2001 Buick Regal Olympic Edition
SAN FRANCISCO: The Olympic Games are over, but you can still buy Buick's 2001 Olympic Edition Regal. Created to commemorate the GM division's support of the U.S. Olympic athletes, the $1,915 Olympic package can be added to any 2001 Buick Regal model.
Click below for Full Article

2001 Buick Regal Olymipc Edition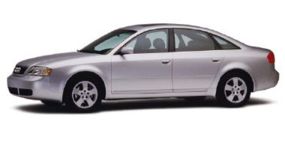 SAN FRANCISCO: I am an enthusiastic Audi fan. I like the attitude, I like the people behind the name, and I love the cars. The temper tantrum I threw when I realized I got the A6 for the week, rather than an S4, was unnecessary and short-lived. My last experience driving the A6 was back in the days when the only engine choice was the 200-horsepower V6. It simply lacked enough zip to suit me. This time around I was delighted. The 2.7 T version, with the new 250-hp bi-turbo V6 engine has definitely taken care of the power shortage.
Click below for Full Article

2001 Audi A6 2.7 T Bi-Turbo Sport Sedan
SAN FRANCISCO: Starting with the original Beetle, Volkswagens have been known for their ability "to go in the snow." Now VW is offering the ultimate snow-going VW, or for that matter, any slippery road condition - the Passat with 4MOTION. 4MOTION is an all-wheel-drive option on Passat sedans and wagons equipped with V6 engines and five-speed automatic transmissions with Triptronic®. This includes the GLS V6 and up-scale GLX V6.
Click below for Full Article

2001 Volkswagen Passat 4Motion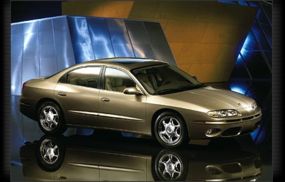 2001 Oldsmobile Aurora
SAN FRANCISCO: They climbed into the back seat and off we drove towards Julius' Castle. "What is this? A Lexus?" Now I'll admit that I thought the Aurora was a pretty nice car, but here was someone who wasn't versed in car stuff and he thought it could be a Lexus. Pretty high praise if you ask me. You should have seen the look on his face when I told him it was an Oldsmobile Aurora. Then he asked how much. "About 35 Grand " He owns his own business and is doing quite well these days. The Olds Aurora is now on the short list for his next new car buy.
Click below for Full Article

2001 Oldsmobile Aurora
2000 Buick Regal GS
SAN FRANCISCO: This week, we drive the mid-size 2000 Buick Regal GS. Before we get into the driving impressions, let's take a look at why this model is situated in a "tough sell" zone from the word go, and how Buick's performance related marketing has helped solidify its popularity through the years.
Click below for Full Article

2000 Buick Regal GS
2000 Pontiac Bonneville SSEi
SAN FRANCISCO: General Motors, makers of several brands of cars, carefully designs its models to appeal to different consumer groups. For example, Buick targets traditional older buyers, Chevrolet is the value brand and Cadillac sells luxury cars. Pontiac gets to be the sporty division.
Click below for Full Article

2000 Pontiac Bonneville SSEi
2000 Infiniti I30t Touring
SAN FRANCISCO: My wife looks at cars the way grocery shoppers compare brands of canned olives. She doesn't see much difference between them. But, she know what she likes, and she likes Infinitis. She enjoys the smooth, quiet ride, the firm but comfortable seating, the fine stereo system & the subtle good looks.
Click below for Full Article

2000 Infiniti I30t Touring
2000 Chrysler 300M
SAN FRANCISCO: Chrysler offered its legendary "Letter Series" 300 luxury muscle cars for the more affluent motorists and for winning stock car racers. The series started with the C-300 in 1955 and ended with the 300L in 1965. Chrysler, now DaimlerChrysler, resurrected the series with the 300M in 1999. Unlike the earlier 300s which came as hardtop coupes, and in many years convertibles as well, the 300M comes only as a four-door sports sedan.In the past few years Chrysler stylists have created many great looking cars and trucks & the 300M is definitely one of their best.
Click below for Full Article

2000 Chrysler 300M
2000 Nissan Maxima SE
SAN FRANCISCO: I don't know about you but I wasn't overjoyed when I heard that Renault had bought a big chunk of Nissan. A French and Japanese mixture doesn't have me drooling in anticipation. But then again, Nissan needs something to jolt them out of the doldrums they've been in. Somehow, somewhere, the company that brought us the fantastic Zs and the original 510 has lost that certain something they used to have. Maybe a little Gallic infusion will help.
Click below for Full Article

2000 Nissan Maxima SE
Volkswagen's '99 Passat
Sports Sedan
San Francisco: When you think German luxury sports sedan, you usually think BMW, Mercedes-Benz or Audi -- and a big buck sticker price. Volkswagen offers a more affordable choice, the Passat. For starters, the Passat shares its chassis and powertrain with the highly acclaimed Audi A4, but costs about $5000 less. The Passat is a bit larger than the Audi both inside and outside.
Click below for Full Article

'99 Volkswagen Passat Sport Sedans