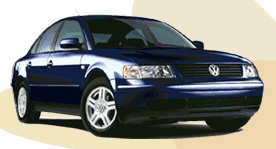 SAN FRANCISCO: Starting with the original Beetle, Volkswagens have been known for their ability "to go in the snow." Now VW is offering the ultimate snow-going VW, or for that matter, any slippery road condition - the Passat with 4MOTION. 4MOTION is an all-wheel-drive option on Passat sedans and wagons equipped with V6 engines and five-speed automatic transmissions with Triptronic®. This includes the GLS V6 and up-scale GLX V6.
The Passat sedan's distinctive styling is noteworthy amongst today's all-look-alike styling. The styling characterized by an arched roofline, rounded nose and flush-mounted headlights is not only quite handsome, but very aerodynamically efficient with a best-in-class drag coefficient of only 0.27 for low wind noise and good fuel economy. The station wagon version is less striking, but still very nice looking.
The 2.8-liter V6 engine features such advanced technology as dual overhead camshafts (DOHC), five-valves-per-cylinder, variable intake valve timing and a variable-geometry composite intake manifold. This adds up to 190 horsepower at 6000 rpm and 206 lb-ft of torque at 3200 rpm. With the Tiptronic transmission, which is licensed from Porsche, it can be used like a regular automatic or you can shift through the five speeds, but without a clutch. The Passat 4MOTION is rated at 17 mpg city and 24 mpg highway. 4MOTION, which is always in four-wheel-drive, costs a mpg or so over its front-drive only sibling. The fuel tank holds 16.4 gallons.
4MOTION uses an automatic-locking center differential, which distributes power to the front and rear axles normally on a 50/50 basis. Under slippery conditions, the wheels with the best traction are supplied more power as two-thirds of the torque can be sent to either the front or rear wheels. All Passats now come with EDL (Electronic Differential Lock) for low speed traction control and ASR (Anti-Slip Regulation) which extends EDL traction control at higher speeds. All this adds up to being able to go as long as at least one wheel has traction. Four-wheel anti-lock brakes are standard.
The Passat 4MOTION definitely fits VW's slogan, "Drivers Wanted." This is a driver's car! The smooth running V6 is very powerful under all conditions. Passats are built in Germany and are autobahn-ready. Sharing much of its mechanics with the considerably more expensive Audi A4, the Passat outshines most of its competition, often substantially, in the handling and braking department. VW has done an outstanding job in tuning the Passat's chassis, suspension, steering and braking so every thing works superbly no matter how hard the car is driven. And 4MOTION even further enhances these characteristics. You will find few cars, even much more expensive ones, that handle high interstate speed and very twisty roads as well. And without any compromise in ride quality.
Rated as mid-sized cars, Passats are very roomy for five-passengers with lots of headroom and legroom including for those riding on the rear seat. Visibility in all directions is excellent. The trunk holds 15 cubic feet of stuff with a split folding rear seatback for even greater capacity. The station wagon hauls a whole lot more. The car is well put together and the high quality materials used shout "luxury."
Base Prices for the 2001 versions of the Passat 4MOTION are $27,400 for the GLS sedan, $28,200 for the GLS wagon, $31,560 for GLX sedan and $32,360 for the GLX wagon. The GLS models come with the level of standard equipment you would expect to find in most near-luxury cars. The GLX comes with leather upholstery, dual eight-way power heated front seats, automatic climate control, Monsoon sound system, alloy wheels with 16-inch tires, and a glass sunroof.
If you don't need all the "bells and whistles" found on the Passat 4Motion, the Passat comes in several other lower cost flavors. Both the front-wheel drive sedan and station wagon come in GLS and GLX trim levels with a choice of two engines and either a manual or Tiptronic automatic transmission. The GLS 1.8T features a four-cylinder, 1.8-liter turbocharged engine that is rated at 150 horsepower. The GLS V6 and GLX use the 2.8-liter V6 and the GLX also has a sports suspension. Prices start at $21,975 for the sedan and $23,035 for the wagon. By Bill Siuru © AutoWire.Net - San Francisco

Byline: By Bill Siuru © AutoWire.Net - San Francisco
Column Name: "The Passat 4MOTION fits VW's slogan, "Drivers Wanted."
Topic: 2001 Volkswagen Passat 4Motion
Word Count: 763
Photo Caption: 2001 Volkswagen Passat 4Motion
Photo Credits: VW Internet Media
Series #: 2000 - 33
Download the Microsoft Word version here: 2001 Volkswagen Passat 4Motion
Download the original image file here: 2001 Volkswagen Passat 4Motion 37k