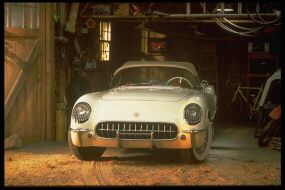 The Future Always Looks Faster
San Francisco: There's no record of people making predictions about "the horse of the future", but it seems that automotive fortune-telling was born the day after the first primitive car rolled out of its inventor's barn.
Click Below for Full Article

Automotive Predictions for the Year 2000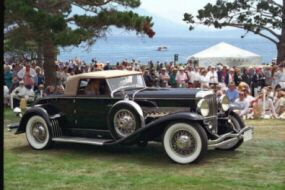 Classic Cars and
How They Got That Way
San Francisco: Americans have always been curious about older automobiles, but the current passion for collecting and restoring cars as a hobby dates only from World War II. Even then, most collectors seemed to want only two types of car: Model T or Model A Fords, and the heavy cars as they are now referred to by classic car connoisseurs--the exotic machines called Bugatti, Cadillac, Cord, Duesenberg, Packard et al. And even among these heavies, collectors thought only specific models of these worthy of salvation. Many a car magazine from the late 1940s and early 50s shows ads of old 1920s Packards and Pierce-Arrows cut into convertibles or converted into tow trucks and funky RVs. But most of the pre-war dinosaurs still lying around just prior to and after the war were relegated to the scrap heap. A few fortunate ones, like Ford or Chevy three- window coupes of roadsters from the '30s, fell into the hands of California hot-rodders and customizers. This attitude of neglect, if not downright disrespect, of venerable cars persisted well into the 1960s. While there were a few instant classics, (a rather contradictory term if you think about it), such as the 1953 Corvette and the 1955 Thunderbird, by and large car lovers were yearning for the hopeful future, not the terrible past. Few wanted to be seen in an old car.
Click Below for Full Article

Classic Cars and How They Got That Way