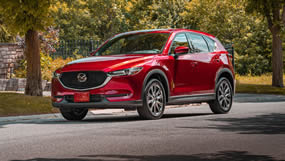 The Bottom Line: An interesting automotive factoid is that the Mazda Motor Corporation, commonly referred to simply as Mazda, turned 100 years old on January 20 th 2020. The company was started in 1920 and today is a Japanese multinational automaker based in Fuchū, Aki District, Hiroshima Prefecture, Japan.
Click below for Full Article

2020 Mazda CX-9 Signature Edition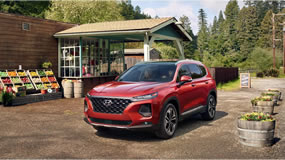 The Bottom Line: Hyundai Motor Company was established in December 1967, over 52 years ago, and the company's first model was released in 1968. Hyundai Motor America began selling cars in the United States in February 1986, with a single model, the Excel.
Click below for Full Article

2020 Hyundai Santa Fe Limited 2.0T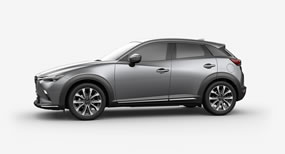 The 2019 Mazda CX-3 Grand Touring AWD Review: Competition in the small crossover space is so hot right now that vehicles have to be like Mary Poppins to sell, practically perfect in every way. The Mazda CX-3 has been Mary Poppins since it was introduced in 2016. There's very little I would change about it if given a magic wand, seeing how it already drives, looks and feels more expensive than it actually is.
Click below for Full Article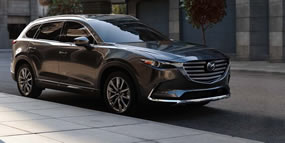 The 2019 Mazda CX-9 Signature AWD Review: Even without big trucks in its lineup, Mazda's 2018 sales numbers offer a snapshot of how America's "car" industry is no longer about cars. The final tally is in, and Mazda's line of cars, the Mazda3, Mazda6 and MX-5 Miata, dropped 13 percent last year, totaling just under 105,000 units sold. Meanwhile, its stable of crossover vehicles, the CX-3, CX-5 and CX-9, jumped up 15 percent to nearly 196,000 sales. Even a brand built around sporty driving dynamics is selling nearly twice as many truck-like crossovers as it is traditional cars. That blows my Miata-loving mind. A week behind the wheel of Mazda's biggest vehicle of all, the CX-9, helps explain why.
Click below for Full Article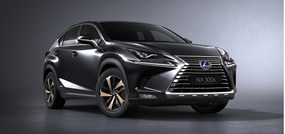 The 2018 Lexus NX 300h Review: The Lexus NX 300h brings Toyota's famous hybrid technology to a compact crossover shape. That's good for about a 25 percent improvement in fuel economy and substantially improved emissions over the standard NX 300, in a luxurious package. The secret to any hybrid is that it uses less fuel because it's running electrically part of the time. In this case, instead of the NX 300's 275-horsepower 2.0-liter turbocharged four-cylinder, the NX 300h gets a non-turbo 2.5 liter four, with just 154 horsepower (152 lb.-ft. of torque). However, it's the addition of three electric motor generators and a 204-cell nickel metal hydride battery that make the difference. This car has no plug in, so all the energy is generated by regeneration, when your braking.
Click below for Full Article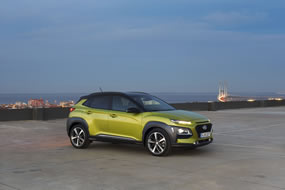 The 2018 Hyundai Kona Review: Subcompact crossover vehicles didn't exist until a few years ago, but these days they're rapidly replacing tiny sedans and hatchbacks as the most popular entry-level vehicles in America. Now Hyundai is jumping into the fray with the Kona, a small vehicle that looks like an SUV, is priced like an economy car, and slots below the Tucson on the showroom floor. For the most part, the Kona follows the same formula as the Honda HR-V, Toyota C-HR, Chevrolet Trax and their kin: start with a short-wheelbase car, raise the ride height, add a lift gate and fold-down seats in back for cargo, toss in a dash of beefy SUV styling, and voila! Your brand's sales get a boost because that's what today's buyers want.
Click below for Full Article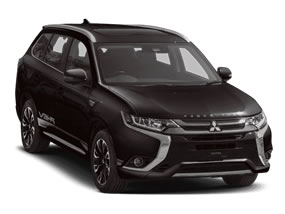 The 2018 Mitsubishi Outlander PHEV GT Review: One of the best electric vehicles I've driven recently comes from a surprising brand: Mitsubishi. While it hasn't generated as much buzz as the Tesla Model 3 or Chevrolet Bolt, I think this under-the-radar Mitsubishi plug-in hybrid, called the Outlander PHEV, deserves more attention than it's getting.
Click below for Full Article

2018 Mitsubishi Outlander PHEV GT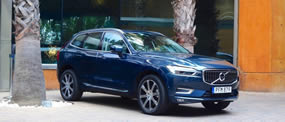 The 2018 Volvo XC60 T6 AWD Review: Forget safety. Volvo may have just created the world's best midsize SUV with the introduction of its all-new XC60. Safety features, of course, are how this Swedish brand built its reputation, adding things like seat belts, side-impact air bags and crash sensors years before other companies followed suit. But even setting aside all the XC60's safety-related bells and whistles, which are considerable, it makes a strong case for winning a "best on the planet" trophy for the way it looks, drives and feels.w better judgement …
Click below for Full Article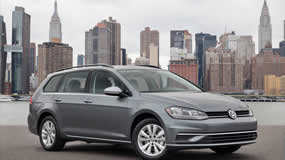 The 2018 Volkswagen Golf Sportwagen Review: Volkswagen has offered various Sportwagens over the years, but they were Jettas. Now the compact wagon is based on the new Golf, so it shares a lot of goodness with the worldwide best selling hatchback.
The company bills the Sportwagen as an alternative to a compact crossover, because it delivers the hauling space, but is a better handling car than an SUV.
Click below for Full Article

2018 Volkswagen Golf Sportwagen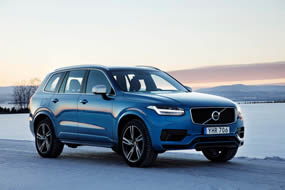 The 2017 Volvo S90 T6 AWD Review: Volvo has long been known, first and foremost, for safety. Forget about that for a minute, though, because this Chinese-owned Swedish brand has just built one of the world's best luxury cars in the new S90. With one exception, this is among the top luxury sedans I've ever driven. It has sophisticated features to pamper you, materials that make you feel like royalty and stunning design to match, putting it squarely in the same caliber as, and in some cases surpassing, the best that Mercedes, BMW and Lexus have to offer in this class. That one exception? The engine.
Click below for Full Article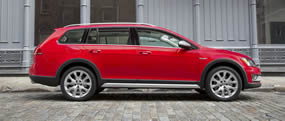 The 2017 Volkswagen Golf Alltrack Review: For decades, the Volkswagen Golf came as a hatchback, with either two or four side doors. Its sibling, the Jetta sedan, was offered in wagon form. Now if you want a compact station wagon from the German giant, it wears the Golf nameplate, while Jettas are now sedans only. Does this all sound familiar? The Alltrack is a direct shot at a very successful competitor, the company that invented the tall wagon - Subaru. "Alltrack" sounds a lot like "Outback," doesn't it?
Click below for Full Article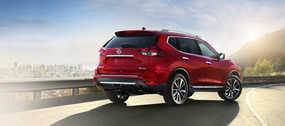 The 2017 Nissan Rouge Hybrid Review: The Rogue is one very popular Nissan. It's a compact crossover, so it's situated in a rising car market segment. The most recent version has done so well that for 2017, Nissan gave it a heavy mid cycle refresh, with some updated styling and new content. Up front, the Rogue now wears the corporate front fascia with the signature "V-Motion" grille and revised headlights and daytime running lights.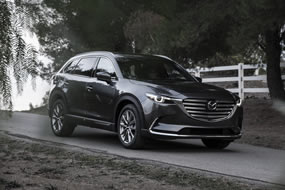 The 2017 Mazda CX-9 Grand Touring AWD Review: The Mazda CX-9 has long been one of the sportiest three-row crossovers you can buy, and certainly the sportiest in its price range. If you like that connected-to-the-road feeling from behind the wheel, you'll like the CX-9. The 2017 version takes everything up a notch. It's still got its characteristically crisp driving feel, but it's more polished now with a turbocharged engine, a modern all-wheel-drive system and a cabin that's as beautifully designed and well thought out as anything in this price class.
Click below for Full Article

2017 Mazda CX-9 Grand Touring AWD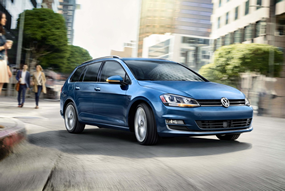 The 2017 Volkswagen Golf SportWagen Review: Small cars are better than big ones. I'm absolutely convinced of it. Of course, trying to explain that position makes me feel like the only vegetarian in a room full of meat eaters. This is America, where we always assume that bigger is better, which is why the average new house looks like a sports arena and the average new car is a crossover. Not everyone needs a crossover, though, just like not everyone needs a house where the Lakers could play in the dining room.
And to moms and dads who think their family couldn't possibly survive without a humongous off-road-looking vehicle in their driveway, this week I'm testing something that might change your mind: the new 2017 Volkswagen Golf SportWagen.
Click below for Full Article

2017 Volkswagen Golf SportWagen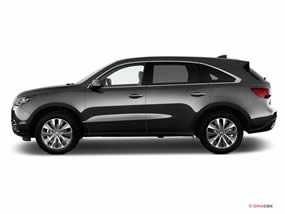 The 2016 Acura MDX Review: Acura's MDX midsize crossover is the most successful three-row SUV of all time, and it looks like that's not about to change. Styling for 2016 is a more expressive rendering of the Acura brand's busy design. Outside, the pointed nose remains, but all traces of the edgy beak of years past are now gone.
Click below for Full Article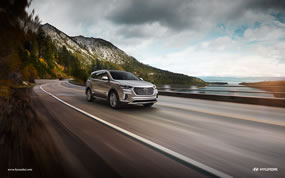 The 2017 Hyundai Santa Fe Sport Review: Crossover SUVs are the growth area of the auto business, and Hyundai wants its share of the action. The 2017 Santa Fe and Santa Fe Sport are right in the heart of it. The word "Sport" isn't about providing a more exhilarating driving experience, it's about size and function. While the Santa Fe offers three-row seating and V6 power, the Sport is a shorter, lighter two-row crossover with room for five, powered by a four-cylinder engine.
Choose from the L, T, and T Ultimate models. The L gets you a 2.4-liter four with 185 horsepower and 178 lb.-ft. of torque, while the T's enliven the equation with a 2.0-liter turbocharged four that kicks out 240 horsepower and 260 lb.-ft. of torque. All Santa Fe Sports come with a six-speed automatic transmission, and you can order all-wheel drive in any model.
Click below for Full Article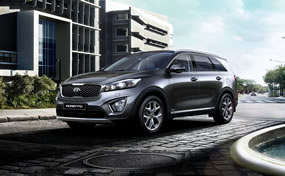 The 2016 Kia Sorento SXL Review: The biggest external changes for the 2016 Sorento are in front, with a bolder take on Kia's tiger nose grille, its shape befitting a Jaguar, and with a grille texture that has a rich feel and look of the latest Mercedes-Benz offerings. The new face, shared with the next-generation Sedona minivan, wears the alert look of today's cars. The headlamps have a bit more squint, and at the lower corners are prominent fog lamps in four trapezoidal ice cube sections.
Click below for Full Article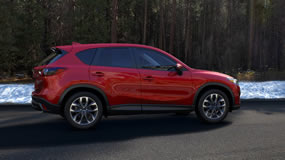 The 2016 Mazda CX-5 Grand Touring Review: The CX-5, Mazda's compact crossover, debuted in 2012, but has been improved every year since. Now 2016 brings subtle changes, and all contribute to a fun-to-drive, economical, and quiet package.
Click below for Full Article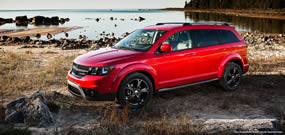 The 2016 Dodge Journey Crossroad Plus Review: It's tough to stand out in today's hyper-competitive market for crossover vehicles, but Dodge is giving it a shot by making the Journey a contender for the top value crown. In the past year I've driven lots of crossovers, those family haulers that look like rugged SUVs but are actually built and designed like cars, all of which are jostling for attention on a crowded stage. Some have fancier cabins, quieter rides, sportier handling or trendier looks than the Journey, but I don't think any provide quite the same bang for the buck that the plucky Dodge is offering.
Click below for Full Article

2016 Dodge Journey Crossroad Plus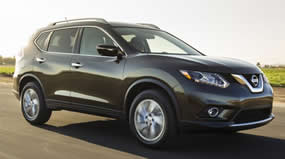 The 2015 Nissan Rogue Review: What is a rogue? Webster's New Collegiate Dictionary says: 1: VAGRANT, TRAMP. 2: a dishonest or worthless person: SCOUNDREL. 3: a mischievous person: SCAMP. 4. A horse inclined to shirk or misbehave. That certainly seems like an unlikely name for a car, especially such a nice one. In fact, my Cayenne Red 2015 Nissan Rogue test car was the epitome of good behavior.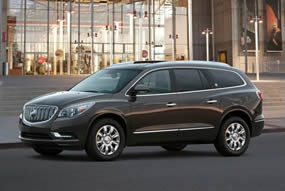 The 2014 Buick Enclave Review: Buick has built its reputation on producing and selling some large, fine and fancy sedans. With all the changes in the auto industry, Buick has found itself in 2013 marketing a likeable and capable crossover SUV, which may be the best thing they sell today. So, why not have a Buick SUV with all the trimmings?
Click below for Full Article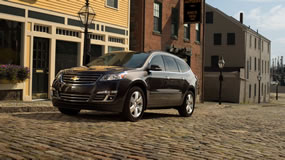 The 2014 Chevrolet Traverse Review: If I'm buying a crossover vehicle with three rows of seats, there's one question at the top of my mind: Will I feel safe putting my family in this car? In the case of the Chevrolet Traverse, the answer is yes.
Click below for Full Article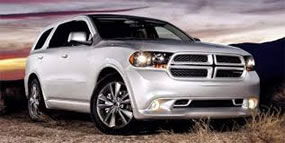 The 2013 Dodge Durango Review: If your memories of the Dodge Durango are centered around a close cousin of the Ram truck, then throw those memories out the window. Today's Durango shares nothing at all with its old, truck-like namesake. In fact, it's surprising that Dodge decided to stick with the Durango name since the new version shares its bones with the Jeep Grand Cherokee, a smooth-riding, luxurious crossover that in many ways is the polar opposite of the old blue-collar, workhorse Durango.
Click below for Full Article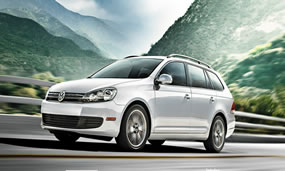 The 2013 Volkswagen Jetta Sportwagen Review: The Jetta Sportwagen is ideally suited to my needs and tastes. Compact, but with room for five people, it has more than 66 cubic feet of carrying capacity in back with the second row seats folded. It's lively and fun to drive, especially when you order it with the six-speed manual transmission. And, for commuting, the TDI Diesel version, which I tested, boasts 42 miles per gallon on the highway.
Click below for Full Article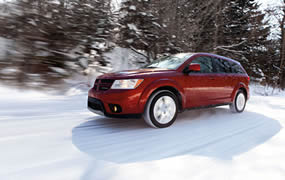 The 2013 Dodge Journey SXT Review: The Dodge Journey had a difficult start to life. It was designed at a time when Chrysler was nearly bankrupt, and it came to market in 2009 as a rough-hewn stone of a crossover. But now that the new Chrysler has had some time to polish it, the Journey has turned into quite a gem.
Click below for Full Article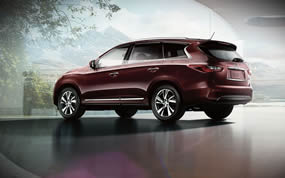 The 2013 Infiniti JX 35 Review: In the early 1960's, musical comedian Allan Sherman took the Jewish song "Hava Nagila" and parodied it as "Harvey and Sheila." Once Sherman got underway, he started including a long list of acronyms, like "Harvey's a CPA, he works for IBM" In the musical Hair there's the song, Initials (L.B.J.), which starts out, "LBJ took the IRT". Acronyms abound today, and with the Infiniti JX, they are omnipresent. The JX boasts a long list of safety and convenience features, all acronyms, that make this one of the most high-tech rides I've ever had. Where to begin? Here is the list …..
Click below for Full Article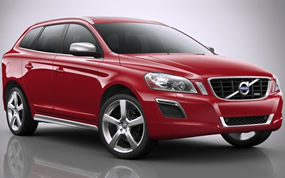 The 2013 Volvo XC60 T6 AWD Review: When I think of Volvo cars, only one thing comes to mind: safety. It's easy to imagine a bunch of Volvo engineers huddled around a cup of coffee discussing whether they could install an airbag into a cup holder and how to make the radio buttons cause fewer injuries. Volvo is obsessive about things like that.
Click below for Full Article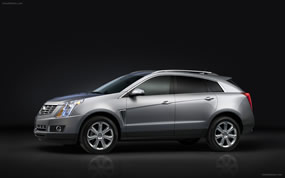 The 2013 Cadillac SRX FWD Premium Collection Review: With each passing year, cars are becoming more like consumer electronics. Where we used to ask how much horsepower a car has, today we're more likely to ask how compatible it is with the latest iPhone. In a world overloaded with apps, it's only a matter of time before we're upgrading our cars yearly, perhaps stopping at the dealer to switch from Version 2.0 to 3.0. Nowhere have I seen this as obviously as the car I drove this week, the Cadillac SRX.
Click below for Full Article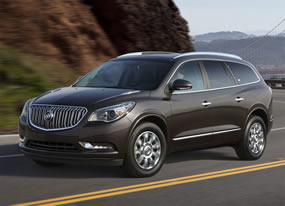 The 2013 Buick Enclave FWD Premium Group Review: One of the weird things about reviewing new cars, a bizarre world where you drive a different, brand-new car every week, is that your expectations change so much with each vehicle. If I drive a $15,000 economy car today after driving a $100,000 luxury car last week, how is that fair? Is the cheap car really bad, or does it just feel bad because I spent seven days sitting in the Taj Mahal?
Click below for Full Article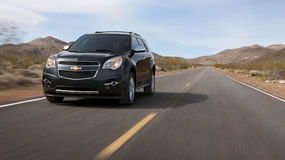 The 2013 Chevrolet Equinox Review: When Chevrolet introduced the current generation Equinox a few years ago, it raised eyebrows primarily for one reason: it was rated for 32 mpg on the highway. That was good enough to make it stand out as a fuel-sipping crossover at a time when most of its competitors were hitting the high 20s at best. But, in that unavoidable automotive tradeoff, it also meant Chevy sacrificed some performance to get that impressive gas mileage number.
Click below for Full Article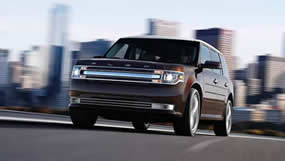 The 2013 Ford Flex Review: The Ford Flex is one nice family hauler, with room for up to seven, if you fold down the third row seats. The fronts are plush buckets, the middle row ditto, and the rears? Well, they fold down invisibly in two halves to make a flat cargo floor, or pop up with the pull on a strap or two. Every passenger gets a sunroof too, with glass and manual shades, over all three rows. Only the sunroof in front opens, however.
Click below for Full Article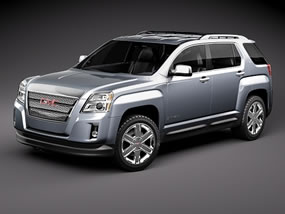 The 2012 GMC Terrain Review: GMC has long been known for heavy-duty work trucks and big, thirsty, V8-powered SUVs. It's interesting, then, to see the red GMC logo and tough-truck styling on a vehicle that gets 32 miles per gallon. The 2012 Terrain has all the rugged, Paul Bunyan looks you would expect from General Motors' macho brand, a tall roofline, imposing grille and wide, squarish fenders, but it's actually built like a car, which means it gets surprisingly good gas mileage.
Click below for Full Article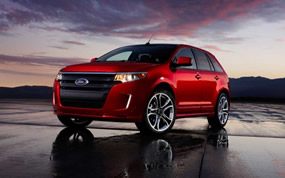 The 2012 Ford Edge Review: Ford introduced the Edge in late 2006 as part of its recognition that the market was shifting. Out were the boxy, heavy SUVs, and in were "crossover" vehicles. Crossovers are tall cars, on regular car unibody platforms instead of truck chassis, with sweptback windshields and more car like comfort and efficiency. Ford has sold more than half a million Edges so far.
Click below for Full Article
The 2012 Infiniti FX35 Review: The original sport utility vehicles, SUVs, were truck-based and boxy, but today's tall, people-and-stuff-hauling crossovers are anything but. And Infiniti, from Nissan, gave the sensuous exuberance of their cars to the big FX35. It offers some of the most evocative styling of any car in the industry. My mother called it "swirly curly."
Click below for Full Article
The 2012 Nissan Rogue Review: With the growing popularity of compact crossovers, especially from Toyota, Honda and Ford, Nissan needed a competitor, so they introduced the Rogue a few years ago, below the midsize Murano. The Murano, introduced in 2002, is considered a pioneer in the crossover trend away from truck-based boxy vehicles. The Rogue's look is surprisingly restrained for a Nissan, home of the nontraditional Cube, Juke and Xterra. But the car takes its looks from its big crossover sibling, so it's fluid, rather than urban youth oddball or off-road chunky.
Click below for Full Article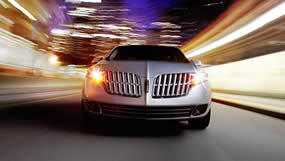 2011 Lincoln MKT Review: As Lincoln goes after today's luxury vehicle buyer, it can't simply offer big sedans or rely on the Navigator SUV to pull the load. The MKT crossover SUV offers comforts and high tech features galore in a distinctive package to attract luxury crossover intenders.
Click below for Full Article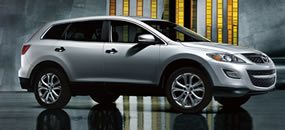 2011 Mazda CX-9 Review: Mazda sells a broad range of cars in this country. I recently sampled the diminutive MAZDA2. At the other end of the spectrum lies the brand's seven-passenger CX-9. A big car and a big success since its debut in 2007, it got some significant styling updates last year and continues in 2011 with minimal revision.
Click below for Full Article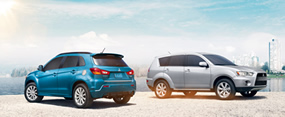 2011 Mitsubishi Outlander Sport Review: Mitsubishi is well known among the young tuner crowd for its powerful Lancer Evolution high-performance sedan. Years ago, the Eclipse sporty coupe was a hot seller. The company also has marketed various SUVs through the years, notably the Montero. With the Outlander Sport, they are trying to get the best of both worlds, at an affordable price..
Click below for Full Article

2011 Mitsubishi Outlander Sport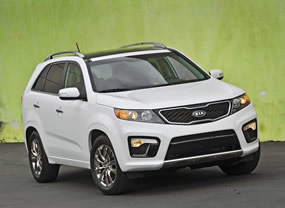 2011 Kia Sorento Review: Kia is a brand on the move. While not quite as meteoric as the rise of its cousin, Hyundai, this Korean company has made the transition from joke to serious contender in less than 10 years. How can you tell? Just look at cars like this, the new 2011 Kia Sorento.
Click below for Full Article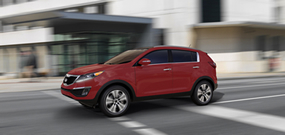 Kia Sportage Review: Back in 1995, when the midsized Explorer was king of the SUVs, Kia introduced its second model, the Sportage, a compact, car-based SUV. It actually preceded to market the vehicles that would come to dominate the segment, like the Toyota RAV4 and Honda CR-V.
Click below for Full Article

Cadillac CTS Review: There comes a time in everyone's life when we have to trade in our fun car for something more responsible. One moment we're drooling over neon paint and 20-inch wheels while dangling trinkets from the rear-view mirror, and in the next minute we're wishing for side airbags and enough space for a couple of baby seats. But it doesn't have to be that way. There are a few cars for grown-ups that somehow straddle the thin line between crazy fun and sensible transportation. This car, the Cadillac CTS Sport Wagon, is one of them.
Click below for Full Article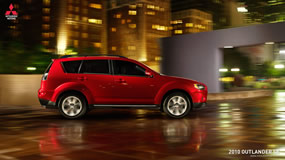 Mitsubishi Outlander Review: The great thing about competition is that it forces people to improve what they're doing. If the New Orleans Saints spent all season playing dinky high-school teams, would they have been able to win the Super Bowl? Probably not. If the Yankees only faced Little League pitchers, would they be any good in the postseason? No way. That's why it's so much fun to watch what's happening to mid-size crossover vehicles.
Click below for Full Article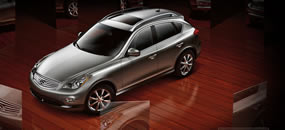 Infiniti EX35 Journey Review: This car, the Infiniti EX35, is a vehicle that defies classification. In some ways, it's simply a svelte crossover. If you took a Chevy Traverse, gave it space ship styling, put it on a diet, and added a bunch of luxury gadgets inside, you'd end up with something very similar to this Infiniti. The EX35 is more than that though, or perhaps less, depending on how you see it.
Click below for Full Article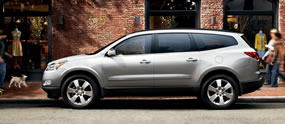 Chevrolet Traverse Review: After the financial crisis of 2008, everyone started making a distinction between the "old GM" and the "new GM," which was jokingly dubbed "Government Motors" after getting a bailout from Uncle Sam.
Click below for Full Article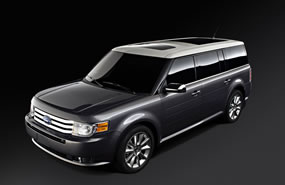 Ford Flex Review: When I first saw the Flex I thought, "That's a huge MINI Cooper SUV! That's because it features a similar "floating" cap roof over glass that, for an additional $395, you can order in silver. But the Flex is nothing like a MINI, it carries up to seven people in spacious comfort and is more than 17 feet long.
Click below for Full Article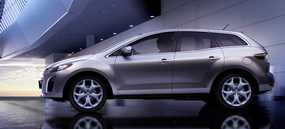 Mazda CX-7 Review: For 2010, Mazda proudly offers something less.
Click below for Full Article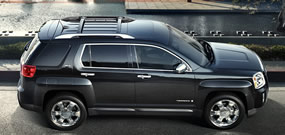 GMC Terrain Review: GMC has long been known for its tough work trucks and luxurious SUVs. That's what this brand is all about. Lately GMC has taken an abrupt turn by creating the Terrain, its most car-like vehicle to date.
Click below for Full Article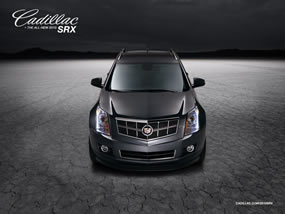 Cadillac SRX Review: Call it a sign of the times. Almost a year into the Obama administration and the government rescue of General Motors, Cadillac has introduced a new vehicle that's actually smaller and more fuel efficient than its predecessor.
Click below for Full Article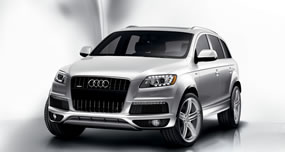 Audi Q7 Review: There is more than one way to reduce a vehicle's environmental impact. One way is to make it smaller. Another is to improve its efficiency. Audi's seven-passenger, 5,500-pound Q7 crossover has chosen the latter.
Click below for Full Article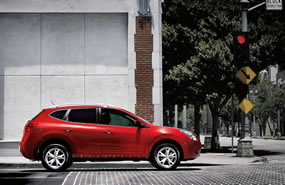 Nissan Rogue Review: For having such a rebellious name, the Nissan Rogue is awfully tame. This vehicle is civilized and predictable, following the same path of countless other crossovers that straddle the wide line between sporty and practical.
Click below for Full Article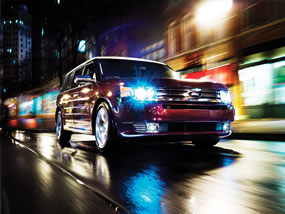 Ford Flex Review: Ford had a great run with the Explorer SUV in the 1990s. Today many families still want and need the Explorer's virtues, but would rather have a tall car than a domesticated truck.
Click below for Full Article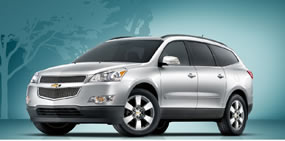 Chevrolet Traverse Review: As families move away from SUVs, they still need a way to carry everyone together, and still want to be safe while they're doing it. Chevy now offers the all-new Traverse crossover vehicle to help them.
Click below for Full Article
Subaru Review: The all-wheel drive Subaru Outback has a lot of new competitors now that the crossover market has heated up. It has a very car-like ride but also has some of the best features of SUVs, like excellent traction on slick roads and a roomy cargo area in back.
Click below for Full Article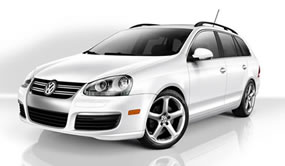 Station Wagon Review: Despite a huge drop in gas prices in late 2008, it looks like people have abandoned big SUVs en masse. Major auto manufacturers are hurting, and the U.S. companies are hoping for a Wall Street style bailout from Washington.
Click below for Full Article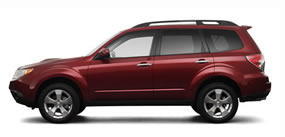 Crossover Review: A few years ago, my brother Bill called me from his home in Virginia. He and his wife, Debbie, were looking for a new car. They wanted good fuel economy, enough room for a couple of friends or some cargo on occasion, a reasonable price, and rock solid reliability.
Click below for Full Article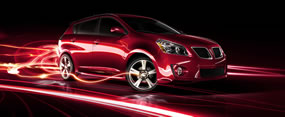 Crossover Review: Pontiac's advertising honchos are quick to tell you their company builds excitement. They don't tell you Pontiac also builds boring Toyota knock-offs that are much more effective than Ambien.
Click below for Full Article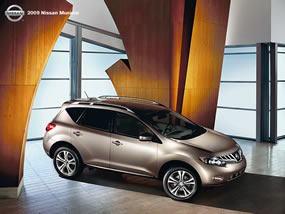 Crossover Review: The 2009 Nissan Murano looks like its predecessor in many ways, but it has more creases and folds than the original Murano. It's a more modern look, but not necessarily better. Nissan calls the interior a "mobile suite." It's intended to be modern and warm, with ambient lighting and upscale materials.
Click below for Full Article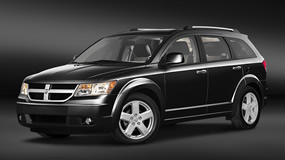 Crossover Review: The new 2009 Dodge Journey may look like a tough SUV, but it's actually a car-based crossover with a practical interior similar to a minivan. If you need a super-practical ride for your family but don't want to be the target of a thousand soccer-mom jokes, Dodge thinks it has the vehicle for you. It's called the Journey.
Click below for Full Article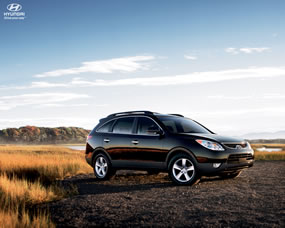 CROSSOVER REVIEW: If you're looking for proof of how far Hyundai has come in the last 20 years, go check out the Veracruz midsize crossover. Hyundai's goal here is to give you Lexus level accommodations at a Honda price.
Click below for Full Article

2008 Hyundai Veracruz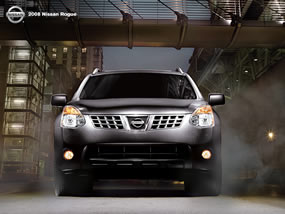 CROSSOVER REVIEW: The Rogue, Nissan's latest foray into the crossover segment, is meant for urban adventures. Even its optional all-wheel-drive system is designed for great cornering on road rather than for climbing over rocks or traversing rugged dirt roads.
Click below for Full Article

2008 Nissan Rogue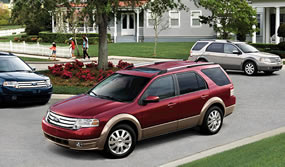 Crossover Review: As you probably already know, crossovers are today's name for what we used to call station wagons - they "cross over" between truck-based SUVs and car like cargo-haulers. Crossovers offer the practicality and higher seating position of an SUV, with the greater comfort and somewhat better fuel economy of a car.
Click below for Full Article

2008 Taurus X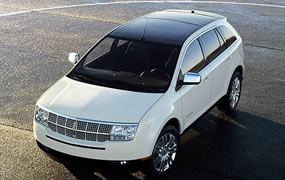 Crossover Review: Lincoln was created to stand above the other Ford brands. The stunningly classic Mark II of the 1950s turned heads, despite selling in small quantities. The garish late 1950's Lincolns flaunted their own controversial body panels. The Mark III and its successors were unmistakable. Today Lincoln is at a crossroads, and a crossover may be the future of the brand.
Click below for Full Article

2007 Lincoln MKX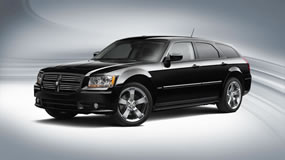 San Francisco: This is a station wagon on 'roids. The 2007 Dodge Magnum combines a muscular shape with up to 425 horsepower to create one of the wildest grocery-getters on the road.
Click below for Full Article

2007 Dodge Magnum R/T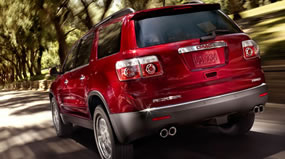 San Francisco: While the GMC Acadia looks like a traditional SUV, it's actually a car-based crossover vehicle. The solid unibody construction is rare on such a big vehicle. Plus three rows of roomy seats make the Acadia almost as spacious as a full-size SUV, but thankfully it comes without the sloppy road manners that typically mar vehicles this size.
Click below for Full Article

2007 GMC Arcadia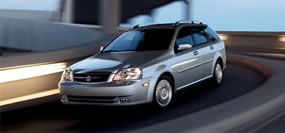 San Francisco: It holds my bass. That's only the first of many virtues of the 2007 Suzuki Forenza Wagon. Add to the package a very affordable price, elegant European styling inside and out, and a long list of standard equipment and this wagon is a very nice ride.
Click below for Full Article

2007 Suzuki Forenza Wagon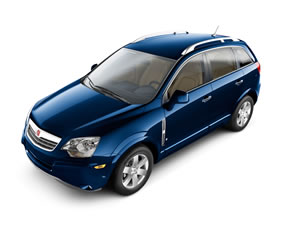 San Francisco: Saturn showrooms are bursting with new products, including this week's feature car, the Outlook. As an eight-passenger crossover SUV, it's the largest Saturn ever, and an entire new market segment for this rejuvenating GM brand.
Click below for Full Article

2007 Saturn Outlook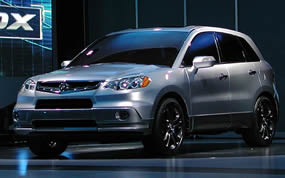 San Francisco: As buyers continue their exodus away from expensive truck-based SUVs, Acura is hoping to cash in by entering the crossover field with a new model, the RDX. This sporty wagon is focused like a laser at the so-called entry premium market, which is expected to grow fivefold in the next few years.
Click below for Full Article

2007 Acura RDX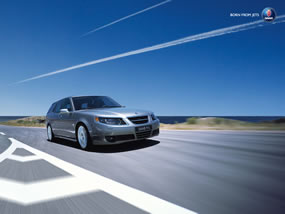 San Francisco: Not since the hatchback demise of the 70s, the advent of the minivan in the 80s, and don't forget the current SUV craze, has the wagon been such a popular vehicle of choice for people on the go and for families to get going. If only they made wagons like the Saab 9-5 SportCombi back in the 80s and 90s.
Click below for Full Article

2006 Saab 9-5 SportCombi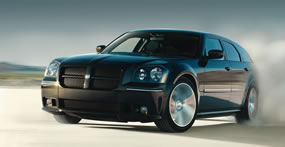 San Francisco: The Dodge Magnum combines a muscular shape with up to 425 horsepower to create one of the wildest grocery-getters on the road. Other than an SUV-like ride height, the Magnum's interior laid out like an ordinary sedan. It's practical, comfortable and easy to step in and out of.
Click below for Full Article

2006 Dodge Magnum
San Francisco: Station wagons are slowly coming back into style, perhaps because people don't want to give up the cargo space of their SUV but still want to save money at the gas pump. The Suzuki Forenza Wagon has SUV-like versatility with the price of a compact car.
Click below for Full Article

2006 Suzuki Forenza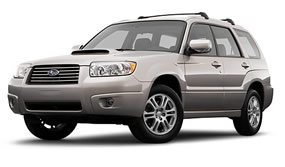 San Francisco: Crossover utility vehicles (CUVs) are the rage today. Over the last ten years, sales of car-based vehicles that act like SUVs have boomed from essentially nothing to about 2.5 million units. Subaru has been in the thick of it from the start, with its sturdy, comfortable Outback.
Click below for Full Article

2006 Subaru Forester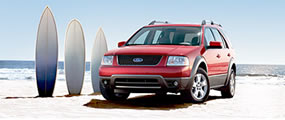 San Francisco: A sharp body on Ford's Freestyle crossover vehicle looks too tall to be a station wagon but too squatty to be an SUV. Just like the rest of the vehicle, the styling is a compromise. The 2006 Freestyle's cabin is laid out like an SUV with three rows of roomy seats, but it has the high-quality materials and construction you'd normally expect in a nice sedan.
Click below for Full Article

2006 Ford's Freestyle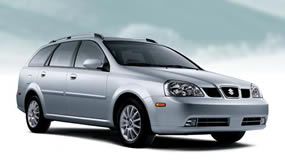 San Francisco: With gas prices growing, some people are becoming disenchanted with hulking SUVs and are reconsidering the good old fashioned station wagon as family transportation. You can't buy a Ford Country Squire with fake wood paneling anymore, but there are several compact wagons that perform people and cargo moving duties quite well. The 2005 Suzuki Forenza is one of those.
Click below for Full Article

2005 Forenza Wagon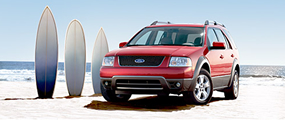 San Francisco: Ford Motor Company relies on its broad line of sport utility vehicles to generate profits. The problem is that sales of big SUVS are dropping rapidly, as much from changing consumer tastes as the rising price of gasoline. For 2005 the all-new Freestyle represents Ford's foray into the crossover market.
Click below for Full Article

2005 Ford Freestyle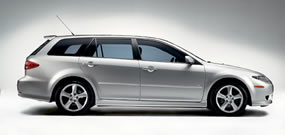 San Francisco: Mazda, part of Ford's global arsenal of brands, has two missions, one overt and the other covert. The overt mission, visible to car shoppers and TV viewers, is to offer excitement and fill niches in the marketplace.
Click below for Full Article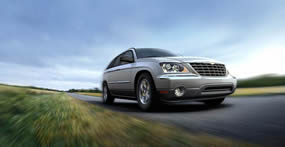 San Francisco: When Chrysler introduced the Pacifica in 2004, it was a fantastic family vehicle with only one problem. Many families couldn't afford it. The Chrysler Pacifica now starts at $24,315 for 2005, more than $5,000 cheaper than last year's base model.
Click below for Full Article
T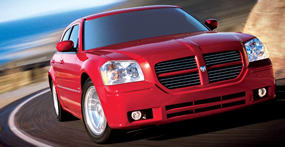 San Francisco: The new Dodge Magnum is a great station wagon with only one problem: Dodge won't call it a station wagon. Instead, the marketing geniuses in Detroit demand we call it an Active Hybrid Sport Crossover Utility Something-or-Another Vehicle, but they're not fooling anybody. It's still a station wagon, and a darn good one at that.
Click below for Full Article
San Francisco: In order to expand its product line beyond the 9 3 and 9 5, which is owned by General Motors, Saab is marketing the 2005 9 2x built by Subaru as its entry-level vehicle. GM holds a 20-percent interest in Fuji Heavy Industries, Subaru's parent. Incidentally, to get an SUV into Saab dealer's showrooms, soon it will offer the Saab 9 7 that shares its platform with the Chevrolet Trailblazer and GMC Envoy. Click below for Full Article

2005 Saab 9 2 x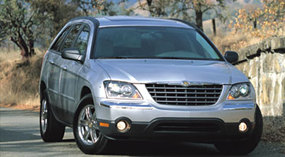 San Francisco: The Pacifica is a great looking vehicle. Don't just take my word for it. It's at a dealer near you. Steve Sowinski, the Senior Designer of the Pacifica, calls it the "Handsome Protector." Nice name but it sounds somewhat masculine and Pacifica is a lady, at least it was at the Golden Gate International Exposition of 1939-40. Pacifica was an 80-foot statue by sculptor Ralph Stackpole, created as the theme lady for the Exposition.
Click below for Full Article

2004 Chrysler Pacifica

SAN FRANCISCO: Car and Driver magazine used to "customize" cars. Not the lead sleds of the '50s, no, they built a series of performance cars. Cars like the Blue Max, a road-going version of Mark Donahue's TransAm Camaro. Cars like the Boss Wagons. One such Boss Wagon was a M-B Turbo Diesel from around one of the gas crunches. Mercedes has the makings of one fine Boss Wagon in its C320 Station Wagon
Click below for Full Article

2002 Mercedes-Benz C320 Station Wagon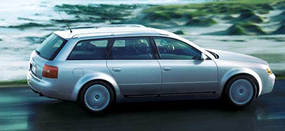 SAN FRANCISCO: Forget about all of today's lumpy, dumpy Active/Sport/Rugged/Utility "crossover" vehicles. This is a station wagon, baby, and it dares you to have a problem with that. As tautly menacing as Mike Tyson's fist (and with even more power behind it) the S6 Avant will take your grocery-getter preconceptions and pound them into the pavement.
Click below for Full Article

2002 Audi S6 Avant Station Wagon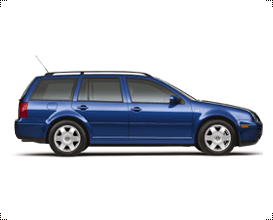 SAN FRANCISCO: Station wagons are making a comeback as people who never plan to drive off-road see they offer the convenience of a small SUV with better fuel economy as well as handling and riding nicer. They are very popular in Europe where BMW, Audi, Mercedes-Benz, Volvo, and Saab all build station wagon versions of their excellent sport sedans. Many of these are now offered in the North American market as well. Now, Volkswagen is offering a wagon version of its best selling Jetta.
Click below for Full Article

2002 VW Jetta Station Wagon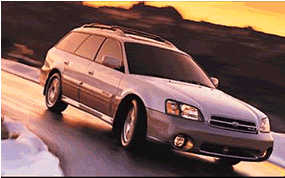 SAN FRANCISCO: Anyone who's read my columns regularly knows that I really like Subaru's. So it should come as no surprise that I was smitten with the new Outback H6-3.0 VDC, even if its name is a mouthful. I'll try to decode the name for you, at least the new stuff.
Click below for Full Article

2001 Subaru H6-3.0 VDC

SAN FRANCISCO: Starting with the original Beetle, Volkswagens have been known for their ability "to go in the snow." Now VW is offering the ultimate snow-going VW, or for that matter, any slippery road condition - the Passat with 4MOTION. 4MOTION is an all-wheel-drive option on Passat sedans and wagons equipped with V6 engines and five-speed automatic transmissions with Triptronic®. This includes the GLS V6 and up-scale GLX V6.
Click below for Full Article

2000 VW Passat GLX Wagon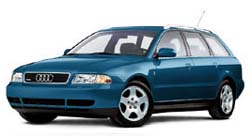 SAN FRANCISCO: Audi's new Avant line (Avant is the Audi word for station wagon) continues to impress consumers as one of the best-built wagons on the market today. The A4 line offers both a powerful Turbo-charged 1.8 liter-4 cylinder and a smooth running 2.8 V6, the latter of which our test vehicle came equipped with. Finished in a deep blue metallic, our A4 Quattro all-wheel drive wagon became a topic of conversation everywhere we took it. Many spoke of the performance and German build characteristics, which are exactly what one expects from the land of Volkswagen-Audi.
Click below for Full Article

'99 Audi A4 Avant Quattro