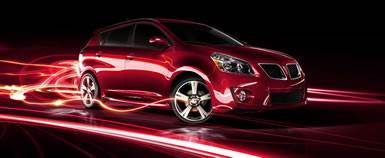 Crossover Review: Pontiac's advertising honchos are quick to tell you their company builds excitement. They don't tell you Pontiac also builds boring Toyota knock-offs that are much more effective than Ambien.
Thus is the case with the somniferous Vibe, a Pontiac that actually is a Toyota Matrix in disguise. While the Vibe is all new and significantly improved for 2009, it's still a Toyota at heart, which is both good and bad.
On the bright side, Toyota has a second to none reputation for reliability. If the world is ever destroyed in a nuclear war, the only things likely to survive are cockroaches and Toyotas.
On the downside, this Pontiac also inherits Toyota's blandness, so driving it is as exciting as watching Ben Stein eat a bowl of oatmeal.
If you can get beyond the oxymoronic nature of General Motors' "excitement" division selling a Toyota, this is actually a decent, affordable family car.
Like the old Vibe, this new one tries to make maximum space from a minimum car. It's priced and built like an economy car, with a short wheelbase, light-weight, and a starting price under $16,000. Unlike an economy car, the Vibe has the high roofline, generous cargo space and versatile interior of a crossover SUV.
The base 1.8-liter engine makes 132 horsepower, which is mediocre. You can add a little more spice with a 2.4-liter engine that makes 158 horses, but it will also cut your in-town gas mileage by 19 percent. With an automatic transmission, you'll get 25 mpg with the little engine and 21 mpg with the big one.
Mysteriously, Pontiac also gives you more options for storing your junk when you choose the bigger engine. It comes with a cool storage organizer in the rear cargo area with all kinds of hooks and compartments, and it folds into the floor when not in use.
Also when you pick the bigger engine, the front passenger seat will fold flat for carrying big, bulky things like ladders. I have no idea why Pontiac doesn't put the fold-flat seat in all the Vibes; perhaps it should be reported to the government for unfair discrimination based on engine size. Displacementism, we'll call it.
In any case, storage versatility is one of the Vibe's strong points. Another is its new look. While the old Vibe looked like it drowned in the nasty waters of Ugly Creek, the new one is much cleaner looking. It's still no beauty queen, what family car is? But at least it lacks the puffy body cladding of its predecessor. It's clearly spent some time at the gym.
The Vibe comes in three flavors, base, GT and AWD, all of which look a little different. The performance-oriented GT, for example, has a sportier front fascia, while the all-wheel drive version comes with a roof rack.
Overall, I think the Vibe is a good car, especially for the price. My only major gripe is that it's sold under the wrong brand. The Vibe is C-SPAN, which is fine, but Pontiac needs to be MTV.
What was tested? The Pontiac Vibe GT with a base price of $19,895. Options on the test car: None. Price as tested: $19,895
Why avoid it? It's not that exciting, and Toyota's version, called the Matrix, might have better resale value.
Why buy it? The new Pontiac Vibe has a much cleaner look for 2009. While it's priced like an economy car, it has the interior space and styling of a crossover SUV.
By Derek Price © AutoWire.Net - San Francisco
Byline: Crossover Review provided by Tony Leopardo © AutoWire.Net

Column Name: A good car with some excitement
Topic: The 2009 Pontiac Vibe GT
Word Count: 648
Photo Caption: The 2009 Pontiac Vibe GT
Photo Credits: Pontiac Vibe Internet Media
Series #: 2009 - 01
Download the Microsoft Word version here: 2009 Pontiac Vibe
Download the Original Image File here: 2009 Pontiac Vibe