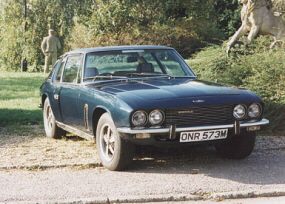 Jensen Interceptor
SAN FRANCISCO: The second series, Italian bodied, Jensen Interceptor was introduced in late 1966 at the London Motor Show. While Jensen's primary business has been pressing body panels and building bodies for a number of mainstream manufacturers, the British firm had also regularly produced its own line of handsome, sporting tourers. Prior to WWII, Jensen's were built on both American Ford and Nash chassis. After the war the firm introduced the first series Interceptor, a six cylinder, four place, aluminum-bodied car built with the latest Austin of England mechanicals.
Click below for Full Article

Jensen Interceptor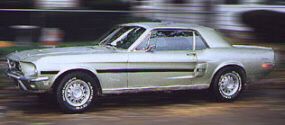 Mustang - The Second Series
SAN FRANCISCO: The success story of the original Ford Mustangs, introduced mid-year in 1964, is legend in corporate automotive marketing folklore. A casebook study of vision, it is based on careful analysis, combined with the ability to cut through the auto industry's standard long lead times and the conservative "family car" mind set of Postwar America.
Click below for Full Article

Mustang - The Second Series
1946 Ford Oakland Police Car
SAN FRANCISCO: When peace finally broke out at the end of WWII it was time for the auto manufactures to re-tool from the swords of military production to the plowshares of personal transportation. Ford, like most of the other car builders at the time, dusted off the existing 1942 tooling, went to work on simple trim and grill facelifts and started spitting out as many "new" 1946 models as possible. With no new cars for over four years, the public was snapping up anything that was available. Government agency's were also limping along on well worn vehicles and, at times, were able to get priority over the public.
Click below for Full Article

1946 Ford Oakland Police Car
1951 Riley Convertible
SAN FRANCISCO: Al Edridge of Palos Verde, CA was born and raised in England in the 1950s and started looking for a unique British classic car to restore in the late-1980s. He spotted a classified ad for a reasonably priced 1951 Riley convertible. Al remembered these swoopy beauties from his youth so he grabbed it even though it was only about 80% complete and in many pieces.
Click below for Full Article

1951 Riley Convertible
1948 Chevrolet Fleetmaster
SAN FRANCISCO: The 1948 Chevy was a handsome car. It wasn't low slung and modern like the first postwar Studebakers, or streamlined like the contemporary Packard, but it certainly was handsome. This car was the last chapter in the history of a model line that started in mid-1941.
Click below for Full Article

1948 Chevrolet Fleetside
Mustang Memories
SAN FRANCISCO: I was a car crazy sixteen-year-old, growing up in the San Francisco suburb of Menlo Park, when Ford introduced the Mustang in the summer of 1964. I read all of the car magazines, built AMT 3-in-1 models kits of my favorite rides, and even pumped gas and worked the lube rack at the corner Shell station. My best buddy, Barry, was a bit older and came from a family that had the financial means to supply him with a new convertible as an early graduation present. The two of us went car shopping immediately.
Click below for Full Article

Mustang Memories
1950 Chevrolet
SAN FRANCISCO: In 1950, Chevrolet Motor Division set out to put the icing on the cake they had baked the year before. The 1949 product line had clothed a standard post war chassis in its first new bodywork since the early Forties. A sleek new smooth sided front clip faded back into voluptuous teardrop rear fenders. Fastback roof styles had become so popular that they were available in both two and four door configurations. This very pleasing shape would be the mainstay of GM styling, on all lines, through the mid-Fifties.
Click below for Full Article

1950 Chevrolets
1962 Jaguar XKE
SAN FRANCISCO: When the Jaguar XKE was introduced to America in early 1961, the automotive world stood still. At that time, the British were best known as the producers of well-trimmed, solidly built motorcars of more than moderate performance. Cars that were steeped in long forgotten, Old World qualities, like hand built wood framed bodies, leather seating and the baffling mechanical idiosyncrasies that go along with cottage industry production techniques
Click below for Full Article

1962 Jaguar XKE
1913 Mercer Raceabout
SAN FRANCISCO: This 1913 Mercer Raceabout is owned by Dean and Brenda Butler of Cincinnati, Ohio and was used at both the Monterey Historic Races on Friday and Saturday and shown at the Pebble Beach Concours on Sunday. The Mercer, along with the similar looking Stutz Bearcat, was a street going racecar. It could do almost 75 miles per hour at a time when there were few paved roads. Expensive when new, these are a rare and valuable link to America's sports car past. There are well less than fifty examples still in existence and it is a treat to see one, let alone watch one at speed.
Click below for Full Article

1913 Mercer Runabout
1950 Jeepster
SAN FRANCISCO: The Jeepster Phaeton convertible, introduced for the 1948 model year, was based on the 104 inch wheelbase Jeep, model 4-36 4 X 2, station wagon chassis that came out right after the war in 1946. The '48 lineup also included a panel delivery, a pickup ( in 2 or 4WD), and a platform-stake as well as the wagon and the Jeepster Phaeton .
Click below for Full Article

1950 Jeepster
Birth of the Corvette
SAN FRANCISCO: The early fifties were exciting years for the American auto industry. Even though there was another war, this time in Korea, to put some minor restrictions on engineering, tooling, and some construction materials (such as white rubber for tires as well as chromium and copper for plating), spirits were high and innovation was in the air. The post-WW II car famine had been met in spades and the first "all new" models since 1942 were in the showrooms and on the road.
Click below for Full Article

Birth of the Corvette
1966 Mustang Convertible
SAN FRANCISCO: The Mustang was an instant hit. By the end of the first model year and a half (they were introduced in mid-1964) Mustangs had proven to be the perfect car for well over a half-a-million people. In fact, if one was considering buying a car at the time and didn't need a six-passenger sedan or a wagon, a Mustang was probably near the top of the list. There was a hardtop, a convertible, and a new fastback coupe with a fold down rear seat. The car could be ordered as a six-cylinder econo-car, an easy to drive shop-hopper with power steering and brakes, a rip-snortin' street scrapper, or any combination thereof. And the price was only a little more than a deluxe compact.
Click below for Full Article

1966 Mustang Convertible
1922 Stanley Steamer
SAN FRANCISCO: A Stanley Steamer is a rare sight today, standing tall and angular, and its flat, rectangular panes of glass glistening inside a sober sedan body. My young son and I rode in a well-preserved example for a parade, and I had a chance to drive the car afterwards.
Click below for Full Article

1922 Stanley Steamer
'36 Plymouth Sedan
SAN FRANCISCO: While the depression was devastating to most American auto companies, Chrysler Corporation seemed to be living through it better than most. Despite the market crash of '29, Plymouth sales were booming by the early '30s. This was partly because Chrysler was technologically ahead of the competition and starting in 1930 all Chrysler, Dodge, and DeSoto dealerships were given Plymouth franchises. This made a Plymouth agency almost as easy to find as a Ford store.
Click below for Full Article

1936 Plymouth Sedan
1954 Dodge Sierra Wagon
SAN FRANCISCO: One of the rarest postwar American Station Wagons was the 1954 Dodge Sierra four-door station wagon. The Iona Body Works in Michigan built only 1300 of these luxury family haulers. It was installed on the longer 119" wheelbase sedan chassis, rather than the factory built, Plymouth-based 114" wheelbase two-door wagons
Click below for Full Article

1954 Dodge Sierra Wagon
1948 Tucker
SAN FRANCISCO: This beautiful pale yellow Tucker is owned by Bev Ferreira of San Francisco. Ferreira was practically raised in a garage. His father, John, started working on bicycles and motorcycles in the Pacific Northwest around 1910. He soon learned to repair and maintain farm machinery and truck fleets. One of San Francisco's premier department stores, The White House, lured the senior Ferreira to the city to maintain the store's fleet of delivery trucks in 1918.
Click below for Full Article

1948 Tucker
'66 Chevy Malibu Convertible
SAN FRANCISCO: By 1966, the Chevelle line was proving to be one of Chevrolet's most popular. The Corvair, Chevy's first compact, was drowning in a sea of Ralph Nader driven bad publicity and a worse case of dealer indifference, even though it had been deftly restyled and mechanically improved starting in 1964.
Click below for Full Article

'66 Chevy Malibu Convertible
1967 Morris Minor Traveller Station Wagon
San Francisco: The clever little Morris Minor was a hit from the first time it was shown to the British public. Designed in the mid-Forties by Alec Issigonis, the Minor was introduced at the London Motor Show of 1948 sporting an up-to-the-minute unit constructed body, torsion bar front suspension, rack and pinion steering and a lower center of gravity achieved by using small 5.20 size tires on 14 inch wheels. This revolutionary design was on the cutting edge of small car development and years ahead of the prewar engineering that could be found under most of the European economy cars of the time.
Click below for Full Article

'67 Morris Minor Traveller Woody Wagon
'38 Ford Woodie Station Wagon
San Francisco: "Woodie" is a Southern California Surfing term from the Sixties that made its way into mainstream vocabulary after being introduced to pop culture through records and radio by groups like The Beach Boys and Jan & Dean. These wood bodied station wagons were originally expensive, hand-built cars that were favored by dude ranches, country clubs and farm families. They were the "sport utilities" of their day.
Click below for Full Article

'38 Ford Woodie Station Wagon