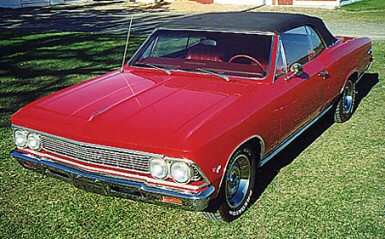 SAN FRANCISCO: By 1966, the Chevelle line was proving to be one of Chevrolet's most popular. The Corvair, Chevy's first compact, was drowning in a sea of Ralph Nader driven bad publicity and a worse case of dealer indifference, even though it had been deftly restyled and mechanically improved starting in 1964.
The Chevy II Nova, a welcome addition to the Chevy compact line to folks who didn't like "climbing down" into a car or were suspect of an engine mounted at the wrong end, was losing favor as the American economy improved. Even another artful restyle for the '66 model failed to spark much interest to a buying public who hadn't learned much about downsizing during the slow times.
The Chevelle line had its best year to date with a production run of over 410,000. While it still rode on its original 115" wheelbase, the restyled body grew to 197", mostly at the rear. The new body shape reflected the "Coke bottle" school of design that was becoming near epidemic in Detroit. This "big butt" look was minimized on the Chevelle by the crisp, simple horizontal treatment of both the grille and rear panel.
The Malibu Super Sport sub-series, an option previously available on sport coupes and ragtops, had allowed buyers the ability to add fancy trim, bucket seats and a console to cars with any powertrain from the thrifty 194 cube six to a 300 hp 327 V8. This was replaced in 1966 by: A) adding the sporty looking options to the standard Malibu line and: B) making the Super Sport its own series and adding the new 396 cube V8 to every one! For the first time, the SS 396 was a REAL musclecar. Even the "wimpiest" of Super Sports came with a 325-horse engine and disc brakes!
The Malibu featured here was bought new by its present owners Stewart and Louise Margolis of Los Angeles. They ordered the standard '66 convertible with a basic 283, 2-barrel V8, Powerglide, and power steering, from Eagle Rock Chevrolet. It was bought as an "everyday" car, and had been used as one for over 220,000 miles when it was replaced and garaged a few years ago. The Margolis family used the Malibu for everything from commuting to work and towing their sailboat. Though not for sale (I had my checkbook out!) they do have a family member in line to take it when the time comes.
The Classic Drive
These Chevelles are one of my automotive passions. I've owned two '64s, two '65s, a '66 El Camino, and presently drive a '69 convertible. All, but the El, had similar powertrain options to the Margolis car. As I plopped into the seat, all of that wonderful Chevy atmosphere snuggled in around me. You can just breathe it in. Old Vinyl, carpet mildew, and foam rubber dust blends with the smell of use. People going places, doing things and having fun. The bittersweet smell of life.
A turn of the key produced the all too familiar 283 rumble and thump. A recent correct muffler made this Malibu much quieter than any of mine had been. I clicked the console-mounted shifter into drive and pulled onto the road. The Powerglide dutifully shifted into top gear after about four car lengths and there we stayed until we came to a stop or needed a bit of push to change lanes or enter the freeway. These cars can get over 20 mpg if you keep 'em tuned and don't hurry them too much.
The car ran fine. Steering is predictable and easy, though a little loose at center. The ride is smooth and the manual drum brakes stop the car without excessive foot pressure. Just remember to leave a little more room in front of you on the freeway as everyone out there except for the eighteen wheelers and other Chevelle owners have better brakes than you.
This car was a bit worn from age. The engine and trans had been rebuilt less than 30,000 miles ago and the car was properly maintained, but I felt some of the suspension was soft and mushy. Combined with Chevelle's designed-in softness and power steering provided a ride that was a bit lean and vague by 1999 standards. This is all correctable with new springs, bushings, ball joints, and tie rod ends but let's not stop there. How about some gas shocks, sway bars and power disc brakes! It all bolts in nice and easy. They easily update for modern traffic conditions.
That's another really great thing about these Malibus. Outside of the '55 - '57 Chevy, these are probably the easiest cars in the world to get replacement parts and well-engineered upgrades in kit form. With new car prices rising as fast as the cars are shrinking, maybe one of these is just what YOU need. They're roomy, economical, easy to fix and find parts for, and have that ever so popular musclecar look. By Rick Feibusch © AutoWire.Net - San Francisco

Byline: By Rick Feibusch © AutoWire.Net - San Francisco
Column Name: Classic Drive
Topic: '66 Chevelle Malibu Convertible
Word Count: 825
Photo Caption: '66 Chevelle Malibu
Photo Credits: Rick Feibusch
Series #: 1999 - 29