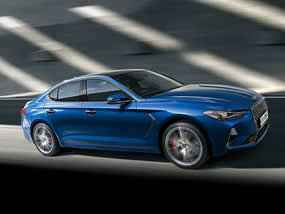 The 2019 Genesis G70 Bottom Line Review: TheGenesis G70 is a completely new model for 2019. It is engineered to compete head-on with the best sports sedans in the world, most notably the BMW 3-Series. The G70's cabin blends the futuristic feeling of contemporary technology, including real aluminum and steel trim, with the old-fashioned-luxury look of quilted leather. With these amenities the all-new Genesis sports sedan rivals all the established German players in the entry level luxury field.
Click below for Full Article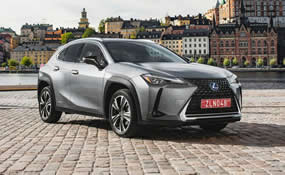 The 2019 Lexus UX 250h Review: With the new UX, Lexus expands its crossover lineup down market. They are hoping to not only sell young buyers their first Lexus, but their first luxury car. Lexus introduced the industry's first luxury crossover, the legendary RX, 20 years ago, and as part of Toyota enjoys a link to hybrid cars going back the same two decades. It makes sense then, to introduce the UX with gas only and hybrid power trains. Opt for the UX 200 with its 2.0-liter four or if you have greener goals, the UX 250h, with a more efficient 2.0-liter engine combined with Lexus' 4th-generation hybrid system.
Click below for Full Article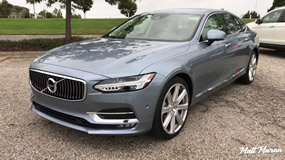 The 2018 Volvo S90 T6 AWD Review: Volvo has spent the last few years releasing an onslaught of vehicles for people who want a full-blown, design-driven luxury experience, not only the most safety gadgets. Perhaps no Volvo represents this shift in product philosophy more than this one, the 2018 Volvo S90 flagship sedan.
Click below for Full Article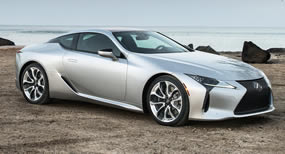 The 2018 Lexus LC 500h Review: If you're a Hollywood starlet who just signed a major movie deal, you're in luck. Lexus has just the car for you. It's called the LC, and it's one of the most stunningly styled cars to be unveiled in years. Sleek, sexy and almost alien looking in profile, it's a dramatic change from the rolling sleep aids that have plagued the luxury market for the past eight years. But just look at this thing. It screams, "Look at me, baby!"
Click below for Full Article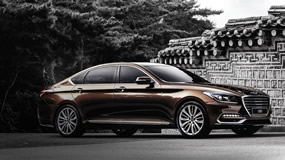 The 2017 Genesis G80 Review: A few weeks ago I reviewed the Genesis G90, the flagship car for Hyundai's brand-new luxury marque. This week I'm driving its little sister, the G80, a car that will introduce the Genesis brand to a bigger audience thanks to its more attainable starting price of $41,400. The differences between the two models are striking, but I'm more impressed with the similarities. While the smaller G80 has a sportier, livelier and more engaging feel over the road, it does nearly as good a job as the G90 at pampering you.
Click below for Full Article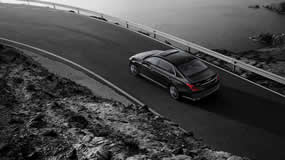 The 2017 Genesis G90 Review: Launching an automotive brand isn't easy. History is littered with the carcasses of automotive companies that tried and failed: Tucker, DeLorean, Bricklin, De Tomaso, and an almost endless list of once-proud brands that couldn't survive in the modern world. Plymouth, Pontiac, Oldsmobile, Saturn and Mercury are just a few of the high-profile automotive lives we've mourned in recent years. This year there's a new brand giving it a shot: Genesis. Just like Toyota spawned Lexus, Honda sired Acura and Nissan created Infiniti, Hyundai has decided to sell its up market cars under the new Genesis banner in 2017. It's starting with two vehicles: the mid-luxury G80, and the subject of this week's review, its flagship, and a spacious Mercedes-fighting luxury car called the Genesis G90.
Click below for Full Article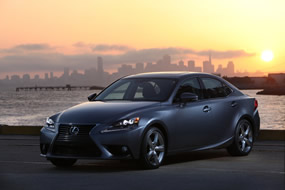 The 2014 Lexus IS 350 Review: Like all luxury brands, Lexus has its crosshairs trained directly on the heart of BMW. Nowhere is this more true than with the new-for-2014 Lexus IS, a car that has been redesigned, refined and tested to match the best sports sedans coming out of Germany. In fact, Lexus is so confident in saying "we can beat the Germans" that they invited me to a racetrack in Austin and handed over the keys to the new IS and its competitors from BMW and Mercedes-Benz. If that's not boasting, I don't know what is.
Click below for Full Article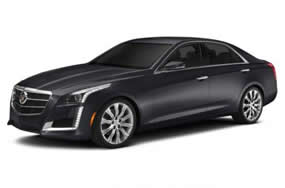 The 2014 Cadillac CTS Review: In the 21st century, American luxury brands have been working hard to reinvent themselves. While many upscale shoppers opt for German and British imports, Cadillac, with its Art & Science sharp-edged design and increasingly competitive products, has become a great alternative. The midsize CTS model has been a major factor of the brand's rebirth. It competes against the BMW 5 Series, Audi A6, Mercedes-Benz E Class, and others.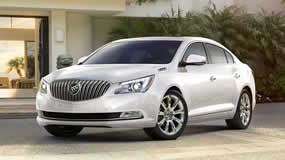 The 2014 Buick LaCrosse Review: In 2014, the LaCrosse is Buick's largest sedan, a full-size car by today's standards. Its ancestor, the LeSabre, was a land yacht. The LaCrosse sits on a foot-shorter wheelbase, stretches nearly 30 inches less from nose to tail, is 6.8 inches narrower, stands 5.9 inches taller, and at 3,896 pounds, weighs 400 pounds less than a 1976 LeSabre, the last year of full-size GM cars before downsizing.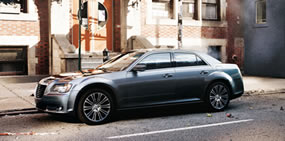 The 2013 Chrysler 300C John Varvatos Luxury Edition Review: When I think of the Chrysler 300, three things leap to mind: One, the all-American, gangster-car styling that would make Al Capone smile from his grave. Two, the thrilling HEMI V8 that sucks gas like a jumbo jet. And Three, an interior that feels a bit on the cheap side. The problem is that my top-of-the-mind perception is embarrassingly out of date, based on the first-generation 300 rather than today's model. While the body still has that mafia hit man
look, the rest of the car has changed dramatically to keep up with today's trends.

2013 Chrysler 300C John Varvatos Luxury Edition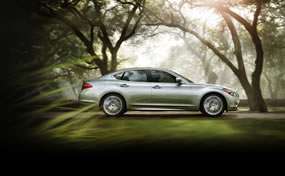 The 2013 Infiniti M56 Review: Infiniti, the upscale division of Nissan, has offered various interpretations of upscale transportation over the last two decades. The M sedan is today's halo car, with a pleasing blend of performance, luxury and technology, held together with style and craftsmanship.
Click below for Full Article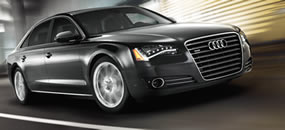 The 2011 Audi A8 Review: Most of us can't afford a car like the A8, and that's too bad. But what's it like to live with one for a week? The first day, you revel in the difference between it and an ordinary car. After a couple of days, the A8's wonderfulness becomes the new normal. As the week ends, you step into a perfectly good regular vehicle, and man, it looks and feels small and cheap.
Click below for Full Article

Buick LaCrosse Review: For years now, automakers have been fighting for a foothold in China, which will soon become the world's biggest car market. All the major brands want a piece of the far-east pie because of how quickly it's growing. And which brand do you think is the most popular in China so far? Toyota? Honda? Volkswagen? Believe it or not, the answer is Buick.
Click below for Full Article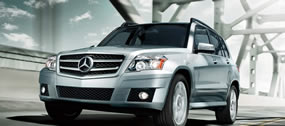 2010 Mercedes-Benz GLK350 Review: In case you havenít been paying attention, Mercedes-Benz offers a remarkable range of vehicles these days. Thereís the relatively modest C Class sedan all the way up to the stately, yet invigorating, S Class sedan.
Click below for Full Article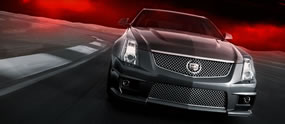 Cadillac CTS Review: I'll never forget the first time I drove a Cadillac CTS. The car had just been introduced and General Motors had a lot riding on its success to help turn around the struggling luxury brand. At the time Cadillac was a marque that desperately needed a shot of adrenaline, because it primarily made boring land yachts for old people.
Click below for Full Article

Lincoln MKS Review: Lincoln, Fordís homegrown luxury brand, has been expanding its reach into smaller sedans, SUVs, crossovers, and even pickup trucks! Now, in a return to its roots, the marque has introduced a new full-size flagship, the MKS.
Click below for Full Article

Mercedes-Benz Review: Mercedes-Benz traces its roots back to 1886 - the dawn of automotive history. The C Class itself goes back to the 190 series, or ďbaby Benz,Ē which debuted in the fall of 1982. It remains the entry point to ownership of a piece of history.
Click below for Full Article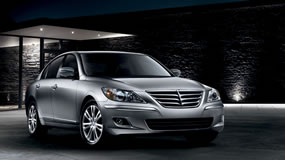 Hyundai Genesis Review: Hyundai now offers a car that could tempt you out of buying a Lexus or a BMW - really. From its humble origins in the mid 1980s selling fuel sipping, low-quality Excels to the fine Sonatas of recent years, the ante has been upped again.
Click below for Full Article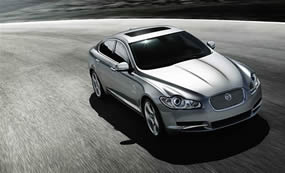 Jaguar Review: The XF breathes new life into Jaguar. With Jaguar's all-new XF sedan it offers classic luxury with modern style. Its simple, understated elegance on the outside, contrasts with extravagance in the cabin.
Click below for Full Article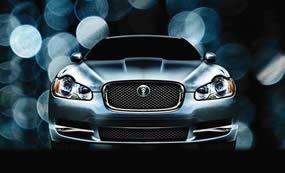 Luxury Car Review: Much has happened at Jaguar since I last reviewed one of their cars. Tata, an automobile manufacturer based in India, purchased Jaguar and Land Rover from Ford for about $2.3 billion dollars. Gasps and dropped teacups were evidenced all round the English-speaking world.
Click below for Full Article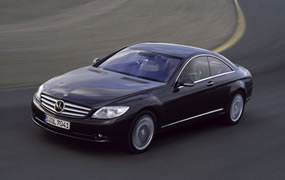 Luxury Car Review: While a bit shy of, say, an unobtainable Rolls-Royce or Bentley, the CL550 represents the finest Mercedes money can buy, and it will take plenty of cash to bring it home too.
Click below for Full Article

2008 Mercedes-Benz CL550
CAR Review: The Buick Lucerne is another car in a long-list of General Motors' vehicles that seem to remain anonymous, and I have no idea why. The automotive cognoscenti rave about the latest from Germany and Japan, yet right here in the good old USA is one of the nicest cars available, the 2008 Buick Lucerne.
Click below for Full Article

2008 Buick Lucerne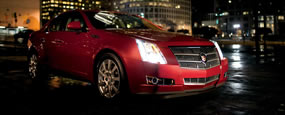 Car Review: When the Cadillac CTS was introduced, it had one glaring weakness. It wasnít how it looked, with an angular, creased body that still seems fresh today, nor was it how it drove. Unlike previous Cadillacís, which felt like they were floating through a sea of giblet gravy, the rear-drive CTS performed like a fine sports sedan. It was fun. It was fast. It was exciting.
Click below for Full Article

2008 Cadillac CTS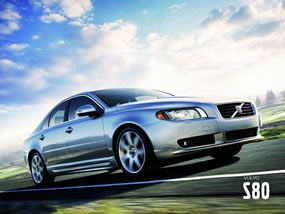 San Francisco: Like many of the worldís smaller automakers, Volvo is struggling to find a balance between filling a niche and being a full-line vehicle producer. Volvo has long been a favorite of the Birkenstock, safety conscious group but that market is shrinking too, and Volvo, like everyone else, is trying to expand beyond their traditional baseline.
Click below for Full Article

2007 Volvo S80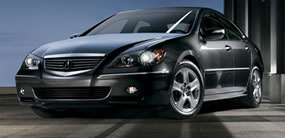 San Francisco: The RL is Acuraís flagship and represents the pinnacle of the 20-year-old brandís virtues. These include high quality materials and assembly, environmental awareness, a serious approach to safety, and long-term reliability. With the RL you get potent performance as well.
Click below for Full Article

2007 Acura RL

San Francisco: Mercedes-Benz makes some very nice cars, but I don't think that's the only reason people buy them. No, people also buy a new Mercedes when they have something to prove. It's a form of social validation.
Click below for Full Article

2007 Mercedes-Benz E320 Bluetec

San Francisco: Honda built its reputation in America on its reliable, economical little Civic. The Acura brand was Honda's way of stretching into the luxury car field, and they have successfully done so for 20 years. We take it for granted today, but luxury Japanese cars were unknown in America until the mid 1980s, when Acura introduced the Legend. Today, Honda's finest car is called simply called the Acura RL.
Click below for Full Article

2006 Acura RL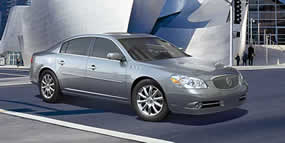 San Francisco: Buick has been busy lately introducing new models with new names. GM is working hard to retain the loyal, but mostly geriatric customer base while expanding into areas currently served by the likes of Lexus and Infiniti. It's a huge task, and the Lucerne, as the flagship sedan, has a lot riding on it.
Click below for Full Article

2006 Buick Lucerne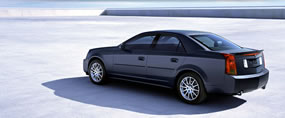 San Francisco: With the CTS, Cadillac began its vigorous assault on the buyers of premium sport sedans. Folks at Cadillac grew tired of watching the enthusiasts bolt for Mercedes Benz, Audi, and BMW on the German side and Lexus and Infiniti on the Japanese side (not to mention the British and Swedes).
Click below for Full Article

2006 Cadillac CTS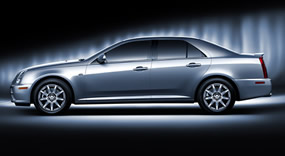 San Francisco: Cadillacís new STS flagship is clearly inspired by the CTS. It has the same fresh, modern lines of the smaller Caddy, but itís toned down slightly to give it a more refined, elegant look. Soft leather and real wood are what you expect to find in a top-of-the-line Cadillac, and the STS is no exception. It feels solidly constructed and has a brilliant dash layout that avoids unnecessary clutter with buttons and switches.
Click below for Full Article

2005 Cadillac STS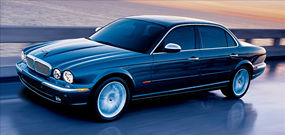 San Francisco: Ever wonder what it's like to be royalty? It's hard to imagine that kind of life - living in an opulent palace, having a courtly staff catering to your every whim, mingling with the world's finest people, fending off the paparazzi and having your most embarrassing moments show up at the supermarket check-out line.
Click below for Full Article

2005 Jaguar XJ8
San Francisco: The Jaguar S-Type feels like a favorite thing. Whether you are admiring it while it's parked in your driveway or cruising down any road, it is a welcome place for the mind and the body. Evoking its more than 70 years of Jaguar history, The S-Type offers a comforting alternative to its German, Scandinavian, and American rivals.
Click below for Full Article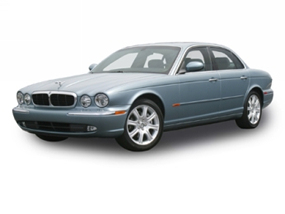 San Francisco: Over the last several years, Jaguar, purveyor of luxury British motorcars, has introduced some wonderful new vehicles. The S-Type, with its distinctive narrow grille, brought a traditional look to the midsize luxury market segment, while the X-Type introduced an affordable Jaguar to reach a younger crowd, and featured Jaguar's first all-wheel-drive system. The XK sports coupe and convertible went for the high-level sports coupe set. But through it all, the familiar XJ sedan has gone from year to year without much visible change. Well, that's history with the 2004 XJ.
Click below for Full Article

2004 Jaguar XJ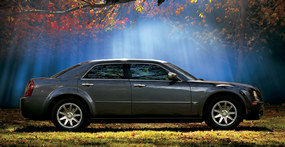 San Francisco: Believe it or not, its new model time and one of the first out of the gate is Chrysler's all-new Chrysler 300, Chrysler's first rear-wheel-drive car in a long, long time. It is a clear winner, an unbelievable car.
Click below for Full Article

2005 Chrysler 300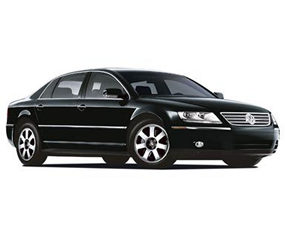 San Francisco: Sometimes I think the whole world is going crazy. This is one of those times. More and more people move to California, while those already here bemoan the fact that they cannot afford to live here. Millions of people buy gas guzzling SUVs, pickups, and cars while the price of fuel leaps past two bucks a gallon and then openly complain that gas is too expensive. And a Volkswagen now bumps up against the $100,000 mark!
Click below for Full Article

2004 VW Phaeton

San Francisco: The arrival of the new CLK coupe for 2003 marked another Mercedes model that received the beauty treatment. While the old CLK was pretty nice, the new 2004 car is nicer, taking after its larger sibling, the CL.
Click below for Full Article

2004 Mercedes-Benz CLK 500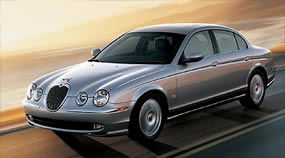 San Francisco: When the Jaguar S-Type was introduced a few years ago, it was criticized for being too much like a Ford and too little like a "real" Jag. It looked great on the outside - like every Jaguar should - but showed far too much of its Taurus DNA in the cabin.

2004 Jaguar S-Type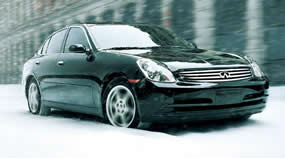 San Francisco: When you think of a luxury car, what comes to mind?

Most people would envision a huge Cadillac, Lincoln, or Mercedes-Benz that floats down the road like an ocean liner, its geriatric driver pointing his nose at the sky. This stereotypical luxury car is probably something quiet and smooth with snooty styling and a mushy suspension that makes the road feel like polished glass.

2004 Infiniti G35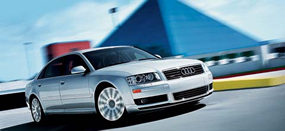 San Francisco: Audi's big A8 sedan is completely redone for 2004. Since the first generation debuted, the entire rest of the line has been revamped or newly introduced. As the big guy, the new A8 is packed full of high tech, superior performance, and incredible luxury, all in a stealthy shape.

2004 Audi A8 L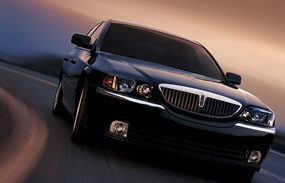 San Francisco: Let's be blunt. Lincoln exists because it knows how to satisfy geezers. Its flagship luxury sedan, the Town Car, is a highway barge that aims to float across potholes and glide over bumps without letting its Ensure-sipping driver notice any imperfections in the road. Only problem is that its super-soft suspension makes it handle like a drunk hippo.

Click below for Full Article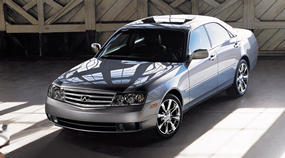 San Francisco: While its suspension tries to match the feel of high-end European sport sedans, the Infiniti M45's styling appears to have an American influence. Its muscle car look is a perfect match for the potent V8 power that comes from the same 4.5-liter engine as Infiniti's Q45 flagship.

Click below for Full Article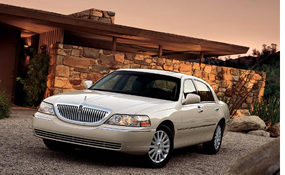 San Francisco: I can't say I was eager to test the new Lincoln Town Car. Sure, like a good auto journalist I'll try anything and give my honest opinion, but the Town Car? That's a car for my parents' generation.

Click below for Full Article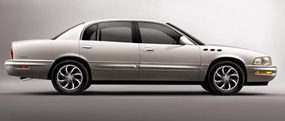 2003 Buick Park Avenue Ultra
SAN FRANCISCO: Mix two quarts of chrome with a cup of luxury and a pinch of performance and what do you get? Say hello to the 2003 Buick Park Avenue Ultra.
Click below for Full Article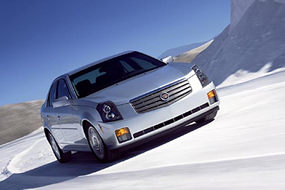 2003 Cadillac CTS
SAN FRANCISCO: Maybe the third try will be a charm. At least Cadillac hopes so with the new revolutionarily different CTS. The CTS shows much more promise because it was designed from the ground up to be a Cadillac, and a good one at that. Besides being new, the CTS offers a few "firsts" for Cadillac.
Click below for Full Article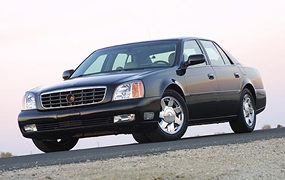 2002 Cadillac Deville DTS
SAN FRANCISCO: What truly can be said of the latest big Cadillac? It's the Cadillac of…Cadillac's?
That's the dilemma we faced when we were given the keys to a 2002 Cadillac Deville DTS for a week's worth of driving and critiquing. What a difficult job we have.
Click below for Full Article

2002 Cadillac Deville DTS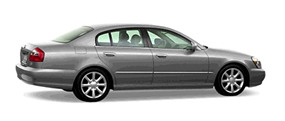 2002 Infiniti Q45
SAN FRANCISCO: The 2002 Infiniti Q45 is a stunning statement of luxury and power from the reinvigorated Nissan Corporation. It returns Infiniti's flagship luxury car to its rightful place as a full-fledged contender.
Click below for Full Article

2002 Infiniti Q45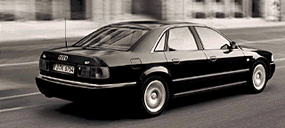 2001 Audi A8, A8 L, and S8
SAN FRANCISCO: Audi's flagship models show that big ultra-luxury sedans can be fun to drive. Even though they weigh in at over two tons and are longer than a Chevrolet Tahoe, they feel as nimble as the best of today's smaller sports sedans. As expected from vehicles in the lofty class, they are filled with the latest in electronic and safety technology.
Click below for Full Article

2001 Audi A8, A8 L, and S8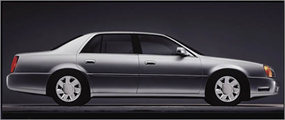 2001 Cadillac Deville
SAN FRANCISCO: Night vision, ultrasonic sensors, and GPS navigation. Sounds like the military's latest weapon systems. No, just some of the hi-tech options available on the 2001 Cadillac Deville.
Click below for Full Article

2001 Cadillac Deville

2001 Mercedes Benz S-Class S500 "Designo"
SAN FRANCISCO: It's easy to use the word luxury all too freely. One quick glance at a thesaurus reveals only a few options, so it's not uncommon for writers to continually say "luxury," when nothing else comes to mind. But spend a little time in the S500, and you will know the true meaning of luxury. Yes, this is one sumptuous extravagance! If you think you are going to go to Heaven, then this is the car to be driving up in. An S500 Designo edition S-Class Mercedes Benz. Also know as, "The Best Car in the World."
Click below for Full Article

2001 Mercedes Benz S-Class S500 "Designo"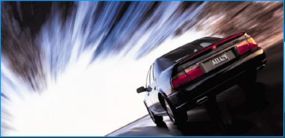 2000 Cadillac Seville STS
SAN FRANCISCO: The 2000 Cadillac Seville is a fine example of Cadillac's core marketing philosophy - which centers on positively impacting the "global prestige luxury sedan" segment. Cars like Mercedes-Benz, Lexus, BMW, Jaguar, Acura and Infinity all compete here for market share, even though the "world prestige" taxonomy is at times difficult to define. Nevertheless, the major players look at this "prestige" class very seriously, and worldwide success is a tribute to both manufacturer and employees.
Click below for Full Article

2000 Cadillac Seville STS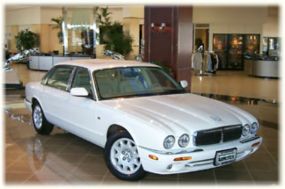 2000 Jaguar XJ8L
SAN FRANCISCO: Most cars will draw immediate reactions when you say their names. Mention Dodge Viper and you think raw power. Say Corvette and you see performance. Mercedes is all about amenities and frills, and dependability attaches itself to Ford trucks.
But when I think of Jaguar – pronounced JAG-you-are – I see Old World luxury and an unforgettable night at the beach. I see Kings and Queens. I see smooth, sleek designs that mirror the feline predator for which it's named.
Click below for Full Article

2000 Jaguar XJ8L
2000 S500 Mercedes-Benz
SAN FRANCISCO: Okay all you Dot.Com tycoons. Have I got a car for you. Of course, you probably wouldn't consider the 2000 Mercedes-Benz S500. Too old money. Oh what a mistake that would be. Maybe in years gone by Mercedes was the vehicle of choice for the older, more conservative, monied people. But I'm here to tell you that the 2000 S500 is a way too much fun car to relegate it just to the gray beards.
Click below for Full Article

2000 S500 Mercedes-Benz
2000 Cadillac Deville
SAN FRANCISCO: Cadillac DeVille is the last of the luxury nameplates many of us remember now that the Chrysler New Yorker, Oldsmobile 88 and Buick Roadmaster are gone. The title DeVille dates back to 1949 when it was attached to Cadillac's first hardtop, the Coupe de Ville. And while the name itself may be a half century old, the 2000 DeVille is definitely all new and incorporates the latest automotive technology. The DeVille now comes in three versions - DeVille, the DeVille High Luxury Sedan (DHS) and DeVille Touring Sedan (DTS).
Click below for Full Article

2000 Cadillac Deville
2000 Buick Park Avenue Ultra
SAN FRANCISCO: The 2000 Buick Park Avenue Ultra satisfies buyers who are looking for full-size performance and discreet sophistication. With a Supercharged 3.8-liter V-6 under the hood, Park Avenue Ultra is a fine example of Buick's performance capabilities, although power and acceleration are no longer emphasized in Buick's marketing plans. Still, the muscle from the supercharged V-6 is the result of Buick's leading edge work in V-6 development back in the Eighties.
Click below for Full Article

2000 Buick Park Avenue Ultra
SAN FRANCISCO: OK, so your neighbors beat you at buying one of those cute little sports cars or a dashing convertible. Forget nostalgia and get something new. Janis Joplin got it right when she sang "Daddy won't you buy me a Mercedes Benz". The one thing that Janis had in common with Marie-Antoinette was living high.
Click below for Full Article

Mercedes Benz Maybach