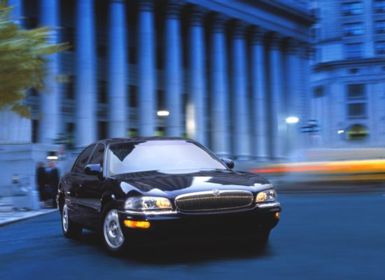 SAN FRANCISCO: The 2000 Buick Park Avenue Ultra satisfies buyers who are looking for full-size performance and discreet sophistication. With a Supercharged 3.8-liter V-6 under the hood, Park Avenue Ultra is a fine example of Buick's performance capabilities, although power and acceleration are no longer emphasized in Buick's marketing plans. Still, the muscle from the supercharged V-6 is the result of Buick's leading edge work in V-6 development back in the Eighties.
With numerous refinements in safety, Buick's flagship luxury sedan upholds the company's reputation for sophistication and good taste. Consumers begin the Buick full-size experience with the LeSabre Custom ($23,235 base), and then graduate to LeSabre Limited ($27,340), Park Avenue ($31,130) and finally Park Avenue Ultra ($36,025). This extended buyer range results in Buick being the top selling full size value in America.
Consumers are drawn to the Buick nameplate for two major reasons. First and foremost is reputation, as Buick continues to uphold some of the highest engineering standards of all General Motors platforms. From the popular Specials and Roadmasters of the Forties and Fifties to today's Park Avenue Ultra, the Buick name has been synonymous with mechanical excellence. Secondly, Buick presents its luxury in a more discreet manner than sibling Cadillac. Park Avenue is less "country club" in its final aesthetic appearance, yet still addresses the luxury desire of the discreet, well to do consumer.
This discriminating buyer appreciates Buick's modest approach to luxury and refinement. Park Avenue's primary customers include professionals, entrepreneurs and executive men and women who want style, smooth power, roominess and exceptional value. The entry level LeSabre attracts the middle class who insist on value and are fortunate to be able to afford a full-size Buick.
Another noteworthy positive is Buick's "safety factor," which it emphasizes in television and print campaigns. All of the full-size Buicks provide mass, which equates to safety if an accident occurs. Several new mechanisms aimed at better occupant protection and a surefooted driving experience are included in the 2000 models.
Heading the list of improvements is StabiliTrak, a computerized stability control system that is standard on Ultra and optional on Park Avenue. StabiliTrak helps the driver maintain control by electronically comparing what the driver wants the car to do with information from sensors indicating how the car is actually responding. If the car is in danger of sliding or skidding, StabiliTrak slows and stabilizes the car to help the driver maintain control. The system functions at any speed on any surface and is always operational, requiring no user activation. Safety is further enhanced with standard seat-mounted side air bags for driver and right front passenger, an all-new feature for the 2000 model year, and rear child seat tether anchors.
The proven and strong-running 3800 Series II V-6 engine, a 3.8-liter powerplant that delivers 205 horsepower at 5200 rpm and 230 lb-ft of torque at 4000 rpm in the naturally aspirated version, provides Park Avenue's mechanical motivation. Park Avenue Ultra's supercharger boosts output to 240 hp at 5200 rpm and 280 lb-ft of torque at 3600 rpm.
Projected fuel economy numbers are 19 miles per gallon city and 28 mpg highway for the Park Avenue and 18/27 for the supercharged Ultra. There's an 18.5-gallon fuel tank, assuring long freeway runs between fill-ups.
Full-range traction control, which uses brake and engine power control for smooth operation at any normal driving speed, remains standard on Ultra and optional on Park Avenue. Both engines rely on the 4T65E electronic four-speed automatic transmission.
Park Avenue Ultra offers a Gran Touring suspension packages for $200 more. The package features better 16-inch tires, improved steering, more precise handling, stiffer front springs and a front stabilizer bar. Also, an added rear stabilizer bar, higher dampening load front struts and rear shock absorbers aid for more body control, while magnetic variable-effort steering make handling this large car easier at both low and high speeds. The larger brake rotors increase braking response, and help stop the 3,884-pound vehicle. We feel for the extra $200, this is an excellent option to consider.
Additionally, Park Avenue offers features such as rain-sensing wipers that automatically activate when moisture is detected on the windshield & automatic level control, which adjusts rear air shocks to maintain proper vehicle height regardless of loading, Dual ComforTemp climate control that allows driver and front passenger to independently set interior temperature and the Concert Sound speaker system with nine speakers on Ultra, six on Park Avenue. We also like the "no battery rundown" feature, which shuts off lights and other energy robbing features after 10 minutes if someone forgets to turn something off.
Our test Park Avenue Ultra, which bottom-lined for $38,925, came finished in a beautiful light Bronzemist Metallic with Taupe leather interior. Inside, a roomy cabin awaited driver and passengers, with heated seats up front and enough room in the back for three full-size adults. The power seats allowed for numerous lumbar and height settings, while Ultra's memory stored two settings for favorite drivers. Heads Up Display is also available.
In summary, we recommend Buick Park Avenue Ultra as a timely statement of American luxury at its finest. As I told one interested onlooker, a Park Avenue Ultra and a Corvette roadster in my driveway would fulfill all of my motoring desires. By Greg Zyla © AutoWire.Net - San Francisco

Byline: By Greg Zyla © AutoWire.Net - San Francisco
Column Name: "The Extra Mile"
Topic: 2000 Buick Park Avenue Ultra
Word Count: 884
Photo Caption: 2000 Buick Park Avenue Ultra
Photo Credits: Buick PR
Series #: 2000 - 10
Download the Microsoft Word version here: 2000 Buick Park Avenue Ultra
Download the original image file here: 2000 Buick Park Avenue Ultra 30k