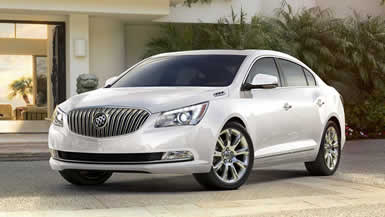 The 2014 Buick LaCrosse Review: In 2014, the LaCrosse is Buick's largest sedan, a full-size car by today's standards. Its ancestor, the LeSabre, was a land yacht. The LaCrosse sits on a foot-shorter wheelbase, stretches nearly 30 inches less from nose to tail, is 6.8 inches narrower, stands 5.9 inches taller, and at 3,896 pounds, weighs 400 pounds less than a 1976 LeSabre, the last year of full-size GM cars before downsizing.
Buick is one of only four General Motor's brands to survive the 2009 bankruptcy. Now, the century-old nameplate is fighting to regain relevancy with today's luxury car buyer. Buick is recruiting the new "older people", read baby boomers, and is even angling for some younger buyers, with its range of cars and crossovers.
I tested the top level LaCrosse Premium. It contained all of the usual features you expect from the full-size luxury sedan segment, plus a long list of high-tech apps and upgrades.
The Driver Confidence Packages I and II add electronic accident-preventing alerts, including Forward Collision Alert, Rear Cross Traffic Alert, and Side Blind Zone Alert with Lane Departure Warning. It informs you if you're closing in too quickly on the car in front, if someone is approaching along the street behind, or is in your blind spot. The packages also give you a head-up display on the windshield, front fog lamps, adaptive cruise control and automatic collision preparation (as a last resort).
The new Safety Alert Seat vibrates under your butt to warn you of impending trouble. It buzzes the left or right side of the seat to warn you from which direction the hazard is approaching. This new form of alert bypasses the head and goes right to the body. GM claims its research shows it gets a quicker response. It certainly is hard to ignore.
The Ultra Luxury Package, at $2,495, upgrades the leather on the seats and steering wheel; mounts real wood on the instrument panel, doors and console, and adds leather to the center console and door armrests, while installing snazzy suede on the headliner, pillars, and visors.
A slightly misaligned wood section on the left edge of the dash was a minor distraction, and the real wood is so shiny that it looks artificial, but overall, the effect is opulent and pleasing.
My tester wore a shimmering coat of White Diamond Tricoat paint ($995), set off by 20-inch rims, a first for the LaCrosse. Body styling borrows from the Buick history book, with swooping vestigial fender lines along the side and a large, toothy "waterfall" grille up front.
The dash center features an ornate Art Nouveau metallic surround that is the most purely decorative object in the car. It looks like something that might play well in China, a major LaCrosse market. The lower corners of this panel contain touch-sensitive areas for easy personal climate adjustments. The eight-inch full-color touch screen in the center of the display is easy to use, and voice commands are available as well.
Two engines are offered. My tester had the larger 3.6-liter V6, which puts out a generous 304 horsepower and 364 lb.-ft. of torque while earning EPA numbers of 18 City, 28 Highway, and 21 Combined. The six-speed automatic shifts imperceptibly.
I averaged 18.6 mpg during my test period, which included significant freeway driving. Those figures are probably twice the number of the 1976 model. EPA Green Vehicle numbers are 7 for Smog and 5 for Greenhouse Gas. The 1976 model wasn't rated for greenness, but it surely wasn't very green.
The other engine is a 2.4-liter four-cylinder that puts out 182 horsepower and 172 lb.-ft. of torque. This improves fuel economy to 25 City/36 Highway, but I can't speak to the difference in performance. The 1976 car, with a 3.8-liter engine, had just 105 horsepower, with its 185 lb.-ft. partly mitigating the performance loss. Earlier LeSabres featured large V8s, typical of the era.
Prices start at $34,985. My top-level tester had a base MSRP price of $39,755, which, with all the packages, plus shipping, grew to $49,235.
Can this Buick, built in Kansas City, Kansas, woo buyers who are used to the faultless Japanese luxury execution or the power and prestige of German sports sedans? Its quality, looks and performance are very high, but preconceptions are hard to shake. Only time will tell.
By Steve Schaefer © AutoWire.Net - San Francisco
The Bottom Line: This new 2014 Buick LaCrosse is a very pleasant cruiser. Buick's QuietTuning program keeps pretty much any kind of sound, (engine, road or wind), from intruding. The suspension is firmer and much more stable than the old Buick's cushion-soft float, and the electric power steering sends the car where you point it. One thing is certain, though, this is not the Buick of old, it's the new Buick, built for today. And maybe, just for that reason alone, you should "Drive one, and Buy one, Today ©"
Bottom Line Review provided by: Tony Leopardo © AutoWire.Net
The 2014 Buick LaCrosse Bottom Line Review provided by: Tony Leopardo © AutoWire.Net - "Tony the Car Guy" is an automotive writer, editor and publisher in the San Francisco Bay Area. If you have a question or comment for Tony send it to TonyLeo@pacbell.net or visit AutoWire.Net at www.autowire.net - And remember: " You Are What You Drive©"

Column Name: This new Buick is a very pleasant cruiser
Topic: The 2014 Buick LaCrosse
Word Count: 940
Photo Caption: The 2014 Buick LaCrosse
Photo Credits: Buick LaCrosse Internet Media
Series #: 2014 - 11
Download the Microsoft Word version here: 2014 Buick LaCrosse
Download the Original Image File here: 2014 Buick LaCrosse