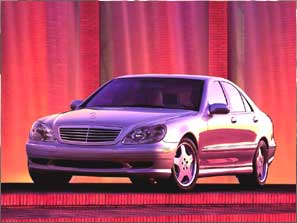 SAN FRANCISCO: Okay all you Dot.Com tycoons. Have I got a car for you. Of course, you probably wouldn't consider the 2000 Mercedes-Benz S500. Too old money. Oh what a mistake that would be. Maybe in years gone by Mercedes was the vehicle of choice for the older, more conservative, monied people. But I'm here to tell you that the 2000 S500 is a way too much fun car to relegate it just to the gray beards.
I didn't used to be a Mercedes fan, but cars like the C43 and E55 AMG hot rods changed my mind. Performance does not have to be crude I found out. Then I drove the S500 and decided that if this is luxury, I want it. I was set to be disappointed when I got the S500. I had just gotten out of an E55, and thought that after the rush of its 349 horsepower engine nothing could excite me again. Oh was I wrong. The S500 was as exciting as the E55 but in a different way. The S500 has maybe 8/10s of the E55's moves and about twice the luxury.
Take a look at the outside. First you'll see the flawless Espresso Paint. Then there is the traditional Mercedes perfect fit and finish. But look at the whole car - is that a hint of mischievousness you see when you look at the front? Maybe just a little prankster in a tailored suit?
Then open the driver's door and slide in. Wait a minute, this can't be a Mercedes. It isn't severe. Teutonic luxury used to mean built to last forever and it looked that way. But the S500 is luxurious in a different way, more like an English car. The seats are upholstered in a light brown Nappa leather, a leather that is soft and supple. The instrument panel, steering wheel, and other interior pieces are trimmed in natural elm and more Nappa leather, this time a Charcoal color. The front seats have 14 power adjustments. The steering wheel is power adjustable for up, down, in, and out. In front, with the rear seats moved fully back, the S500 will probably accommodate an NBA star, so there's more than enough leg room for a six footer.
Just to give you an idea of the luxury appointments in the S500, here's a rundown of the standard equipment: automatic climate control with charcoal filter to keep out that annoying pollen, heated front seats, Bose premium sound system, Command Navigation system, built in cellular phone, glass sunroof, automatic headlamps with Twilight Sensor, and integrated garage door openers. And that's just the standard stuff on the inside.
I've got to tell you about the navigational system. Normally I'm not a big fan of these things but this one really worked. My wife and I had gone for a drive to a town about 50 miles from home. My wife decided she wanted some ice cream (okay, so I wanted some too). I remembered a place somewhat near to where we were, but had no idea how to get there. So I pulled over, programmed in the name of the town we wanted to go to and there it was, turn-by-turn directions. Then, after our ice cream fix, I tried to play a trick on the system. I programmed in another destination and purposely made a wrong turn. What do you think it did? It simply recalculated our position and directed us back to the planned route. Neat. No more asking your wife to ask for directions.
If there was any disappointment with the S500 it was the suspension. Don't ask me why but Mercedes installed a driver adjustable suspension. Set on full stiff and it was too stiff. Set on soft and it was almost wallowly. Half way was the best compromise but there should be no compromise in a car of this class.
There is no compromise to the S500's engine. The 5-liter, SOHC, 3 valve, V8 makes 302 horsepower. Coupled with the 5-speed automatic transmission the engine moves the S500 down the road at a performance car pace (0 - 60 mph in 6.1 seconds according to Mercedes) yet it can be smooth and regal if you prefer. Fuel economy can be pretty decent for a car this size (4,133 lbs. and almost 17' long) with a rating of 23 mpg on the highway and 16 city.
Okay, so the S500 isn't cheap. The base price is $77,850. The designo Espresso Edition costs another $8,500. Then add in an electrically adjustable rear seats ($1,750), heated rear seats ($595), electric rear sunshade (kind of neat as a privacy shade) ($495), integrated CD changer and cellular phone ($1,620), "Climate Comfort front seats" (not only are they heated but each seat has its own fans to circulate air through the hundreds of tiny little perforations to keep your backside from getting all clammy) ($1,940), gas guzzler tax $1,000), and the prerequisite destination and delivery charge ($595) and you get a grand total of $94,345. So budget a little over $100,000.00 out the door with tax & license. Just Nickels & Dimes to your average Under-Thirty Dot.Com CEO in today's world.
Not that long ago I would have said any car that cost over a 100 Grand was outrageous. Now I find myself thinking, "but this is nice." By Bruck Hotchkiss © AutoWire.Net - San Francisco

Byline: By Bruce Hotchkiss © AutoWire.Net - San Francisco
Column Name: "Nickels & Dimes to your average Under-Thirty Dot.Com CEO"
Topic: 2000 S500 Mercedes-Benz designo Espresso Edition
Word Count: 892
Photo Caption: 2000 S500 Mercedes-Benz
Photo Credits: Mercedes-Benz Media
Series #: 2000 - 20
Download the Microsoft Word version here: 2000 S500 Mercedes-Benz
Download the original image file here: 2000 S500 Mercedes-Benz 10k