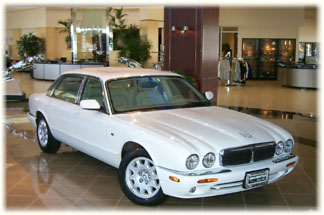 SAN FRANCISCO: Most cars will draw immediate reactions when you say their names. Mention Dodge Viper and you think raw power. Say Corvette and you see performance. Mercedes is all about amenities and frills, and dependability attaches itself to Ford trucks.
But when I think of Jaguar – pronounced JAG-you-are – I see Old World luxury and an unforgettable night at the beach. I see Kings and Queens. I see smooth, sleek designs that mirror the feline predator for which it's named.
The Jaguar cat is an American cat, but Jaguar the car is all European. Despite the takeover by Ford, the Jaguar models continue to provoke visions of refinement and breeding. I rode around with my nose up in the air for a week behind the wheel of a 2000 Jaguar XJ8L, ignoring the commoners as I passed them all in their Chevy's, Fords and Chryslers.
The XJ sedan has been around for many years, and Jaguar redesigned the XJ8 about five years ago. This year, Jaguar has focused on its S-Type debut, so only a few minor refinements appear on the 2000 XJ8.
Jaguar added a new all-speed traction control, automatic rain-sensing wipers, rear child-seat straps for the pampered scions, brake system upgrades, new color options, seven-spoke wheels and a seat-sewing pattern that makes this palatial automobile even grander.
Jaguar offers four models in the XJ lineup – XJ8, XJR, XJ8L and the Vanden Plas. The XJ8 and XJ8L are powered by the silky 4-liter V8 that puts out 290 horsepower. Combined with Jag's smooth-shifting five-speed automatic, XJ8 drivers are in for an effortless cruise around town.
The XJ8 and XJR are built on Jag's regular wheelbase, and the XJ8L and ultra-luxurious Vanden Plas have been stretched. The L in the XJ8L means long wheelbase, which gives this model more back seat legroom for regal rear passengers. The L model's wheelbase and overall length are about 5 inches longer than the regular XJ sedan. This equates into 6 more inches of legroom in the rear of the XJ8L. That's plenty of room for even the pickiest passengers – and I think you know who you are.
I remember my first experience with Jaguars. It was 1978, and I was living with my brother Neal for the summer. He was selling cars at Checkered Flag in Virginia Beach, tooling around in MGs, Triumphs and Jags. One night he brought home a XJ12, the granddaddy of the XJ models. I was 15, not even old enough to drive, but Neal let me do something that endeared me to him for a long time. Here I was, some punk teen-ager, driving a $60,000 luxury car.
Granted, I only drove it for about 30 feet in the cul-de-sac that led up to a narrow driveway. I could have cruised down the extra 100 yards to our house, but I got scared and let him retake the wheel. I usually don't like to reveal any of my criminal past, but I think the statute of limitations has passed for driving without a license. Besides, it serves as a great lead into my next point about the Jag.
My brief stint behind the wheel of the 1978 Jag allowed me to appreciate the epitome of luxury vehicles. I bragged about that night for years, and I've even shared that story with my wife of two years, Paula. And somewhere in my attic, inside a box of memorabilia, is an emblem of the leaping Jag that appeared on that awesome piece of machinery.
For years cars made by Jaguar has been the subject of bragging young fools. Those cool and wealthy enough to own one typically don't have to brag. Just like the royalty that feels right at home inside one, Jaguar owners can stretch out and relax. They don't need to brag. They're inside a Jag.
Polished wood trim and exquisite leather upholstery offer just a hint of the luxurious feel of the XJ8L's interior. Plush carpeted floor mats make driving barefoot a pleasure – although no one should ever drive a Jag barefoot. That's for old country rednecks. But if you did do that in a Jag, it would be a pleasure.
Power windows, locks and mirrors. Power tilt and telescopic steering wheel with stereo controls. Front and side airbags. Options included heated seats in both front and back and an Alpine 320-watt stereo system. What more could you want? Well, how about some performance. I've already touched on the smooth transmission and powerful engine. The front suspension is fully independent with twin wishbones. In the rear, lower wishbones with drive shafts acting as upper links. Both front and rear have coil springs with telescopic dampers.
Paula is not a big fan of riding-on-air vehicles like the XJ8L. She says it makes her stomach queasy, and that she wants and likes the road feel. But the sensation of driving the new XJ8L is elegant and remarkable. Alas, the cost of luxury is high. With a base price of more than $61,000, the XJ8L with no options is already out of my price range. Add the upgraded stereo and heated seats and you're almost at $64,000.
I guess that's one reason why I still get a kick out of driving a Jag. It's been almost 22 years since I slipped behind the wheel of my first Jaguar. The smell of the leather, the purr of the powerful V12 under the hood, the wide-eyed look of joy, then fear, as I inched my way toward the driveway.
St. Pauli Girl beer always states you'll never forget your first Girl. Well, I've never forgotten my first Jag. That's why every time I see one on the street, or am privileged enough to drive one; I think of Old World luxury and Kings & Queens, and an unforgettable night at the beach. By Eric Eckard © AutoWire.Net - San Francisco

Byline: By Eric Eckard © AutoWire.Net - San Francisco
Column Name: "Old World Luxury for Kings & Queens"
Topic: 2000 Jaguar XJ8L
Word Count: 977
Photo Caption: 2000 Jaguar XJ8
Photo Credits: Jaguar Internet Media
Series #: 2000 - 23
Download the Microsoft Word version here: 2000 Jaguar XJ8L
Download the original image file here: 2000 Jaguar XJ8L 21k