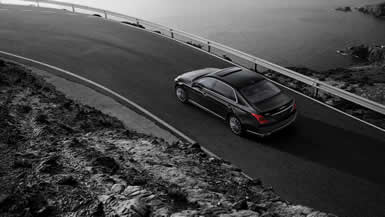 The 2017 Genesis G90 Review: Launching an automotive brand isn't easy. History is littered with the carcasses of automotive companies that tried and failed: Tucker, DeLorean, Bricklin, De Tomaso, and an almost endless list of once-proud brands that couldn't survive in the modern world. Plymouth, Pontiac, Oldsmobile, Saturn and Mercury are just a few of the high-profile automotive lives we've mourned in recent years. This year there's a new brand giving it a shot: Genesis. Just like Toyota spawned Lexus, Honda sired Acura and Nissan created Infiniti, Hyundai has decided to sell its up market cars under the new Genesis banner in 2017. It's starting with two vehicles: the mid-luxury G80, and the subject of this week's review, its flagship, and a spacious Mercedes-fighting luxury car called the Genesis G90.

If Genesis is going to succeed as a brand, it's critical that the G90 set the right tone from the start. After spending a week driving it, I think it's got a long list of high points and a short list of things I'd like to see improved. But first, let's look at something I find fascinating about this car. It's actually not about the vehicle itself, but a customer service philosophy called the "Genesis Experience."

Unlike most luxury cars, which you've actually got to drive yourself to the dealer or garage for service appointments, Genesis offers complimentary valet service for maintenance. Not only is the regular maintenance covered for the first three years or 36,000 miles, but they'll actually send a driver to pick up your car and bring it back for free.

You'll have a Genesis loaner to drive in the meantime. If Genesis can execute on this experience as promised, it figures to be a game-changing way of selling luxury cars. After all, free time is one of the most valuable luxuries in a fast-paced world.

It also drives with the power, precision, smoothness and silence that mark some of the best cars coming out of Japan and Germany today. It's definitely not a cheap car , priced starting around $68,000, but seems like a screaming bargain compared to a new BMW 7-Series at $81,500, an Audi A8 for $82,500) or a Mercedes S-Class starting at $96,600.

Its closest competitor in price is the Lexus LS at around $72,000. But, at least until the all-new, redesigned LS are released this fall, the Genesis is the car I'd much rather be driving. At this moment, the G90 is a more luxurious and sophisticated vehicle than even the Lexus flagship, from my perspective.

I was a bit surprised that Genesis chose to make a V6 the base engine in the G90. With twin turbochargers the 3.3-liter V6 in my tester drove much like a large displacement V8. Turbo lag was almost imperceptible for normal, around-town driving, and its 365 horsepower made the monumental car feel lively.

If you want the power and don't mind the fuel consumption of a real V8, you can get it. The 5.0-liter optional engine makes 420 horsepower for people like myself, we discriminating aficionados of overkill.

Rear visibility isn't that great, but a 360-degree camera system makes that irrelevant in parking lots. And its stunningly quiet, adjustable suspension system is one of the best I've ever driven, reminding me just a bit of the $300,000 Rolls-Royce Ghost that I drove a couple of years ago. Yes, it's that good.

Its interior, though, wouldn't be mistaken for a Rolls. It's very nice, especially for the price, but lacks some of the flashier offerings of its competitors, like a rear-seat entertainment system, a panoramic sunroof and massaging rear seats.

I also wish it had a classier finish to the aluminum trim in the cabin. It reminded me of the silver on an off-brand stereo system, not the expensive but beautiful anodized finish that Apple uses on contemporary computers, for example.

Is that getting too picky? Perhaps. In the big picture, Genesis has created a compelling reason for luxury buyers to give it a chance, particularly if they're looking for the most value for every dollar they spend.

In fact, if I were in the market for this level of car, a Genesis G90 would be at, or near the top, of my shopping list for one reason: three straight years of never having to see the inside of a service shop, even for an oil change.
What was tested? The 2017 Genesis G90 RWD 3.3T Premium model with a base MSRP price of $68,100. Options on the test car: None. Price as tested including the $950 destination charge came to: $69,050
Wheelbase: 124.4 in.
Length: 204.9 in.
Width: 75.4 in.
Height: 58.9 in.
Engine: 3.3-liter twin turbo V6 (365 hp, 376 ft. lbs.)
Transmission: Eight-speed automatic
Fuel economy: 17 city, 24 highway

Why buy it? Quiet, powerful and sophisticated, the G90 sets a compelling tone for the new Genesis brand. Its complimentary valet service as part of the "Genesis Experience" is a huge plus for busy, time-constrained luxury car buyers.
By Derek Price © AutoWire.Net - San Francisco
The 2017 Genesis G90 Review Bottom Line Review provided by: Tony Leopardo © AutoWire.Net

The Bottom Line: The 2017 Genesis G90 makes a serious, weighty statement at the curb. It's a spacious, well-equipped luxury car that sets the tone for the launch of the Genesis brand this year. The Genesis G90 was designed around "human-focused" technology. It's designed to be easy, intuitive and comfortable to operate through a 12.3-inch, high-resolution display. And that's before you even consider the strengths of the vehicle itself, launched as a clear broadside attack on any luxury makers that seem set in their ways. The G90 looks prestigious everywhere it goes. It reminds me in some respects of a Bentley or a big Mercedes S class, with a weighty, serious presence. This roomy, sexy looking, flagship sedan sets the tone for the upscale new Genesis brand. And maybe, just for those reasons alone, you should "Drive one, Buy one, Today ©".
This Bottom Line Review is provided by: Tony Leopardo © AutoWire.Net
"Tony the Car Guy" is an automotive writer, editor and publisher in the San Francisco Bay Area. If you have a question or comment for Tony send it to TonyLeo@pacbell.net or visit AutoWire.Net at www.autowire.net - And remember: "You Are What You Drive ©"

Column Name: G90 Offers Luxury Experience
Topic: The 2017 Genesis G90
Word Count: 1,096
Photo Caption: The 2017 Genesis G90
Photo Credits: Genesis Internet Media
Series #: 2017 - 01
Download the Microsoft Word version here: 2017 Genesis G90
Download the Original Image File here: 2017 Genesis G90