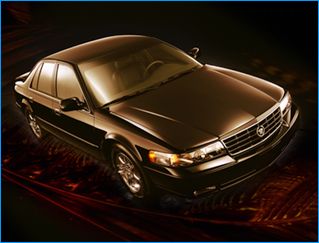 SAN FRANCISCO: The 2000 Cadillac Seville is a fine example of Cadillac's core marketing philosophy - which centers on positively impacting the "global prestige luxury sedan" segment. Cars like Mercedes-Benz, Lexus, BMW, Jaguar, Acura and Infinity all compete here for market share, even though the "world prestige" taxonomy is at times difficult to define. Nevertheless, the major players look at this "prestige" class very seriously, and worldwide success is a tribute to both manufacturer and employees.
Cadillac's Seville for 2000 receives significant vehicle and system enhancements to keep it "world" competitive while still attracting consumers statewide. AutoWire.Net feels Cadillac has done its homework in all areas, and its strict autonomy from other GM brands continues to allow the marquee to be one of the most exciting brands on the road today.
Under the hood the 2000 Seville features its nucleus 4.6-liter, 32-valve V8 Northstar engine/driveline system. A revamp for 2000 finds lower emissions, quieter operation and improved fuel economy numbers (17 city and 28 highway). Most important, Cadillac engineers have lowered the compression ratio a bit to allow running on regular fuel. Virtually all components of the engine have been changed or tweaked, including pistons, valves, connecting rods, cylinder heads and cams. The STS, which we drove for a week, comes with a 300-horsepower design Northstar, while the SLS arrives at dealers in a slightly detuned 275-horse version.
Safety wise, Seville continues to set industry standards, much like Mercedes-Benz. The 2000 Seville features a first-of-its-kind passenger side frontal air bag system with sensors that are intended to keep the air bag from deploying if a small child occupies the front passenger seat, or if the seat is not occupied.
We especially like this option, as children have fallen prey to powerful airbag deployment in the past. Safety benefits to children are not realized with dual-stage or multi-stage inflation systems, which deploy with varying degrees of force depending upon the size of the passenger and the severity of the crash. For ease of mind, a display tells the driver if the air bag system is activated or not. (Cadillac still recommends the back seat as the safest place for children. However, customer research studied by Cadillac indicates that people want - when absolutely necessary - the ability to properly restrain children in the front seat.)
An advanced navigation system, produced by GM company spin-off Delphi Automotive, is an available option for 2000. A five-inch color display screen, centrally located in the instrument panel, is integrated into a Bose 4.0 music system with touch screen controls. The CD-ROM based system offers turn-by-turn or map assistance while traveling. It can also speak five languages. Several times during the week while transporting 10-year old baseball players to practice, the kids figured out how to work the navigation system, much to the delight of all in the cockpit.
This is a worthy option, and recommended by AutoWire.Net. (Guys: You'll never, ever, have to stop for directions again-which we hate to do anyway! Girls: This option will could well save you from countless arguments with the stubborn and often lost, male driver!) Seville also offers a simplified, integrated three-button OnStar communications system that allows drivers to benefit from all of OnStar's safety, security, and convenience features without the need of a handset.
Seville's styling is sporty yet sophisticated. Cadillac designers refer to Seville's powerful appearance as "controlled sculpting." The exterior design is forward thinking, providing a cleaner, more aerodynamic interpretation of the hard-hitting look of the 1992-97 models. For 2000, Seville's offers two new exterior colors: Midnight Blue and Bronzemist. (Our test model was absolutely beautiful in Crimson Pearl with Shale interior.)
Seville's interior sets a new standard for opulence and function. Independent third party testing found the usability in Seville's cockpit better than the usual leader in this area, the Lexus LS400. All of Seville's controls are purposefully placed, with the controls that are most frequently used closest to the driver. Supple leather is a no-cost feature in four interior colors of Shale, Black, Wheat and Pewter.
Adaptive seating remains a Seville exclusive technology, available as an option on SLS and STS for driver and front seat passenger. Initially used in hospital burn units, adaptive seating technology automatically recognizes occupant position and adjusts the seat's support to "custom fit" every individual. The technology uses a network of 10 air cells, located between the leather upholstery and foam in the seat cushion and back. Sensors then measure internal pressure and supply information to a control module, which compares the measurements to an optimal pressure pattern stored in its memory. If a discrepancy exists, pressure inside the air cells is adjusted.
Few cars in the world can match Seville's overall road manners, and that includes all of those "world class prestige" models we spoke of earlier. With its unique StabiliTrak 2.0 "driver sensor" system, this car is more
than capable on any road in the world. StabiliTrak actually corrects driver mistakes by a complex computer sensor system, all of which, due to space restraints in this column can be explained at Cadillac dealers. The comfort level is all-Cadillac, although Seville differs from DeVille in overall road adhesion. Seville is a bit firmer and more nimble than its larger brother, which is expected. In summary, Seville offers a top notch driving experience that AutoWire.Net has lauded many times before.
Seville for 2000 is a world-class GM technological wonder. And the price reflects its position where a delivered retail of $55,952 MSRP is listed on the window. Still, the Cadillac Seville is a better buy than most of the competition, which equates to merit of ownership. The new 2000 Seville is awaiting Prestige Consumers at Cadillac dealers everywhere and is listed as an AutoWire.Net Best Buy in the Luxury Performance Class. By Greg Zyla © AutoWire.Net - San Francisco

Byline: By Greg Zyla © AutoWire.Net - San Francisco
Column Name: "Improvements Keep Seville Viable In Global Market"
Topic: 2000 Cadillac Seville STS
Word Count: 969
Photo Caption: 2000 Cadillac Seville STS
Photo Credits: Cadillac Internet Media
Series #: 2000 - 26
Download the Microsoft Word version here: 2000 Cadillac Seville STS
Download the original image file here: 2000 Cadillac Seville STS 16k