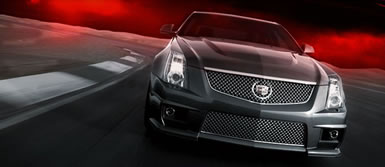 Cadillac CTS Review: I'll never forget the first time I drove a Cadillac CTS. The car had just been introduced and General Motors had a lot riding on its success to help turn around the struggling luxury brand. At the time Cadillac was a marque that desperately needed a shot of adrenaline, because it primarily made boring land yachts for old people.
But the first CTS was different. It was exciting. It had rear-wheel drive.
It had a captivating, thoroughly modern body. It drove like a true sports sedan. It was an amazing car that got everything right except for one glaring exception: the interior was absolutely terrible.
Here was a world-class car with an interior made from materials that would look repulsive on the Wal-Mart clearance aisle, all black and cheap like a low-budget Bat Man movie. At the time, I called the cabin a "plastic cave of death."
Fast forward to today, and Oh My Gosh, things have changed. While the CTS still has a world-class driving feel, the interior today is stunning. Simply stunning. Like the best Audis and newest Jaguars, it has a cabin that feels ridiculously opulent in its execution.
There's contrasting color stitching on the soft dash, huge swaths of rich wood that make it look like an old English gentleman's club, soft lighting that subtly warms up the space, and tiny, precisely assembled bits of chrome that give it a modern zing.
This is how all luxury car cabins should feel, and it's a great example of how much General Motorís products have improved in just a few years.
The newest CTS is a car that makes you want to spend a lot of time with it, so that's exactly what I did on a quick road trip to the mountains. On the interstate the CTS feels much more expensive than it actually is (it starts at just $36,560) thanks to features like air-conditioned leather seats that keep your backside cool, a hard drive that can store hours of music, and a navigation system that's both easy to use and packed with features.
Better yet, it's a luxury car that's actually fun to drive. It hugged the mountain roads like the best European and Japanese sports sedans, hunkering down on hairpins and accelerating with the kind of refined muscle you'd expect in a super high-end luxury car, much less this entry-luxury Caddy.
A 3.6-liter V6 engine thatís available with or without direct injection, which improves throttle response, power and efficiency, powers the regular CTS. The direct-injected CTS, which makes 304 horsepower, starts at $38,860. If you want the ultra-performance CTS-V, which is really a totally different Corvette-V8-powered beast, you'll have to pay $60,700 for its 556-horsepower bragging rights.
Standard features in all CTS versions include dual-zone automatic climate control, a great eight-speaker Bose stereo, keyless entry, OnStar, and XM Satellite Radio. Some notable options include the cooled seats, navigation system, remote starter, Bluetooth phone connection, and rear parking assist.
Like the president's limo, the Cadillac CTS has a squared-off shape that looks luxurious and sporty at the same time. It's a look that's aging well as the CTS matures. The CTS' interior shows off what General Motors is capable of doing. It has a rich, opulent look like a top-of-the-line European luxury sedan, but it starts at a more reasonable price.
What was tested? The 2009 Cadillac CTS Direct Injection with a base price of $38,860. Options on the test car: Upgraded paint at $1,295, premium options collection for $10,050. The total MSRP price as tested including the $825 destination charge is $50,205.
Why avoid it? Wide pillars behind the back doors hamper your vision when you're backing up.
Why buy it? It's attainable luxury. The CTS drives with the excitement of a more expensive sports sedan and has a cabin that can compete with the best in the world.
Bottom Line: No matter which CTS you pick, you'll be driving proof that Cadillac, and General Motors, can build cars that compete with the very best carmakers in the world.
By Derek Price © AutoWire.Net - San Francisco
Cadillac CTS Review provided by Tony Leopardo © AutoWire.Net

Column Name: CTS aims for 'Standard of the World'
Topic: 2009 Cadillac CTS
Word Count: 742
Photo Caption: 2009 Cadillac CTS
Photo Credits: Cadillac CTS Internet Media
Series #: 2009 - 43
Download the Microsoft Word version here: 2009 Cadillac CTS
Download the Original Image File here: 2009 Cadillac CTS