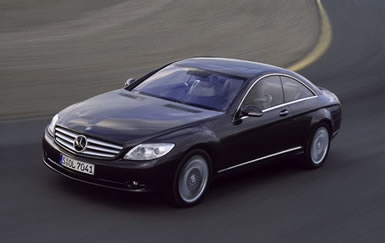 Luxury Car Review: While a bit shy of, say, an unobtainable Rolls-Royce or Bentley, the CL550 represents the finest Mercedes money can buy, and it will take plenty of cash to bring it home too.
I normally mention price at the end of a story, but here it is now, the MSRP price was $118,665, including a few options from the base price of "only" $103,100. With that over with, let's consider what you get for that sizeable sum.
Most noticeable is the sheer beauty and presence of the car. Based on the large S-Class sedan platform, the CL is a pillarless coupe, a rarity these days.
The themes of recent Mercedes products are especially nicely blended here. The side panels swell boldly around the wheelwells, and a deep crease rises from the trailing edge of the front wheelwell and sails over the rear, culminating in a front-leaning taillamp lens. The sharp angle of roofline to rear deck and turned up headlamps all contribute to a vigorous, sporty look.
Inside, you'll find every luxury you can imagine. A stunning blend of traditional leather and wood and top quality plastics swirl about you in athletic motion. The wood-covered central console puffs out its chest proudly. Buttons for many features have a high-quality metallic touch. The small central analog clock looks like one of those stratospherically priced watches that hide in glass cases at upscale jewelers. The cognac and black leather on my 14-way adjustable heated seats was about as fine as you could want.
And Oh those seats. Mine had a lumbar support that "breathed," meaning it deflated and re-inflated twice a minute. This is designed to keep your back from staying in the same position for too long and becoming fatigued. If you really need some attention however, the seats offered a four-way massage system! You could select a combination of slow or fast or gentle and vigorous.
Mercedes uses the COMAND System (Cockpit Management and Data System) to let you control various features of the car, including the navigation, audio, telephone and vehicle systems. It's a matter of turning and clicking, much like using a computer mouse. Engineers carefully tested human response, not just computer functionality, to make this a natural, easy task. COMAND becomes fairly comfortable after a few days of fooling with it, and the solid aluminum controller feels good in your hand.
My Pewter CL550 featured the standard 5.5-liter twin-turbocharged V8 engine. With 382 horsepower and 391 lb.-ft. of torque on tap through a seven-speed adaptable automatic transmission, the 4,486-pound car dashes from 0-60 in just 5.4 seconds. The automatic features adaptive shift logic, it conforms to your driving style, and touch shift for near instant manual gear changes if you so desire.
Fuel economy numbers aren't too bad either considering the 14 City and 21 Highway MPG ratings. The price tag reflects a $1,000 gas guzzler tax too and I averaged a 19.4 mpg. The EPA gives the CL550 a pretty decent 7 out of 10 for Air Pollution and an unsurprising 4 on the Greenhouse Gas rating.
The car has a "leave-it-in-your-pocket" style key, and when you turn off the "Start" button to leave, a message displays on the instrument panel warning to "Don't forget your key." I was able to dial up live traffic reports that displayed on the large display screen, which also showed musical selections and a range of other information. I discovered Mozart's Symphony #29 and it seemed to fit the mood precisely.
When you put the car in reverse, it automatically displays a rear view on the screen, thanks to a camera. Night View Assist uses infrared beams to let you know what's ahead in the dark. These two features are part of the optional Premium II package. And the instrument panel itself is abuzz with quick reference information. There is an odd sense of being on the road and online at the same time. All the time, of course, I was exquisitely comfortable and serene.
Safety has been part of Mercedes-Benz's efforts for many years, but this car seems to contain everything they've ever invented. If I approached too near to the car in front of me, The CL could flash a light and automatically use the brakes. If the PRE-SAFE system thinks a crash might be coming, your seatbelts automatically tighten up and the driver's seat moves back to make more room just in case.
The Distronic Plus cruise control system lets you keep a preset distance between you and the car in front of you and automatically brakes and accelerates to keep that distance consistent. It uses two different radar frequencies to pull this off. It works eerily well.
For all its complexity, the CL550 is a pleasant traveling companion. My son nearly cried when I had to return it. Some weeks are simply better than others, I explained.
By Steve Schaefer © AutoWire.Net - San Francisco
Byline: Luxury Car Review provided by Tony Leopardo © AutoWire.Net

Column Name: The CL550 represents the finest Mercedes money can buy
Topic: The 2008 Mercedes-Benz CL550
Word Count: 885
Photo Caption: The 2008 Mercedes-Benz CL550
Photo Credits: Mercedes-Benz CL Internet Media
Series #: 2008 - 57
Download the Microsoft Word version here: 2008 Mercedes-Benz CL550
Download the Original Image File here: 2008 Mercedes-Benz CL550