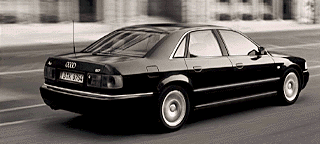 SAN FRANCISCO: Audi's flagship models show that big ultra-luxury sedans can be fun to drive. Even though they weigh in at over two tons and are longer than a Chevrolet Tahoe, they feel as nimble as the best of today's smaller sports sedans. As expected from vehicles in the lofty class, they are filled with the latest in electronic and safety technology.
There are the three members of Audi's top series - the A8 introduced in the U.S. for 1997 with rave reviews, the A8 L introduced in 2000 and the even better performing S8 that was new for 2001. The L is for long wheelbase with five inches added to give the rear passengers more legroom and a bit more headroom. The longer rear doors recognize the A8 L. Audi rightly believed that a long wheelbase model was needed to compete with long-wheelbase models offered by Mercedes-Benz, BMW and Jaguar.
These Audis are unique with an all-aluminum body and subframe. While this makes the Audis the lightest car in their class, most body shops cannot remove dents or dings let alone do major crash repairs. Therefore, Audi has set up dedicated facilities around the country to make proper repairs, which will not be inexpensive.
Both the A8 and A8 L are powered by a sophisticated and very capable 4.2 liter V8 featuring dual-overhead-camshafts and five-valves-per-cylinder. The engine produces 310 horsepower at 6200 rpm and 302 lb-ft of torque at 3000. While these numbers mean breathtaking performance, 0-60 mph in 6.8 seconds, those who want even more output can order the S8 with 360 horsepower at 7,000 rpm and 317 lb-ft at 3400 rpm. Modifications for the S8 include revised camshafts and a two-stage variable intake manifold.
Now all versions use Audi's outstanding Quattro all-wheel-drive system that is in its fourth iteration. The five-speed Tiptronic automatic transmission lets you shift gears without a clutch to eke out maximum performance. Shifting can be done with controls located on the steering wheel along with buttons for audio system and hands-free cell phone. The EPA numbers for the A8 are 17 mph city and 25 mph highway; good enough that the A8s do not carry a gas-guzzler tax, but the S8 comes with a $1700 surcharge. The 24-gallon fuel tank means greater long distance cruising.
The Audis have no less than eight air bags – regular dual air bags up front, four side airbags for occupants of both the front and rear seats and new Sideguard head airbags along the full length of the interior on both sides. The Sideguard airbags deploy from the headliner over the side window area.
Since the best safety feature is to avoid an accident in the first place, like others in its class, the Audis have Electronic Stabilization Program, or ESP. This system senses the vehicle behavior in response to driver inputs, and then uses this information to control the antilock brakes and the Quattro AWD to prevent loss of control no matter how aggressive the maneuver. To handle the additional performance, the S8 has brakes with four-piston aluminum Brembo calipers on vented discs, a stiffer and lowered sports suspension, and 18-inch alloy wheels shod with 245/45 ZR high performance tires.
As expected these top line Audis have a very long list of standard equipment with even more luxury, convenience and electronic items available as options. These include 14-way power front seats, dual zone air conditioning, driver information system, 200-watt Bose stereo system with both single-play and six-disc CD changer, and keyless remote entry that includes control of seat positioning. A moon roof is standard on all models, but you can get an optional sunroof with solar panels on the A8 L powering a fan to ventilate while parked. An $850 option package includes heated front and rear seats, power rear window shade and manual side shades, heated steering wheel, and the brightest Xenon
headlights I have ever used. Standard tires on the A8 are P225/60HR16 with P225/55HR17 and P245/45ZR18 available.
An on-board navigation system is standard on the A8 L, but is part of a $1980 option package on the A8 and S8 that includes a front and rear acoustic parking system. The later feature sonar transponders in the bumpers to warn you when getting to close to obstacles. I was a bit disappointed with the navigation system that does not include a map display, just a small display located between the tachometer and speedometer, plus audio instructions. I also found the controls located between in the center console a bit hard to use.
All this adds up to an outstanding package that does everything well including very precise steering and competent brakes. The ride is extremely quiet and smooth, but not quite as taut as other German cars. In other words, it's just right. Power comes on so smoothly you don't notice how rapidly you are accelerating or your terminal speed. Capable of exceeding most speed limits in the U.S. by over 100%, the Audi A8 L I tested was powerful and extremely stable.
Naturally, the interior is elegant, if a bit understated with appropriate amounts of fine leather, rich walnut and brushed aluminum. As might be expected with all the electronic gadgetry on-board, the controls are a bit overwhelming initially. I had to pull out the instruction book a couple of times. After a few trips, they become familiar and easy to use.
The A8 is priced at $62,775, the A8 L at $68,475 and the S8 at $73,075. A new four year basic warranty will help a bit year for those that trade-in their cars at the three-year point. These three flagship models represent the best of what Audi offers in a luxury motorcar. By Bill Siuru © AutoWire.Net - San Francisco

Byline: Syndicated content provided by Tony Leopardo © AutoWire.Net
Column Name: "Audi's Trio of Flagship Models"
Topic: 2001 Audi A8, A8L, and S8
Word Count: 1015
Photo Caption: 2001 Audi A8
Photo Credits: Audi Internet Media
Series #: 2001 - 30
Download the Microsoft Word version here: 2001 Audi A8
Download the original image file here: 2001 Audi A8 23k