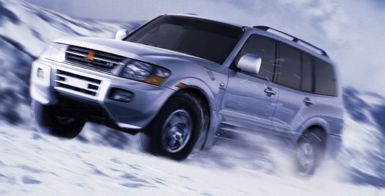 SAN FRANCISCO: Mitsubishi's third-generation Montero SUV is all new from stem to stern. For starters, unit-body construction has replaced the previous body on separate frame construction, which according to Mitsubishi has increased torsional rigidity three-fold.
The new Montero is over two-inches longer, 1.7 inches shorter and four-inches wider for a much sleeker and less utilitarian profile, while providing a more spacious interior.
Underneath, there is a new fully independent suspension system and rack and pinion steering that contributes to its almost luxury car-like handing and ride qualities, while still remaining the ability to go off-road when required. While the styling is all new for 2001, it is not a radical departure from the previous edition.
Monteros come in two trim levels, XLS and Limited. Since Monteros are truly luxury SUVs, the XLS is definitely not a "base" model with such features as keyless security system, AM/FM/CD, power everything, cruise control, side air bags in front, rear privacy glass, and four-wheel anti-block brakes standard. About the only major option on the XLC model is a large moonroof that comes in a package with the limited slip rear axle. Standard equipment on the Limited include quality leather upholstery, wood grain trim, heated front seats, 10-way powered drivers seat, upgraded sound system, heated mirrors, moonroof and a trip computer with an LCD screen. The only major option on the Limited model is a fully automatic climate control system with separate rear heating and air conditioning controls.
Only one engine is offered in the Montero, which is a 3.5-liter V6 with a single-overhead-camshaft (SOHC) and 24-valves. The engine is rated at 200-horsepower at 5000 rpm and 235 ft-lb of torque at 3,000 rpm. There are two automatic transmissions. The XLS uses an improved version of the previously used automatic with shift-on-the-fly four-wheel-drive capability. The Limited gets an all new Sportronic, five-speed automatic transmission that allows manual shifting that is probably best appreciated off-road.
The Limited also has Active Trac, which can be used in rear two-wheel drive for maximum economy, high- and low-range four-wheel-drive for off-road duty and full-time all-wheel-drive under slippery road conditions. The EPA numbers are 14 mpg city/17 mpg highway for the XLS and 13 mpg city/18 mpg highway for the Limited. The fuel tank holds 23.8 gallons. Properly equipped, the Montero can tow up to 5,000 pounds.
The Montero offers lots of greatly appreciated features like not one, but two ample glove boxes, three 12-volt power outlets, and a full-size spare tire mounted on the rear door, which swings to the left to open. The toolbox mounted on the door's interior is comprehensive enough to do serious maintenance and the tools look like they are of the quality found in vintage XK Jaguars. It also features a nifty factory flashlight. The outside rearview mirrors deserve a special note. The huge mirrors, especially in the vertical direction, are the best I have seen on any vehicle I have ever tested.
The new multi-mode ABS provides the typical anti-lock service on pavement without compromising braking while off-roading. Brake feel is very good with a nice pedal feel. Likewise the steering is very precise with good overall road feel. The turn radius is small, by large SUV standards, which makes for easy maneuvering both in city driving and when off-roading. On the highway, you get the impression you are in a luxury sedan rather an off-road capable SUV. The quality of materials, as well as fit and finish, are first rate.
There is substantially more room inside this SUV compared to the second-generation Montero. This Montero is advertised as a 7-passenger vehicle with the extra room for two sitting on a third-row seat. This seat is stored neatly in the flat floor to allow for carrying more cargo. However, because of almost zero legroom, these two seats are best for small children
All in all, I have a lot of praise for this new 2001 Montero model. Prices for the XLS are $29,014 and only $31, 817 for the Limited, representing a great value when you're looking for a luxury SUV. By Bill Siuru and Andrea Stewart © AutoWire.Net - San Francisco

Byline: By Bill Siuru and Andrea Stewart © AutoWire.Net - San Francisco
Column Name: "All Mitsubishi Monteros are truly luxury SUVs"
Topic: 2001 Mitsubishi Montero SUVs
Word Count: 750
Photo Caption: 2001 Mitsubishi Montero SUV
Photo Credits: Mitsubishi Montero SUV
Series #: 2000 - 51
Download the Microsoft Word version here: 2001 Mitsubishi Montero SUV
Download the original image file here: 2001 Mitsubishi Montero SUV 32k