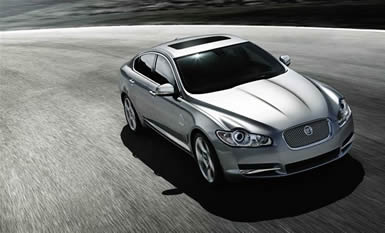 Jaguar Review: The XF breathes new life into Jaguar. With Jaguar's all-new XF sedan it offers classic luxury with modern style. Its simple, understated elegance on the outside, contrasts with extravagance in the cabin.
All-new sedan puts a modern twist on Jag's tradition. The Jaguar XF has one of the most finely crafted interiors in the world. It also offers a lot of drama when the car starts up, with electric motors that open up the vent covers and a rotary gear shift knob that rises up from the center console.
Climb into an XJ, and it's like you're sitting in an old English gentleman's club, complete with tufted leather and acres of wood paneling. Jaguar has always relied on nostalgia. All it lacks is a cigar, a smoking jacket and a Labrador.
But this Jag, the all-new XF, isn't like that at all. It's not a British pub, or the Globe Theatre, or even Westminster Cathedral. No, the XF is an exclusive London nightclub that's the hottest place to be, with flashing lights and throbbing electronica. It's downright cool.
It's a strange turn for Jaguar, but also a positive one, a change you'll notice from the first time you set your eyes on its sensuous body. It definitely looks like a Jag should, with muscular haunches and a snarling mouth, but it's also not sopping in a puddle of retro like some other Jaguar designs. It actually looks modern.
The styling doesn't scream for attention. It's more of a tasteful, subtle kind of elegance that you appreciate more as you look at it, especially the back end. The front is pretty enough, with a sculpted hood and slightly aggressive flares, but the rear is absolutely stunning.
And if you think the body is pretty, just wait 'til you get inside.
The XF has, hands down, the very best, most opulent interior in its class. Audi has been known for making the most perfectly crafted luxury car interiors in recent years, but this new Jaguar leaps ahead.
First of all, there's fine leather everywhere, on the doors, on the seats, on trim pieces, and even covering the entire dashboard. It's all carefully stitched and pulled taut for a smooth, finely tailored look. It's like driving a Louis Vuitton handbag.
But beyond that, the level of precision is simply astounding. Where Audi would outline the wood trim with almost microscopic strips of chrome, Jaguar does the same thing but adds a little light-up strip beside it. It's so small you don't even notice it in the daytime, but at night it lights up like a Star Trek prop. It's remarkable.
The cabin also uses quite a bit of theater. The engine start button lights up like a heartbeat when you get in the car. Then the air conditioning vents motor open, and a rotary gear selector lifts up from the center console for a dramatic start. It's like the car is coming alive.
You can also find drama under the hood. With a 4.2-liter V8 engine that makes 300 horsepower, the XF has the kind of smooth, freight-train power you expect in a great luxury car.
The XF feels in many ways like a big, heavy car, but once the engine revs up, it pushes the car around like it's a featherweight. It's a car that transitions exceptionally well between two extremes of driving: zippy and responsive when you're pushing it, and perfectly buttery when you prefer gentle cruising.
Even the price isn't bad. It replaces the worn-out S-Type in Jaguar's lineup, so it starts around $50,000, or $15,000 less than the flagship XJ. In some ways, though, the XF seems like a far better car than the XJ, making it look like a total bargain in comparison.
What was tested? The 2009 Jaguar XF Premium Luxury with a base price of $55,200. Options on the test car: Sound system upgrade $1,875, advanced vision pack $1,000. Total MSRP price as tested including the $310 destination charge: $58,385.
Why avoid it? Jaguar has a history of poor resale value.
Why buy it? It's one of the world's truly great luxury cars, in many ways even better than the Jaguar XJ flagship. It drives perfectly, looks beautiful and offers lots of drama in the cabin.
Bottom Line: The bottom line is this: Any car can have a luxury badge and luxury features. But only the very greatest cars offer a true, unforgettable, jaw-dropping luxury experience when you get inside. This Jaguar XF is one of those few, very few, special cars.
By Derek Price © AutoWire.Net - San Francisco
Byline: Jaguar Review provided by Tony Leopardo © AutoWire.Net

Column Name: The XF breathes new life into Jaguar
Topic: The 2009 Jaguar XF Premium Luxury
Word Count: 831
Photo Caption: The 2009 Jaguar XF Premium Luxury
Photo Credits: Jaguar XF Internet Media
Series #: 2009 - 19
Download the Microsoft Word version here: 2009 Jaguar XF
Download the Original Image File here: 2009 Jaguar XF