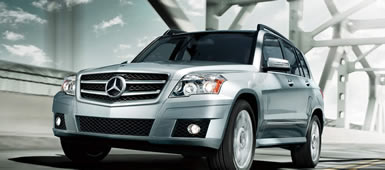 2010 Mercedes-Benz GLK350 Review: In case you haven't been paying attention, Mercedes-Benz offers a remarkable range of vehicles these days. There's the relatively modest C Class sedan all the way up to the stately, yet invigorating, S Class sedan.
And how about that R Class, um, multi-person transportation module (minivan?). Bordering the brand are the Smart microcar and the Maybach super luxury cruiser.
Then there are the SUVs. The GLK is the latest weapon in Mercedes' multi prong attack on the segment. This new car enters below the American-built, midsize M Class, full size GL Class and paramilitary G Class. It gives Mercedes a weapon against BMW's X3, Audi Q5, and various Japanese luxury brand offerings.
You can detect inspiration from the GL in its general shape, with a touch of ancestral boxiness from the G Class. There's also a little Jeep in there, perhaps from the brand's years of association with now divorced Chrysler.
Although the GLK is meant for on-road use by regular folks in civilized places, it attended the corporate equivalent of automotive boot camp. Fire and ice testing takes sample units to the heat of the Namibian desert and the frigid Arctic Circle to see if the company can break the car before you ever see it. As a program graduate, the GLK is the Navy Seal of compact SUVs.
But it's a luxury vehicle too. Inside, the seats are firm and supportive, putting you in an alert, upright position. The interior, while as angular as the body, still features burl walnut trim, wade swaths of brushed metallic trim garnished with a chrome strip, and the usual range of comfort and convenience features you'd expect.
There's dual-zone automatic climate controls, a trip computer, and power windows, locks and mirrors. You get cruise control, a leather-wrapped steering wheel with audio controls, and a Bluetooth interface for your phone.
The goal is to offer "Mercedesness" at a reasonable price point and responsible size. As part of that mission, the GLK uses a 3.5-liter V6 that gets 16 mpg City, 21 mpg Highway. My Steel Gray test car averaged, over a multi-journalist logged 3,313 miles, 19.1 mpg, better than many other all-wheel-drive models.
The 268-horsepower V6, which runs through a seven-speed automatic, can pull the car from zero to 60 in about 6.5 seconds and tops out at 143 mph (I didn't test this latter figure myself).
You can push a button to change the automatic's shift patterns. Selecting S (sport) sensitizes accelerator pedal response and moves the shift points for more exciting driving. The C (comfort) setting yields better fuel economy. The automatic has a San Francisco-friendly hill-holder setting.
There are lots of high tech features that distinguish the GLK from ordinary compact SUVs. The Agility Control suspension provides "amplitude-responsive damping" that changes depending on driving conditions. It keeps the suspension nice and comfortable under normal driving, but tightens it up for brisker driving or under evasive maneuvering, for example when you discover a tree in the road as you round the bend.
Adaptive braking varies stopping response depending on circumstances, and initiates faster than an unassisted drive could. Antilock braking works with Acceleration Skid Control to help you avoid trouble.
Based on Mercedes' more than 60 years of research, testing and simulations, the ARAMIS system customizes the car's crash response depending on severity. Front and rear crush zones absorb impact while a strong passenger cell prevents intrusion. A careful collection of airbags steps in to cushion the blow. And I thought Aramis was a cologne.
Despite being well equipped out the gate, you can add a lot more to a GLK, and my tester flaunted nearly $10,000 worth. These included everything from the Tele Aid emergency system, heated front seats (why is this $740 extra?), and the Premium and Multimedia Packages.
The Premium Package adds things like memory for multiple drivers' seat, mirror and steering column settings, autodimming exterior mirrors, a panoramic sunroof, and Sirius satellite radio. The Multimedia package brings in a superb Harman/Kardon audio system, rearview camera, and voice control for the telephone, radio and navigation applications, among other things.
All of this bonus equipment drove the car's $35,900 base price to an as-tested total of $46,345, including destination charges. Despite its compact dimensions, the GLK felt like it was worth the price.
I wasn't keen on climbing over the optional brushed aluminum running boards and the navigation system was a little annoying to use with the COMAND system dial (should have worked on those voice commands), but the GLK is a true Mercedes-Benz, German-built, and ready to take you and your small family wherever you need to go in comfort and style, and with a dash of performance, too.
By Steve Schaefer © AutoWire.Net - San Francisco
Byline: Mercedes Review provided by Tony Leopardo © AutoWire.Net

Column Name: The goal is to offer "Mercedesness" at a reasonable price
Topic: The 2010 Mercedes-Benz GLK350
Word Count: 858
Photo Caption: The 2010 Mercedes-Benz GLK350
Photo Credits: Mercedes-Benz GLK350 Internet Media
Series #: 2009 - 56
Download the Microsoft Word version here: 2010 Mercedes GLK350
Download the Original Image File here: 2010 Mercedes GLK350