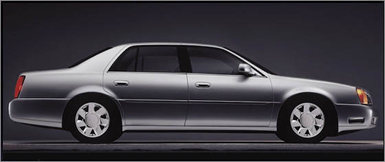 SAN FRANCISCO: Night vision, ultrasonic sensors, and GPS navigation. Sounds like the military's latest weapon systems. No, just some of the hi-tech options available on the 2001 Cadillac Deville.
Besides Night Vision, Ultrasonic Rear Parking Assist, and on-board GPS-based navigation, Cadillac's offer the Rainsense Wiper System, Tire Pressure Monitor, Infotainment and OnStar Communications. Cadillac has always been noted for being the first to offer the latest in automotive technology, like electric starting in 1912, air bags in 1974 and electronic fuel injection on an American car in 1975.
Deville's come in three flavors. The "entry-level" Deville is aimed at the over 60 crowd and comes with all the amenities and luxury Cadillac's core clientele have come to expect in their Caddys. This includes anti-lock braking with traction control, tri-zone electronic climate control, a theft-deterrent system, power windows and door locks, remote keyless entry, power front seats, electronic level control on the rear suspension, OnStar with one year of premium service, and an AM/FM/Cassette/CD stereo. The base model has a starting price of $41,668.
The upscale DHS - High Luxury Sedan - adds leather upholstery, front seats with power lumbar adjust and built-in massagers, and heated front and rear seats. Analog gauges, including a tachometer, replace the base model's digital instrumentation. Other upgrades include a power rear window sunshade, wood trim, Rainsense wipers, chrome wheels, and a Bose AM/FM/Cassette/CD stereo.
Cadillac offers the DTS (DeVille Touring Sedan) to attract younger, that is 45 to 55 year old, buyers. It features a high output version of the excellent Northstar V8 engine plus front bucket seats, console with floor shifter, fog lights, and larger 17-inch cast aluminum wheels and tires for more sporty handling. It also has some more advanced technology like the StabiliTrak anti-skid system and a Continuously Variable Road Sensing Suspension (CVRSS). Stabilitrack, but not CVRSS, is available as an option on the two lesser models. Both the DHS and DTS list for $47,237.
There are also many more options that are available that can push the bottom line to above the $50,000 mark. These include Night Vision ($2250), Navigation System ($1995), side impact air bags ($295), moon roof ($1550)¸ and hands free telephone ($675). The Safety and Security Package ($550 on the DTS and $1,945 on base and DHS models includes the tire-pressure monitoring system and a rear parking assist that uses ultrasonic sensors installed in the rear bumper to warn the driver of obstacles behind the car.
Deville's are powered by the 4.6-liter silky smooth Northstar V8 engine. In the Deville and DHS, the engine is rated at 275 horsepower at 5600 rpm with 3000 ft-lbs of torque at 4000 rpm. The more sporty DTS uses a version of the same engine that is tuned to provide 300 horsepower at 6000 rpm and 295 ft-lbs at 4400 rpm. The EPA numbers for both engines are the same at 17 mph city and 27 highway.
And how do all the gadgets and gizmos work? Quite well. Cadillac has done a very good job in making then user friendly. Unlike a Mercedes or Acura, you can actually use them without reading the instruction books. Night Vision, available on the DHS and DTS, uses infrared sensors that let you "see" three to five times farther than with low-beam headlamps. The infrared camera in the grille senses infared energy radiated from heat generating objects, which is just about everything, and converts it into a black and white image, albeit a fuzzy one, presented on the windshield Heads-Up Display. The system is extremely easy to use - it comes on as soon as you start driving. The only adjustment needed is to move the image location on the windshield in front of you.
Because Cadillac's are fitted with daytime running lights that are always on, I couldn't test the system in the dark without any headlights. The bottom line is that some drivers will love it, most will find somewhat useful and a few may even find it distracting. Therefore, test before you buy. It's a very interesting option not available on the competition.
No matter where you drive a Cadillac, you never will be "alone." The OnStar combing cellular phone and GPS technology keeps you in constant contact with an OnStar representative who can assist in any emergency as well as provide directions, or even concierge services. The optional Infotainment system features include e-mail capability, a cell phone integration unit, an infrared port, CD/CD-ROM, voice memo recorder, voice recognition, and navigation system.
All versions ride and drive like you would expect in a Cadillac. Ride, even on the more sporty DTS, is soft and luxurious. Handling on these front drive cars is very good, but not in the same class as its rear wheel drive competitors. Braking and steering is without complaints. There is plenty of room for four occupants and sufficient room for five or six, depending whether fitted with a bench or bucket seats up front. The large trunk has a low opening and is very easy to use. Cadillac was the worlds standard for luxury cars and there on the way back to that level again. Test drive one today and you will be impressed. By Bill Siuru and Andrea Stewart © AutoWire.Net - San Francisco

Cadillac Home Page
Byline: By Bill Siuru and Andrea Stewart © AutoWire.Net - San Francisco
Column Name: Night Vision - Another First For Cadillac
Topic: 2001 Cadillac Deville
Word Count: 935
Photo Caption: 2001 Cadillac Deville
Photo Credits: Cadillac Internet Media
Series #: 2001 - 23
Download the Microsoft Word version here: 2001 Cadillac Deville
Download the original image file here: 2001 Cadillac Deville 22k