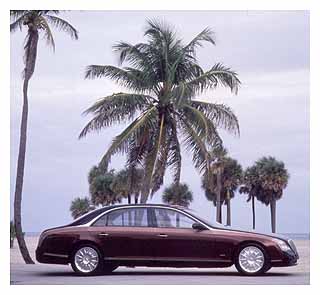 SAN FRANCISCO: OK, so your neighbors beat you at buying one of those cute little sports cars or a dashing convertible. Forget nostalgia and get something new. Janis Joplin got it right when she sang "Daddy won't you buy me a Mercedes Benz". The one thing that Janis had in common with Marie-Antoinette was living high.
During the next millennium, and in less than a few years, you can be the first on your block to buy the first Super Luxury Car that only your true friends will despise you for owning. Let them eat their heart out. "Maybach" is the name, if money is your game and being rich is no shame. The ultimate car for those who want to continue being trend setters rather than just following the crowd. Players make your reservations now!
Juergen E. Schrempp, Co-chairman of DaimlerChrysler, says the Maybach is "the absolute creme-de-la-creme in all segments" of the automobile marketplace. The mere announcement by DaimlerChrysler to sell "maybe a few hundred" Maybach automobiles in the United States has Mercedes-Benz dealer phones ringing like 911 during a fire in Malibu. Many people talk about love and a lot of people brag about love, but this is the only car that you can make love happen by merely mentioning you have the keys.
Inside it will contain everything you ever dreamed of. Just for starters, a large screen TV, computer, cellular phone, internet access, all the comforts of home and the world's finest leather. Only the sun that you want will be allowed to gaze automatically upon you. The photosensitive roof does the whole show, without you so much as lifting a finger. The force will be yours, as the Maybach will have the world's most powerful luxury car engine. Big, bold, and powerful is putting it politely to describe the most luxurious automobile on earth. The Maybach will be available in short wheelbase for the owner driver, and long wheelbase for the Chauffeur driven model.
Named after one of Germany's most famous automobile designers, the Maybach is destined to be one of the greatest cars ever built in the new millennium. On the price? Well, we all know the answer to that one, thanks to the wealthy investment banker tycoon, J. P. Morgan, " If you have to ask, then you cannot afford one." The Maybach is for the player, not the pretender. Think of a quarter of a million at least. After all, it is a gift for the millennium. And as for the masses, well, there is always cake.By Charles Belle © AutoWire.Net - San Francisco

Byline: By Charles Belle © AutoWire.Net - San Francisco
Column Name: "Daddy won't you buy me a Mercedes Benz"
Topic: The Mercedes Benz Maybach
Word Count: 448
Photo Caption: The Mercedes Benz Maybach
Photo Credits: DaimlerChrysler PR
Series #: 1999 - 58