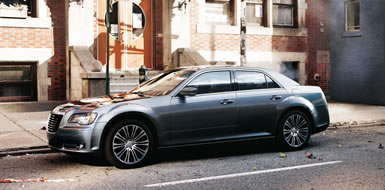 The 2013 Chrysler 300C John Varvatos Luxury Edition Review: When I think of the Chrysler 300, three things leap to mind: One, the all-American, gangster-car styling that would make Al Capone smile from his grave. Two, the thrilling HEMI V8 that sucks gas like a jumbo jet. And Three, an interior that feels a bit on the cheap side. The problem is that my top-of-the-mind perception is embarrassingly out of date, based on the first-generation 300 rather than today's model. While the body still has that mafia hit man
look, the rest of the car has changed dramatically to keep up with today's trends.
Consider the gas mileage. While you can still get it with the ridiculous HEMI power, the monster 5.7-liter engine makes 363 horses but is rated for just 16 mpg in city driving, it's also now available with a V6 that gets a much more palatable 31 mpg highway rating.
That's impressive for a car this size, one of the biggest sedans for sale today. It also keeps it competitive in an automotive climate where buyers look closer at mpg ratings than they do horsepower ratings. And consider the interior.
While the first-generation 300's interior was one of its weakest points, the cabin in the new one is among the best in the industry. In fact, at a recent event where manufacturers brought more than 50 of their best vehicles to be judged by journalists in Texas, one car drove away with the title of "Best New Interior." It wasn't a sumptuous Mercedes or a tech-filled Lexus. It was this car, the 300C John Varvatos Luxury Edition, which its named for, and designed by, a fashionable "GQ" endorsed clothing designer.
I'd never heard of him before, which is a sure sign his clothes must be cool.
Fashion designer or not, Mr. Varvatos' cabin styling is stunning in the 300, with high-end leather and dark, rich colors. It's available either in all black or, my personal favorite, a two-tone look that combines dark mocha and black leather that's finished out with unique chrome and hand-sanded matte wood trim. As a whole, it feels more like a piece of expensive furniture than a typical car interior.
The John Varvatos Chrysler 300 gets some special treatment on the outside too, to let the world know you have good taste. It comes with 20-inch wheels, special platinum-chrome trim, and a new mesh grille and designer logo, making it look like you're driving around in an expensive handbag.
While the regular 300 starts at $30,145, the John Varvatos Luxury Edition starts at $40,645, which, in addition to the gorgeous styling, includes things like Chrysler's UConnect multimedia system, a remote start button and the navigation system.
Its greatest downside is that city gas mileage remains unimpressive at 19 mpg. That's not so bad when you consider it's bigger and heavier than some crossover vehicles, but it also makes the 300 look anachronistic in a world obsessed with hybrids and electric cars.
Then again, maybe that's a good thing. The world needs a few sinister sedans, and the Chrysler 300C sure plays that part to perfection.
What was tested? The 2013 Chrysler 300C John Varvatos Luxury Edition with a base price of $40,645. Options on the test car: None. The total MSRP price as tested including the $995 destination charge came to: $41,640.
Why hesitate? A city fuel consumption rating of 19 mpg isn't impressive enough with the V6.
Why buy it? It's a full-size sedan, something that's becoming a rarity these days, and it's dripping with American design. Detroit-born John Varvatos did a great job designing a true luxury model that bears his name.
By Derek Price © AutoWire.Net - San Francisco
The 2013 Chrysler 300C John Varvatos Luxury Edition Bottom Line Review provided by: Tony Leopardo © AutoWire.Net
The Bottom Line: Chrysler turned to a Detroit-born designer, John Varvatos, to build a Luxury Edition 300C. He combined the All-American sedans stance, with the grain of real, hand-sanded wood trim that looks beautiful, to the John Varvatos Luxury Edition cabin leather selections. The 300 now has the look, feel, scent and power of a premium sedan without the outrages price. This Chrysler 300 is a super deal at less than $42K,and now has one of the best car interiors on the planet, so you should "Drive one, Buy one, Today ©"
Bottom Line Review provided by: Tony Leopardo © AutoWire.Net
"Tony the Car Guy" is an automotive writer, editor and publisher in the San Francisco Bay Area. If you have a question or comment for Tony send it to or visit AutoWire.Net at www.autowire.net - And remember: " You Are What You Drive © "

Column Name: Detroit-born designer restyles Detroit-born sedan
Topic: The 2013 Chrysler 300C John Varvatos Luxury Edition
Word Count: 839
Photo Caption: The 2013 Chrysler 300C John Varvatos Luxury Edition
Photo Credits: Chrysler 300C Internet Media
Series #: 2013- 13
Download the Microsoft Word version here: 2013 Chrysler 300C
Download the Original Image File here: 2013 Chrysler 300C