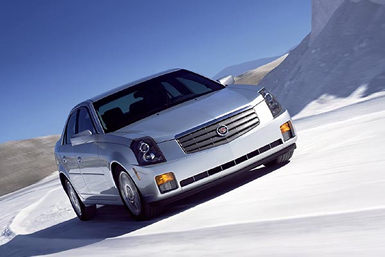 SAN FRANCISCO: Maybe the third try will be a charm. At least Cadillac hopes so with the new revolutionarily different CTS. The CTS shows much more promise because it was designed from the ground up to be a Cadillac, and a good one at that. Besides being new, the CTS offers a few "firsts" for Cadillac.
For starters, the CTS is the first production model to feature "Stealth Fighter" styling, titled Art & Science, that has appeared on several Cadillac concept cars starting with the Evoq. As a point of History, GM's Art & Colour Section in the late 1920s, headed by Harley Earl, is credited with shifting the focus in automobile design from engineering to styling. You might have noticed Harley Earl doing ads for Buick on television recently. With its array of sharp angles and flat surface, the CTS has a definite love-it-or-hate-it look. However, the CTS is easily distinguished from all its competitors - Audi, BMW, Infiniti, Jaguar, Lexus, Mercedes-Benz, Saab, Volvo and Lincoln. Expect to see the Art & Science theme to appear on all Cadillac's in the years to come.
The CTS comes in only one model, a five-passenger, four-door sedan, with only one trim level. The CTS is the first car to use GM's new Sigma rear-wheel-drive platform, which in the future will be used on other Cadillac models like the all-new Seville as well as other GM models. Following the European method of designating models simply by letters and numbers – 330i, A6, E320, 9 5, etc., Cadillac chose to call the new model CTS. The letters stand for C-series Touring Sedan. CTSs are built in a new, state-of-the-art $560 million assembly plant in Lansing, MI.
Cadillac showed its seriousness in developing a world-class sport sedan by using the famed Nürburgring test track to tune and test the CST's fully independent suspension system. This is the same track used extensively by Audi, BMW, Mercedes-Benz and Porsche. The result is a very competent road car with excellent handling and a very good, though stiff ride. Definitely, not your floaty ride of Cadillac's past. Steering is precise with just the right road feel and brakes. However, it still isn't quite on a par with the competition from Germany. Not because the Cadillac is sub par, it just that the competition is that good.
Only one engine is currently available on the CTS, a double overhead camshaft (DOHC) 3.2-liter V6. The engine produces a respectable 220-horsepower at 6000 rpm and 220 lb-ft of torque at 3400 rpm. According to Cadillac, this V-6 is a completely re-engineered version of the 3.0-liter V6 now used in the Catera. Two transmissions are available, an optional five-speed automatic and a standard equipment five-speed manual for those who like to "shift for themselves." Since virtually all the competitive luxury sports sedans offer manual transmissions, Cadillac felt it necessary to offer one as well. It will be interesting to see how many are actually ordered. They selected one built by Gertrag, a real plus.
The CTS is the first Cadillac to offer a manual transmission in more than 20 years. The automatic is the same one used in the BMW X5 and 5-Series cars. Properly equipped, the CTS can tow 1,000 pounds. The EPA Numbers are 18-mpg City/26 mpg Highway with the 5-speed and 19 mpg City/26 mpg highway with the automatic. The fuel tank holds 17.5 gallons for decent long range cruising. The engine provides good performance, through not silently – thou not really a fault for the intended market. However, to compete in this segment requires more muscle. Rumor has it that a more powerful engine is in the works, maybe even a V8.
Since CTS comes in only one trim level the basic CTS (MRSP $29,990) features dual-zone electronic climate control; power windows and door locks; remote keyless entry; leather upholstery; power driver's seat; and an AM/FM stereo with cassette and CD player. Also included are fog lights, front and rear stabilizer bars and 16-inch cast aluminum wheels. The CTS Luxury Package ($2,000) adds an eight-way power adjustable passenger seat, audible theft deterrent system, Zebrano wood trim, memory package, rear-view mirror compass, and a three-channel programmable garage door opener with electronic voice recorder. The CTS Luxury Sport Package ($3,500) adds Stabilitrak 2.0 chassis control system, sport-tuned suspension, high-performance brake linings, load-leveling rear suspension, speed-sensitive power steering, and 17-inch polished wheels with V-rated tires. All CTS come with OnStar as standard equipment.
Safety-wise, the CTS has front and side-impact airbags as well as side-curtain airbags that run the entire length of the passenger compartment. ABS and traction control are standard. Other options include power moon roof ($1200), heated front seats ($400), xenon high-intensity discharge headlamps ($550) and split-folding rear seat ($450). An upscale Bose sound system with cassette/six-disc CD changer is offered ($1275) and you can add an on-board navigation system ($2700). The Bose system in my test car was outstanding. A loaded CTS will approach the $40,000 mark.
The sharp edge styling is carried over to the interior design. Most noticeable is the center console that protrudes from the dash for very easy access to climate, sound system and other controls with good-sized knobs and buttons. A trip system status computer combined with sound system information is housed in the console for easy viewing. I will give plus marks for the excellent and complete controls on the steering wheel include a small wheel-like knob for volume control.
A small, but important, example that Cadillac still has not yet discovered what it takes to compete in this performance-oriented market is the instrumentation, or lack thereof. The instrument cluster consists of a clock, tachometer, speedometer, and fuel gauge. That's it. The rest of the information is presented via idiot lights, like cars of the 1980s. To me, the absence of a temperature gauge is unacceptable in a high performance car, or for that matter any car. I checked the owner's manual and it says, "If the light is on, your engine has overheated." And may I add you probably will have a big repair bill. Incidentally, the glove box is so small that about all that fits is the owner's manual. Furthermore, the manual has to be inserted in a certain way, or you can't close the door.
All-in-all, the Cadillac CTS is an excellent car, probably the best sedan now produced in the U.S. However, I still wonder if Cadillac can capture large numbers from its German, Swedish and Japanese competitors. Not that the CTS isn't a great car, it's just the competition is so good. By Bill Siuru © AutoWire.Net - San Francisco

Cadillac Home Page
Byline: Syndicated content provided by Tony Leopardo © AutoWire.Net
Column Name: The Cadillac CTS is an excellent car
Topic: The 2003 Cadillac CTS
Word Count: 1159
Photo Caption: The 2003 Cadillac CTS
Photo Credits: Cadillac Internet Media
Series #: 2002 - 42
Download the Microsoft Word version here: 2003 Cadillac CTS
Download the original image file here: 2003 Cadillac CTS