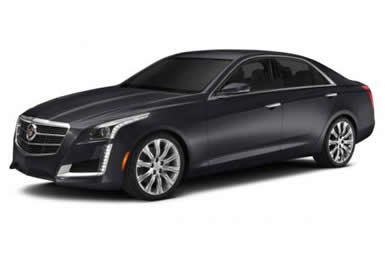 The 2014 Cadillac CTS Review: In the 21st century, American luxury brands have been working hard to reinvent themselves. While many upscale shoppers opt for German and British imports, Cadillac, with its Art & Science sharp-edged design and increasingly competitive products, has become a great alternative. The midsize CTS model has been a major factor of the brand's rebirth. It competes against the BMW 5 Series, Audi A6, Mercedes-Benz E Class, and others.
Cadillac's used to boast large V8 engines to propel their massive bulk down the road, but those days are gone. The CTS offers two V6s and, believe it or not, a 2.0-liter turbo four. My Phantom Gray Metallic test car had the four, and with 272 horsepower and 295 lb.-ft. of torque running through a six-speed automatic to the rear wheels.
If you want more power, you can step up to the naturally aspirated 3.6-liter V6 with 321 horsepower and 275 lb.-ft. of torque through an eight-speed paddle-shift automatic. Still not enough power for you? How about the twin-turbo-charged 3.6-liter V6 with 420 horsepower and 430 lb.-ft. of torque? Now that's a rocket ship.
The reason to put a 2.0-liter engine in a 3,600-pound Cadillac is better fuel economy. My tester was rated at 20 mpg City, 30 Highway and 23 Overall by the EPA. I achieved 21.9 mpg. The non-turbo V6 is rated just slightly lower, at 19/29. The twin-turbo drops to 17/25. Green numbers for my tester were 6 for both Smog and Greenhouse Gas.
Driving the CTS was delightful. The car feels exceptionally stable, and the Sport Suspension is firm without being harsh. It uses magnetic ride control, which electronically analyzes road conditions and provides the perfect amount of damping and control in every situation. Brembo Performance front brakes bring you to a safe stop quickly. The electric power steering feels natural, not over assisted. The CTS, on its rear-wheel-drive chassis, has a 50/50 front/rear balance. You can order it with all-wheel drive, too.
The design of modern Cadillac's took a sharp turn in a new direction with the original CTS, which was stunningly angular. The third-generation 2014 model wears complex fluting of the hood, headlamps that stretch way back, and a real confidence in the design, that makes it all hang together. Inside, the leather that covers the seats isn't relegated just to the "seating areas." The dash panels are hand stitched. Panel fit is precise and the surface finishes subtly luxurious. My car came with carbon fiber trim, a much sportier look than real or artificial wood. The Cadillac logo on the steering wheel has a fine cloisonné look.
The Cadillac User Experience (CUE) electronic display has its critics, but I am not one of them. Other than having trouble figuring out how to do audio presets, my interaction with the car was easy, and even fun. CUE presents a little light and sound show on engine startup and shutdown, and the haptic touch system notices your gesture and displays more selections as your hand approaches the center screen. The choices on that eight-inch panel are large and easy to activate, like an iPad, and the finger-sensitive bars below, which resemble silver jewelry, pulse when you touch them.
The instrument panel is a 12.3-inch flat screen on which are replicated three chrome-rimmed gauges. However, you can configure it from the steering wheel to present a variety of information inside each circle. There's a head-up display too, so you can monitor vital information without looking down from the road.
With the new, smaller ATS sedan positioned below it, the CTS grows slightly for 2014. It stretches five inches longer on a 1.2-inch longer wheelbase, and the roofline and windshield cowl are about an inch lower. It's a sweet spot in the sedan world where the impression is large but the driving is midsize.
The automatic seatbelt tightening system monitors the belts and makes sure they are in the right position at all times, so they provide maximum effectiveness in case of a collision. The belt always surprised me with a little tug as I drove off.
All this luxury and style come at a price. My tester, a 2.0T Premium top level model, stickered at $62,725, including shipping. The starting point for CTS ownership is $46,950 for the 2.0-liter engine in Standard Trim. You can step up to Luxury, Performance and Premium levels in approximately $5,000 increments.
The non-turbo V6 model jumps $8,600 over the Standard CTS, with a further $5,300 premium on top of that for the big 3.6-liter turbo. Numerous options are available.
Motor Trend magazine awarded its prestigious Car of the Year award to the 2014 CTS. Car and Driver named it one of its 10 Best vehicles. So it's not just me who likes it.
By Steve Schaefer © AutoWire.Net - San Francisco
The Bottom Line: The 2014 Cadillac CTS is a mid sized car with a big car look, feel and ride. This new Caddy now has 3 engine options, several tech packages and can be ordered with all wheel drive. It has a base MSRP price of just under $47 Grand and heads over $70 Large with all the options boxes checked off. A true Cadillac in every sense of the word, with the best style, interior, technology and comfort, and maybe, just for that reason alone, you should "Drive one, and Buy one, Today ©"
Bottom Line Review provided by: Tony Leopardo © AutoWire.Net
The 2014 Cadillac CTS Bottom Line Review provided by: Tony Leopardo © AutoWire.Net - "Tony the Car Guy" is an automotive writer, editor and publisher in the San Francisco Bay Area. If you have a question or comment for Tony send it to TonyLeo@pacbell.net or visit AutoWire.Net at www.autowire.net - And remember: " You Are What You Drive©"

Column Name: A true Cadillac in every sense of the word
Topic: The 2014 Cadillac CTS
Word Count: 1,022
Photo Caption: The 2014 Cadillac CTS
Photo Credits: Cadillac CTS Internet Media
Series #: 2014 - 22
Download the Microsoft Word version here: 2014 Cadillac CTS
Download the Original Image File here: 2014 Cadillac CTS