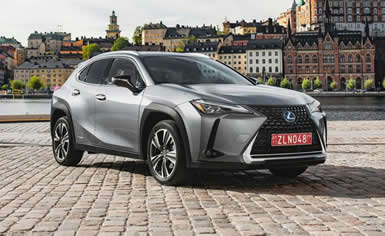 The 2019 Lexus UX 250h Review: With the new UX, Lexus expands its crossover lineup down market. They are hoping to not only sell young buyers their first Lexus, but their first luxury car. Lexus introduced the industry's first luxury crossover, the legendary RX, 20 years ago, and as part of Toyota enjoys a link to hybrid cars going back the same two decades. It makes sense then, to introduce the UX with gas only and hybrid power trains. Opt for the UX 200 with its 2.0-liter four or if you have greener goals, the UX 250h, with a more efficient 2.0-liter engine combined with Lexus' 4th-generation hybrid system.
Lexus claims that UX stands for Urban X-over (crossover), but it's also possible that they've already used up most of the available letters with their expanded range of crossovers!
While this arrival is being heralded as "new and exciting," a cynic could say that Lexus looked around and realized that other brands were already selling dinky high-riding mini-utes and they didn't want to miss out on sales.
As Lexus moves smaller and smaller, it means the UX is the first Lexus to use the shared Toyota small car Global Architecture Compact (GA-C) platform. While this also underpins the humble Corolla, it represents the latest tech for compacts, and reduces development costs.
As a Lexus, this newborn gets the same gaping maw up front, but the texture is a clever block-shape mesh pattern that gives a different appearance depending on your viewpoint. That should have an impact in close, urban environments (including Japan). The Takumi (artisan in Japanese) clay modeling process was used to refine the surfaces, which is a challenge with all the different lines a Lexus has to wear these days. Despite the issues of downsizing design cues onto a smaller platform, Lexus has delivered a good-looking vehicle.
Lexus claims that some of the design elements have practical value, such as the Unique Aero Stabilizing Blade Lights in back. It could possibly make a difference at high speed, but we all know that with crossovers, any SUV features, including wheel arch moldings for protecting against flying gravel, are all for show.
In the EV industry, white and blue are commonly used to communicate high tech efficiency, and it's nice to know that only the hybrid version of the UX gets Ultra White and Ultra Sonic Blue Mica 2.0 paint options. You can pick from 10 more hues, too.
Cadmium Orange and Nori Green offer multilayer applications and enlarged mica particles for dramatic effect. These are great selling points for millennia's, who are apparently more interested in looking good in town than getting covered in mud off road.
There are three levels, base, F SPORT, and Luxury, all with standard all-wheel drive.
My test car, in the aforementioned Ultra Sonic Blue Mica 2.0 paint, was an F SPORT, so the block pattern on its grill was made up of individual L-shaped pieces! You get L-shaped chrome moldings, too.
But it's not just about looks. The F SPORT UX 250h receives exclusive suspension tuning with revised springs and stabilizer bars for a tighter ride. It also flaunts more rigid 18-inch unique wheels. One hopes the urban jungle's roads don't communicate too much to the passengers.
That could be mitigated by the F SPORT exclusive interior, with sport seats made with special foam. The cockpit takes inspiration from its super luxury siblings, including the clever sliding ring in the instrument panel and perforated leather steering wheel.
Lexus employed the Japanese concept called engawa, in having the upper part of the instrument panel look like it extends out beyond the windshield and into the fenders. While it's an interesting aesthetic, much like living in an Eichler house with its floor-to-ceiling windows, Lexus claims practical benefits (like those aerodynamic tail lamps). They claim the design aids in parking in small spaces.
Japanese traditions are fine, but Chief Engineer Kako spent time in Europe to define the UX's interior appearance and quality. Lexus offers a wide selection of interior color combinations, such as Glazed Caramel and Birch with Lapis, or Circuit Red in the F SPORT.
How much benefit does the hybrid provide? The EPA numbers show that every UX is efficient. The 250h, with its additional motor and battery, is 300 pounds heavier, but earns 6 mpg better numbers overall than the 200 (41 City, 38 Highway, 30 Overall vs. 29, 37, and 33 respectively). You can see that most of the improvement is in town - perfect.
The 200 and 250h base models are just $2,000 apart. The UX 250h starts at $34,000, the F SPORT at $36,000, and the Luxury bases at $39.200. My tester ended up at $42,785 with some options. That's the going rate for little luxury crossovers these days.
By Steve Schaefer © AutoWire.Net - San Francisco
The 2019 Lexus UX 250h Bottom Line Review provided by: Tony Leopardo © AutoWire.Net
The Bottom Line: The Lexus UX 250h is the newest hybrid model from Lexus to gain some traction in the entry level playing field, and sell more cars to first time buyers. Aimed at millennia's who seem to pick style over substance, this car delivers on both fronts.
With a simple choice of a gas engine UX 250, or a hybrid UX 250h, you get an entry level luxury car with good 30 MPG mileage, or slightly better 33 MPG mileage in a hybrid h model, and a get a blue tint on the trunk badge too . Either way it's nice to impress your friends, look cool, and maybe help save the planet, in a small way of course.
Base MRSP prices start at a reasonable $34,000 and go up to $39,000. Adding some trim and sound options and your looking at $40,000 to $45,000 out the door. With the luxury price levels starting at $50,000+, your in the drivers seat for $$$ thousands less, and get a nice Lexus to start with.
And maybe, just for those reasons alone, you should "Drive one, Buy one, Today ©".
This Bottom Line Review is provided by: Tony Leopardo © AutoWire.Net
"Tony the Car Guy" is an automotive writer, editor and publisher in the San Francisco Bay Area. If you have a question or comment for Tony send it to TonyLeo@pacbell.net or visit AutoWire.Net at www.autowire.net - And remember: "You Are What You Drive ©"

Column Name: UX stands for Urban X-crossover
Topic: 2019 Lexus UX 250h
Word Count: 1,111
Photo Caption: 2019 Lexus UX 250h
Photo Credits: Lexus Internet Media
Series #: 2019 - 12
Download the Microsoft Word version here: 2019 Lexus UX 250h
Download the Original Image File here: 2019 Lexus UX 250h