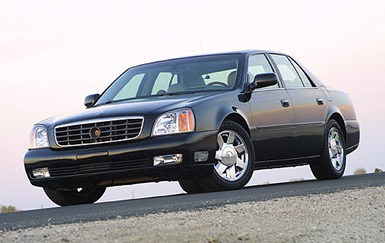 SAN FRANCISCO: What truly can be said of the latest big Cadillac? It's the Cadillac of…Cadillac's?
That's the dilemma we faced when we were given the keys to a 2002 Cadillac Deville DTS for a week's worth of driving and critiquing. What a difficult job we have.
The Cadillac Motor Division of General Motors has been a pioneer in luxury automobiles for 100 years and is poised to lead a new generation into the next millennium with their Art & Science engineering giving us a fresh, modern approach to the automobile with attractive angular designs and gobs of the latest technology.
Cadillac's biggest car right now, the Deville was redesigned a few years back and was transformed into a remarkable vehicle. Some of our first thoughts, looking at the white diamond tester, were of awe. It's clean, sleek lines and largess, coupled with the mere fact that it was the Big Daddy Caddy, gave us goose bumps just thinking about what this car is; a mode of transportation that most people can only dream about. This car can hang with the biggest of the German luxo-cruisers in size, weight and comfort.
We didn't take the car on our normal test loop because of its girth, but we did head out into the local wine country and had a blast taking the long sweeping turns at super legal speeds. What we didn't like was the wallow that has been a Caddy trait for as long as this writer can remember. Though the suspension damped more of these sensations than on previous editions, it's still present and is a big factor that could keep Cadillac out of certain buyer's thoughts.
Out in the real world however, the Deville seems to demand respect everywhere it travels. We found that most people, like us, were in awe of it, if not for the high sticker price above $50,000 then for all the features and comfort items it came with.
When we first got into the driver's seat, we were struck by the clean instrument panel and dashboard. The zebrano wood trim was tastefully placed and felt good under hand on the steering wheel. The seat itself was extremely comfortable, thanks to the "massaging air bladder" system and the firm, but comfy cushions. Finding the right driving position took some time, mostly because the 10-way seats had so much adjustability and room for movement.
The back seat, with its heated seats and rear seat climate controls, was almost as comfortable as the front. We went out one Saturday afternoon with a couple of friends and all four of us were snug as bugs in a rug. The seats held us in place during spirited maneuvers and after a good four hours of nothing but driving, we felt relaxed and ready for more. GM has always had good seats but these were above average in all resects.
And, for such a large car, we were not disappointed with the trunk. There was enough space in there for the Indoor Football League to commission it as a stadium. We liked the optional trunk tie-down (that way you don't have to scamper around looking for something to hold the trunk closed when those long two-by-fours have to stick out a bit) and the flooring was made from a material that looked like it would last over many years of having golf bags, luggage, or whatever the owner threw into it.
We liked most of the features found in the Caddy. Of the few that stick out in our mind we enjoyed XM satellite radio the most. Oh sure, you've seen the commercials. And we're here to tell you that it is every bit as cool as it looks on TV. We had trouble getting out of the car at times because of the great programming, especially on the comedy channels. And the only time we couldn't get a signal came when we were traveling through a heavily wooded area with a large canopy of tall trees with big leaves. Even then, we only lost the signal intermittently. Overall, we'd highly recommend XM to anyone that has a long daily commute or just plain drives a lot.
Another innovative gadget was the night vision camera and head-up display it was connected to. We didn't get that many chances to really use it but it got our inner geek going every time it got dark and the lights came on. The most interesting thing was watching the exhaust pipes of vehicles in front of us. We got a good thermal image of a truck's differential and the heat it was producing on the highway…too cool for any technophile.
Our Deville DTS stickered at $56,050.00. The base price ($47,780) was augmented by well over $7000 worth of options, including a comfort/convenience package that consisted of rear air bags, the seat/mirror memory package, trunk mat/with deck lid tie-down, power tilt and telescoping steering wheel, ultrasonic rear assist and the Homelink garage door opener ($1985); Night Vision ($2250); power sunroof with express open ($1550); 17" chrome wheels ($795); the white diamond paint ($650); XM satellite radio ($295); and destination ($745).
Overall, we found the Deville DTS to be a comfortable highway cruiser that's sure to impress you friends with all the bells and whistles this car has. For the money, we find it to be a very good deal. But, for Cadillac to regain its reputation for world luxury leader, it needs to be something more. A little dose of personality and a new persona might just do the trick.
By James E. Bryson © AutoWire.Net - San Francisco

Cadillac Home Page
Byline: Syndicated content provided by Tony Leopardo © AutoWire.Net
Column Name: A big Car with a Plush Ride - Must be a Caddy
Topic: 2002 Cadillac Deville DTS
Word Count: 1007
Photo Caption: The 2002 Cadillac Deville DTS
Photo Credits: Cadillac Internet Media
Series #: 2002 - 31
Download the Microsoft Word version here: 2002 Cadillac Deville DTS
Download the original image file here: 2002 Cadillac Deville DTS