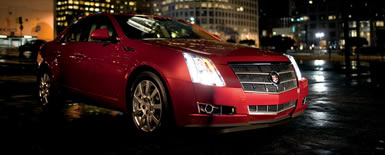 Car Review: When the Cadillac CTS was introduced, it had one glaring weakness. It wasnít how it looked, with an angular, creased body that still seems fresh today, nor was it how it drove. Unlike previous Cadillacís, which felt like they were floating through a sea of giblet gravy, the rear-drive CTS performed like a fine sports sedan. It was fun. It was fast. It was exciting.
But it also had that one problem, the interior. When you sat down in the driverís seat, it felt like you were plunging into a plastic cave of death. The poor quality of materials was absolutely shocking in a $30,000 luxury car, making it seem like the whole instrument panel was designed to be the Little Tykes Darth Vader play set.
So when the new CTS was thoroughly freshened for the 2008 model year, you can guess what was at the top of Cadillacís list. A new interior addresses the old CTSís greatest weakness.
The new interior couldnít be more different from the old one. Cadillac did the right thing and completely ripped out the old cabin, replacing it with one that actually uses nice materials like a soft-touch dash with contrasting stitching that feels like a fine piece of leather furniture. With soft-touch materials and tight, squeak-free construction, itís a major improvement over the original CTS.
It also shows an attention to detail that Cadillac hasnít always been known for. The way the turn signal, buttons and knobs feel, for example, are dramatically better. They feel solid and robust, which is admittedly a minor detail, but itís the small things like these that add up to an overall perception of high quality.
For the super-picky, it still may not be good enough. It uses a gaudy amount of chrome and doesnít have the Swiss-timepiece precision of an Audi cabin, but itís an enormous improvement nonetheless. Nobody can objectively say the CTSís interior is a drawback anymore.
Other changes on the new CTS arenít as dramatic, but theyíre significant nonetheless. The Cadillac CTS has a new body with wide, dramatic fender flares and a big, aggressive grille opening.
A two-inch-wider wheelbase gives it slightly better handling and a good excuse for Cadillacís designers to massage the sheet metal. Dramatic fender flares cover the wider tracks and make it look more muscular and less slab-sided. A bold new front end with a wide grille opening matches the aggressive theme.
And you canít forget the engine. A new 3.6-liter direct-injection V6 delivers an impressive combination of fuel economy and performance. It makes 304 horsepower, gets 26 miles per gallon on the highway and even uses regular gasoline.
If thereís a downside to this car, itís that it is fast becoming a porky sports sedan. Smaller and lighter cars, like the Audi 4 Series, can be more fun to drive, and Cadillac may be missing this market as the CTS gets bigger and heavier.
Still, considering how the CTS can seriously be mentioned in the same breath with an Audi shows how far Cadillac has come in just a few years.
This isnít a rebadged Chevy or Opel. Itís not a grandma car, or a sporty looking poser. Itís the real thing.
What was tested? The 2008 Cadillac CTS V6 DI Performance Sedan with a base price of $34,545. Options: Performance collection $3,300, summer tire performance package $1,240, stereo upgrade $1,000, compact spare tire $250. Price as tested, including a $745 destination charge: $41,080.
Why avoid it? Itís getting bigger and heavier, which isnít good for a sports sedan.
Why buy it? It finally gets rid of the old CTSís biggest weakness, its interior, and it has a new engine, a fresh body and excellent handling.
By Derek Price © AutoWire.Net - San Francisco

Byline: Car Review provided by Tony Leopardo © AutoWire.Net
Column Name: Fresh CTS shows attention to detail
Topic: The 2008 Cadillac CTS
Word Count: 684
Photo Caption: The 2008 Cadillac CTS
Photo Credits: Cadillac CTS Internet Media
Series #: 2008 - 07

Download the Microsoft Word version here: 2008 Cadillac CTS
Download the Original Image File here: 2008 Cadillac CTS