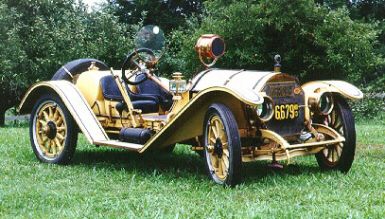 SAN FRANCISCO: This 1913 Mercer Raceabout is owned by Dean and Brenda Butler of Cincinnati, Ohio and was used at both the Monterey Historic Races on Friday and Saturday and shown at the Pebble Beach Concours on Sunday. The Mercer, along with the similar looking Stutz Bearcat, was a street going racecar. It could do almost 75 miles per hour at a time when there were few paved roads. Expensive when new, these are a rare and valuable link to America's sports car past. There are well less than fifty examples still in existence and it is a treat to see one, let alone watch one at speed.
The Mercer Company was formed in 1909 and went into production in 1910. Early models used an engine made by the Beaver Manufacturing Co. but this was replaced by a very powerful Mercer designed "T head" engine in 1911. Its low and out-in-the-open body style was the configuration used for sports cars the world over until the mid-1950s. It was said that "one could buy a Mercer off of the showroom floor, take it to a race track, and run it with good hope of winning!
In a way, this is sort of what the Butlers did. They bought the car almost a decade ago in unrestored but running condition and used it as a weekend driver around the Cincinnati area. As owners of a number of antique cars, Dean and Brenda regularly participate in the Colorado Grand tour. It was there that they ran into Jon Voboril, a superb mechanic, who was running his early Lancia. The Butlers, who were driving a Fifties era Allard, wanted to use the Mercer in events and repaint it in the correct Mercer racing yellow. It was decided to ship the car to Voboril's California shop for a complete restoration.
Two years later the car was finished - just in time for the Monterey Historic Weekend in 1997. The Butlers brought a trailer from Ohio to bring the Mercer home after all of the events. The car was raced Friday and Saturday by both Dean and Voboril and Brenda was even able to borrow a helmet and driving suit and come along in one race as a "riding mechanic" as was done in the days when the car was new. Everyone had a great time and the Raceabout was cleaned and detailed for the Concours on Sunday.
On the drive between Laguna Seca Raceway and Pebble Beach, the race-stressed old engine block cracked, and the Mercer had to be trailered the rest of the way. Though quite a hit at the show, the Butler car was not eligible for a prize as it was unable to drive.
Dean and Brenda went back to Cincinnati with an empty trailer and the car went back to Voboril's Topanga shop, where a newly cast engine block will be machined and rebuilt with all of the old parts. This is the price one must pay for actually driving a museum piece. As Brenda says, "We use our cars - not just collect them - that's the fun of ownership." After almost two years, the car has just been finished and soon will be on its way back to Ohio. By Rick Feibusch © AutoWire.Net - San Francisco

Byline: By Rick Feibusch © AutoWire.Net - San Francisco
Column Name: The Classic Drive
Topic: The 1913 Mercer Raceabout
Word Count: 538
Photo Caption: 1913 Mercer Raceabout
Photo Credits: Rick Feibusch
Series #: 1999 - 47