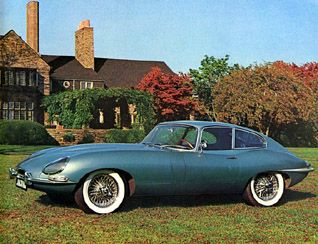 SAN FRANCISCO: When the Jaguar XKE was introduced to America in early 1961, the automotive world stood still. At that time, the British were best known as the producers of well-trimmed, solidly built motorcars of more than moderate performance. Cars that were steeped in long forgotten, Old World qualities, like hand built wood framed bodies, leather seating and the baffling mechanical idiosyncrasies that go along with cottage industry production techniques.
The E-Type catapulted the British from being quaint historians and purveyors of the past, to the cutting edge of production sports car design. First seen in magazines and on turntables at international motoring shows, the sensational E-Type, with its long, low profile, pointed nose, glass enclosed headlamps and short, tapering tail, set the pace for sports car styling and design for the next two decades.
It's not that the public spotlight was something new for Jaguar. The firm had been at the forefront of sports car development a dozen years earlier, when they introduced the XK120, their first all-new post-war sports car, at the London Motor Show in 1948. The flowing and positively sensual XK120 body had been assembled out of wood and metal sheeting on a very basic chassis. The body design was still being decided upon when show time arrived, so an interim design was chosen to showcase Jag's new high performance XK dual-overhead-cam six cylinder engine. The results came away with top honors at the show. So many people wanted to own THAT PARTICULAR CAR that Jaguar had to speed an all-steel version of the show car into production to satisfy all of the orders.
The XKE was developed in the late '50s. Styling, in essence, was derived from the last incarnations of the D-Type and XKSS, though the car had to be stretched for more interior space and the overhang, both front and rear, was extended to bring the whole package into visual perspective. The car featured new rack and pinion steering and fully independent suspension with inboard disc brakes at the rear. The thirteen-year-old XK series six still sparkled in its latest 3.8 liter, 265 horse, three-carb form.
The Jaguar people wanted to build a car that not only looked great and performed well, it was to do so with dignity, refinement and a family sedan type of ride that was soft yet well controlled. What they came up with was an exciting car that took the world by storm. The Jag would run right along with the hottest fuel injected 'Vette 'til it blasted away to its 150 mph to speed. It also rode and handled like a proper high-speed tourer. A mass-produced masterpiece!
DRIVING THE XKE COUPE
Getting into an E-Type coupe is an interesting proposition. The top is really low and the sills are high and wide. I just sort of looked at that little opening that appeared in the side of the Jag when the door was pulled out, made a few mental calculations and just dove in! It's bigger that it looks.
Once behind the wheel, it's relatively comfortable. The E-Type still has that '50s British sport/race car seating position where your lower half lies down flat, while your torso is kept bolt upright. I notice that my hair is rubbing the headliner a bit. Having driven a number of E-Type roadsters in the past, I had never even thought about how intrusive that low, sleek coupe top could be. Anyone taller than my 5 ft, 10 in. would need a sunroof for head clearance. Anyone with even a hint of claustrophobia should opt for a roadster.
A touch of the starter button produces that six-cylinder burble that Jags are well remembered for. The clutch is light but the shift gate is so close that it takes some experience to avoid finding reverse when looking for first and third isn't all that far away either. There is no synchro in first so we just use it to get the car rolling. Second is a power gear and will take the coupe up to way past any legal speed limit.
Shifting becomes academic when you realize that the big six can power this one-and-a-half ton sportster away from near zero in ANY gear with little effort. "Going through the gears" is quite entertaining with the sound and feel of all of that old fashioned torquey British power but after a while you find yourself just sort of "motoring away" from slow turns in third gear 'cause shifting is such a bore and the darn thing will do it without a hint of fuss.
On the road, she do fly! The ride is smooth and the car goes where it's pointed. The brakes have some power assist but will seem weak if you're used to late model over assisted binders. The steering is direct and easy to use, even at moderate speed, though it's heavy when parking and the turning circle is somewhat wide for a car of this size.
Is it still the coolest car on the planet? I loved it, though I don't have to maintain it. The XKE does everything it was designed to do, and does it well. The public still gawks as you pass; though it seems to be broken into age groups. The over-Forties always look, as do some of the THIRTYsomething crowd. The kids generally think that Japanese sedans with scoops, spoilers, tinted windows and monochromatic paint jobs are "sports cars." WHAT DO THEY KNOW? By Rick Feibusch © AutoWire.Net - San Francisco

Byline: By Rick Feibusch © AutoWire.Net - San Francisco
Column Name: The Classic Drive
Topic: The 1962 Jaguar XKE
Word Count: 908
Photo Caption: 1962 Jaguar XKE
Photo Credits: Jaguar Archives
Series #: 1999 - 49