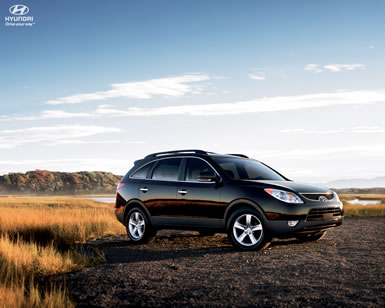 CROSSOVER REVIEW: If you're looking for proof of how far Hyundai has come in the last 20 years, go check out the Veracruz midsize crossover. Hyundai's goal here is to give you Lexus level accommodations at a Honda price.
Hyundai's very modest Excel lowballed the car market in the 1980's, but wasn't that great a vehicle. Later models, such as the Elantra, have given the Korean manufacturer real economy car credentials, but to take on the Lexus RX models is pretty gutsy.
Hyundai's styling has moved from slightly quirky, but conventional, to now pretty attractive and slightly quirky. The Veracruz swoops and curves while the competing Honda Pilot emulates a worn pavement brick. A few styling tricks at the front and rear give it an intriguing, eye-catching quality. Look at those sensuous, multi-part headlamp clusters! The flush-mounted taillamps are stretched forward boldly across the rear side panels. Tidy body panel fits and judicious use of chrome impart surprising elegance.
Inside, it's the same story. The dash swirls and rolls almost dizzyingly, with an unusual elliptical center dash top. The attractive instrument panel features colorful gauges. The easy-to-use navigation system, specially designed for Hyundai by LG, displays a three-dimensional look. The elegantly trimmed seats, convincing looking artificial wood trim, and intelligent use of silvery accents, is more than a polite nod to real luxury models, it's a Lexus Killer.
You can get a Veracruz in three models with typical car company monikers like GLS, SE, and Limited. The GLS is the "base" car, but it boasts a long list of standard features. These include power windows and locks, heated power mirrors; keyless entry; tire pressure monitor; 17-inch alloy wheels, and third-row seating. A 172-watt audio system with AM/FM/XM/CD is also standard, with three months of XM service included. And a host of safety equipment gives the Veracruz a top-level five-star rating in all the government crash tests.
Stepping up to the XE gives you, as you might expect from the name, more "sportiness." Because all Veracruz models use the same powertrain, this means larger 18-inch alloy wheels, a roof rack, automatically dimming rearview mirror, and a center console with a cool box for chilling sodas or juice coolers, (no beer, please).
The Limited adds leather seats and the front ones are heated. You also get a substantial audio system upgrade to 315 watts with a CD changer, power sunroof, power tailgate, blue backlit scuff plates, and more. If the GLS is going after the Toyota Highlander, the Limited is the real Lexus fighter.
All Veracruz models are available with either front-wheel drive or all-wheel drive. Add $1,700 to the bill for the latter. My test car was a Limited model, with all-wheel drive in Liquid Silver.
All Veracruz models share a 3.8-liter V6 and six-speed automatic transmission. This V6 engine generates 260 horsepower and 257 lb.-ft. of torque and employs continuously variable valve timing and a variable intake system. These high tech methods get the most out of an engine under a variety of operating conditions. Typical for today's automatics, a manual shift mode lets you move the car from gear to gear with the touch to the lever, but no clutch is involved.
The EPA gives the 4,431-pound Veracruz all-wheel-drive models fuel economy ratings of 15 City, 22 Highway. Front-wheel drive models get one mpg more for each number. I averaged 16.7 mpg. In the EPA's Green Vehicle Guide ratings, all Veracruz configurations earn a 6 on the Air Pollution scale and a 5 on the Greenhouse Gases scale. That's good enough for a Low Emissions Vehicle (LEV) rating. If you want superior scores in the Green Vehicle Guide, Hyundai's modestly priced Elantra rates almost as high as a hybrid vehicle.
The Veracruz is enjoyable for cruising. You sit high, the seats feel great, and it's eerily silent. Hyundai used lots of sound insulation and even has a variable engine mount that banishes vibration. They must have taken the Lexus challenge to heart. Compared to Hyundai's worthy Santa Fe, this is an upscale ride.
What's the price for all of this? The two-wheel-drive GLS starts at $27,595, including shipping charges and is very competitive. The Limited model stickers at $36,445 with shipping and is a great price versus a Lexus, and definitely a lot for a car with the Hyundai badge on the nose. My tester with a navigation system, floor mats and sunroof wind deflector came to $38,405.
Hyundai proudly backs up the Veracruz with its now famous five-year, 60,000-mile New Vehicle warranty combined with a 10-year, 100,000-mile Powertrain warranty, seven-year Anti-perforation warranty (less relevant in California), and five years of unlimited-mile roadside assistance.
Are you game? The Lexus RX 350 starts at $38,265 and needs tons of additional option packages to match the Veracruz 's base level of equipment. And it's only a five-passenger vehicle.
If the combination of comfort, full features, seven-passenger capacity, and lower purchase price matches your requirements, and you have a little bit of a pioneering streak, the Hyundai Veracruz offers you the much better choice.
By Steve Schaefer © AutoWire.Net
Byline: CROSSOVER Review provided by Tony Leopardo © AutoWire.Net

Column Name: The 2008 Hyundai Veracruz
Topic: Hyundai's very worthy upscale ride
Word Count: 902
Photo Caption: The 2008 Hyundai Veracruz
Photo Credits: Hyundai Veracruz Internet Media
Series #: 2008 - 39
Download the Microsoft Word version here: 2008 Hyundai Veracruz
Download the Original Image File here: 2008 Hyundai Veracruz