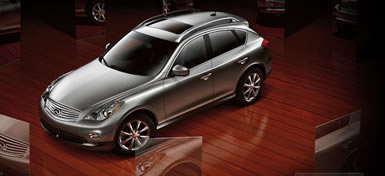 Infiniti EX35 Journey Review: This car, the Infiniti EX35, is a vehicle that defies classification. In some ways, it's simply a svelte crossover. If you took a Chevy Traverse, gave it space ship styling, put it on a diet, and added a bunch of luxury gadgets inside, you'd end up with something very similar to this Infiniti. The EX35 is more than that though, or perhaps less, depending on how you see it.
Unlike most crossovers, which are big, bulky and roomy because they're trying to mimic giant SUVs, the EX35 isn't much bigger than a mid-size sedan. It's cozy inside, not quite cramped, but certainly not the kind of vehicle in which you can lean back, stretch out your legs and take a nap.
That's not a good thing if you're looking for a monster luxury cruiser, but it's perfect if you want something with more pizzazz.
It's a fun car, or SUV, or whatever you want to call it. The handling comes close to what you get in Infiniti's excellent sports sedans, with lots of tactile feedback through the suspension and steering wheel. It's one of the sportiest crossovers around, akin to a lighter, more carefree version of the BMW X3.
In fact, that lighter feel makes me prefer it to the X3 on some roads. It's like driving a kite compared with the BMW's jetliner, with an ultra-precise feeling that inspires confidence and makes you smile. On the flip side, the EX begs a question: Why not just buy a sports sedan if that's what you want?
This Infiniti doesn't offer much more practicality than any ordinary four-door family car. The overall space in the cargo area is comparable to what you'd find in a sedan. It's not any more family friendly than a well-thought-out passenger car. In that sense, you could say Infiniti took a great sports sedan and ruined it by adding flab.
Really, what separates the EX from a sports sedan is it's styling. It's very unusual, especially with so many crossovers starting to look alike and grow more bland looking. The EX, it just stands out.
It's a sensuous style, one with plenty of curves and swoops on the bodywork. The roofline is fantastic with its gentle slope cascading onto the long hood to give it a distinctive, sporty shape. It is a polarizing style, though. Like any car that makes a strong statement, not everyone will like it. It has a strong, confident personality to it that you'll either love or hate.
Inside, the EX makes great use of technology. It's filled with all kinds of gizmos, including several available features that I suspect will grow more common on other luxury brands a few years from now. As of today Infiniti seems ahead of the curve with the EX.
The most notable option is a camera system that helps when parking.
There are four video cameras positioned around the car so you can get a 360-degree view on your dash, showing exactly how close you are to obstacles as if looking at the car from above. It's almost magical in its simplicity, one of those ideas that makes you say, "Why didn't I think of that?"
What was tested? The 2010 Infiniti EX35 Journey RWD with a base price of $36,000. Options on the test car: The Bose & Around View monitor package for $2,150, illuminated kick plates for $280, the premium package for $1,750, and the upgraded tire & wheel package for $500. The total MSRP price as tested including the $865 destination charge is $41,545.
Why avoid it? If you want sports-sedan performance, you should probably do the obvious thing and shop for a sports sedan. The EX doesn't add much extra functionality compared with a four-door family car.
Why buy it? It has the look of a sleek crossover and performance of a sports sedan. It has lots of interesting technology, including a camera system that gives you a bird's eye view of the car when parking.
By Derek Price © AutoWire.Net - San Francisco
The Bottom Line: The 2010 Infiniti's EX has the shape of a crossover with the more compact dimensions of a sports sedan. It's a car that feels futuristic, both with how it looks and with its tech-filled interior. Four video cameras mounted around the Infiniti EX can give you a 360-degree view of the car, perfect for parking in tight spaces. It's a car that seems custom-made for city driving in today's busy world.
Bottom Line Review provided by: Tony Leopardo © AutoWire.Net
"Tony the Car Guy" is an automotive writer, editor and publisher in the San Francisco Bay Area. If you have a question or comment for Tony send it to TonyLeo@pacbell.net or visit AutoWire.Net at www.autowire.net
And remember: " You Are what you Drive "

Column Name: Infiniti EX blurs the line between sedans and crossovers
Topic: The 2010 Infiniti EX35 Journey RWD
Word Count: 863
Photo Caption: The 2010 Infiniti EX35 Journey RWD
Photo Credits: Infiniti Journey Internet Media
Series #: 2010 - 41
Download the Microsoft Word version here: 2010 Infiniti EX35 Journey

Download the Original Image File here: 2010 Infiniti EX35 Journey