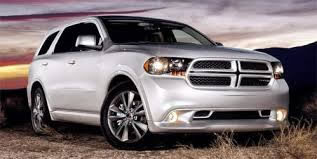 The 2013 Dodge Durango Review: If your memories of the Dodge Durango are centered around a close cousin of the Ram truck, then throw those memories out the window. Today's Durango shares nothing at all with its old, truck-like namesake. In fact, it's surprising that Dodge decided to stick with the Durango name since the new version shares its bones with the Jeep Grand Cherokee, a smooth-riding, luxurious crossover that in many ways is the polar opposite of the old blue-collar, workhorse Durango.
Despite its name, the Durango is moving into a gated, white-collar neighborhood of the automotive world.
The version I tested called the Citadel, topping the Durango range
with a starting price around $40,000, feels more like a Volvo than a
typical Dodge. Not only is it shined up Tiffany-style with lots of bling on the body and 20-inch chrome wheels, but it comes with Nappa leather seats that are heated and cooled.
And even more reminiscent of Volvo are all the high-tech safety features. It's available with adaptive cruise control, forward collision warning, blind spot monitoring and rear cross-path detection, a cocoon of electronic sensors more commonly found on high-end luxury cars.
The ordinary Durango, which starts around $30,000, comes with a
3.6-liter V6 engine that makes 290 horsepower. That's no slouch unless you need to do serious towing.
If you need to tow up to 7,100 pounds, you can opt for the 5.7-liter
HEMI V8 that makes 360 horses. It's perfect for pulling heavy loads but, unfortunately, is almost reminiscent of the old Durango in fuel economy ratings: 13 mpg in city driving and 20 on the highway with all-wheel drive.
Even that raw HEMI horsepower seems tame and refined under the Durango's blinged-out hood. It's a surprisingly quiet, smooth-riding crossover, which should be no surprise because it shares so many genes with its famous cousin, the Grand Cherokee.
Still, that Durango name may present its biggest challenge. It's a great crossover, which it has to be to stay competitive these days, but it also remains mentally tied to the old Durango in name.
When people think, "I want a luxurious, silent, high-end crossover," rarely will the Dodge Durango be at the top of their mind. Perhaps it should be.
What was tested? The 2013 Dodge Durango Citadel RWD with a base price of $39,995. Options on the Durango test vehicle: The Technology group for $1,595 and a rear DVD entertainment center for $1,495. The total MSRP price as tested including the $995 destination charge came to: $44,080.
Why buy it? It's a great luxury crossover with ample power. It's quiet and smooth riding, and it still has impressive towing ability.
By Derek Price © AutoWire.Net - San Francisco
The 2013 Dodge Durango Bottom Line Review provided by:
Tony Leopardo © AutoWire.Net
The Bottom Line: The 2013 Dodge Durango is a luxurious, quiet crossover and in this latest generation looks and drives more like a car than a truck. In Citadel trim the chrome accents set it apart from other Durangos, plus the Citadel's cabin is even more head turning than the body. Nappa Leather seats are heated and cooled, and the build quality is a good example of how far Dodge has come with its interior design. Add in the Hemi engine and the Durango has plenty of towing power, plus all the luxury features and technology you would want in a seven passenger crossover family wagon.
These are all good reasons why you should "Drive one, Buy one, Today ©"
Bottom Line Review provided by: Tony Leopardo © AutoWire.Net
"Tony the Car Guy" is an automotive writer, editor and publisher in the San Francisco Bay Area. If you have a question or comment for Tony send it to TonyLeo@pacbell.net or visit AutoWire.Net at www.autowire.net - And remember: " You Are What You Drive © "

Column Name: Latest Durango full of surprises
Topic: The 2013 Dodge Durango
Word Count: 686
Photo Caption: The 2013 Dodge Durango
Photo Credits: Dodge Durango Internet Media
Series #: 2013- 22
Download the Microsoft Word version here: 2013 Dodge Durango
Download the Original Image File here: 2013 Dodge Durango