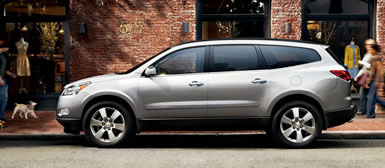 Chevrolet Traverse Review: After the financial crisis of 2008, everyone started making a distinction between the "old GM" and the "new GM," which was jokingly dubbed "Government Motors" after getting a bailout from Uncle Sam.
For me though, the "new GM" is all about the products, and it's a transformation that started long before the financial markets went loopy. Years ago, GM decided enough was enough, and it would stop making inferior products once and for all.
That may seem simple enough. No company can stay in business if it makes crappy products, and make no mistake; crappy products were at the heart of GM's eventual meltdown.
But for a company the size of GM, with all its layers of bureaucracy, stuck-in-a-rut thinking. and legacy costs, saying "Let's make better cars" isn't easy to follow through on.
Thankfully, GM started seeing the fruits of its turnaround a couple of years ago, just in time for the company to go belly up. But it also means "new GM" in financial terms also has "new GM" products, and the timing couldn't be better.
Cars like the new Malibu, with its Lexus-like execution, and the world-beating monster Corvette, proved GM really can compete with anybody today. Are all their cars up to those standards? Not quite yet. But they're working on it, and finally, seem to be headed exactly in the right direction. Nowhere is this more evident than in its bread-and-butter SUV, the Chevrolet Traverse.
Years ago, the "old GM" would have taken an old truck chassis from the 1980s, and the cheapest parts it could rummage from the trash can, to give us a "new" car that would be sold under six different brand names, with nary a difference between them. But not anymore. The Traverse took on the best crossover SUVs from Japan and tried to out-do every one of them.
It's refined. It's quiet. It's well built. And best of all, it's a thoroughly modern car with the efficiency and sophistication to prove it.
All you have to do is sit in the cabin to see how nice it is. You can run your hand along the dash, slide your fingernail between the gaps to feel how well everything fits, and press the buttons to get an instant, obvious feeling that someone in Detroit actually cares.
It gets even better at night. After dark, the cabin comes alive with gentle, subtle lighting in the doors and across the dash. Not only is everything easy to use, obviously well thought-out and logical, but it looks dang nice too. It's classy. It's elegant. And yes, it's a Chevy.
It feels just as good when you drive it too. While the Toyota RAV4 might be a little silkier, and the SUVs from Honda and Mazda might be more fun to drive, the Traverse is a great combination of smoothness and sportiness. The engineers dialed it in perfectly.
It also defies American brands' reputation for being inefficient. It gets 32 miles per gallon on the highway, better than any of its competition, but it doesn't feel like a wimpy eco-car. It's no drag racer either, but feels perfectly competent for merging onto the Interstate on an uphill on-ramp.
Other than the efficiency, it's not a particularly innovative car. Like a Toyota, it does everything exceptionally well, without drawing attention to itself. It's a good crossover for the family, plain and simple, and doesn't have to resort to gimmicks to make buyers take a second look.
It shows that, however unpleasant it is for the government to own a car company, at least the taxpayers bought a manufacturer that's on the right track.
What was tested? The 2010 Chevrolet Traverse LT with a base price of $31,745. Options on the test car: The Rearview camera system for $450. The total MSRP price as tested including the $775 destination charge: $32,970.
Why avoid it? It's hard to say whether the "new GM" resale value will be any better than the "old GM" products fared.
Why buy it? It's one of the best crossovers in its class, especially if you're looking for fuel efficiency. It gets 32 miles per gallon on the highway and doesn't feel deprived under the hood.
By Derek Price © AutoWire.Net - San Francisco
The Bottom Line: The Chevy Traverse is one of the best products from General Motors, proof that the company's products are turning around as quickly as its finances. This efficient, refined, crossover impresses and inside the quality of the Traverse's cabin shows just how far GM has come in the past few years. Materials are soft to the touch, and construction feels solid, even better than some of the newest Japanese cars.
Bottom Line Review provided by: Tony Leopardo © AutoWire.Net

"Tony the Car Guy" is an automotive writer, editor and publisher in the San Francisco Bay Area. If you have a question or comment for Tony send it to TonyLeo@pacbell.net or visit AutoWire.Net at www.autowire.net
And remember: " You Are what you Drive "
Column Name: Traverse among the best of the New GM
Topic: The 2010 Chevrolet Traverse LT
Word Count: 892
Photo Caption: The 2010 Chevrolet Traverse LT
Photo Credits: Chevrolet Traverse Internet Media
Series #: 2010 - 32
Download the Microsoft Word version here: 2010 Chevrolet Traverse

Download the Original Image File here: 2010 Chevrolet Traverse