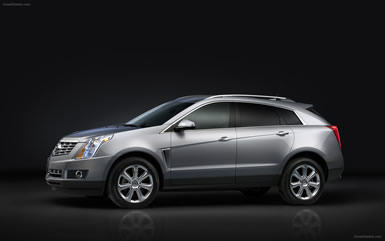 The 2013 Cadillac SRX FWD Premium Collection Review: With each passing year, cars are becoming more like consumer electronics. Where we used to ask how much horsepower a car has, today we're more likely to ask how compatible it is with the latest iPhone. In a world overloaded with apps, it's only a matter of time before we're upgrading our cars yearly, perhaps stopping at the dealer to switch from Version 2.0 to 3.0. Nowhere have I seen this as obviously as the car I drove this week, the Cadillac SRX.
Now, the SRX is a great luxury crossover to begin with. I've loved it ever since it was fitted with a direct-injected V6 engine and a firmer tuned suspension, making it one of the best on the market. The big changes for this year aren't so much about making the SRX a better vehicle, but making it a better electronic accessory. And it blew me away.
The SRX now comes with Cadillac User Experience (CUE). It's a new digital interface that Cadillac makes standard equipment on the SRX and XTS, and optional on the new, compact ATS sports sedan. Basically, it makes the car operate like a tablet computer. Its centerpiece is a big, touch-sensitive digital display above the center console on the dash.
It's more than sensitive to touch, though. Like the Chevrolet Volt, it has a screen that will respond to the lightest, gentlest touch. It also gives tactile feedback like an Android smartphone, letting you feel a slight "click" after you touch the display.
Virtually everything on the car can be controlled from this one screen, including the climate control, sound system, navigation system and various internet-style "apps" that work much like those on smartphones and iPads.
That in itself isn't remarkable. Lots of cars are offering apps these days.
The difference is that CUE is designed to be easy to use and highly customizable. It's very much like controlling your car through an Apple iDevice or Android phone.
One of my favorite features was a separate digital display directly in front of the driver that's controlled by a switch on the steering wheel. It lets you customize the information that's shown on the instrument panel, like your current gas mileage or a digital readout of your speed. Basically, it's an old-fashioned trip computer on steroids.
On the downside, all this technology overload takes some getting used to. Even after a week of driving it, I struggled to remember how to do simple things like change the radio station. Call me a Luddite, but I like having a knob just for that purpose.
CUE isn't the only high-tech feature added to the SRX this year. It comes with active noise cancellation, which uses microphones to detect noise in the cabin and then pumps vibrations through the audio system to cancel them out, sort of like driving inside a giant pair of Bose noise-canceling headphones.
It has some fancy new safety features, too. Automatic front and rear braking will help to stop the car if it senses you're about to collide with something in your path, and it's available with forward collision alert and lane departure warnings if you're venturing across the lines in the road.
It even has a seat that vibrates to warn you of dangers and keep you alert.
So, while the SRX still has an engine, brakes and transmission, and even a slightly tweaked body style, all those things take a back seat to the crazy-cool electronic updates for 2013. I think it's a sign of things to come.
What was tested? The 2013 Cadillac SRX FWD Premium Collection model with a base price of $47,745. Options on the test car: Rear-seat entertainment system for $1,595 and 20-inch polished wheels for $495. The total MSRP price as tested including the $875 destination charge came to $50,710.
Why hesitate? CUE's jam-packed digital screen means this car comes with a learning curve.
Why buy it? Cadillac is turning this crossover into a real innovator. The CUE digital graphics are mind-blowing, and its active safety and noise cancellation features keep it on the cutting edge of luxury crossovers.
By Derek Price © AutoWire.Net - San Francisco
The 2013 Cadillac SRX FWD Premium Collection Bottom Line Review provided by: Tony Leopardo © AutoWire.Net
The Bottom Line: The 2013 Cadillac SRX FWD Premium Collection luxury crossover has a slightly revised look for 2013, but the big changes are actually in the electronic devices in the cabin. Cadillac's innovative CUE system is now standard equipment in the SRX. It's one of the most advanced electronic interfaces in any vehicle today. Cadillac's latest SRX takes a page from the computer industry, and that means there is a slight learning curve to master everything in the car & what CUV can do, but it's all for the good, so you should "Drive one, Buy one, Today ©"
Bottom Line Review provided by: Tony Leopardo © AutoWire.Net
"Tony the Car Guy" is an automotive writer, editor and publisher in the San Francisco Bay Area. If you have a question or comment for Tony send it to TonyLeo@pacbell.net or visit AutoWire.Net at www.autowire.net - And remember: " You Are What You Drive © "

Column Name: Technology, right on CUE
Topic: The 2013 Cadillac SRX FWD Premium Collection
Word Count: 923
Photo Caption: The 2013 Cadillac SRX FWD Premium Collection
Photo Credits: Cadillac SRX Internet Media
Series #: 2013- 03
Download the Microsoft Word version here: 2013 Cadilla SRX
Download the Original Image File here: 2013 Cadillac SRX