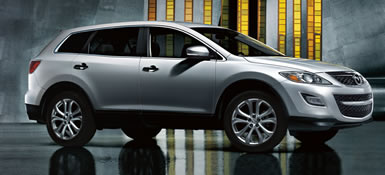 2011 Mazda CX-9 Review: Mazda sells a broad range of cars in this country. I recently sampled the diminutive MAZDA2. At the other end of the spectrum lies the brand's seven-passenger CX-9. A big car and a big success since its debut in 2007, it got some significant styling updates last year and continues in 2011 with minimal revision.
Both MAZDA2 and CX-9 wear Mazda's now-signature smiley face, but the CX-9 is loaded where the MAZDA2 is light. The challenge of putting MX-5 handling into a vehicle this big is what makes Mazda an interesting car company. It has to have the "Soul of a Sports Car."
You can pick from three levels, Sport, Touring and Grand Touring. Each brings with it more features. My Grand Touring tester was the top of the line, but every CX-9 gets air conditioning, power windows, power door locks with remote keyless entry, trip computer, cruise control, six air bags and Bluetooth® phone capability.
In a nutshell, if you want fancier 18-inch wheels and a leather interior, step up to the Touring. The Grand Touring gets sensational 20-inch wheels and all the things you didn't even know you were missing, such as rain-sensitive windshield wipers and keyless entry and start. I chuckled when I saw that Mazda's PR folks mentioned the "wood-like" instrument and door trim. At least they're being honest.
Mazda offers Blind Spot Monitoring, an increasingly popular item. The system is very useful when you're changing lanes. At speeds above 20 mph, it monitors the places you can't see in both outside mirrors. When another car is sitting in these blind spots, the system flashes a warning light located in the door mirror in the same side. If you use a turn signal while the other car is in the danger zone, the system also makes an audible alert buzz to help prevent a collision.
All CX-9 models come with a 3.7-liter V6 that puts 273 horsepower to the ground with 270 lb.-ft. of torque. That's enough to make the big people mover feel somewhat sporty. The four-wheel independent suspension helps too. A six-speed automatic has widely spaced gearing, for quick takeoff in first but quiet, efficient cruising in fifth and sixth gear, both of which are overdrive. All-wheel drive is available, and my Crystal White Pearl Mica tester had it. (Add $200 for that special paint.)
For its size, the CX-9 does supply a healthy helping of amusement, although nothing like the sweet handling of the MAZDA2 or the best selling sports car of all time (by far), the MX-5.
It may seem that I'm diminishing the goodness of the CX-9 by comparing it to teeny little cars, but it is definitely a big presence on the road. As a real crossover, not at all truck-based, it has the manners of the MAZDA6 sedan in a taller, longer package. I understand that not all families have 1.8 kids or one 20-pound dog. If you need to move a big group, better to all ride together in the kind of comfort and convenience the CX-9 supplies.
The EPA gives the all-wheel-drive CX-9 ratings of 16 City and 22 Highway, averaging 19. I earned just 16.7 mpg. Maybe I was trying too hard to be sporty with it. The two-wheel drive model gets 17/24, slightly better. The EPA Green Vehicle Guide numbers are 6 for Air Pollution but only 3 for Greenhouse Gas. Not so good there.
But inside the CX-9, it's an especially spacious and even beautiful experience. The sleek, upscale look rivals the competition in this price range, such as Acura and there's some resemblance to the Ford Flex, which shares its platform with the big Mazda. Mazda has been part of Ford's empire for years now, but Ford has set the brand free, although many pieces are still shared, at least for now.
The tall, handsome center console runs up the dash, dividing the front passenger and driver. The controls have an easy-to-remember placement and satisfying symmetry. Two strips of "wood-like" define the sides, and today's stylish matte and silvery finishes create a posh appearance. The leather-covered seats in my tester stood the commute test. Speaking of seats, the second row ones slide forward and back and also fold down. The third row chairs flop down completely flat for easy carrying of large quantities of anything.
Pricing for the CX-9 starts at $29,930 for the front-wheel-drive Sport and run up to $35,330 for the Grand Touring with all-wheel drive. By the time you start adding things like a Moonroof and the Bose package, with its 10-speaker sound system and view of the sky, you can get to $40,000, which is the exact price of my test car. That's a whole lotta Zoom-zoom.
By Steve Schaefer © AutoWire.Net - San Francisco
The Bottom Line: The 2011 Mazda CX-9 has what it takes to compete in the large crossover market. Good looks, lots of room, and a drivetrain and suspension that make a car this size still fun to drive. The CX-9 has all of that, plus a sports car feeling that makes it rate a notch or two above the others. It has the "Soul of a Sports Car" and Mazda adds some extra Zoom-Zoom to the mix to brighten the appeal. So when you make your crossover must-drive list, put the CX-9 near the top. "Drive one, Buy one, Today ©"
Bottom Line Review provided by: Tony Leopardo © AutoWire.Net
The 2011 Mazda CX-9 Bottom Line Review provided by: Tony Leopardo © AutoWire.Net
"Tony the Car Guy" is an automotive writer, editor and publisher in the San Francisco Bay Area. If you have a question or comment for Tony send it to TonyLeo@pacbell.net or visit AutoWire.Net at www.autowire.net - And remember: " You Are What You Drive © "

Column Name: It has the "Soul of a Sports Car"
Topic: The 2011 Mazda CX-9
Word Count: 1020
Photo Caption: The 2011 Mazda CX-9
Photo Credits: Mazda CX-9 Internet Media
Series #: 2011- 07
Download the Microsoft Word version here: 2011 Mazda CX-9

Download the Original Image File here: 2011 Mazda CX-9