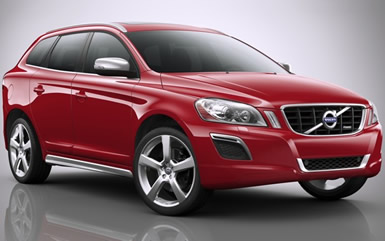 The 2013 Volvo XC60 T6 AWD Review: When I think of Volvo cars, only one thing comes to mind: safety. It's easy to imagine a bunch of Volvo engineers huddled around a cup of coffee discussing whether they could install an airbag into a cup holder and how to make the radio buttons cause fewer injuries. Volvo is obsessive about things like that.
Driving the XC60 this week though I was reminded that this is a company known for building luxury cars, too. Even putting all its safety features aside, things like automatic braking, sensors that see pedestrians, and its ability to read road signs, it's still one really, really nice ride.
Part of that comes from its feeling of solidity. Most cars these days put their focus on fuel economy, so they start to feel flimsy and hollowed out in an effort to save weight.
The XC60 isn't like that. Its heavy, massive doors close with the kind of bank-vault thud more commonly found in $100,000 Mercedes sedans. It feels like you're driving in a tank, wrapped in a cocoon of high-strength steel.
Gas mileage suffers a bit as a result. It's rated for 25 mpg on the highway and 19 in city driving, and slightly lower with all-wheel drive. The driving feel though is phenomenal, assuming you opt for the turbocharged engine.
Some Volvos I've driven in the past have felt underpowered, but the
3.0-liter, six-cylinder turbo engine in my test vehicle made it feel like a sports car, with 300 horsepower on tap. Even the base engine makes 240 horses.
With a taut suspension and sensitive steering, it leaves a surprisingly sporty impression for something so obviously designed for family-hauling duties. The powerful engine's roar and zippy feeling in corners almost make you forget that the XC60 has built-in booster seats for children.
And that brings us to the heart of the stereotypical Volvo, which is its ridiculously well though out list of safety technology. Some of its standard features include Ready Alert Brakes, a system that primes the car for heavy braking if it senses a collision is imminent, and City Safety, which will automatically stomp on the brakes to avoid a low-speed wreck.
One optional feature on the XC60 is Road Sign Information, something
I'd never seen before on any car. It uses a video camera to scan the road signs ahead of you, particularly the speed limits and "no passing" signs, and displays them in a digital readout in the instrument panel.
If you've ever forgotten what the speed limit was on a given stretch of road, you can just look down at the dash and see it. If you choose, you can also set it to give you an audible warning when you break the speed limit.
Pricing starts at $34,350 for the base model, or $40,650 for the turbocharged XC60 with all-wheel drive. It's also available in 325-horsepower R-Design trim for $44,850.
What was tested? The 2013 Volvo XC60 T6 AWD with a base price of $40,450. Options on the test car: The Platinum package for $4,600, the climate package for $900, metallic paint for $550 and 19-inch wheels for $750. The total MSRP price as tested including the $895 destination charge came to $48,145.
Why hesitate? The heavy, tank-like body makes it feel safe, but it also hurts gas mileage. This week's test vehicle was rated for 17 mpg in city driving.
Why buy it? It has some amazing safety features, a refined driving feel and solid build quality. It drives like a luxury car for the family.
By Derek Price © AutoWire.Net - San Francisco
The 2013 Volvo XC60 T6 AWD Bottom Line Review provided by:
Tony Leopardo © AutoWire.Net
The Bottom Line: The Volvo XC60 has a more sculpted, expressive body than many crossovers. It draws on the modern design language Volvo uses so successfully on its coupes and sedans, and the XC60's cabin has a cool, minimalist look. Despite all the small buttons on the center stack, it's surprisingly intuitive and easy to use. The 2013 Volvo XC60 T6 AWD
300 HP turbocharged model has fantastic passenger safety, a luxury feel, and plenty of power, so you should "Drive one, Buy one, Today ©"
Bottom Line Review provided by: Tony Leopardo © AutoWire.Net
"Tony the Car Guy" is an automotive writer, editor and publisher in the San Francisco Bay Area. If you have a question or comment for Tony send it to TonyLeo@pacbell.net or visit AutoWire.Net at www.autowire.net - And remember: " You Are What You Drive © "

Column Name: Volvo Safety and now even more
Topic: The 2013 Volvo XC60 T6 AWD
Word Count: 814
Photo Caption: The 2013 Volvo XC60 T6 AWD
Photo Credits: Volvo XC60 Internet Media
Series #: 2013- 02
Download the Microsoft Word version here: 2013 Volvo XC60 T6
Download the Original Image File here: 2013 Volvo XC60 T6