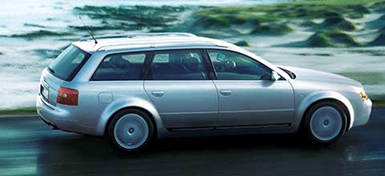 SAN FRANCISCO: Forget about all of today's lumpy, dumpy Active/Sport/Rugged/Utility "crossover" vehicles. This is a station wagon, baby, and it dares you to have a problem with that. As tautly menacing as Mike Tyson's fist (and with even more power behind it) the S6 Avant will take your grocery-getter preconceptions and pound them into the pavement.
Raised, as I was, on a steady diet of T-square tidy Volvo wagons (one of which I was proud to grow up with and now call my own), I was wholly unprepared for the raw, visceral punch Audi packed into the otherwise harmless A6 Avant when they fortified it with Vitamin "S".
Lemme put it this way: Remember muscle cars? You know, Chargers, 'Cudas and Chevelles? The secret was to take the biggest engine you made and stick it into the sleepiest intermediate in your lineup. Well, guess what. The Germans cribbed that page of our playbook and have done us one better. Instead of just bolting the monster motor in and hoping for the best, they actually built up the whole car around it.
But this is the best part: Though not usually known for their sense of humor, these wacky Westphalians are only producing the S6 only as an "Avant" which, in Audispeak, means station wagon. No sedans, no coupes. No kidding. Now I could bore you with the alphabet soup of all the supertechnology inside the S6 Avant, from ESP to DSP, ABS to ASR. The list of awesome accoutrements Audi includes is truly impressive, but here are a few of the highlights.
Chief among them, of course, is the 4.2-liter, 40-valve, DOHC V8. This potent powerplant sucks in the atmosphere through variable length intake runners, converting it via all manner of wŁndertech into 340 horsepower and 310 lbs. ft. of torque. Though it's a few ponies shy of the version found in the S8 (Audi's performance flagship), this baby will still kick you like a mule when you stand on the gas.
Unlike many other such street scorchers, the S6 Avant puts its twist to all four of its tires via the latest version of firm's ubiquitous "quattro" full-time all-wheel-drive system. In the S6, the generation 4 quattro system and its Torsen center differential split the power evenly fore and aft until a wheel starts slipping. Then, via all manner of frenetic electron exchange, the quattro system and its allied equipment hustle the power to the wheels that grip, and no one in the cabin is the wiser. Adding to this blissful ignorance is the sheer mastery of the latest Tiptronic transmission.
Though you may be familiar with the "Tip," the S6's new gate may surprise you. Down there at the bottom, where only D used to be, there's now an S as well. S, as everyone knows, means speeding ticket in cars like the S6, and this new addition to the Tiptronic lexicon does not disappoint. Whereas once performance-oriented drivers shunned "leaving it in D" in favor of shifting for themselves via steering wheel buttons or bumping the stick, it is my prediction that they will do what I do and leave it in S, unless they are showing off for friends or potential mates.
This new Sport setting, via nearly indecipherable technical jargon, does everything that you would do when you take matters into your own hands, only better. It knows when you're going uphill, or around a corner, or just about any other instance in which you'd want to downshift or hold in a gear to get the peak performance from the powerplant.
Speaking of performance, before the S6 hit the streets, Audi had already introduced a souped-up version of the A6 Avant, calling it the allroad (yes, again with the lowercase). It's certainly a fine machine, with a twin-turbo version of the firm's 2.7-liter V6, an adjustable ride height system and a full complement of Audi's electrickery. Audi had also installed the 4.2-liter motor into an A6—a sedan, in this instance—creating the A6 4.2.
Though probably not intentionally, what Audi actually created with these two machines are two benchmarks against which the true measure of the S6 can be tested. Thanks to a diet plan that would do Calista Flockhart proud, the S6 Avant and the A6 4.2 (sedan, remember) are within ounces of each other. So the fact that they both sprint to 60 in the same 6.4 seconds should surprise few. But as with all good tales, it's the twist in the end that counts.
Track testing shows that the S6 Avant leaves its four-door sibling behind soon after 60 mph, blasting through the century mark in 15.8 seconds, a full half-second ahead of the A6 4.2. Should you need further proof of the concept, the off-road oriented allroad uses every bit of blow from its turbos to make 7.7-second dashes to 60, with 100 coming in a comparatively leisurely 21.4 seconds. Should you be shopping for an A6 derivative but are short on cash, forget it. The A6 Avant, without any of the aforementioned warming-over, hits 60 in 9.6 seconds and eventually cracks 100 in 26.
There is one good thing about the standard car's relative sluggishness: stealth. Save for broader shoulders, bigger wheels and beefier front and rear fascias, there are really few visual clues that give away the fact that you're piloting a rocket ship and not a rocking chair. (Just make sure you don't order yours in the Amulet Red found on my test car. Something in a beige, perhaps?..)
Let me digress for a moment by mentioning that all of this boy-racer bravado has been achieved in conjunction with—not in spite of—the A6's posh and plush appointments. With available Alcantara suede on just about every surface that isn't already creamy leather, flawless aluminum or beautifully polished Gray Birch wood, the S6's cabin is a fully stocked garden of delights.
Everything that could be power adjusted is, including the foldaway exterior mirrors, one-touch up and down window switches and the heated, infinitely adjustable seats. An automatic dual-zone climate control system will keep things comfortable as you marvel at the perfect sound generated by the 200-watt Bose "Symphony" sound system and its integrated 6-CD changer.
Also available are side curtain airbags for the rear (they are standard up front), OnStar with its premium service package, and the only blight on the otherwise fantastic S6 is the navigation system.
I'm not quite sure why a company that can get so many things right has to be so obstinately goofball about their in-car mapper. It's certainly not a money issue as they want $1,350 of your money for a 2x3-inch monochrome screen that can't even show you a line drawing map of where you are in the world despite the fact that it takes an advanced placement computer programming class to get the dang thing to work.
You won't look at it anyway, as the point of the S6 Avant is to point it in the direction of your favorite stretch of twisties and stand on the gas, knowing that no matter how nasty the road, weather or traffic may get, the S6 Avant will keep you blasting through it. Did I mention that it's a station wagon?
By Andrew W. Davis © AutoWire.Net - San Francisco

Audi Home Page
Byline: Syndicated content provided by Tony Leopardo © AutoWire.Net
Column Name: Wagons are not just for Soccer Moms anymore
Topic: 2002 Audi S6 Avant
Word Count: 1283
Photo Caption: 2002 Audi S6 Avant Station Wagon
Photo Credits: Audi Internet Media
Series #: 2002 - 6
Download the Microsoft Word version here: 2002 Audi S6 Avant Station Wagon
Download the original image file here: 2002 Audi S6 Avant Station Wagon 15k