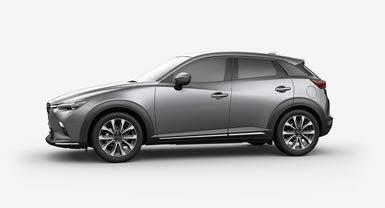 The 2019 Mazda CX-3 Grand Touring AWD Review: Competition in the small crossover space is so hot right now that vehicles have to be like Mary Poppins to sell, practically perfect in every way. The Mazda CX-3 has been Mary Poppins since it was introduced in 2016. There's very little I would change about it if given a magic wand, seeing how it already drives, looks and feels more expensive than it actually is.

Fuel economy is fantastic, with my all-wheel-drive tester getting 32 mpg on the highway. It feels faster than most of its competitors, partially thanks to its well-sorted, six-speed automatic transmission that whips its CVT-carrying competitors into submission.

Most of all, the CX-3 feels like a premium product even though it's priced for bargain hunters. Its handling is crisp and car-like, with very little body roll and a firm suspension that makes driving on winding roads a pleasure. Its cabin exudes an upscale feeling, too, both on the lower-level trims that don't feel too basic and stripped down, and on the upper trims that add supple leather and tasteful design touches that would look at home in a luxury showroom.

Things get even better in 2019 as Mazda is adding a few minor changes that take its sophistication and practicality up a notch.

One is a small change that makes a big difference: an electronic parking brake.
Because Mazda added the electronic brake, which can be operated with a tiny button instead of a big handle, it freed up room for a new center console and armrest to create a lot more storage space. That's important in a small car.

Redesigned front seats, new rear armrests with built-in cup holders, a new grille and fresh tail lights add up to a noticeable difference but aren't revolutionary.

The same can be said of its engine, which gets a tiny boost in horsepower this year and is "retuned for refinement and efficiency," Mazda says. The federal government concurs about efficiency, giving the front-wheel-drive CX-3 a combined fuel economy rating of 31 mpg. It's rated for 29 mpg in city driving and 34 on the highway.

What's not perfect about it? Cargo space and rear seat roominess are less than ideal. And, while I realize this is purely subjective, I'm not a fan of the plastic wheel arches that seem out of place on an otherwise beautifully sculpted body.

Pricing starts at $20,390 for the base Sport trim and ranges up to $27,145 for the Grand Touring with all-wheel drive.
What was tested? The 2019 Mazda CX-3 Grand Touring AWD with a base price of $27,145. Options on the test car: Soul Red Crystal paint for $595, the rear bumper guard for $100, door sill trim plates for $100 and the premium package for $710. The total MSRP price as tested including the $975 destination charge came to: $29,625.

Wheelbase: 101.2 in.
Length: 168.3 in.
Width: 69.6 in.
Height: 60.9 in.
Engine: 2.0-liter four cylinder (148 hp, 146 lbs-ft)
Transmission: Six-speed automatic
Fuel economy: 27 city, 32 highway

By Derek Price © AutoWire.Net - San Francisco
The 2019 Mazda CX-3 Grand Touring Bottom Line Review provided by: Tony Leopardo © AutoWire.Net
The Bottom Line: Mazda's CX-3 subcompact crossover, already a strong competitor, gets a number of noticeable upgrades to its body, cabin and feature list for 2019. This small Mazda Crossover now has new upgrades in it's looks, options and usefulness.

The CX-3's sharp, contemporary styling extends into the cabin, where a redesigned center console and rear armrest, with built-in cup holders, makes it much more practical.

Why buy it? The CX-3's engine, transmission and suspension make it a joy to drive on winding roads, something rare in this segment. It feels more expensive than it is, both in design and driving refinement.
And maybe, just for those reasons alone, you should "Drive one, Buy one, Today ©".
This Bottom Line Review is provided by: Tony Leopardo © AutoWire.Net
"Tony the Car Guy" is an automotive writer, editor and publisher in the San Francisco Bay Area. If you have a question or comment for Tony send it to TonyLeo@pacbell.net or visit AutoWire.Net at www.autowire.net - And remember: "You Are What You Drive ©"

Column Name: CX-3 is Practically Perfect
Topic: 2019 Mazda CX-3 Grand Touring AWD
Word Count: 753
Photo Caption: 2019 Mazda CX-3 Grand Touring AWD
Photo Credits: Mazda internet Media
Series #: 2019 - 08
Download the Microsoft Word version here: 2019 Mazda CX-3 Grand Touring AWD
Download the Original Image File here: 2019 Mazda CX-3 Grand Touring AWD