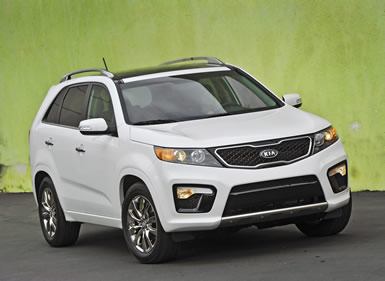 2011 Kia Sorento Review: Kia is a brand on the move. While not quite as meteoric as the rise of its cousin, Hyundai, this Korean company has made the transition from joke to serious contender in less than 10 years.
How can you tell? Just look at cars like this, the new 2011 Kia Sorento.
If this car didn't have a badge, it could easily be mistaken for a Honda or Toyota. In some ways, it even feels more expensive than the Japanese brands, with the kind of thoughtfulness and level of detail that would be unimaginable from a Korean car a few short years ago.
Outside, the new Sorento looks as handsome as any crossover. It's not a beautiful design, I'm not sure any crossover could be described that way, but at least it's not as ugly or boxy as some of its competitors. It's a nice, fresh, well-tailored look.
The style is a big improvement over the 2010 model. Today's Sorento is completely new, with a car-based platform that drives far better than last year's truck-based design that Kia tossed in the garbage bin, and you can see the difference in the sheetmetal. It's sleek. It's modern. It's just a tiny bit sexy.
The driving feel is drastically better too, but be warned: the suspension is very firm. Not everyone will like it. Kia was trying to give the new Sorento a sporty feel, and it works for the most part. There's not much body roll, and it sends good feedback to your fingertips. The downside is that Kia may have dialed in a bit too much sportiness, giving it that hard skateboard feel that you want in a Miata but not necessarily a seven-passenger crossover.
That's right. The Sorento now holds seven people too.
That seating configuration puts it in an interesting class because most crossovers this size are designed for five passengers. Kia pushed the limits a bit and squeezed a third-row seat into the back, which is great if you occasionally need to carry big loads of humanity.
On the flip side, when that back seat is being used, it doesn't leave much room for cargo. The passengers' heads will nearly be pressed up against the back glass. But the flexibility is still a big plus. Kia offers two engines in the new Sorento: a four-cylinder that makes 175 horsepower, and a 3.5-liter V6 that leads its class with 276 horses.
I can't vouch for the four-banger, but the V6 in my test car felt surprisingly powerful. You don't expect a Kia to deliver that kind of wallop, although it lacked the smoothness you feel in, say, a similar Toyota engine.
Pricing starts under $21,000. For a crossover that feels this classy, looks this good and holds seven people to boot, it's a downright steal. Higher-level models can quickly drive up that price though, as on my test car that cost about $35,000.
It's still a decent price for luxury shoppers who want all the latest technology without paying a fortune, but the real value, the pricing, that makes you say "wow", comes on the lower-end models such as the Base and the LX. The Sorento's low cost is nice but, unlike the Kias of old, that's not the only reason now to consider it.
What was tested? The 2011 Kia Sorento EX AWD with a base price of $29,095. Options on the test car: Navigation package for $2,000, Premium Package 2 for $2,700, and the upgraded rear-view mirror for $250. The total MSRP price as tested including the $795 destination charge came to $34,840.
Why avoid it? The ride is too firm, and there's not much cargo space when the third-row seat is being used.
Why buy it? It's a good-looking, refined crossover at a great price. It can hold seven people in a class where five is the norm.
By Derek Price © AutoWire.Net - San Francisco
The Bottom Line: The 2011 Kia Sorento is completely new, sharing nothing but the name with last year's model. It's now a car-based model that has a much better driving feel and much more refinement, which Kia emphasizes with the sleek new shape. The Sorento's interior feels surprisingly classy, especially if you haven't sat in a Kia in a few years. The materials and construction are now on par with what can normally be found in the popular Japanese cars. "Drive one, Buy one, Today ©"
Bottom Line Review provided by: Tony Leopardo © AutoWire.Net
The 2011 Kia Sorento Bottom Line Review provided by:
Tony Leopardo © AutoWire.Net
"Tony the Car Guy" is an automotive writer, editor and publisher in the San Francisco Bay Area. If you have a question or comment for Tony send it to TonyLeo@pacbell.net or visit AutoWire.Net at www.autowire.net - And remember: " You Are What You Drive © "

Column Name: New Sorento offers pleasant surprises
Topic: The 2011 Kia Sorento
Word Count: 853
Photo Caption: The 2011 Kia Sorento
Photo Credits: Kia Sorento Internet Media
Series #: 2011- 03
Download the Microsoft Word version here: 2011 Kia Sorento

Download the Original Image File here: 2011 Kia Sorento