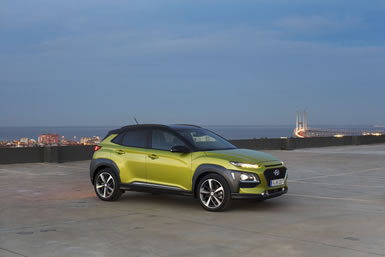 The 2018 Hyundai Kona Review: Subcompact crossover vehicles didn't exist until a few years ago, but these days they're rapidly replacing tiny sedans and hatchbacks as the most popular entry-level vehicles in America. Now Hyundai is jumping into the fray with the Kona, a small vehicle that looks like an SUV, is priced like an economy car, and slots below the Tucson on the showroom floor. For the most part, the Kona follows the same formula as the Honda HR-V, Toyota C-HR, Chevrolet Trax and their kin: start with a short-wheelbase car, raise the ride height, add a lift gate and fold-down seats in back for cargo, toss in a dash of beefy SUV styling, and voila! Your brand's sales get a boost because that's what today's buyers want.
The Kona takes things a step further by offering a few things its competitors don't always make available. It comes standard with Apple CarPlay and Android Auto, offers a choice of two different engines, and, above all else, has spunky styling that doesn't blend in like road-going camouflage.
I'm glad Hyundai offers a choice of engines, something many competitors don't. While most vehicles in this class give you a lone four-cylinder, a usually underpowered engine, as your only choice, the Kona has two available.
Base models come with a 2.0-liter, naturally aspirated engine that makes 147 horsepower, while the high-content Limited and Ultimate trims get a turbocharged, 1.6-liter, 175-horsepower engine. Even more notable is the turbo engine's 195 pound-feet of torque at just 1,500 RPM, something that makes it feel dramatically quicker and more responsive.
Its handling also is among the best, rivaling the Mazda CX-3 for driving enjoyment. It stays relatively flat in corners and offers communicative steering and brake feedback. That sportiness comes at the expense of highway smoothness, though, where it feels a bit rougher than others in this class.
With one notable exception, it follows the typical Hyundai playbook of offering enticing features at every price level. You can even get it with unusual content like a heads-up display that most of its competitors don't offer.
The exception is adaptive cruise control. I was surprised to see that useful and increasingly common feature isn't available at any price level on the Kona.
On the outside, this is one of the most aggressively styled vehicles in its class. Big, contrasting-color wheel arches, a sleek hood, swept-back headlights and dramatic rear styling make it catch your eye from every angle.
Inside, it's not quite as adventurous. The base models feel mundane inside, at least compared to the striking body that surrounds them. Higher-end trims can get lime green accents that pop visually, something I think makes them much more appealing.
The back seat is better for children than adults, though, something true of every vehicle in this class. Rear cargo space is also limited when the seats are up.
Pricing starts at $19,500 for the SE trim with front-wheel drive and a six-speed automatic transmission. All-wheel drive is available on all trim levels, topping out with Kona Ultimate at $29,680 with all-wheel drive and a seven-speed, dual-clutch automatic transmission.
What was tested? The 2018 Hyundai Kona SEL FWD with a base price of $21,300. Options on the test car are: Carpeted floor mats for $125. The total MSRP price as tested including the $950 destination charge came to: $22,375
Wheelbase: 102.4 in.
Length: 164 in.
Width: 70.9 in.
Height: 61 in.
Engine: 2.0-liter four cylinder (147 hp, 132 ft. lbs.)
Transmission: Six-speed automatic
Fuel economy: 27 city, 33 highway
By Derek Price © AutoWire.Net - San Francisco
The 2018 Hyundai Kona Bottom Line Review provided by: Tony Leopardo © AutoWire.Net
The Bottom Line: The Hyundai Kona is a new subcompact crossover added to the 2018 Hyundai lineup. Aggressive styling makes the Kona, an all-new model, stand out among an increasingly packed crowd of competitors. The Kona's interior has a comfortable, easy-to-use layout.
The cabin feels well designed and comfortable for front-seat passengers, especially the driver. Controls are all easy to operate, intuitive and natural feeling, a testament to Hyundai's ergonomic experts who are outdoing the Japanese at their own game. Plus higher end models can add several lime-green color accents to make their Kona more visually interesting.
Why buy it? The Kona combines eye-catching looks and colors, an SUV-like layout, and economy-car pricing. And its optional turbocharged engine is the best in this class. Maybe, just for those reasons alone, you should "Drive one, Buy one, Today ©".
This Bottom Line Review is provided by: Tony Leopardo © AutoWire.Net
"Tony the Car Guy" is an automotive writer, editor and publisher in the San Francisco Bay Area. If you have a question or comment for Tony send it to TonyLeo@pacbell.net or visit AutoWire.Net at www.autowire.net - And remember: "You Are What You Drive ©"

Column Name: Kona Dives into the Market
Topic: 2018 Hyundai Kona
Word Count: 847
Photo Caption: 2018 Hyundai Kona
Photo Credits: Hyundai Internet Media
Series #: 2018 - 27
Download the Microsoft Word version here: 2018 Hyundai Kona
Download the Original Image File here: 2018 Hyundai Kona